The 2020 NFL Regular Season is over, and what a ride it was. As suspected, it was a season like no other. We had injuries, big upsets, surprise endings and plenty of COVID-related shuffling. But we got a full 17-week, 16-game schedule, and that has yielded our first 14-team playoff field. That means this weekend we get Super Wild Card Weekend, featuring a triple-header of playoff games on both Saturday and Sunday. To get you ready, I'll preview all the games. And I'll also be beginning my quest to nail all the playoff picks. Will it happen? Doubtful, but nevertheless I persist.
On to the playoff battles!
Saturday's Wild Card Games:
Indianapolis Colts (11-5) at Buffalo Bills (13-3)
The Bills finished as the second seed in the AFC, posting an incredible season under MVP-candidate Josh Allen. The team has a strong defense and an explosive offense, with the league's leader in receptions and receiving yardage, Stefon Diggs, leading the way. The Colts had a strong season, too. Veteran Phillip Rivers was steady and rookie Jonathan Taylor exploded in the second half of the season. Taylor finished with 1,169 yards and 11 TDs, including going for 253 yards and two TDs in his team's final regular season game with the Jaguars in Week 17. If the Colts are to pull the upset as the first seventh seed in AFC history, they'll need a strong day from Taylor, some poise from Rivers and a great showing from their defense. It's a tall order, and not one I'd bet on this week. I like Buffalo and think they might have the best chance of any AFC team at knocking off the Chiefs. As I noted in my Monday column, I think Allen is the MVP this season, and I think he does it again in front of the Buffalo faithful on Saturday morning.
Prediction: Bills 31, Colts 20
Lindsay's Pick: Buffalo Bills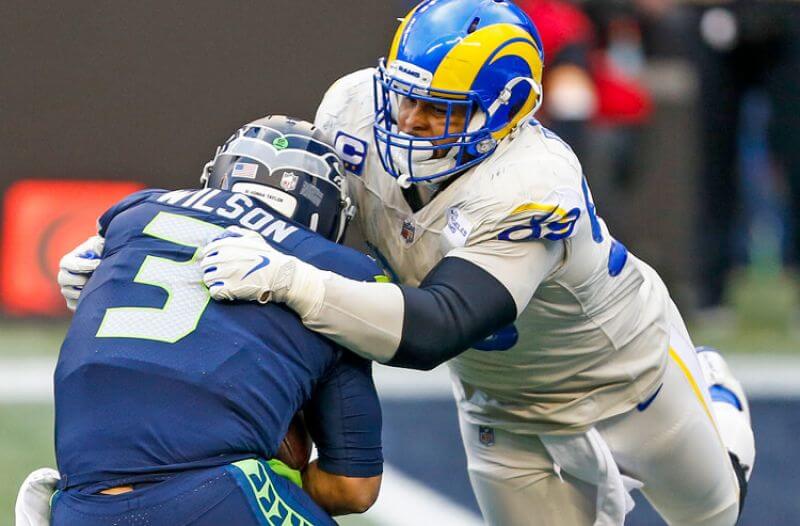 Los Angeles Rams (10-6) at Seattle Seahawks (12-4)
On paper, this ought to be a good battle. The Rams and Seahawks both had solid seasons, and they split their two meetings during the regular season. The Rams won 23-16 when the two played in Los Angeles, while the Seahawks prevailed 20-9 in Seattle in Week 16. The Seahawks prevailed in winning the NFC West, while the Rams saw quarterback Jared Goff injured and forced to undergo surgery after that second meeting. Goff is iffy to return for this Wild Card battle and running back Darrell Henderson remains on IR, but the Rams are expected to get Cooper Kupp back from the COVID list and rookie Cam Akers remains available. The Rams have also seen strong work from their defense, which carried the day against the Cardinals to secure a playoff berth in Week 17. The Seahawks, meanwhile, started the year hot but have struggled a touch to end the season. Russell Wilson went from an MVP-frontrunner to out of the discussion with a tepid stretch to end the regular season. This comes despite Tyler Lockett and D.K. Metcalf having strong seasons and giving Wilson a pair of excellent receivers. The Seahawks figure to be the better team, but I see this game as more of a defensive slugfest.
Prediction: Seahawks 20, Rams 10
Lindsay's Pick: Seattle Seahawks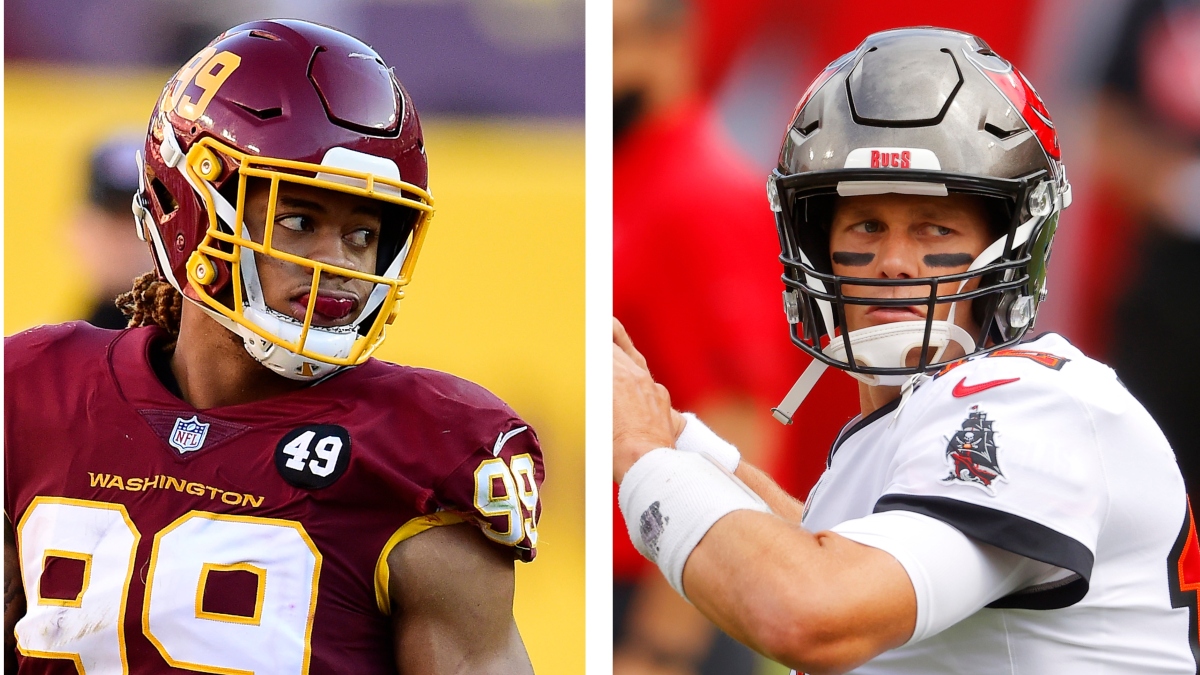 Tampa Bay Buccaneers (11-5) at Washington Football Team (7-9)
The final game of Saturday is a Prime Time battle between veteran Tom Brady and the probable Comeback Player of the Year in Alex Smith. Smith returned from a potentially life and career-threatening injury to guide Washington to a 7-9 season and first place in the NFC East. It wasn't a good division, but Washington won and earned the right to host a playoff game. The team is led by stellar rookie running back Antonio Gibson, star receiver Terry McLaurin and budding tight end Logan Thomas. Head coach Ron Rivera has also developed a strong defense powered by budding Defensive Rookie of the Year Chase Young. Meanwhile the Buccaneers are a super talented team rounding into championship form just in time. Brady has perhaps the best weapons of his career with receivers Chris Godwin, Antonio Brown and Scotty Miller, tight end Rob Gronkowski and running backs Ronald Jones and Leonard Fournette. Even without Mike Evans, who is likely to miss with injury, this is a potent offense. The Buccaneers came out of a Week 13 bye and won four straight games to close the season 11-5, claiming the top Wild Card. They are the visiting team and lower seed, but I think they're the better team.
Prediction: Buccaneers 31, Washington 17
Lindsay's Pick: Tampa Bay Buccaneers
Sunday's Wild Card Games:
Baltimore Ravens (11-5) at Tennessee Titans (11-5)
This might be THE game of the Wild Card round. No team finished hotter than the Ravens, who went from 6-5 following a second lost to the Pittsburgh Steelers to 11-5 and the top Wild Card in the conference. Lamar Jackson finished hot, J.K. Dobbins got going and the Ravens found some passing success with Marquise Brown, Mark Andrews and veteran Dez Bryant. The Titans, meanwhile, had a great offensive season. Ryan Tannehill thrived in his first full season as starter, second year receiver A.J. Brown had a great sophomore campaign and Corey Davis was solid, too. And the load was mostly carried strongly by Derrick Henry, who rushed for 2,027 yards and 17 TDs, leading the league in rushing for the second straight year. The Titans also led the AFC South by the skin of their teeth, beating Houston 41-38 on a last second miracle in Week 17. Combine that with the fact this is a re-match of last year's Divisional Round upset, where the Titans came into Baltimore and upended MVP Jackson and the top-seeded Ravens. Can the Ravens return the favor this year? It's possible. Both defenses have, at times, struggled, with the Titans' defense seemingly being a liability for the squad all season long. So I expect some points to be scored here.
Prediction: Titans 35, Ravens 31
Lindsay's Pick: Tennessee Titans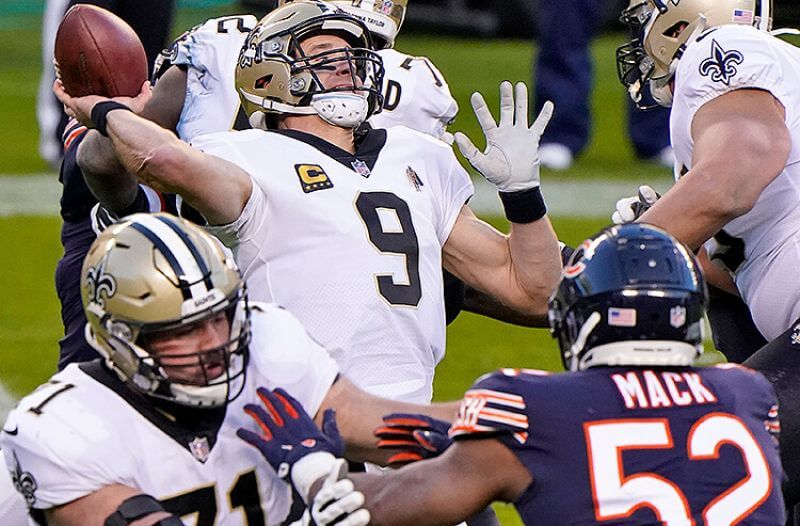 Chicago Bears (8-8) at New Orleans Saints (12-4)
The middle game of the Sunday tripleheader features a couple interesting teams and also the prospect of seeing a "kid-friendly" broadcast on Nickelodeon. It features the 8-8 Bears, who started hot, swooned in the middle and made a furious comeback before losing to the Packers in Week 17. Despite the loss, the Bears got in over the Cardinals. They made a step up thanks to a strong second half from Mitch Trubisky, who bounced back with a vengeance after being benched in favor of Nick Foles in Week 3. The Bears also made noise thanks to a hot stretch from David Montgomery at running back and still have a dangerous receiver in Allen Robinson. But they face a stout defense in the Saints, one that forced five interceptions in Week 17 against Carolina and swept the Buccaneers this season. The Saints' biggest challenge has been on offense, where Drew Brees, Michael Thomas and Alvin Kamara have all missed time. But Brees is back and rounding into shape, while Thomas is expected to be activated from IR and start the playoff game. Kamara, who is on the COVID list, remains in quarantine through Saturday but can come off and play this Sunday game. That means the Saints could have all their weapons—including receiver Emmanuel Sanders, running back Latavius Murray and Weapon X Taysom Hill—by the time they kick off on Sunday. Is this the year the Saints can finally take a talented roster deep into the playoffs or, perhaps, to the Super Bowl? Or can Trubisky and the Bears play the role of spoiler?
Prediction: Saints 31, Bears 20
Lindsay's Pick: New Orleans Saints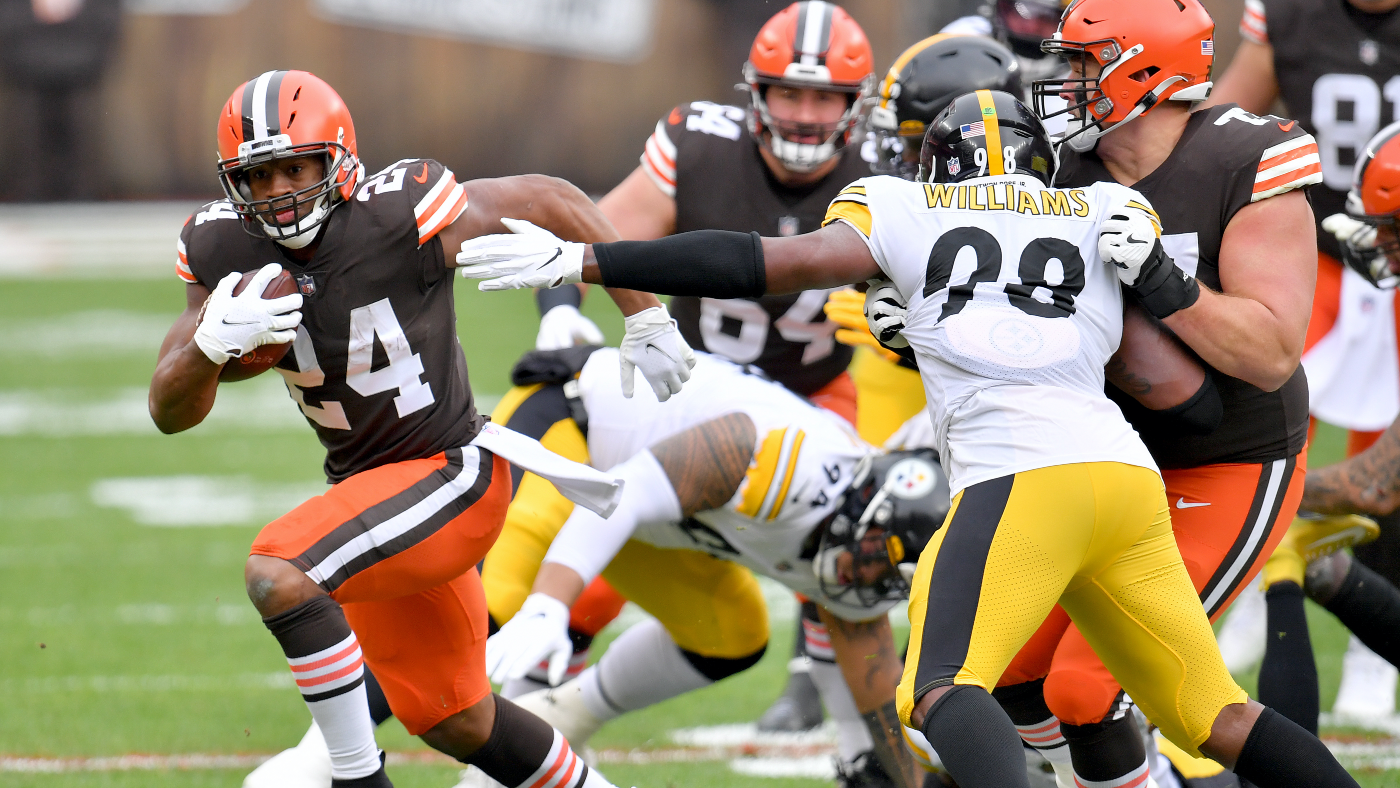 Cleveland Browns (11-5) at Pittsburgh Steelers (12-4)
The Steelers were once at the top of the AFC heap, going 11-0 to start the season. They finished 1-4, including three straight losses at one point and a 24-22 loss to the Browns to close the 2020 season. Still, the Steelers are the third seed in the AFC, and hosting a playoff game with the Browns. Cleveland needed the win last week assure their playoff spot, and they got it despite two rough weeks battling COVID. That battle is far from over as Head Coach Kevin Stefanski is on the COVID IR and will miss Sunday's playoff game, the first for the Browns since 2002. Stefanski isn't the only Brown to go on the list this week, and the team's facility has been closed, preventing them from practicing. Nick Chubb, Kareem Hunt, Jarvis Landry and Baker Mayfield figure to be good to go, while the Browns are hopeful to get some key defenders back as well. But will it be enough. The Steelers rested key stars last week, including quarterback Ben Roethlisberger. But Big Ben figures to start Sunday night, and along with Diontae Johnson, Juju Smith-Schuster, Chase Claypool and James Conner, they have a stout offense of their own, plus a defense led by Minkah Fitzpatrick and T.J. Watt that figures to cause plenty of headaches for the Browns. The Steelers easily won their first meeting with the Browns, so this should be interesting. My heart is with the Browns, but my head says this isn't a great situation. But it should be a heck of a finale to Wild Card Weekend.
Prediction: Steelers 31, Browns 30
Lindsay's Pick: Pittsburgh Steelers
Drive In Podcast Network Picks
Matt Bruening ended the season on a high note, going 15-1 in Week 17 to lock up the picks title. He finished with 177 picks correct. Dennis Bennett closed hard and closed the gap on me, finishing with 162 correct picks to be tied for second. In the battle between Lindsay and I, I came out on top. I finished 162-94, while Lindsay finished 156-100. It was a fierce battle to the end, and it's possible she'll end up lapping me by the time we finish this expanded playoff field!
Matthew Fox is a graduate of the Radio, Television and Film program at Biola University, and a giant nerd. He spends his free time watching movies, TV, and obsessing about football. He is a member of the FSWA. You can find him @knighthawk7734 on Twitter and as co-host of the Fantasy Football Roundtable Podcast.