What. A. Week. How are your lineups looking? That was a wild and crazy few days leading up to Sunday, then we saw some explosive performances—mostly from the Cowboys and Browns. But that's football, and it's why we both love and hate it as fans and fantasy football owners. And now you've got two games tonight to help with your Monday Night Miracles. But more on that in a minute. First, let's consider what we learned from the rest of Week 4.
The NFC Least
The Philadelphia Eagles, in Week 4, won their first game of the season on Sunday night, a 25-20 victory over the San Francisco 49ers (who are 0-2 at home and 2-0 in New York this season). I bring that up because, at 1-2-1 on the season, the Eagles are now leading the NFC East. Yeah, that's how it's supposed to work. Washington one opening day against the Eagles and hasn't one since. The Dallas Cowboys have surrendered 146 points in four games and are one epic comeback away from being 0-4. And the Giants, well, are not great. So, yeah, the Eagles with a tie against the Bengals and last night's win would be in the playoffs if the season ended today. Everyone wishes their team played in the NFC East at this point.
Winless and Desperate
As of this moment, there are four winless teams in the NFL. The Atlanta Falcons play tonight and are doubtless hoping to get off this list. I'm less confident, but let's set them aside for now. Two of the teams are the Jets and Giants, and while it's disappointing it wasn't all together unexpected. Then there's the Houston Texans, a team that spent a lot of money and made a lot of moves, that sits at 0-4 after a tough home loss to the Vikings on Sunday. Bill O'Brien gambled a lot to re-shuffle this roster, including the fact their first and second round picks for 2021 belong to the Dolphins. The Texans were in the playoffs last season, and now they are winless after a quarter of the season. It's not looking good. While the team has played a brutal schedule to start, the Texans need to turn it around in a hurry if they want to make it back to the playoffs in 2020.
Fantasy Football Is About Flexibility
Remember that feeling you had after nailing your draft? Remember the frustration and panic you felt the middle of last week as you figured out how to fill the Titanic sized holes in your lineup? They're both part of this, and every season. Sure, COVID has added a "fun" new wrinkle, but winning in Fantasy Football has always been about adaptability and luck. It's just magnified this year. Michael Thomas, Davante Adams, Chris Godwin, Saquon Barkley, Christian McCaffrey, Derrick Henry, Juju Smith-Schuster, Courtland Sutton… that's just a partial list of guys that often went in the first and second round of fantasy drafts that aren't available in Week 4. And that doesn't even consider situations like Nick Chubb, a player that suited up in a good matchup and was unfortunately injured early in the game. In one auction league, I spent 70 percent of my budget to acquire Thomas, Adams, Sutton, Godwin, Drew Lock and Raheem Mostert. None were available to me this week, so I had to pivot. We all are going to have to pivot a lot this season, and the manager who gets lucky and pivots the best will come out on top. Good luck out there and stay vigilant.
And now, on to tonight's double-header.
New England Patriots (2-1) at Kansas City Chiefs
This game was supposed to be played on Sunday but moved after Patriots' quarterback Cam Newton tested positive for COVID. Newton is obviously out, but the rest of the Patriots figure to play. This game will include the return of James White, and I'd wager the Brian Hoyer-led Patriots will lean on the running game. Given the issues this week, you'll likely be turning to White, Rex Burkhead and Sony Michel where you can. Among receivers, I also like Julian Edelman, but I'm not playing N'Keal Harry unless I'm desperate.
The Chiefs have been great, and they've also been healthy. Doubtless if you roster Patrick Mahomes, Travis Kelce, Tyreek Hill or Clyde Edwards-Helaire, you're playing them tonight. I think all could be decent, though my suspicion is Kelce could get the Darren Waller treatment from the Patriots. Among other Chiefs, I feel like Sammy Watkins could be a sneaky desperation play, especially if you lost, say, Adams from your lineup this morning. (Yes, I made this change in a league today…)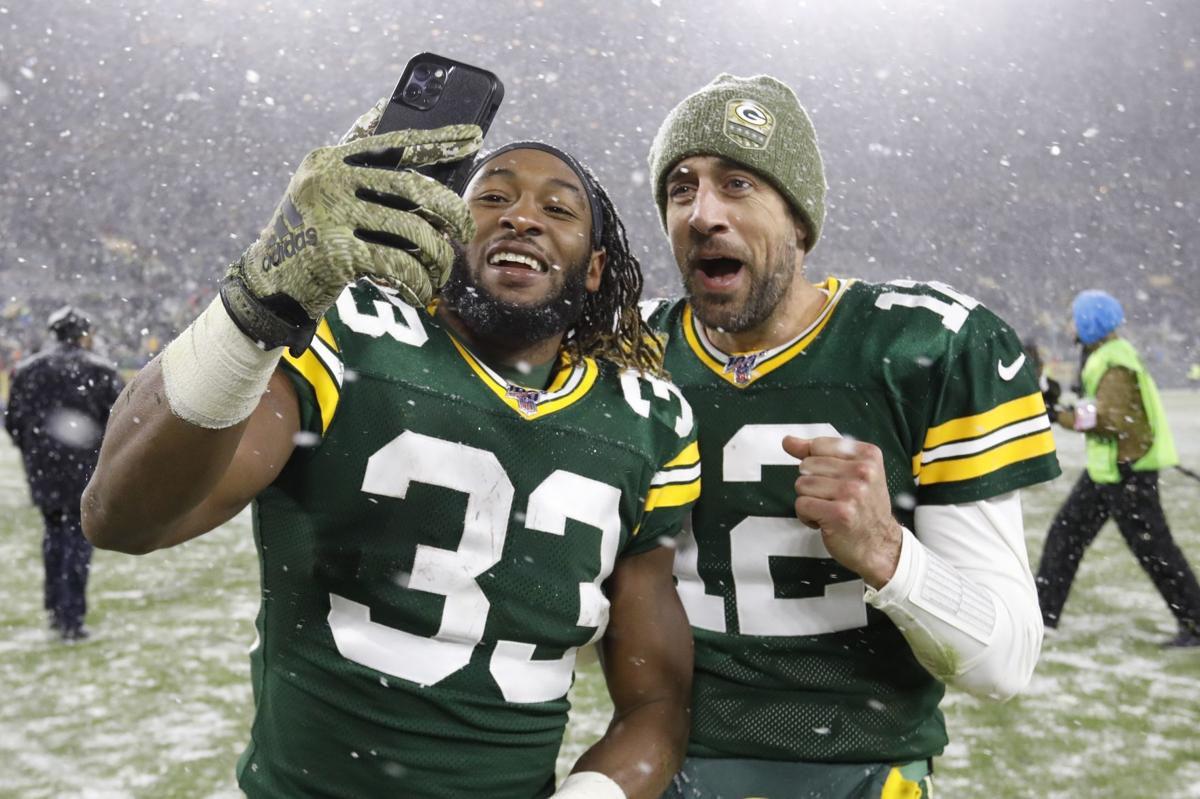 Atlanta Falcons (0-3) at Green Bay Packers (3-0)
This is a battle of two teams going in opposite directions. It also figured to be a GREAT matchup for the Packers' passing game, which has taken significant blows. Allen Lazard had a core injury, and he's out for a while. Adams has a hamstring injury, and he's out for Monday Night Football. So that leaves Marquez Valdes-Scantling as the best play right now. Among other players, I like Aaron Jones (who you were starting anyway) and Aaron Rodgers (same), and think Jamaal Williams could be a nice play, too. Robert Tonyan has looked decent at tight end, and could be in line for increased targets, and if you're desperate next man up receiver Darius Shepherd isn't a bad flier if you have no backups for Adams.
For the Falcons, you're probably already playing Matt Ryan, Todd Gurley and Hayden Hurst. The question is the receivers. Russell Gage is now the only one of the top three that is fully cleared and is playing, and I'd have him in your lineup. Calvin Ridley has been incredible this season but could draw the worst matchup. He is also questionable with an injury, as is Julio Jones. If they play, you're playing them, but be prepared with some other options.
Good luck to everyone tonight!
Matthew Fox is a graduate of the Radio, Television and Film program at Biola University, and a giant nerd. He spends his free time watching movies, TV, and obsessing about football. He is a member of the FSWA. You can find him @knighthawk7734 on Twitter and as co-host of the Fantasy Football Roundtable Podcast.