3. Ryan Tannehill:
Goodness gracious, isn't it crazy what a simple change of scenery can do for a guy? Take Ryan Tannehill, for example. He wasn't on the worst of career arcs, by any means, during his first 4 years in Miami. Then the partially torn ACL happened in late 2016 and in the most unlucky of circumstances he re-injured the same knee the following August during a practice. Eventually missing all of 2017 Tanney was able to return in 2018, but you know…Miami just ended up not being the greatest of situations for the guy. Even with that said Ryan Tannehill was under center in 11 games that year and finished the season as the QB30. Potentially a sneaky contextual bit for those unaware, when extrapolating his numbers across a full 16 games Tannehill would have clocked in as your 2018 QB4. If we again just look at the end-of-season finishes from last year we see that Ryan Tannehill finished as the QB21. However, unless you spent a good portion of the season under a rock, you already know that ranking is full of deception. Let's back up a bit. It all started in March when Miami shipped Ryan Tannehill to the Tennessee Titans, in exchange for a couple mid-to-late draft selections. Not a bad price for the Titans to pay for a fairly young backup quarterback with tremendous draft capital and obvious athletic talent. Now, we jump ahead to week 6 in Denver when Mike Vrabel decided to bench Marcus Mariota, after an abysmal 1st half display against the Broncos coupled with a current team record of 2-3. Enter #17. Over the course of the following 10 1/2 games Tannehill, shot out of a rocket and took the fantasy/reality football community by storm. Running his numbers across a full season would have us looking at the QB2 for 2019. His reward presented itself in a new four-year contract extension that takes him up to 2024. So, while I'm sure you still have questions about his value and worth, Old Tom is just here to tell you that he's locked in as a legitimate dynasty asset and one I'd be happy to get my hands on.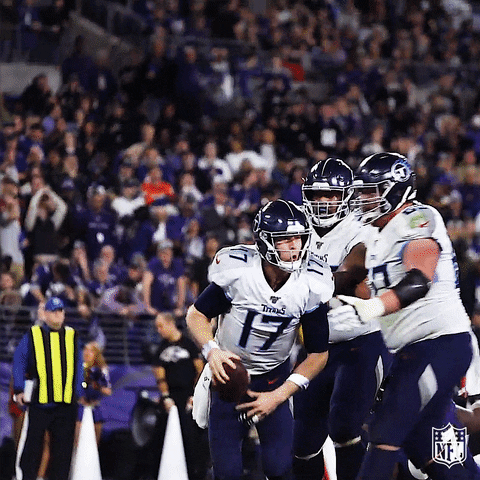 2. A.J. Brown:
I'll just preface this by saying it sure is a fun and exciting time to be a Titans' fan. Coming in at Old Tom's number 2 most valuable dynasty asset is the uber-talented AJ Brown. Entering the 2019 NFL Draft, I had Brown as my pre-draft WR1. I felt that his route-running ability was enough to set him apart from the pack and ahead of N'Keal Harry, at the top. Looking back on Brown's training camp experience and a couple minor injuries that seemed to cramp his style, it's funny to think we bypassed his potential because maybe we felt his situation wasn't ideal. Regardless of how it started, AJB made sure we remembered how it finished, particularly with him as the WR21 (PPR) – WR9 (Standard). A big hold up for some, heading into 2020 and beyond, when it comes to Brown is offensive game-plans coupled with target-share. We know the Titans will take their MO from Henry and that running game, deservedly so. However, we also understand that football is a multi-dimensional sport and this young man is what superstar talents look like, entering year 2. A positive sign for Old Tom is offensive snap percentage. Across 2019, AJB found his way on the field for only 68% of his team's snaps. That percentage when viewed in the light of his WR finish is something I'm very optimistic about and I think you should be too. If you look back before the 2019 season kicked off and found you were fooled once by AJ Brown and his situation this is a perfect time to make amends. As Michael Scott once said so eloquently, "Fool me once, strike one. But fool me twice… strike three."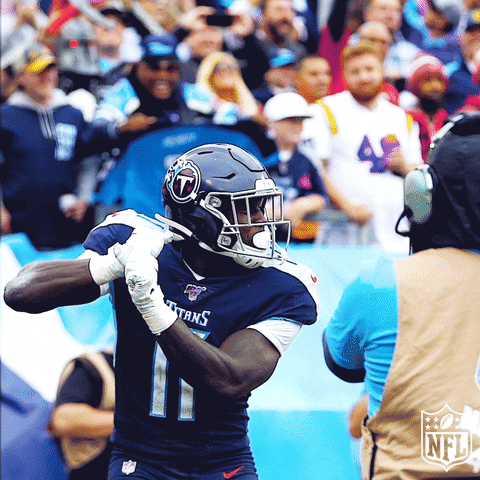 Derrick Henry:
Had Old Tom have written this article just two days ago, #2 and #1 would have been flipped. Yet, as it played out the Tennessee Titans did exactly what they should have done and what they've been telling everyone they were going to do. They locked up their freakishly-talented and insanely-gifted physical specimen of a running back. Henry's new four-year contract is exactly what dynasty owners could have hoped for. The reason is two-fold. One, if you love Henry and want to keep him with the peace of mind he's THE guy for the long-haul you can do that, much easier, now. However, if you are still hesitant because of the potential out in 2022 you can sell-high to league mates who don't share similar anxiety. As far as Old Tom is concerned, there's no selling of Mr. Henry on my squads. This 26-year-old Rushing King has earned every starting role I can find for him. If you happen to be in a league and don't roster Henry, my advice would be to message the league-mate who does and see what the asking price is. While I wholeheartedly believe we will see Derrick's touchdown totals decline in 2020, I'm not convinced we won't see the ball in his hands (run or catch), even more. At this point, there's nothing to lose. Taking Henry's 75% catch rate in 2019 and applying the slightest of target increases on a per-game basis (1) would all of a sudden add an addition 12 receptions. When you look at the fact that every time Henry catches a ball he's accumulating 11.4 yards, on average, I just have to believe his role in the passing game will grow. After all, why wouldn't Mike Vrabel and Arthur Smith want to take full advantage of their 6'3, 240lb, 4.54 40 speed locomotive out in open space?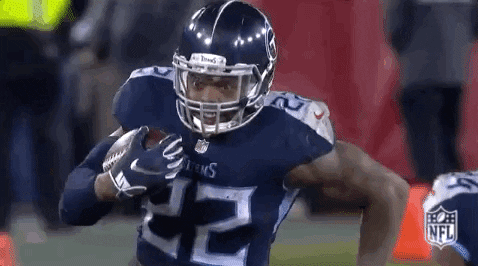 Make sure to follow Old Tom on Twitter @BombadilFantasy!