Another year comes to an end, and that means another year of cinema has wrapped up and left the set. Just like every year, some will stand the test of time, and some will fade off into nothingness. 2019 was an absolutely riveting year for cinema. I made a video showing some of my favorite moments and scenes of the year that you can find here and at the bottom. There were so many wonderful films to pick from this year. This year I had:
85 Films Watched:
5 – (5/5)
12 – (4.5/5)
17 – (4/5)
20 – (3.5/5)
And even more, found here.
Here are the 10 films that stuck with me the most over this past year, and films I will continue to come back to for years to come.
Honorable Mentions:
Knives Out – (4.5/5): All around a fun film, and one of the funniest as well. Daniel Craig and Ana de Armas steal the show.
Joker – (4.5/5): I have moved Joker down quite a bit, but that doesn't mean it isn't a thrilling character study of one of pop-culture's most notorious villains. Hopefully, more films of the same stature can come from this.
I Lost My Body – (4.5/5): This film blew me away. From the score to the animation style, to the story itself. It is a beautiful, and more importantly, an ORIGINAL animated film, that is not a sequel or remake, that I hope sneaks out an Oscar Win.
Ad Astra – (4.5/5): A top 3 theater experience of the year. Everything about this film is so beautifully nuanced, and Brad Pitt gives the best work of his entire life.
The Last Black Man in San Francisco – (4.5/5): So beautiful and poetic. This film is really like reading a poem written about San Francisco. Jonathan Majors is still in my top 3 for Supporting Performance of the year, as is the score in my top 5.
10. The Lighthouse – (4.5/5)
Such a weird, gross, and unconventional film. A true horror follow-up to Robert Eggers' The VVitch, and one that showed where his mind could truly go. This film was two actors at the top of their craft going back and forth at each other in a heavyweight boxing match for the entirety of the movie. I still do not understand this film, and may never understand, but I loved the absolute hell out of this film. The claustrophobic nature and the closed-off situations added in with the absolute beautiful framing and cinematography, create one of the brightest of lights and the darkest of films all at the same time.
Best Moment/Scene: Any scene of them drinking
The sort of descent into madness we are given here is shown through drinking, but with how well this script is shown, we are forced to pick up on what is real and what is not. Sometimes it is hard to tell either way, but the scenes of them drinking provide some of the best monologues, arguments, and acting I have seen all year.
9. Us – (4.5/5)
Released so early in the year, this movie was a step up from Jordan Peele's debut, Get Out. The performance from Lupita Nyong'o is everything in this film. One of the best horror films I have seen in a long time. There is a perfect blend of comedy, horror, and originality that help make this such a fun and interesting watch. Peele's direction in this film is much more mature and knowing here. This is one I did not want to see more than once, I NEEDED to see more than once. Full of subtle ambiguities that help add so many layers to the depth of this film. Nyong'o gives the best female performance of the year, and she deserves an Oscar WIN… not just the nomination.
Best Moment/Scene: The Dance
The fight between Adelaide and Red was choreographed and performed with such swiftness and grace. It was such a mesmerizing scene that was tied so closely with Adelaide's dancing background, and even the editing back and forth with the scenes of her dancing as a child added to the pain that not only Adelaide feels but Red as well. Coupled in with Michael Abel's absolutely breathtaking score, this scene is one I have not been able to get out of my head.
8. Rocketman – (4.5/5)
After the monstrosity of Bohemian Rhapsody last year, this film was being tapped with such low expectations. For me personally, I just wanted an honest story, which is something we were void of with Bohemian Rhapsody. We not only got an honest story but a powerful one at that. If this film would have come out last year, I would have had no issue with it winning the number of awards that Bohemian Rhapsody did, but sadly with a poor amount of planning from Paramount, this film is now fighting to get any awards recognition. Taron Egerton is truly mesmerizing as Elton John as he captures the style and flair of John without attempting to recreate it.
Best Moment/Scene: Saturday Night's Alright (For Fighting)
The entirety of this scene/song is incredible. The fact of watching him grow up, and the editing of this scene, that is almost looked to be done in one take, is a perfect entrance for Taron Egerton as Elton John. This scene is the one that really shows how energetic and exciting this film truly will be.
7. The Farewell – (4.5/5)
This movie was all around one of the best feeling films of the year, which is weird to say when this movie is made on the basis of lying to someone who is dying. Zhao Shuzhen gives one of my absolute favorite performances of the year, and Awkwafina truly steps into a much more dramatic light and steals it. This film was done so personally to Lulu Wang and you could feel her heart through the writing and directing of the film
Best Moment/Scene: The car leaving
This scene stuck with me. I remember being in a car and leaving and watching my grandparents wave back at me. You never know when the next visit might be the last, and so you hold on to those moments whenever you can. For Billy (Awkwafina), she knew this moment was likely her last, and so to drive away and see her Nai Nai in full spirits was such a riveting moment for the film, and for me personally.
6. Parasite – (4.5/5)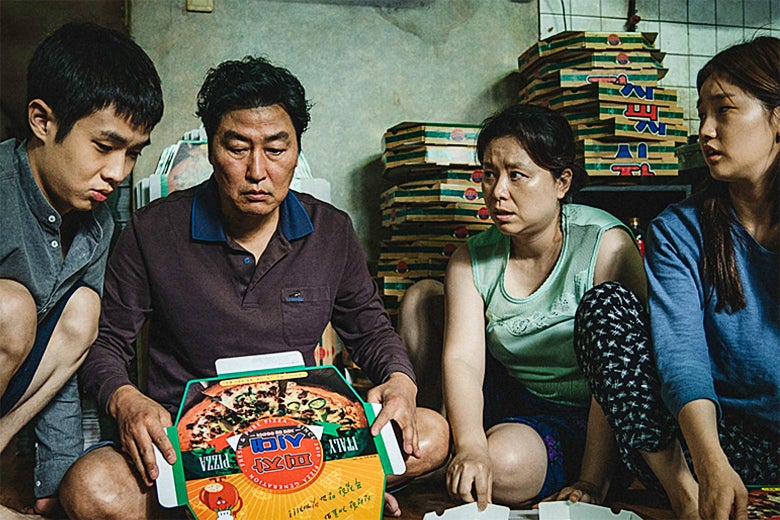 One of the most well-crafted films top to bottom of the entire year. This movie is a play on class relations in a way that is ambiguous and in your face all at the same time. One of the most metaphorical films of the year, this movie will leave you thinking about it for a while. Not in a way that is confusing, but in a way that is eye-opening. Bong Joon-ho really outdoes himself with this in crafting a South Korean film that the entire world can understand. Plus the ending of this film is everything. A genreless movie that will likely inspire future filmmakers.
Best Moment/Scene: The Flood
The flood in this movie worked so well for such a large number of reasons. First off, it showed the drastic parallels between the upper and lower classes. To the upper class, the rain was a beautiful sign of life, but to the lower class, the rain was a source of peril. When Ki-Jung, or Jessica, sits on the toilet smoking a cigarette while the world around her is falling apart, there is a sense of realization that the world they may have wanted to live in just hours before was something they would never reach. It is truly heartbreaking, but in such a stylistic way that was eye-opening all at the same time.
5. Avengers: Endgame – (5/5)
2019 was the year of endings. Toy Story, Game of Thrones, How to Train Your Dragon, and Star Wars all came to a conclusion this year. Each of these films had very different responses from critics and fans alike. It is hard to write a good end to something so beloved, and we saw this year that not all of the endings work out. Avengers: Endgame, however, was praised almost across the board as being a strong conclusion to 11 years of films and stories. There was a perfect amount of fan service moments such as Cap getting Mjolnir, Tony sacrificing himself, and even going back to past films and tying everything together. But, there was also a sense of creativity and uniqueness that came from this movie. This was not just "Reddit the Movie", but it was not a strict arthouse film. There was a perfect balance between blockbuster cinema and arthouse cinema and it culminated in such an epic and satisfying finale. I mean, how many blockbuster superhero films end with dance and a kiss.
Best Moment/Scene: Portals
I mean, this might be the scene of the year. With such an amazing and powerful score from Alan Sylvestri, coupled up with the gorgeous look of the scene and the sight of Cap trying to go up against an entire army. You always knew everyone was going to come back, but how it was pulled off was honestly magical, and to hear Cap say "Avengers Assemble" was the icing on the cake.
Marriage Story, for me, offered more overall tears than any other film this year. From start to finish I was encapsulated not only by Noah Baumbach's encapsulating screenplay but by the powerful performances that brought his words to life. A very personal and honest look at not only Noah's head but at divorce and at the struggle to overcome the legalities and pressures that come with such a break. This is not a film about lost love or painful breakups, but changed love in two people.
Best Moment/Scene: Being Alive
The popular pick here would probably be the fight between Adam Driver, Charlie, and Scarlett Johannson, Nicole. That is actually my third favorite scene in this film. However, Adam Driver singing "Being Alive" was such a heartbreaking end to a long fight. Just as it was used in the play Company, Charlie sings this in a way of reflection of everything that has happened and his time lost. In this melancholic moment, Charlie realizes that continuing to fight for this will only come with more pain. The only way to not feel lonesome is to basically Be Alive and be present even though it might not have happened the way he had once hoped.
How the Safdie Brothers make films is absolutely fascinating to me. Pulsating and anxious throughout. I gave their films a name in my review of this film when I called it "anxiedramedy", but their films could also easily fit under the horror genre as well. Uncut Gems in a sense is a horror film, more specifically a human horror film. It is a film about the horrors of what would actually happen if any normal schmuck or joe went down the same path he did. Maybe the results would vary, but the idea of the consuming of one's self in the addiction they can't get out of could have similar effects. Sandler is so captivating and so breathtaking in this role. This is not overperformed, and in some cases is underperformed, but the "grind it out/fighting to get to the top" kind of drive Howard has not only ruins his family but keeps him wanting more even though his world is falling apart. He smiles in the face of pain and agony and refuses to quit. Sandler beautifully captures that mentality and showcases it on screen in a way that can help build the horror of this film, and that is because this role is performed in such a way that each person watching this movie could put themselves in Howard's shoes. Putting this film over Marriage Story was so incredibly hard, and one that might have been done based on recency bias. However, as they say, "Timing is everything", and this film came out at the perfect time to blow me away one final time before the new year.
Best Moment/Scene: This is how I win
Howard Ratner could sell ice to an igloo, and in this scene, every single trick he has ever learned in how to swindle people pays off. He knows how to get Kevin Garnett right where he wants him, and as a desperate man, he sees that same desperation in KG. Howard is done, he finished, he WON, but this is the scene where we see he is never going to win. He is just going to keep playing the game until he is consumed by it. The delivery and execution in this scene are magnificent and almost horrifying as you are watching someone hit their breaking point. You are almost yelling at Howard to stop, but you know he won't listen. It might be one of the single best-acted scenes of the year.
2. 1917 – (5/5)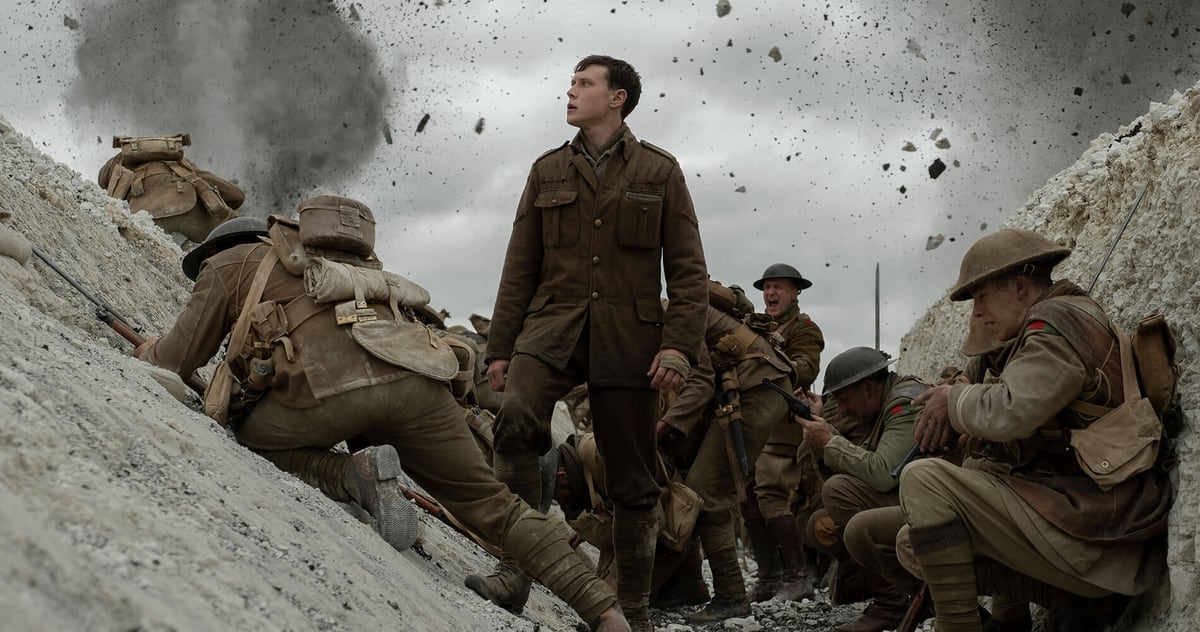 If it wasn't for such strong personal feelings towards my number one film of the year, this would be it by a landslide. This movie was pegged as a technological achievement for Sam Mendes, Roger Deakins, and the rest of the crew. They achieved that technologically riveting outcome, but also managed to create one of the most heartfelt and tender cinematic masterpieces of the year. This film is not just one of the best and most complete movies I have seen this year, top to bottom it is one of the best films I have ever seen in my entire life. Sam Mendes' truly brilliant work cannot be overstated, and George MacKay's nuanced and subtle performance is easily one of the best of the year. This film is "cinema" at its absolute highest calling.
Best Moment/Scene: Sixteen Hundred Men
The scene, the score, and the camera work. This is a true culmination of cinema at the highest degree. All George MacKay does in this scene is run, but the desperation of him is shown so well as he needs to get this letter sent no matter what. The score is pounding, and this track alone should win Thomas Newman his long-awaited Oscar. This scene is a culmination of everything I love about movies, and I had felt things in this movie I had never felt before.
No movie has stuck with me, nor grown on me as much as this film did this year. As of this moment, I have seen it 6 times, with a possibility for more. This is my favorite film of the year, and it is my favorite film of all time. This did the same thing to me emotionally what Eighth Grade did last year. Shia LaBeouf's tenderly written script mixed in with his, and the rests of the casts, breathtaking performances are what makes this film this years best. There is so much love throughout this film, from the actors on screen to the director (Alma Har'el), and to the fans who have seen and championed this film. This is a breathtaking work of therapeutic art that shows us this world of attention and fame can sometimes lead to great pain as well.
Best Moment/Scene: The AA Meeting
The scene where Shia LaBeouf shows up to a new AA meeting and has to give his story is one of the hardest things to watch all year. I have yet to watch this scene without crying. It is edited beautifully back and forth with Otis experiencing what he believes is love for the first time. This was the moment that I think really stuck with Shia, and you can tell in his words how broken he was. "I try to do my best for that kid. But I am in pain like a motherfucker". This was not only Shia saying it as his father, but him saying it as well. It was a beautiful look at love through pain and really is what this film is all about. Fighting through whatever pain comes, and filling yourself with love and forgiveness instead.
Top Films of 2019 – Video
Thank you for checking out the list! I hope your 2019 film experience was just as good as what mine was!
Jacob is a film critic and co-founder of the Music City Drive-In. He is a member of the Music City Film Critics' Association and specializes in the awards season. You can find him on Twitter @Tberry57.