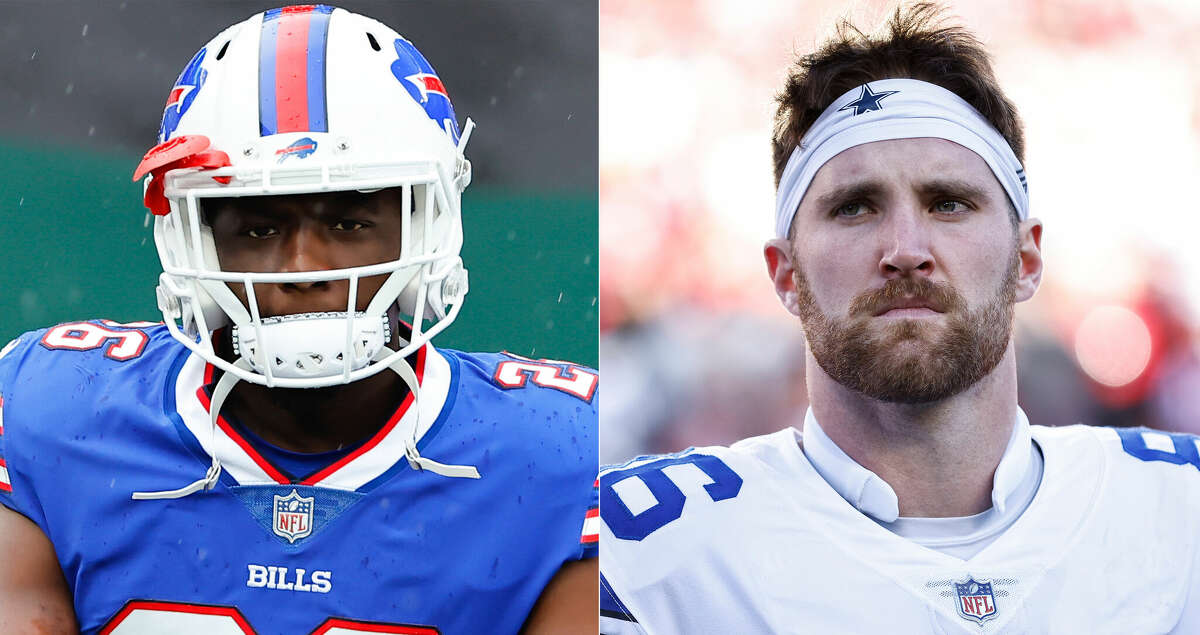 Our second week of free agency saw a several more skill players join new teams for 2023. Among those that added weapons is the Texans, who snagged a pair of former starters. Let's dive into those moves and more.
Texans add a pair
On Monday the Texans added former Bills running back Devin Singletary and former Cowboys' tight end Dalton Schultz, each on one-year deals. Singletary joins a backfield led by second year running back Dameon Pierce, while Schultz adds another weapon in the passing game.
Singletary played his first four seasons with the Bills, who drafted him in the Third Round of the 2019 NFL Draft. He rushed for 3,151 yards and 16 touchdowns, catching 145 passes for 971 yards and four touchdowns. He could be a solid contributor depending on the split with Pierce. For now, I have both in the RB4 range.
Schultz signed a one-year, $9 million deal. He played on the Franchise Tag for the Cowboys in 2022. He's had more than 50 receptions each of the past three seasons, catching 211 passes for 2,122 yards and 17 touchdowns in five seasons. He gives the Texans a passing game weapon alongside receivers Nico Collins, Robert Woods and former Cowboy Noah Brown. With the Texans expected to select a new franchise quarterback in the draft, Schultz brings TE2 value in 2023.
Harris goes to Buffalo
While the Bills lost Singletary to the Texans, they added for Patriots running back Damien Harris on a one-year deal. Harris was a Third-Round selection of the Patriots who spent four years in New England. He's rushed for 2,094 yards and 20 touchdowns, including more than 900 yards in 2021. He brings another back to the Bills, whose backfield includes veteran Nyheim Hines and second year back James Cook. In terms of fantasy, I still prefer Cook, who could have RB3 value. Harris should contribute, barring additional signings, but lands more as an RB4/5 for me.
Other Signings
We saw a few other teams make signings to add depth. The Cleveland Browns brought back Josh Dobbs as a reserve quarterback, giving them depth behind Deshaun Watson. Meanwhile the Bills added former Dolphins receiver Trent Sherfield and the Cardinals added former Eagles receiver Zach Pascal.
The Raiders, meanwhile, made a few moves. The team brought back Keelan Cole at receiver, joining a group that includes Davante Adams, Hunter Renfrow and newly signed Jakobi Myers. In addition, the team added tight end O.J. Howard. Of all the depth signings, Howard's the one that is most interesting as the Raiders traded Darren Waller to the Giants and Foster Moreau is a free agent, opening opportunities and targets at tight end for Las Vegas.
Matthew Fox is a graduate of the Radio, Television and Film program at Biola University, and a giant nerd. He spends his free time watching movies, TV, and obsessing about football. He is a member of the FSWA. You can find him @knighthawk7734 on Twitter and as co-host of the Fantasy Football Roundtable Podcast.