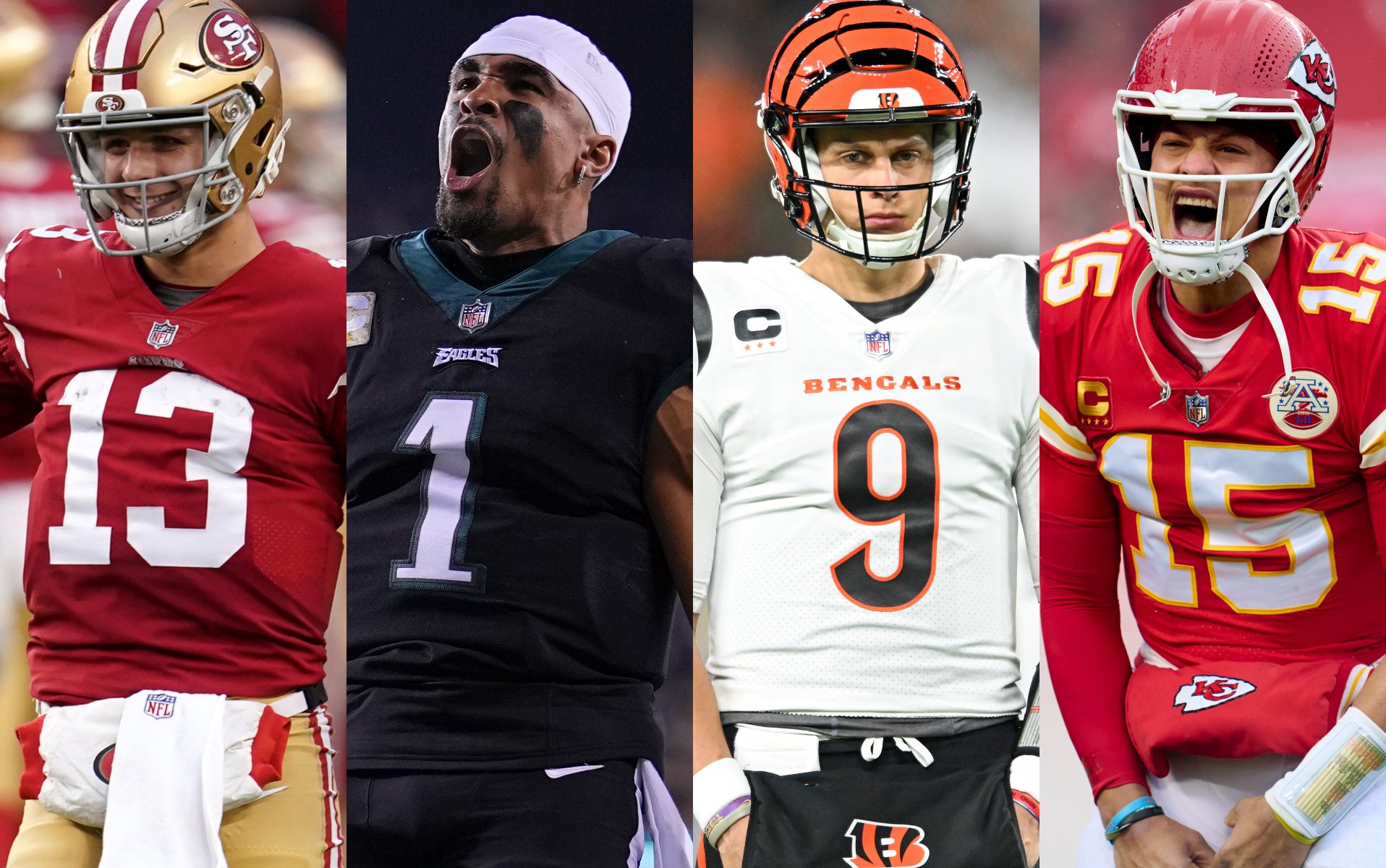 The Conference Championships are Sunday, meaning we have only three more meaningful football games left in the 2022 NFL Season. I was 3-1 last week, snapping my streak, but I'm 9-1 for the playoffs. Can I keep it going?
NFC Championship
San Francisco 49ers (13-4) at Philadelphia Eagles (14-3)
About: These were the two best teams in the NFC heading into the playoffs, so it makes some sense that they'd meet in the NFC Championship Game. The 49ers haven't missed a beat with rookie Brock Purdy—the team's third string quarterback—in the starting role. He went 5-0 to close the regular season and is now 2-0 in the playoffs. They haven't lost with him in there, but that's more a credit to a great supporting cast and stout defense. The Eagles have also been near flawless with their starting quarterback—Jalen Hurts. He figures to be a front-runner for the NFL MVP, with his team going 14-1 in his starts during the regular season and easily winning their first playoff game by 31 points. The Eagles also have a fantastic supporting cast and a strong defense. This should be one heck of a battle, but in the end I think the Eagles are the No. 1 seed for a reason, and it doesn't hurt that they're at home.
The Pick: Eagles
AFC Championship
Cincinnati Bengals (12-4) at Kansas City Chiefs (14-3)
About: This is a re-match of last season's AFC Championship Game, featuring two hot teams with good offenses and strong young quarterbacks. And yet, both teams come into the game with questions. While it didn't impact them last week in Buffalo, the Bengals are dealing with offensive line issues. They've seen both starting tackles and their starting right guard go down with injuries in recent weeks. That's a worrying sign since Joe Burrow is 1-7 in games where he's sacked five or more times. Can the Chiefs' pass rush get to him? Will it disrupt the offense? On the other side, Patrick Mahomes suffered a high ankle sprain in last week's playoff opener. He was able to finish the game, and the Chiefs pulled out the 27-20 win, but he was in obvious pain. He's committed to starting and playing Sunday, but he'll be less than 100 percent. For an offensive team built on his skill and talent, that puts them at a disadvantage. Also disadvantageous for the Chiefs is their recent efforts against Burrow and the Bengals. Burrow topped Mahomes twice last season—once in the regular season and once in the AFC Championship Game. When the two teams met in December, the Bengals got the 27-24 win. As they meet again, will history repeat itself? This one should be close as well with two fierce rivals and a lot on the line.
The Pick: Bengals
Last Week: 3-1
Post-Season: 6-0
Matthew Fox is a graduate of the Radio, Television and Film program at Biola University, and a giant nerd. He spends his free time watching movies, TV, and obsessing about football. He is a member of the FSWA. You can find him @knighthawk7734 on Twitter and as co-host of the Fantasy Football Roundtable Podcast.