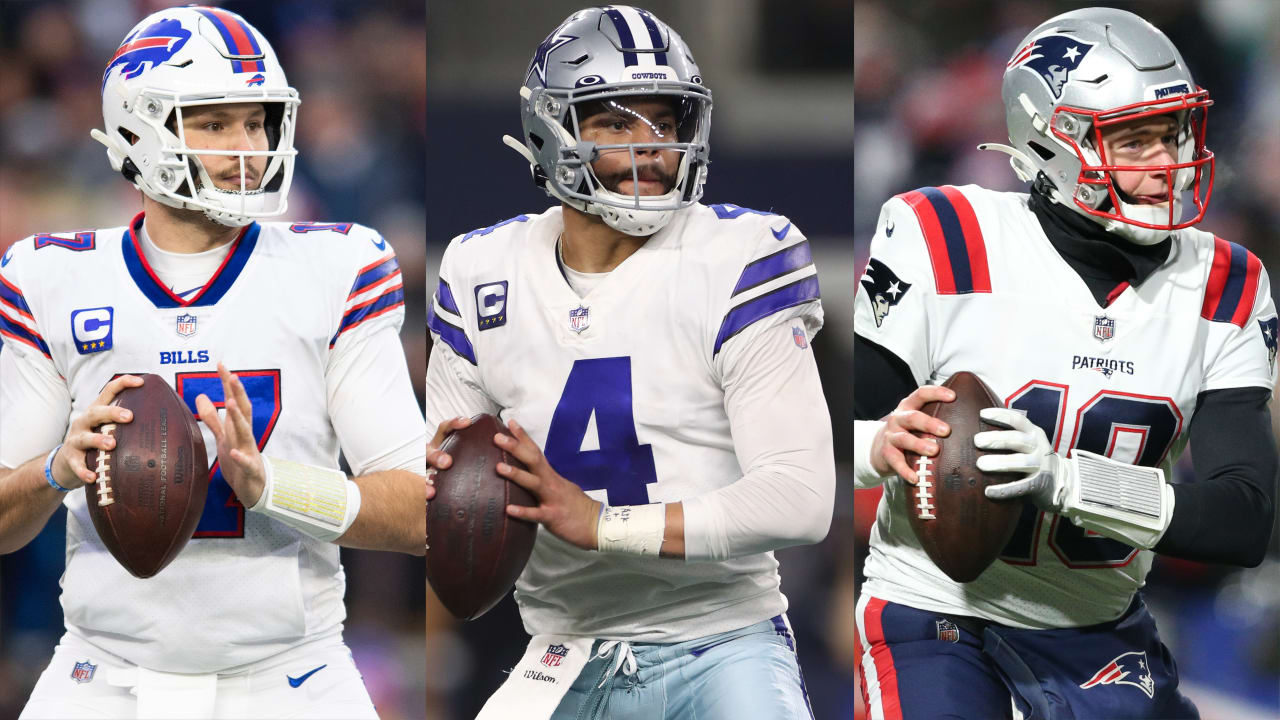 Week 12 of the NFL Season begins today, and it brings up plenty to consider. First, there are no bye weeks. Second, since it's Thanksgiving, we get a trio of games. This is a crucial stretch for the NFL and fantasy, and there will be plenty of intrigue with these three games. Below I give my thoughts on each matchup and then make my picks for Week 12. Happy Thanksgiving!
Buffalo Bills (7-3) at Detroit Lions (4-6)
I get it, this seems like a lopsided matchup. It could be but the Lions have been playing more like the team I expected of late. The Bills, meanwhile, have their second game in Detroit in five days, and they're still nursing along start quarterback Josh Allen, who has an elbow injury. They're also in the most competitive division in football. Every team in the AFC East has AT LEAST six wins. The Bills came into the season as a Super Bowl favorite and they need to keep winning to ensure the road to the playoffs runs through Buffalo. The Lions, meanwhile, are still out there biting knee caps and pulling off upsets.
For fantasy, I'm starting Allen as a Top 3 option at quarterback. I also like Stefon Diggs as a Top 5 option at receiver and Gabe Davis as a WR2. Dawson Knox is a TE2 with upside, while Devin Singletary is a low-end RB2 for me. James Cook has been coming on lately, so he's moved into flex range for me as is wide receiver Isaiah McKenzie. Detroit's defense is still bad, meaning the Bills should put up points.
For the Lions, I'm down on Jared Goff for fantasy. He's been fine for the Lions but he's a low-end QB2 option for me. Jamaal Williams seems to be the top choice in the backfield. He's having a great season but could struggle some against this defense. He's still a high-end RB2 for me. Amon-Ra St. Brown is a Top 12 option at receiver, but he's the only pass-catcher I trust. Finally, I love D'Andre Swift's talent but he's not getting volume. He's a boom-or-bust flex option sadly.
New York Giants (7-3) at Dallas Cowboys (7-3)
If the playoffs started today, both these teams would be in the field. While most expected that for the Cowboys the Giants have been one of the better surprises of the NFL Season. While the record is impressive and Brian Daboll is getting the most out of his players, the Giants have been far from a dominant team. Still, this is a long-standing rivalry where the outcomes are far from a certainty.
For the Giants, there aren't many solid fantasy options. Daniel Jones is a solid QB2 option, while Saquon Barkley is a Top 12 option at RB despite a tough matchup. With Wan'Dale Robinson now on IR, receiving options are getting thin. With all 32 teams in action, hopefully you have some options. If you're desperate, Darius Slayton is a flex option for me.
For the Cowboys, Dak Prescott is a QB1 option and CeeDee Lamb is a WR1 option. I like both Ezekiel Elliott and Tony Pollard in the backfield. In fact, I have Pollard ranked higher because of his big-play ability. Dalton Schultz is a low-end TE1 option for me, while Michael Gallup is just a flex consideration.
New England Patriots (6-4) at Minnesota Vikings (8-2)
This is an intriguing battle to close Thanksgiving. The Vikings have been one of the best teams in the NFC by record but they're coming off a 40-3 thrashing at the hands of the Cowboys. That combined with Kirk Cousins' struggles in Prime Time have to give you a moment of pause. The Patriots, meanwhile, have been far from flashy, but they've been effective. They're 6-4 and once again in the playoff picture. Can they stay there? This game is key for both teams and their playoff chances.
For fantasy, the Patriots are a tough bet. Mac Jones is a QB3 for me and not an option I'm rolling out. Among the pass catchers, the best option seems to be Jacobi Myers, whose still just a WR3/Flex for me. I do like Rhamondre Stevenson, who is an RB2. Damien Harris also gets touches, but he's more of a flex option.
For the Vikings, Justin Jefferson is a Top 3 option at receiver. Dalvin Cook is a Top 12 RB option, and T.J. Hockenson is a Top 12 TE option. But I'm less bullish on Cousins, who's a QB2 for me this week. I'm also not banking on a big day from Adam Thielen, though he holds flex appeal.
And now, time for this week's picks!
NFL Picks, Week 12
Bills Over Lions
Cowboys Over Giants
Vikings Over Patriots
Buccaneers Over Browns
Bengals Over Titans
Jets Over Bears
Dolphins Over Texans
Commanders Over Falcons
Broncos Over Panthers
Ravens Over Jaguars
Chargers Over Cardinals
Seahawks Over Raiders
Chiefs Over Rams
49ers Over Saints
Eagles Over Packers
Colts Over Steelers
Last Week: 9-5
Season: 86-77
Matthew Fox is a graduate of the Radio, Television and Film program at Biola University, and a giant nerd. He spends his free time watching movies, TV, and obsessing about football. He is a member of the FSWA. You can find him @knighthawk7734 on Twitter and as co-host of the Fantasy Football Roundtable Podcast.