Spirited follows the story of the Ghost of Christmas Present (Will Ferrell) and his determination to flip an unredeemable human named Clint (Ryan Reynolds) to become a better person. Present is trying to avoid "retirement" meaning going back to Earth and living out the rest of his life as a mortal, but he becomes conflicted when he meets Clint's assistant Kimberly (Octavia Spencer). This is a modern, musical version of Charles Dickens's "A Christmas Carol." Clint is an extremely wealthy and talented PR manager and the ghosts are all coordinated as if they were putting on a Broadway show. Spirited also stars Patrick Page, Sunita Mani, and Tracy Morgan, and is directed by Sean Anders and written by himself and John Morris.
This film in particular was going to be an interesting one considering musicals are a bit contentious amongst filmgoers. That, combined with Will Ferrell and Ryan Reynolds' shtick that some people love and some despise, makes this movie a coin flip. If you like both, then this movie is going to rock, and if you like one, then it will just be good. Since these characteristics are inextricable from the film, the experience relies heavily on one's preferences. I found Spirited delightful and funny, something I could show my family and know they'll enjoy this holiday season. Like most Christmas films, it is certainly corny, but full of good intentions.
The bromance between Present and Clint is what holds the story together. At first, the ghosts are supposed to turn a hotel manager into a better man, but when Present sees Clint there for a speech to the National Association of Christmas Tree Growers he gravitates toward him immediately. Clint proves instantly why he has been labeled an irredeemable character when he breaks into a song about how lazy and desperate humans are. Throughout the film, he distracts the ghosts with his charm and he sneaks into the ghost world. When Present's boss comes down hard on him, Clint immediately defends him, which is the first domino that leads to his turn to the light. We travel with Clint and Present through both of their surprisingly dark pasts, and through this Present eventually comes to terms with his impending retirement.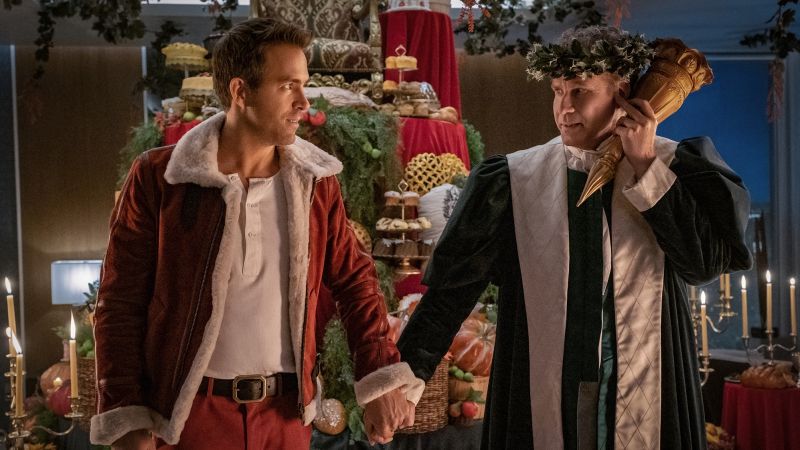 Pasek and Paul, the songwriters for La La Land and The Greatest Showman, created a nice set of holiday songs for this film. They are catchy and fit the voices of each of the actors perfectly. I had no idea that Ryan Reynolds could sing at all, but he brings a solid vocal performance. Not to mention that the musical numbers are extremely well choreographed and the camera stays wide so we can see how many people are dancing within the frame. It's obvious how much money was spent on making the production because the sets look so big and grand. Also, there are multiple cameos, but one in particular is quick and hilarious, so that is something to keep an eye out for.
After spending a week in theaters, Spirited releases Friday, November 18th on Apple TV+.