As I sit here staring at the blinking cursor not knowing what to say or how to say it, I just get more and more angry.
Anger at teams for doing stupid things is something all fans deal with. I was angry with the Niners for drafting Alex Smith over Aaron Rodgers. I didn't tune into the NFL Draft for about five years. I was so angry with David Stern for nixing the Chris Paul to the Lakers trade that I didn't watch any NBA games for almost a decade. But this is not that anger. This is something else.
I have a history of concussions dating back to my childhood. When I was growing up, it was just something that happened when you played too rough. Shake it off and get back in the game. It's not a SERIOUS concussion. You woke up after all and you seem fine. Shake it off and get back in there. As athletes, this is how we were raised.
Seeing the errors of our ways in so many of our childhood heroes lives was supposed to have changed that. Concussions have caught up with so many. CTE has taken so many lives. Junior Seau committed suicide. Chris Benoit killed his family and then himself. Ex-NFL player Phillip Adams killed six people before killing himself. Imagine how long the list would be if we knew the whole story.
Allowing what happened to Tua Tagovailoa over the past week and a half is disgusting. It's appalling. Outrageous. Absurd. Disgraceful. Unfathomable. It's telling of a system that was put in place to prevent this exact thing from happening failing.
The NFLPA needs to rain hellfire upon the Dolphins' medical staff. They need to go after the independent concussion specialists. They need to get in front of each and every player, in front of each and every trainer, coach and owner and say enough is enough. They need to go in front of each and every fan and apologize for allowing a system to be in place that allows this to happen.
Roger Goodell should be ashamed of himself for making hundreds of millions of dollars and letting a system exist where a quarterback can get a concussion and come right back in the game. He makes his money on the backs of each of these players' brain cells. He makes blood money.
I'm sure he will come out and give platitudes, hopes and prayers and a promise to do better. But when do the promises end and the results begin? When can we trust a league that depends on violence to make literal billions of dollars to have the safety of their players as their number one priorities? Players have a shelf life and are cast aside faster than your veggies can go bad.
Watching Tua stagger after the hit last weekend was bad. A boxing ref would have called the fight. He was rocked all the way and was in the concussion protocol immediately. Until he wasn't.
Watching him Thursday was worse. Not because he got carried out on a stretcher. Not because his muscles locked up and he was unable to move. No not because of those things. Because he shouldn't have been on the damn field to start with.
Mike McDaniel has come out and said all of the tests were passed in that Sunday game and he was cleared to come back out. He said Tua passed tests everyday leading up to that terrifying moment on Thursday. I've taken concussion tests. You can pass them with a concussion. It's a test. You'll do anything you can to pass it. I saw Tua. There is no way in hell he was ok regardless of what "tests" they ran on him.
There's a reason boxer's ring crews throw in the towel. When they've got a guy out there that can't defend himself, they want to get him out of there before something bad happens. Why didn't McDaniel throw in the towel on his guy on Sunday? Why didn't he push harder or do more? Why was Tua allowed back on the field on Sunday, and why was he out there Thursday?
Because of money, pride and someone dropping the ball. And it's not ok.
I hope the kid's alright. I really do. From a neurological standpoint, I've been there. No one deserves that. You're helpless. You're scared. I can't imagine what it's like being out there in front of tens of thousands of fans with millions more watching from the comfort of their homes and being knocked out. I can't imagine what the guy went through, or what he's going through now.
CTE scares me. More than any other medical condition, CTE scares me. It's a barrel I'm looking down hoping the trigger doesn't get pulled. Tua is now going to be looking down that barrel as well.
It could have been avoided. It should have been avoided. And it wasn't. And it makes me so angry.
Justin Jefferson Goes Back To Being Justin Jefferson In London
I think this is absolutely news.
JJ has not been the dominating force over the last two games. He has nine receptions for 62 yards and no TDs. Those are very pedestrian numbers. He's much better than that. Let's look at game one. He caught the same nine receptions only for 184 yards and two touchdowns. While those are otherworldly numbers, they are much more on par with what we've seen of Jefferson over his career.
In his rookie year he burst onto the scene with 88 receptions for 1,400 yards and seven touchdowns. That's a really really good season for most wideouts. That's an average of almost 17 points per game in standard ppr leagues. If before the season you would have said you could get a guy putting up those numbers on the cheap, you'd have jumped all over it.
Year two left those numbers in the dust. JJ had 108 receptions for 1,616 yards and 10 touchdowns. He was just shy of 20 points per game. He was leaving most other wide receivers in the dust. Those are top pick numbers.
There were nothing but high expectations for him coming into season three and everything looked to be proceeding as planned after week one. For some reason he has fallen off the map. This level of under-performance can't last.
Jefferson draws a tough assignment in Marshon Lattimore in the early early game, but he's faced tough corners before. The Saints are going to be struggling on offense with Andy Dalton at the helm and Michael Thomas sitting out. The Vikings need to force the ball to Jefferson to get him back on track. Dalvin Cook's arm fell off last week so they're going to want to replace some of their rushing with short to intermediate passes. Jefferson will get plenty of those.
Jefferson might not put up 35 fantasy points, but I've got him hitting at least 20.
Cooper Rush Will Be A QB1 This Week
I'm going news on this one as well.
I talked about Rush last week as being a serviceable replacement for Dak Prescott. This week, I think he adds even more confusion to the Cowboys quarterback conversation. Rush looked good last week. He showed he can make all the throws and probably would have cracked the Top 12 then if not for some easy drops from his receivers. He made a spectacular throw to Lamb at one point in the corner of the end zone that the defender had zero chance to stop.
He's had another week taking first team snaps and is getting to be super comfortable with his receivers. With the rushing game being just so-so, they have to move the ball somehow. With Tony Pollard being the better back in their backfield, they're going to be looking to move the ball through swing passes and short routes instead of just handing to Ezekiel Elliott for four yards up the middle.
The other side of this is the Commanders defense. In the words of Jay-Z, "He's alright but he's not real." There's nothing the Commanders have shown that intimates them being able to shut down any particular aspect of an opposing offense. Rush is going to have a field day tearing them apart.
Rush is trying to stay the starter once Dak's hand heals. With the way he's playing, there's always a chance. But as Richard Sherman says, Dak will be starting because of the money, which is probably the case. Look for Rush to make a good case at keeping Dak on the bench for at least the week after this game.
The Seahawks Are Going To Pull The Upset This Week
And here's another news.
Geno Smith is looking good out there. I predicted that and might have been the only one. He's started getting a solid thing going with his prized receiver DK Metcalf, but that's not the only person catching passes on this offense. He can spread the ball around, move a little bit to pick up some first downs with his legs and has been limiting his bad decisions.
The Lions on the other hand are banged up. Like banged up banged up. D'Andre Swift is out. Amon Ra St. Brown is out. Their offensive line is banged up. TJ Hockenson is banged up. They have Jared Goff at quarterback. They're in trouble.
While the Seahawks defense is about as far removed from the Legion Of Boom as it could be, they should be able to slow down Jamal Williams enough to win this game, as he is the only player that seems to be able to elevate and put the team on his shoulders.
This game is going to be ugly. Mistakes will happen. The winner will be determined by a few big plays, and the Hawks have the big play guys. Look for a win for the Hawks in the records, but try not to watch any of the game other than on Red Zone.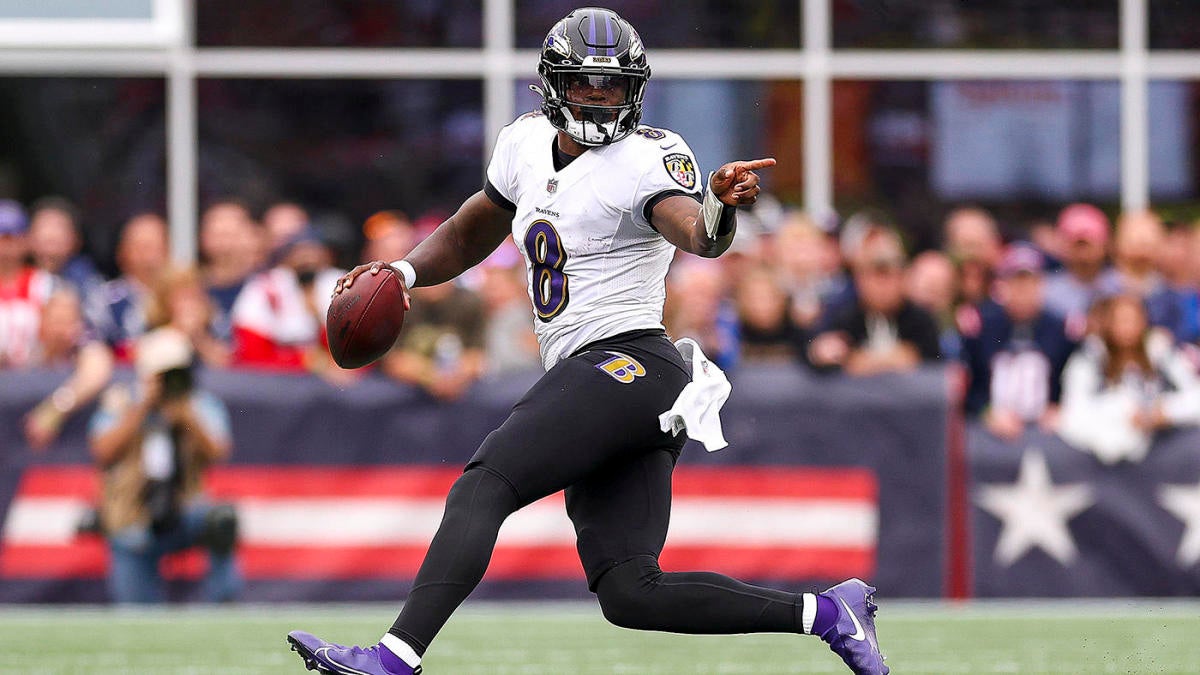 Lamar Jackson Will Be The Best Quarterback In His Game This Week
I have to go with noise here.
Jackson has been lighting up the league again As I talked about last week, he's on pace to go well over 1,000 yards rushing . I didn't mention that he's now on pace to go comfortably over 4,000 yards passing as well. The noise call isn't necessarily due to him not being amazing. Josh Allen put the ball on the ground three times last week. He took four sacks which is thus far his season high. I have to lead with those because he had 400 yards passing and 47 yards rushing.
Allen lost to the Dolphins in a game that the Dolphins' punter literally kicked it into a guys butt. The Bills have a chance to take back control of the AFC East if he dominates this game. With quarterback injuries for the other three teams holding back the Pats, Dolphins and Jets thus far this season, he needs a statement game.
I've always felt that Lamar uses his legs to get the passing lanes open. I doubt I'm the only one that feels this way. He's going to get some rushing yards, and the Bills have a depleted secondary which could spell trouble for them. I don't think Lamar has a bad week by any means. I just think Allen needs this game more. Both are amazing talents and will be top end QB1s. I just have Allen a spot or two higher.
The Eagles Are Going To Fall Off This Week Against A Tough Jags Defense
I'm thinking this is close, but I'm going noise.
Jalen Hurts has been nuts to start the season. He's led his Eagles to dominating victories. Newly acquired AJ Brown has been lights out. Devonta Smith has been lights out. As usual, the rushing offense goes through Hurts but has been spectacular none the less. Hurts is going to be looking into a tough matchup with an excellent if unexpectedly good defense. Josh Allen (the defender) has been amazing up front. They've got Defensive Rookie Of The Year Candidate Devin Lloyd looking to lock up the award by midseason. Tyson Campbell is looking more and more like a top end cornerback.
So, it's the old irresistible force meeting the immovable object. The Jags are surprisingly good this season and a lot of that has to do with the defense. This is going to be the toughest matchup they have this season. Look for the Eagles offense to slow down against the Jags, but not fall off by any means. It's going to be a shoot out and while I think the Jags lose, I've got them covering the 6.5.
Looking for a lineup question to be answered? Got offered a trade you're just not sure on? Think fantasy football is neat and want someone to talk to about it? Get in touch with me @IHeartCaravans on Twitter, Medium, uStadium, TikTok, and the Fantasy Life App. Hope to hear from you soon!