Netflix's latest dark comedy sees Maya Hawke and Camila Mendes team-up in a bid to execute the ultimate revenge plot that skilfully weaves together the influence of Alfred Hitchcock's Strangers on a Train with the iconic teen movie renaissance of the 1990s-2000s.
Following in the footsteps of popular cult-favourites such as Mean Girls, 10 Things I Hate About You, and Cruel Intentions, a shadow is cast upon Jennifer Kaytin Robinson's 2022 comedy. Can Do Revenge live up to the excellence of those that came before? Of course, this is an exceptionally high bar to topple, but let it be known that Do Revenge reignites the spark cinema has been missing for what is nearing two decades and incorporates a modern spin to flow with the times.
Middle-class teen in a sea of preppy scholars Drea (Mendes) fights tooth-and-nail to retain her status on the social ladder. Yet when her sex tape leaks, she plummets to the bottom of the food chain with ex-boyfriend Max (Austin Abrams) eager to lead the charge. Meanwhile, transfer student Eleanor (Hawke) is recovering from falling victim to a vicious rumour after crush Clarissa (Ava Capri) claims Eleanor forced a kiss on her. Soon, the stars align and Drea and Eleanor make a plan to orchestrate revenge on their tormentors.
There is plenty of convolution and backstabbing driving the narrative to the point that it's unclear on who to root for – or what the end goal will actually be. With a two-hour runtime to fill, the plot does come close to losing its buzz as it derives into several subplots, slowing the momentum and serving as a distraction from what should be an on-going entanglement of deceit. However, Do Revenge manages to pull itself free from becoming bogged down with drivel and regains its footing ahead of the final act.
Do Revenge is visually pleasing. Robinson matches the tempo of the modern world whilst paying homage to the films we have grown up absorbed in. Dialogue blends surprisingly well, rarely coming across as cringeworthy or impractical, and the choice of music goes down a treat. It's just one hit after another as you find it harder and harder not to sing along. The use of pastels is also a great imagery to reflect on the almost Stepford-like preppy dystopia of social segregation; no space is a safe space in this dark comedy.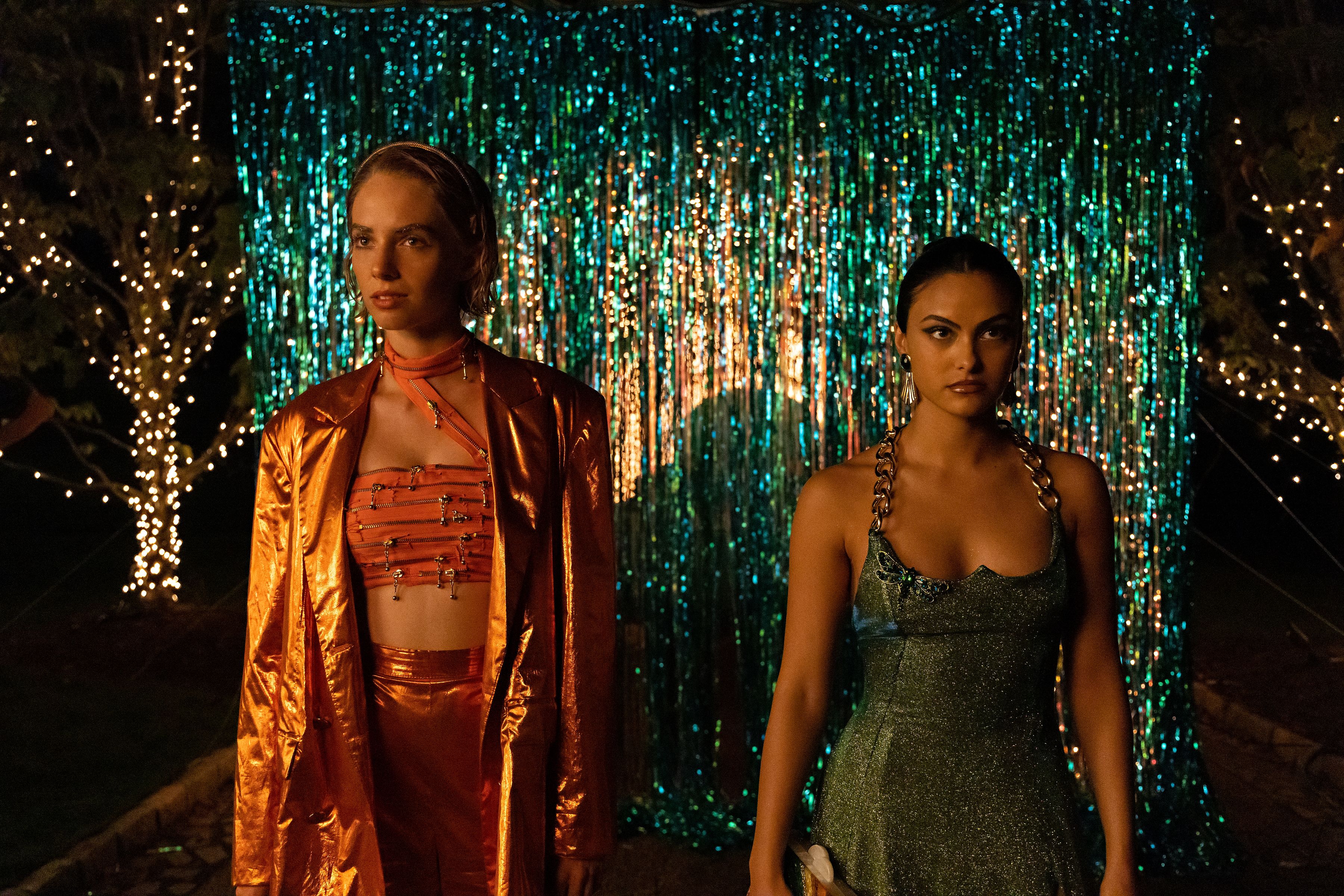 As for Hawke and Mendes, well, both of the leading stars are fantastic in their respective roles. To see Mendes blossom beyond Riverdale shows promise for the next steps in her career; if only we could see her breach the confinements of high school teen drama. Hawke is equally delightful when it comes to channelling her inner mean girl; neither Eleanor nor Drea are to be double crossed, and you'd be a fool to consider it. Both Mendes and Hawke play into this sense of familiarity between them; it's clear that playing back and forth comes easy for the two and having them team-up again in the future is an absolute necessity.
Do Revenge takes a beloved trope of what seems to be forgotten cinema and makes a refreshing concoction of betrayal and diabolical scheming. Even in its two-hour runtime, a lot of fun is to be had and the film continues to dish out a few surprises of its own. If there's one lesson to take away from Do Revenge, it's that everyone deserves an emotional support lizard named in honour of Olivia Colman. Truthfully, that's all it takes for Hawke's Eleanor to draw you in – she's just like us, guys.