Billy Butcher (Karl Urban) and his loyal band of misfits are back for battle against corrupt superheroes as The Boys returns for its third season.
It's been two years since we last left the eponymous vigilante team in a conclusion that saw Butcher's wife Becca (Shantel VanSanten) meet her accidental demise at the hands of super-son Ryan (Cameron Crovetti); Stormfront (Aya Cash) is disgraced and wounded when her Nazi past is exposed; Starlight (Erin Moriarty) is brought back into The Seven, and Hughie (Jack Quaid) is joining forces with the Federal Bureau of Superhuman Affairs to bring down Vought for good.
The series opens with Homelander (Antony Starr) at what appears to be the worst we've seen him; this development into the super is not anything like the show has portrayed before; he is growing increasingly unhinged, there's a deep vulnerability to him, and Starr is giving his all into delivering an unnerving performance.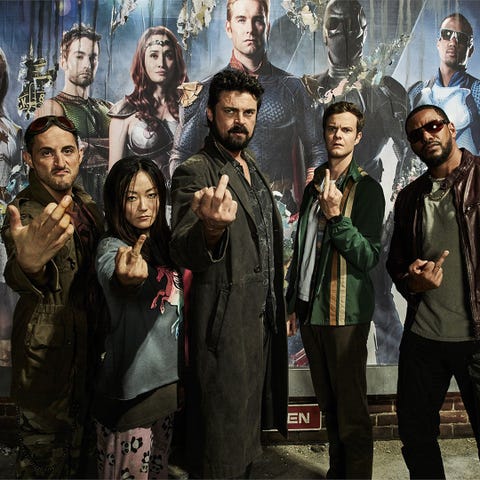 Every season Starr goes bigger and (somehow) better. His presence demands your attention whether he's front and centre or not; he doesn't even have to say a single line of dialogue and we're already squirming at the sight of him. Homelander exudes nothing but intimidation; we never know what is going through his head, which is further evidenced by this season.
Homelander's exertion of power continues to provoke a rift. There has always been unease and mistrust between the likes of Starlight and Homelander, but the third season intensifies the drama. It elevates the show to a whole new level; the stakes are at their highest; it all comes down to a cunning battle of wits.
The series persists at keeping us on our toes with everything they're willing to show; this is the bloodiest, most violent, disturbing season yet. Of course, the comedy remains ever-present with laugh-out-loud quips and utterly bizarre sequences that shouldn't make any sort of sense, but this is The Boys, the very same show that crushed a guy's head during oral sex in its first season, so really, we should maybe know better than to question the sheer craziness of what we're seeing. You may think that you've seen it all by the time episode one is finished, but I'd advise you to hold onto your seats because the season is the definition of a rollercoaster.
We're getting to see a completely different side to many of these characters, particularly Butcher. In his on-going mission to eliminate his greatest foe, he is faced with a moral dilemma – but can he resist the temptation or will his desire for revenge ultimately cost him everything? This creates an interesting conflict of interest between Butcher and his fellow boys; it begins to delve down an unusual path for the group, and succeeds in keeping each episode fresh and energised. Butcher's next move is never predictable, but neither is Homelander's.
While the central premise revolves around the tension between the supes and the boys, a few new key players are thrown into the mix, including Soldier Boy (Jensen Ackles). Ackles is made for Soldier Boy and you can see that during his debut; the build up to his character sets up a strong and effective enigma for the remaining episodes. This is a long stretch from his near-two decade run on Supernatural, but Ackles takes it all in stride.
The Boys are definitely back in town with an incredible third season that promises full fulfilment of twisted humour, stomach-churning gore, curveballs at every corner, and a compelling exploration into uncharted territory.