Fight Fire with Fliers is a weekly fantasy football series that discusses emergency free agent adds or stash candidates for deep rostered or 14-plus team leagues. The post publishes on Saturdays following typical weekly waiver runs, allowing forward thinking managers a last minute opportunity to roster players ahead of their breakouts.
There are few competitors left in the fantasy season now. The strongest (or hottest) teams remain. There is less competition for waivers and COVID-related absences are piling up for startable fantasy assets everywhere. These factors are making the lookahead free agent adds less meaningful and valuable, as the amount of random RBs or TEs becoming viable change daily. Given these factors and only Week 17 ahead, the Fliers Catalogue will receive no additions. However, there will be a discussion concerning the top remaining candidates given the changing circumstances from last week.
The Fliers Catalogue
The Three Amigos
Peyton Barber, Jaret Patterson and Ke'Shawn Vaughn remain the most useful flier candidates that appear readily available in any league. Eno Benjamin is listed because he remains the most tenured back behind Chase Edmonds and James Conner, but has had few opportunities and would need both backs to be unavailable for him to be useful. As the Cardinals continue to plummet, it is also apparent that they will leave the offense almost entirely in the hands of Kyler Murray, meaning more scrambling and intentional QB runs to keep the ball in their best playmaker's hands. DeAndre Carter is fairly replaceable among other receiving assets, although the health of Terry McLaurin and his utility in return yardage leagues have kept Carter at the front of the "in case of emergency, break glass" list at WR.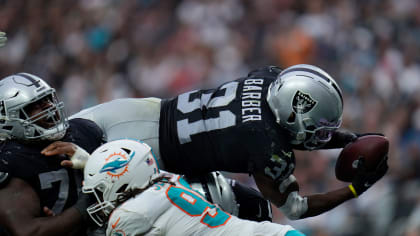 Barber yielded strong rushing efficiency in his handful of attempts last week and continued to show that he can, if nothing else, exist on passing downs. He profiles as the horsecuff to Josh Jacobs, who would yield a similar replacement value to the offense as an Alexander Mattison, yet Barber is almost unrostered in all leagues! Even against a stingy Indianapolis defense in Week 17, Barber would be an RB2 on volume alone with no Josh Jacobs available.
Patterson flashed a TD on only four rushes last week, as Antonio Gibson struggled to stay on the field. While managing Gibson's health is more relevant because of positional attrition, it also bears noting that other Washington players with three days of missed practice were already ruled out and that his status Sunday is likely a mystery until an hour before kickoff. You may want to invest in Patterson before the inactives list is announced. Washington will face Philadelphia at home in Week 17.
Vaughn is still an unattractive commodity in the fantasy realm. It is useful to recall that the split among Leonard Fournette and Ronald Jones drafters was fairly even and that as painful as it was to cut Jones mid-season, his previous accomplishments and obvious talent make him an easy rebound when given the chance. The only other option is the newly signed Le'Veon Bell, who is seemingly a last resort among last resorts. This may indict Vaughn's ability to pass block, however, the team is out of reliable options and is too strong not to give a shot at another Jones implosion as a road game against the New York Jets is on the horizon in Week 17.
Jason Astarita (@AstaritaJason) is a professional in the sports gambling industry. He has an MS in Psychology (Industrial and Organizational) from Southern New Hampshire University and completed his undergraduate degree in Psychology at the University of San Diego. His passion for fantasy sports is over a decade old, but has recently been theorizing on the novel format of Superflex Best Ball in the Dynasty Fantasy Football arena. Ever interested in draft theory and roster construction, feel free to reach out on twitter with any insights or queries! #superbestball