Hello again everyone, I'm back again with my week 2 college hoops power rankings. We have had a lot of action since I put my initial preview out two weeks ago, so we have had a lot of movement. You'll realize as you read this and subsequent power rankings, that I will own up to it if I am wrong. And one thing I was 100% incorrect about is how high people were on UCLA. They are legit, and Mick Cronin has the wheels turning fast over in Hollywood. Without further ado, here is my top 20 for the week. The previous ranking is in parentheses. Stick around until the end as well, where I will be previewing some games for the week.
You can check out the College Basketball Top 25 right here.
Chris's Top 20 Power Rankings
Gonzaga (1) – Record: 4-0
The first test against Texas was not nearly as close as the 86-74 score indicated, as the Zags absolutely dominated this game. Drew Timme looks like he is going to waltz to a NPOY, but Chet Holmgren is the real story. He's wiry thin but this kid is going to turn some heads.
UCLA (5) – 4-0
The game was at 11:30 PM EST, which is awful for the sport, but they took care of business against my national champion pick Villanova. Credit to where credit is due, this team is every bit as good as their run to the Final Four last year indicated. Johnny Juzang is a star.
Purdue (8) – 5-0
Jaden Ivey is as good as advertised, is he not? Trevion Williams and Zach Edey have formed a formidable duo down low, and they showed real grit in their comeback win over Villanova in the championship game of the Hall of Fame Tip-Off tournament. They also made a top 25 Tennessee team look like a high school JV team. Michigan was the early pick for the B1G, but Purdue is going to hold their own.
Kansas (3) – 3-0
The Jayhawks were able to put away an admittedly down Michigan State (by Tom Izzo's standards) easily in the Champions Classic but haven't really done much else. Ochai Agbaji is of to a hot start and Jalen Wilson is coming back from suspension, so we'll see how they come together.
Duke (10) – 5-0
Paulo Banchero is an absolute superstar and looks like the number 1 overall pick for next years draft that he was billed to be. Everything he does on the court is effortless. We'll see how the pending charges for him, and Coach K's grandson ultimately affect the team, but the Blue Devils are looking good for Coach K's swan song.
Baylor (9) – 4-0
The Bears sure haven't missed a beat since winning the title, have they? Scott Drew just knows how to coach the back court. We all thought it was going to be the Adam Flagler and Matthew Mayer show with those two coming back, but the real surprise has been LJ Cryer. They'll face a true test in the Battle 4 Atlantis this week.
Memphis (11) – 4-0
The freshmen have played like freshmen at times, but Jalen Duren is all that he was hyped to be. He is incredibly skilled around the basket and does not get sped up. Bigger tests will come this season, starting with Virginia Tech this week, but if you are Penny Hardaway you must be pleased with how your team is playing so far this year.
Villanova (2) – 3-2
The Wildcats have lost to two very good teams, UCLA on the road and Purdue yesterday, so don't let the record fool you. The ability to close out games is a concern, as they lead both by double digits in the second half. However, Jay Wright should have this team running on all cylinders soon.
Texas (4) – 3-1
We knew it would take some time for the Longhorns to gel, it happens every year with a Chris Beard coached team. The talent is there, though you could really see the difference in a team that has played together for a while (Gonzaga) and a team that is still trying to figure out who they are (Texas). Coach Beard will figure it out, though.
Arkansas (16) – 3-0
This is a fun team with great guards that likes to run but we knew that coming into the season. What most didn't see coming is the emergence of Jaylin Williams as a legitimate post threat. This absolutely changes things, not only in the SEC race, but also their ceiling as a legit Final Four contender.
Kentucky (7) – 3-1
TyTy Washington looked like a freshman in the Champions Classic, playing too fast at times and making freshmen mistakes but since then he has looked like Coach Cal's next great guard. Oscar Tshiebwe is an absolute force in the paint and finding a way to beat a good Ohio team with him in foul trouble was a great sign.
Alabama (13) – 4-0
The Crimson Tide aren't only rolling on the football field, as Nate Oats and his returning guards Jaden Shackleford and Jahvon Quinerly have picked up right where they left off. The ESPN Events Invitational awaits this week, with a possible matchup against a loaded Kansas squad in the championship game looming. If Alabama wins that tournament, we may be talking about a top 5 team.
Houston (15) – 3-0
That game against Hofstra was an aberration. Kelvin Sampson coached teams rarely play that poorly on the defensive side of the ball. We will see how the adjustments they seem to have made in subsequent games hold in the Maui Invitational this week. They are the best team in this tournament, so anything other than a championship will be a disappointment.
Arizona (NR) – 5-0
Did this team come out of nowhere or what? The Wildcats absolutely throttled a Michigan team most had ranked in the top 5 coming into the season. They neutralized Hunter Dickinson with double teams and dared anyone else on the team to beat them. Tommy Lloyd was on Mark Few's staff for a long time, so we knew he was a good coach. Nobody saw that coming.
Seton Hall (NR) – 3-0
At some point Kevin Willard is going to get poached, right? Maybe he makes himself the Jay Wright of Seton Hall, but the guy can flat out coach. He has a lot of experience that helped them squeak out a win against Michigan. This should be a tournament team this year.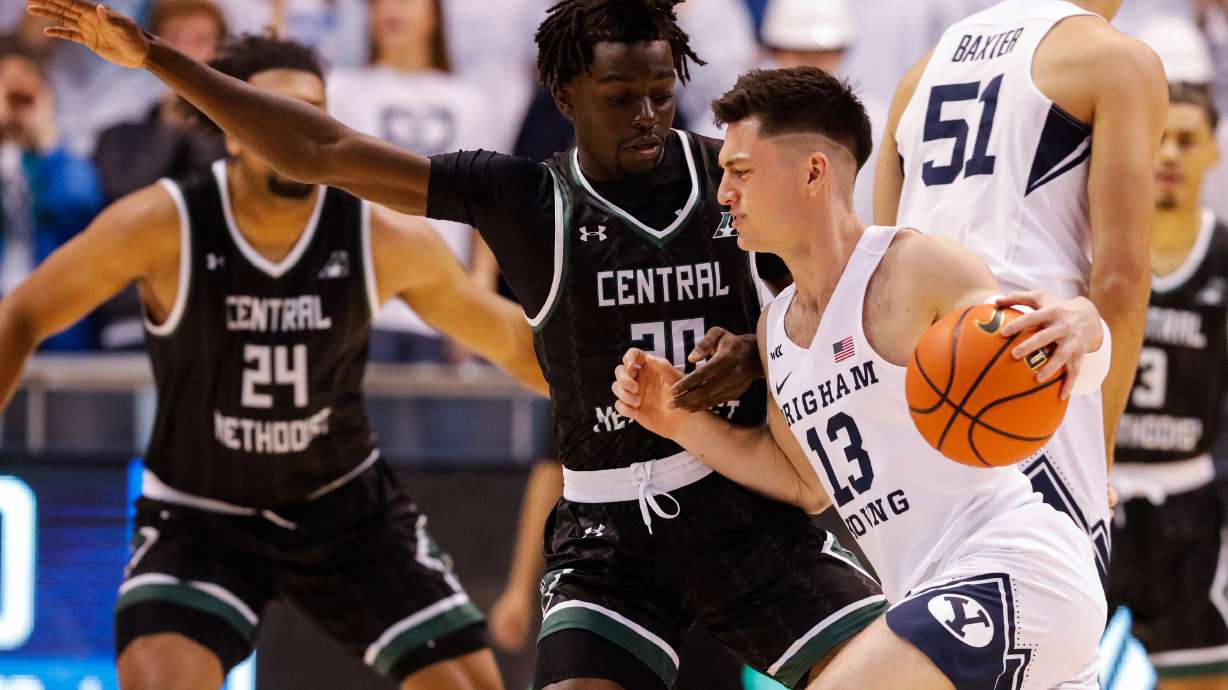 BYU (NR) – 4-0
Talk about eye opening wins, huh? This team beat the brakes off of a good Oregon squad by 32 points. Alex Barcello has the makings of having a Jimmer Fredette type year for Mark Pope and he sure can shoot the lights out of the ball.
Tennessee (19) – 3-1
Credit where it is due for Rick Barnes. The Volunteers looked outmanned and outclassed against Villanova but came back the next day for a decisive win over UNC. Surprisingly, they did it in the paint against a UNC team that lives down there. Kennedy Chandler is off to a great start and if he continues to play this way then he will get plenty of love from Rocky Top.
Michigan (6) – 3-2
Until I see more, I'll give Juwan Howard and the Wolverines the benefit of the doubt for that loss to Arizona. The Wildcats had the perfect game plan, so we will see if they can adjust. Hunter Dickinson is off to a slow start and this team cannot afford him to have a sophomore slump.
Florida (NR) – 3-0
The Gators already have a signature win under their belt, beating a deep and experienced Florida State team. They also were able to shut down potential lottery pick Patrick Baldwin Jr. during their game against UW-Milwaukee. The defense for this team is legit.
St. Bonaventure (NR) – 5-0
This is just a fun team. They are experienced and play like it. The Bonnies are legit, shown by the blowout win over Shaka Smart and Marquette in the Charleston Classic. This team is absolutely going to make some noise in the NCAA Tournament.
Teams that dropped out: Illinois (12), Oregon (14), Florida State (17), Ohio State (18) and North Carolina (19)
Three Games to Watch This Week:
(1) Gonzaga vs. (2) UCLA – Tuesday 11/22 @ 9 PM EST
I could not be more excited about this game, and you should be too. It is a rematch of the best game of the tournament last year, with now gone freshman Jalen Suggs hitting a 40-foot game winner to send Gonzaga to the national championship game. This game will show us either how legit UCLA is or if Gonzaga is in a class of its own.
UCONN vs. Auburn – Wednesday 11/23 @ 1:30 PM EST
These two teams are ranked 19 (Auburn) and 22 (UCONN) in the AP Poll, respectively, and if you want to watch a game with a whole lot of points then this is the game for you. Dan Hurley has athletes and Bruce Pearl loves to run and gun. There will be a lot of 3's in this game and if Auburn hits their fair share, they'll have a hard time losing this game.
(5) Duke vs. (1) Gonzaga – Friday 11/26 @ 9:30 PM EST
The consensus top two prospects in next years NBA draft battle it out in Las Vegas. How much fun is that? Paolo Banchero vs. Chet Holmgren may be what everyone wants to see, but unless Duke can stop the offensive onslaught the Bulldogs bring night in and night out this may not be a signature win for Coach K.
If the championship we all want to see in the ESPN Events Invitational comes to fruition, Alabama vs. Kansas immediately becomes a game to watch. Bill Self normally plays at a slower pace, but he has the guards to run with Alabama as well. We should all be rooting for this match up.