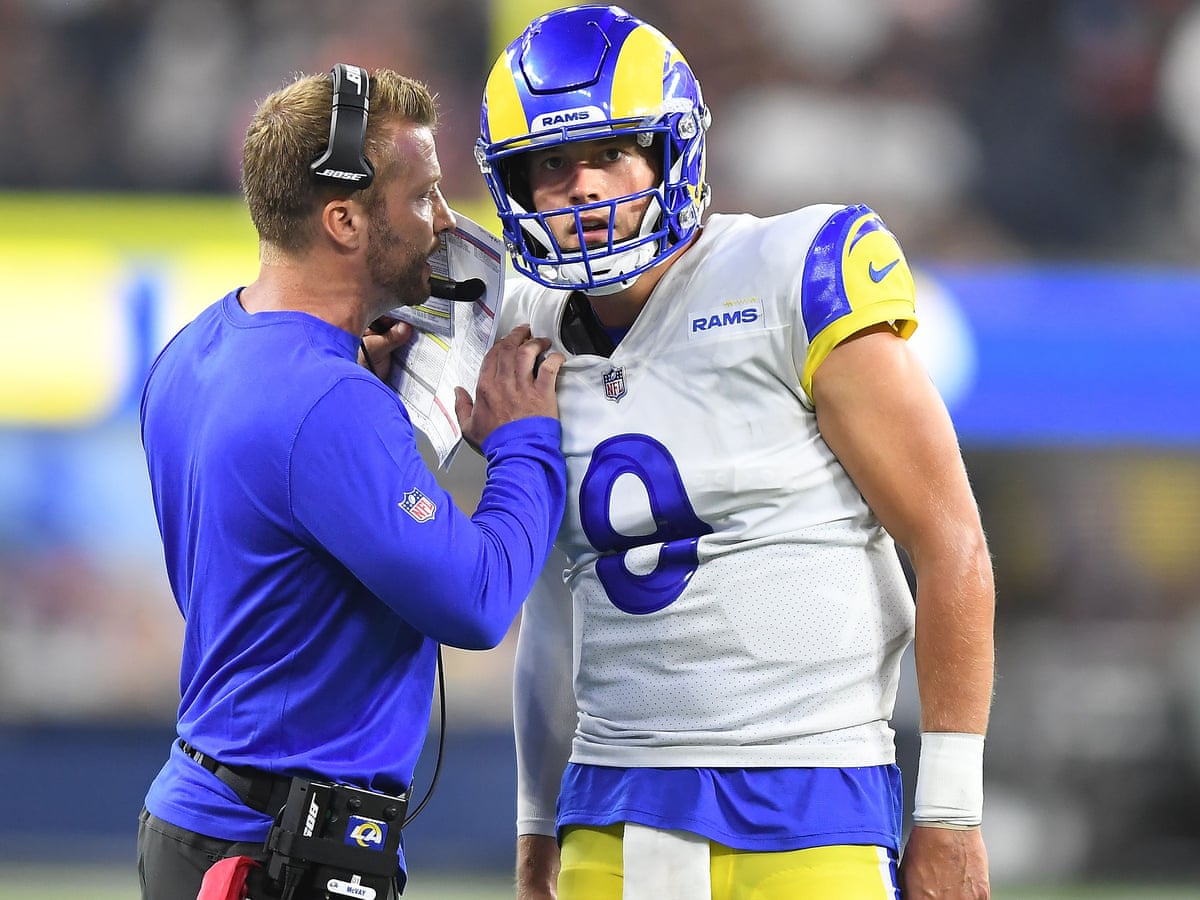 The 2021 NFL Season—the league's biggest season ever—has hit its mid-point. As such, we've decided to fearlessly offer our take on the best teams and those leading the race for crucial awards at the mid-point. We'll each give our Top 3 from each Conference as well as our picks for Coach of the Year, Rookie of the Year and MVP.
Jason Astarita (@astaritajason)
AFC Power Rankings:
1. Baltimore Ravens (6-3). Despite the recent road loss to Miami, Baltimore still seems to be the most versatile team in the AFC. They have skilled assets at all the necessary levels of the offense to combat the defensive approaches that are stifling some of the greatest offenses in recent history.
2. Kansas City (5-4). If you thought Baltimore's rank was absurd, now you're really going to be confused. Kansas City has played arguably the hardest schedule to date and has had incredulous turnover woes that are seemingly untenable. At 5-4, they have positive regression to look forward to with turnovers and offensive execution, and the offensive skill players that can beat each level of the defense. Hopefully this will include some added passing game work for a healthy Clyde Edwards-Helaire upon return, which would really leverage against defenses allowing short-area production.
3. New England Patriots (5-4). This team continues unheralded with an entirely reconstituted offense and a full complement of defensive prowess. There are also no other teams in the AFC that can boast an undefeated (4-0) road record, which is only managed by NFC contenders Los Angeles Rams and Arizona.
NFC Power Rankings:
1. Tampa Bay Buccaneers (6-2). Another thematic sequence with my rankings is the versatility of the offense. When healthy, Tampa boasts All-Pro talent at almost every skill position on offense, unless you want to consider Leonard Fournette a champion of volume, which is fine by me. The defense may lack some competence in the secondary but the pass-rush should provide enough support to slow the opposition from keeping pace on the scoreboard.
2. Arizona Cardinals (8-1). The Cardinals are remarkable. Not only do they score an absurd number of points but also yield so few. This is quite a reversal from last season and not completely owed to Kyler Murray!
3. Green Bay Packers (7-2). The only team to beat Arizona, Green Bay showed excellent strategy and management to have chance at winning against Kansas City without Aaron Rodgers. As discussed defenses are attempting to reduce big-play effectiveness and force teams to bludgeon their way downfield. Green Bay actually has access to this in their offense with the Quadfather, AJ Dillon, and the burst of Aaron Jones to compound yardage beyond the line of scrimmage.
Awards Predictions:
NFL MVP: Cooper Kupp WR Los Angeles Rams. Kupp has 1019 receiving yards and ten TDs through nine games. This is a great season for most at the position but he has been the best offensive player in the league by a wide margin. With no QBs separating from the pack, an opening exists for Cooper Kupp to effectively steal the award based on positional dominance as opposed to true NFL value. The only caveat is Kupp's continued production likely opens the door for Matt Stafford's MVP candidacy.
Coach of the Year: Kliff Kingsbury, Arizona Cardinals. The incredible start and the defensive transformation have Kingsbury as a near lock for the honor. I initially wrote-off Arizona as an offensive threat with some breaks in the schedule to highlight defensive mirage. Not that a win against San Francisco without Kyler Murray is a monumental milestone, but it indicated that the team is prepared to win under any circumstances and has the attributes to do so.
Rookie of the Year: Ja'Maar Chase WR, Cincinnati Bengals. Chase has been on the heels of Cooper Kupp this season, which is telling considering Kupp is my current MVP candidate. Chase has 835 receiving yards, seven TDs and 14 receptions of 20 yards or more (which is only second to Kupp with 15).
AFC Power Rankings:
1. Tennessee Titans (7-2). The Titans are the biggest surprise in the NFL. I thought they'd be a playoff team and would win the AFC South, but I had them as a 10- or 11-win team. They are 7-2, atop the conference and the only AFC Contender that seems to be handling all comers. Every time you count them out, they roar back with a win, beating the Chiefs, Bills and Rams, and sweeping their division rivals the Colts along the way.
2. Buffalo Bills (5-3). The Bills were my Super Bowl pick from the AFC and I would hope to see them continue to win and make a run at that, but it hasn't been pretty. The Bills have a couple signature wins, but more troubling is the big losses, including a 9-6 loss to the lowly Jacksonville Jaguars last week. Buffalo needs to do better, but the AFC feels wide open.
3. Baltimore Ravens (6-3). The Ravens had their own brutal loss on Thursday, falling 22-10 to the Dolphins. That gives me pause, as the Ravens have played three mediocre to poor games in a row. Still, they have the second-best record in the AFC and I think they turn it around. The AFC is going to be wild down the stretch.
NFC Power Rankings:
1. Los Angeles Rams (7-2). Yes, the Rams lost last week, looking bad at times against the Titans. But you have to consider the quality of the competition. I love the Rams' roster and I think they are still the team to beat in the NFC.
2. Green Bay Packers (7-2). The Packers had a stumble last week as Aaron Rodgers was out of the lineup, but he should be back now. They are still the only team to beat the Cardinals and have been to two straight NFC Title games. They are contenders.
3. Tampa Bay Buccaneers (6-2). Narrowing to three in the NFC was hard because there are five really good teams. That makes it a bit of a flip from the AFC where, Titans aside, I'd put five NFC Teams over anyone in that conference. For the last slot I went with the defending champs, who are still rolling along pretty good. It was a tough call given how impressed I've been by the Cowboys and Cardinals, but it comes down to Tom Brady and coaching experience.
Award Predictions:
NFL MVP: Matthew Stafford, Los Angeles Rams. This was my pre-season prediction and I'm sticking with it. Stafford has brought an edge to the Rams they didn't have in 2020 and I think he gets rewarded for his play.
Coach of the Year: Mike Vrabel, Tennessee Titans. Vrabel has done a great job with the Titans, who've overcome injuries and beaten all comers. They look like the best contenders in the AFC through nine weeks and that's courtesy of Vrabel.
Rookie of the Year: Najee Harris, Pittsburgh Steelers. There are a handful of rookies who've had a good season but I've been impressed by the consistency of Harris and what he's done for the Steelers' offense.
John Hamelers (@iheartcaravans)
For more on John's picks, check out this week's episode of The Happy Hour Podcast.
AFC Power Rankings:
1. Tennessee Titans (7-2)
2. Buffalo Bills (5-3)
3. New England Patriots (5-4)
NFC Power Rankings:
1. Los Angeles Rams (7-2)
2. Tampa Bay Buccaneers (6-2)
3. Arizona Cardinals (8-1)
Award Predictions:
NFL MVP: Tom Brady, Tampa Bay Buccaneers
Coach of the Year: Mike Vrabel, Tennessee Titans
Rookie of the Year: Najee Harris, Pittsburgh Steelers
Matthew Fox is a graduate of the Radio, Television and Film program at Biola University, and a giant nerd. He spends his free time watching movies, TV, and obsessing about football. He is a member of the FSWA. You can find him @knighthawk7734 on Twitter and as co-host of the Fantasy Football Roundtable Podcast.