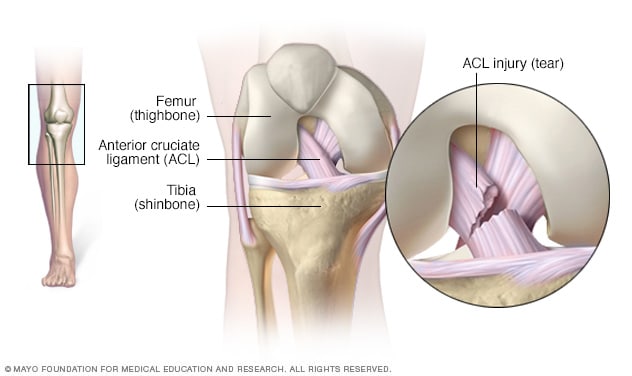 The dreaded ACL tear. No other injury compares to the volume of players missing the season due to this injury. These injuries are typically non-contact, but they can happen during a tackle as well. Just ask Jameis Winston. However it occurs, it's typically a surgery and it's nothing that someone can rush back from. Unless you are peak Adrian Peterson, and then I guess anything is possible.
To understand the injury, you have to know how the knee works. There are three bones forming your knee joint, the femur, the tibia, and the patella. These bones are held together by tendons. The tendons hold the parts of the knee together. There are four tendons that keep the knee stable. There are two collateral ligaments on the sides of the knee. The medial collateral ligament is on the inside of the knee. The lateral collateral ligament is on the outside of the knee. These ligaments control the horizontal movements of the knee, protecting against unusual and unnatural movement.
The cruciate ligaments are found inside the knee joint. As you can tell from the picture above, they form a cross inside the knee joint. as the names suggest, the anterior cruciate ligament is in the front and the posterior cruciate ligament is in back. these ligaments control the back and forth motion of the knee. The anterior cruciate ligament runs diagonally inside the knee. It keeps the tibia from sliding out in front of the femur. In most serious knee injuries, there is collateral damage to the cartilage, the meniscus, or other ligaments in the knee. There are also different levels of sprains of the ligaments.
A grade one sprain involves a stretching of the ligament in a manner it was not designed to be stretched in. This causes slight instability, but can typically be played through depending on which ligament is stretched. A medial collateral or lateral collateral sprain can sometimes be managed with a knee brace which limits side to side movement. Typically these are your day to day or potentially week to week injuries.
A grade two sprain involves a stretching of the ligament to the point the joint becomes loose. This is quite often referred to as a partial tear. A partial tear can cost a player several weeks to months depending on which ligament suffers the tear, how severe it is, pain tolerance, and effectiveness of rehab. Sometimes these involve surgery.
A grade three sprain is where things get scary. The ligament suffers a complete tear. This is where the additional damage typically occurs as the knee has no stability. As the knee shifts without the ligament or ligaments intact, there is the potential for incredible amounts of damage. Most anterior cruciate ligament tears are complete or very close to complete tears. Complete tears of the anterior ligament will require surgery to repair. These are your season ending injuries.
Most ACL tears are too significant to suture back together and must instead be rebuilt. The surgeon removes a piece of patellar, hamstring, or quadricep tendon and uses it to build a framework in the knee to allow the new ligament to grow on. These reconstructions are typically done arthroscopically to reduce pain, hospital stays and recovery time.
If the player has surgery, they then will follow with physical therapy. The therapy first focuses on returning motion to the joint and surrounding muscles. This is followed by a strengthening program designed to protect the new ligament. This strengthening gradually increases the stress across the ligament. The final phase of rehabilitation is aimed at a functional return tailored for the athlete's sport.
With how advanced science is in today's world, a reconstructed ACL can be stronger than it was initially allowing for less chance of a potential re-tearing of the same one. This is really the only good news that comes from a complete ACL tear. With a partial tear, the recovery timeframe can only be guessed at. Instead of a reconstruction, if surgery is decided upon, they can suture the torn area back together. This can allow for more scar tissue build up which will then require a "clean up" surgery. Sometimes surgery is not done at all. This can allow for more scar tissue as well as a potentially weak spot in the knee joint.
Now that we know how the knee works and the different types of injury possible, we can more fully understand why the players are out and for how long specific to each injury. Knee injuries are often unavoidable due to the need for mobility in sports. A knee brace can potentially prevent some injuries, but not all of them and from personal experience can be uncomfortable in regular settings. I'd imagine it was far worse in athletes who are running and jumping regularly.
Since there's no easy way to prevent these injuries, it's not surprising we see so many of them. Football players put incredible stress on their joints whether it's running, cutting, blocking, jumping, etc. With how strong the players are nowadays, tearing ligaments is a cost of doing business sometimes.
Any kind of sprain can be serious if not treated correctly. As the severity rises, so does the need for follow up care. Every athlete is different and follow up plans are treated accordingly. Knowing this is what the player is going through, your fantasy line up should be secondary in concern. Watching it happen and crush your team can be absolutely no fun. Having it happen to you can be even more devastating.
Without further ado, onto News or Noise!
Adrian Peterson Will Be A Playable Running Back By Next Week
I'm going to go noise on this one, but quite possibly the week after depending on how Jeremy McNichols plays this week. Peterson is one of the Top 5 running backs of all time. He's rushed for 14,820 yards with 118 touchdowns. He's also picked up another 2,466 yards and six touchdowns receiving.
In recent years he is only getting around two targets a game which limits his upside. He has shown in the past that he can catch the ball so who knows there. Known as a bruiser, he doesn't shy away from contact. While he's not the guy he once was, it doesn't make sense for the Titans to go after him over a player like Marlon Mack or Melvin Gordon that is already in the league without the intention to use him.
How they deploy him is still up in the air. He's probably not walking into a first and second down role. He'll have to show he's the best option there. With his playing style and the Titans general offensive scheme, it would seem to allow for the quick integration of Peterson. He's going to get some goal line looks. If he has anything in the tank, he's going to be the guy for that situation. Over the past three seasons, he's scored 19 touchdowns. Back in 2019, he was over 1,000 yards rushing. That season is not that far in the rearview. He even had a 90 yard run which shows he still had some get up and go.
The following season, he had 898 yards in 15 games for Washington. As they drafted some running backs, they determined he was expendable. He latched on with the Lions in 2020 and chipped in 604 yards for a traditionally bad team. He only started two thirds of the games there and was not the No. 1 for a chunk of the season watching his snap count drop to a career low and only had 30 percent of the snaps throughout the season.
Peterson should still provide a hard running back skillset to the Titans, which makes him somewhat valuable. Giving the ball to him 25 to 30 times a game like they did Henry is not going to happen. Going for a more reasonable workload of about 15 touches a game can make him carry some value. Looking for him to fill in for a bye or injuries is going to be something that can be done. I'd say he provides for a relatively low floor, but his ceiling is as yet to be determined. I'm going to take the chance and use a spot on him in deep leagues. Hopefully it pans out.
Jordan Love Is Going To Beat The Chiefs
As surprising as it may be to some, I'm calling this news. While Love didn't get a lot of work in the pre-season, he was the guy prior to Aaron Rodgers coming back to town. He looked good throughout all of his opportunities. It's different when the regular season starts. At the end of the blowout by New Orleans in game one, he got a little bit of work and went five of seven for 68 yards.
Love is no Aaron Rodgers. Rodgers is a first ballot Hall of Famer. No one is going to walk in and match his level of play. Not even a first round pick with a year and a half on the bench learning the offense and gaining a familiarity with the other offensive players. Wait…isn't that what happened with Brett Favre and Rodgers himself?
While there's almost no way Love plays out the string without something happening to Rodgers, this gives the Packers a free shot at discerning where Love is at in his development. The odds are that Rodgers takes the Rodgers Rate away from Green Bay at the end of this season, so a little game action will be good for what is probably going to be their starting quarterback next season.
One thing Love has going for him is the line has been protecting Rodgers well. There's nothing worse than throwing a young quarterback behind a poor offensive line and watching them get beat up. As this is should not be an issue, Love has a leg up on many of the quarterbacks in his situation. Another thing he has going for him is he's playing Kansas City. It is an away game, so Arrowhead's noise comes into play. I think the noise is going to be the biggest challenge for Love. Their defense does not scare anyone at this stage of the season. They've given up more than an underperforming offense has been able to account for. Love has to love the matchup from that perspective.
The final thing I'll point out is that Green Bay has a very solid, very explosive rushing offense. With Aaron Jones and A.J. Dillon, the Pack have a great one-two punch that will perhaps carry a bit more of the load this week than they need to with Rodgers under center. Jones can catch well out of the backfield and is going to be a great outlet for a pressured Love. Get him the ball and watch him create is a beautiful strategy. With Davante Adams also in the fold, there should be no issue with Love being successful in his little run in the driver's seat. I can't put him as a QB1 in fantasy necessarily, but I definitely believe he will have enough for the Packers to win.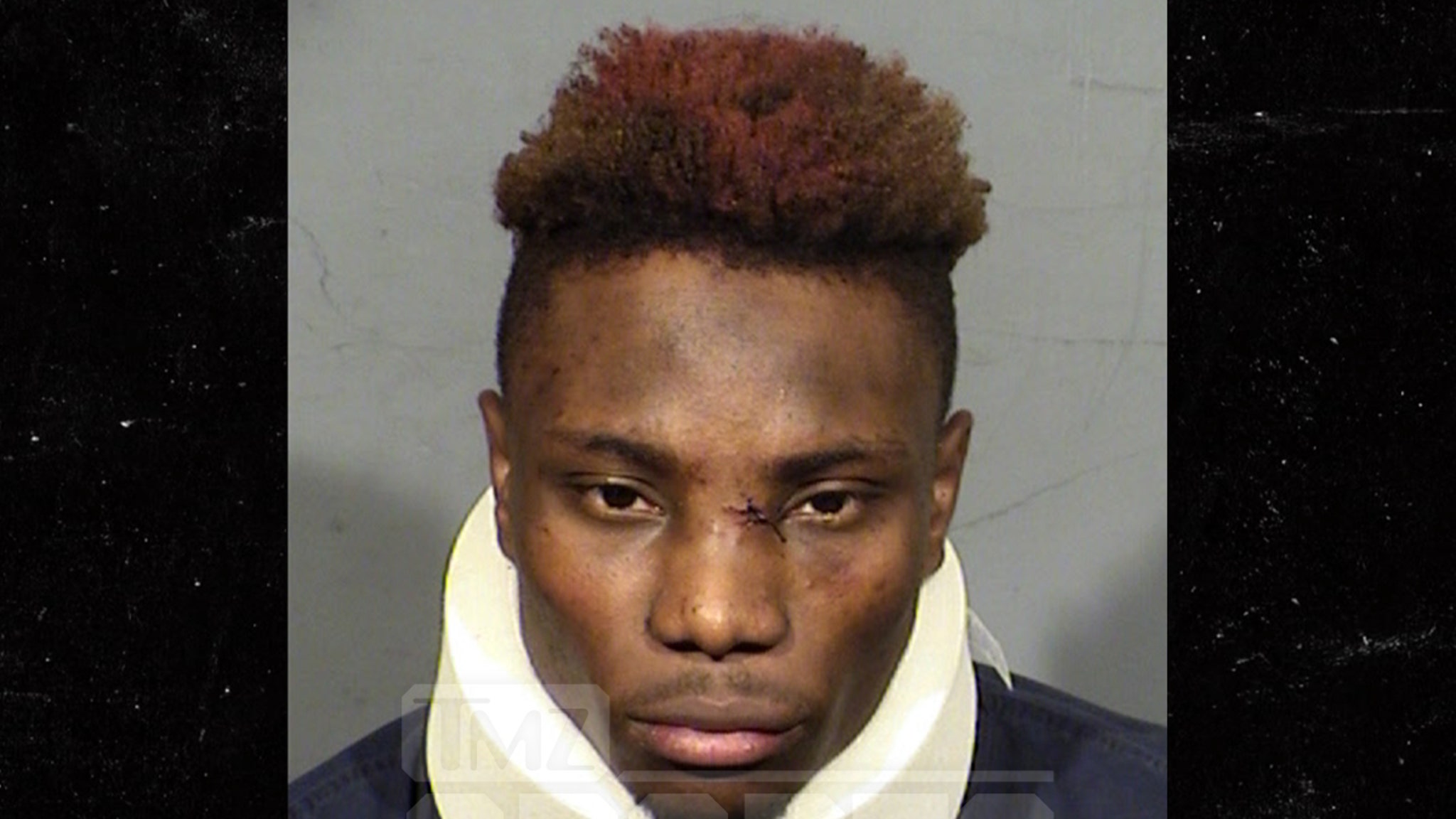 Henry Ruggs III Has Played His Last NFL Game
News. Ruggs was driving while incredibly intoxicated and the worst case scenario happened. He struck another vehicle killing the other driver and their dog. His blood alcohol content was more than double the legal limit. He was doing 156 miles per hour. He was also found to have a weapon in the car.
From a legal standpoint, Ruggs is in trouble. Lots of trouble. The crime of DUI causing death in Nevada is a minimum of two years in prison. The prosecutor's office advised the investigation is ongoing, so more charges may be brought as more information is acquired. One thing is for certain. Ruggs' life will never be the same. Killing someone like that has to take a mental toll. It was an accident so avoidable that made him directly responsible for someone's death. I can't imagine how that would feel.
From a football perspective, Ruggs was an up-and-coming receiver for the Raiders (who cut him almost immediately). He has 24 receptions and 469 yards receiving with two touchdowns to this point. He was good and potentially on his way to great with all the opportunity necessary to take over the Raiders' wide receiver room.
From a franchise standpoint, this is devastating. After all the nonsense that transpired with coach Jon Gruden, the Raiders could have used a break. Unfortunately they are parting ways with another of Gruden's first round picks. No one could have known this was going to happen so there was no way to be prepared for it.
It feels like the Raiders are in football purgatory right now. The trading deadline just passed so they can't replace Ruggs with a higher end player. The wire is bare by this point of the season as all the reliable players have been picked up due to injuries or roster building. They currently lead the AFC West at 5-2. They're not going to get a very high pick, but this loss has to hurt their chances of continuing at this high level of play.
This kind of thing isn't good for anyone. Even if Ruggs ever does attempt a return to the NFL, he's facing a significant suspension from the league. Any team he was to sign with will have a huge public outcry for the signing of a convicted felon. There are no winners in this.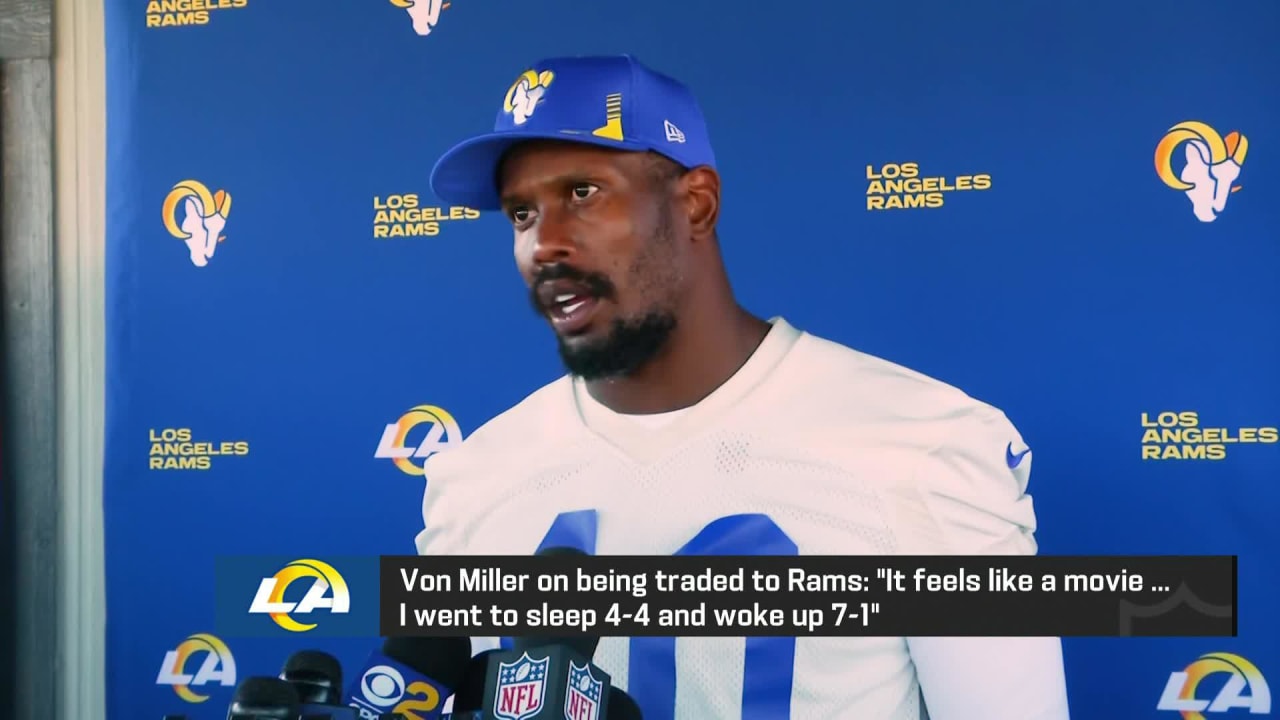 The Rams Won The Von Miller Trade
This is absolutely news. The Rams sent their 2022 second and third-round draft picks to the Broncos for Miller. While this is a win now move that limits the Rams to one pick in the first four rounds of the draft next season, they are in a position where they have full confidence they can win a Super Bowl.
Miller has been dreaded for a decade by opposing offensive coordinators. His ability to get to the quarterback has been second to none, leading the league in sacks over the past decade. Bringing someone that can create that kind of pressure would improve any team. The Rams were already special on the defensive side of the ball, and this move is the icing on the cake.
Aaron Donald is a monster. He requires a double team if you plan on getting the ball out quick and a triple team if you want to ensure he doesn't get to the quarterback quickly. Watching him play is amazing. I've seen him drive a double team block right into the quarterback. He's an unstoppable force on the inside. Add in Miller and you have another excellent rusher that has the innate ability to pressure the quarterback. With Jalen Ramsey locking up the other team's top receiver, and Leonard Floyd also getting after the QB, it's hard to see the possibility of any offense rolling against them. Adding a sack artist to one of the best defenses in the league should make for an interesting sight.
Now, just because I consider this a win for the Rams doesn't mean the Broncos lost. On the contrary. The Broncos won this trade as well, and depending on how they do with the picks they might even have the better end of it. Getting a second and third for a guy that was probably going to walk after the season is a great haul. Their season started a little hot, but has faded recently and they're looking to next season, where they can take another stab at Rodgers.
The Broncos now have five picks in the first three rounds of the 2022 NFL Draft. With an average draft, they'll be more in position to make a run next season, especially if they land Rodgers. A great draft puts them in an even better position to reel in Rodgers. Positions of need will be addressed with legitimate talent. The future is bright.
This makes for big facts. Miller makes a scary defense into a Freddy Krueger defense. You can't sleep on them or they'll kill you. The Broncos are in a position to build up a contender if the Rodgers to the Broncos happens. And finally, that both sides of a deal can be winners. It doesn't happen all that often, but when it does, it can be a beautiful thing.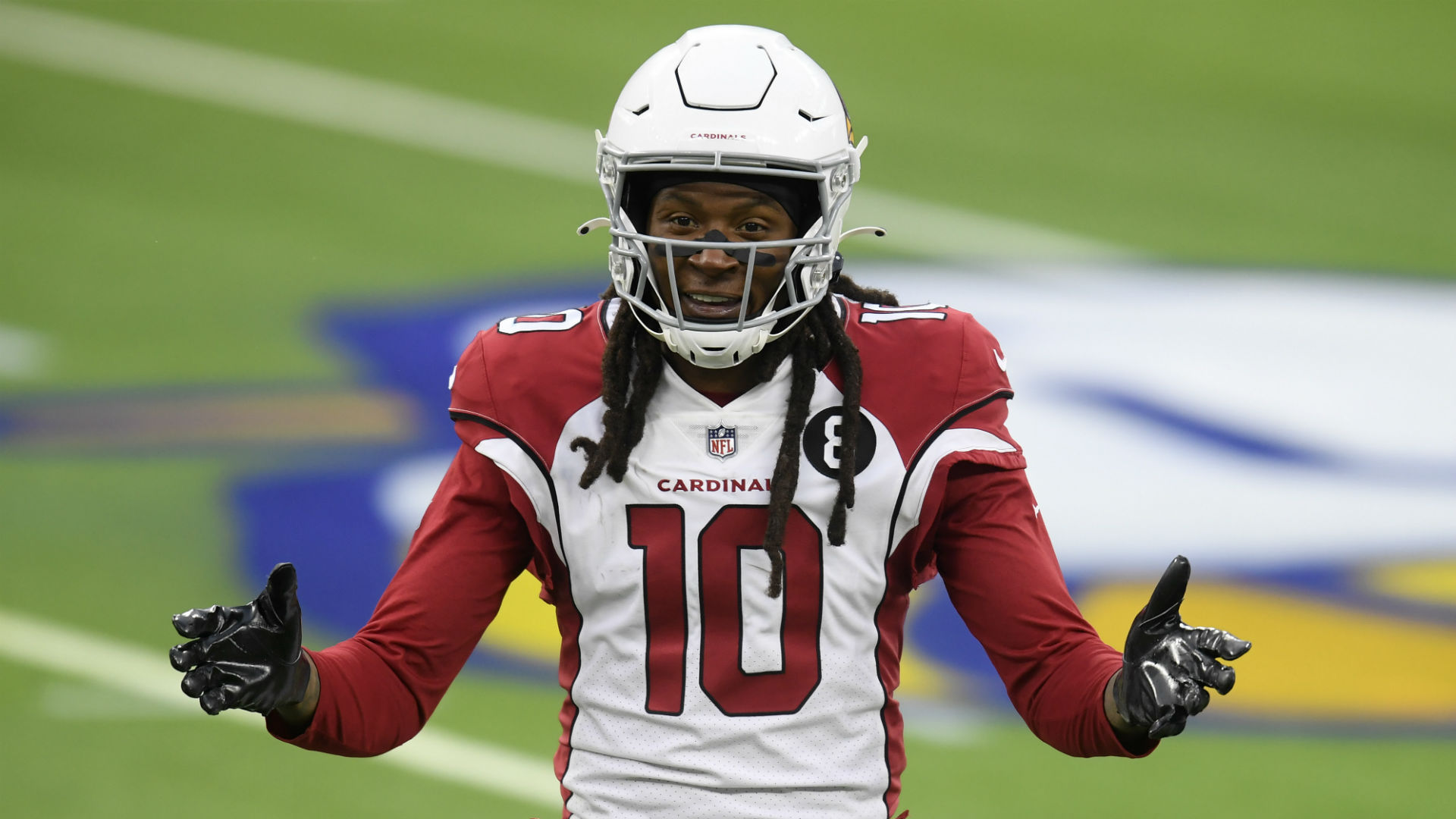 DeAndre Hopkins Is Going To Be A Top 10 Receiver The Rest Of The Season
Unfortunately I think this is noise. Hopkins was drafted as a Top 5 receiver if not in the Top 3 at least. He's not playing up to that expectation by any means. With a current ranking of WR20 in points per game, it's not looking good for him. He's still uber-talented, and a bit banged up so things could change as he gets healthier (assuming he gets healthier) so there is always the potential he and Kyler get it back together but I'm not holding my breath.
Hopkins has only 16 targets over his past three games. While he does have three touchdowns, he only has 174 yards receiving. He has gone over 80 yards receiving only twice this season. Over the past three games, his snap percentage hasn't hit 90 percent. He has four games with under 15 yards per reception. The offense has been humming and DeAndre hasn't been a significant part of it.
With the acquisition of A.J. Green, some of the opposing team's defensive attention was supposed to be moved around a bit to Hopkin's benefit. Instead, it looks like Hopkins is being used almost as a decoy to allow other receivers to get open. In years past, this would not have curbed his play, but this season something is different.
The Cardinals jumped out to a 7-0 start which showed there was no need for an offensive shake up to get the team rolling. They were doing everything they needed to do to win and let the pieces fall where they may. With Green, Christian Kirk and Rondale Moore, and the emergence of Maxx Williams, the offense was going to be spread around. The trade for Ertz now spreads the targets even thinner. Hopkins is going to have to do more with less than he's accustomed to.
There is no stat that gives me any faith in Hopkins throwing up those top end fantasy performances this season. Will he ahve a big game or two? Probably. He's just too talented not too and in the past, the offense has been run through him at times. He just hasn't shown the consistency of targets, of receiving yards, of anything. I'm definitely not going to tell you to bench Hopkins. He has a huge floor. The problem is he's been standing on it too much this season.
Looking for a lineup question to be answered? Got offered a trade you're just not sure on? Think fantasy football is neat and want someone to talk to about it? Get in touch with me @IHeartCaravans on Twitter, Medium, uStadium and the Fantasy Life App. Hope to hear from you soon!