The 2021 NFL Season is upon us and the Music City Drive In has you covered. We'll be previewing all 32 teams, as well as our picks for award winners and playoff participants each day through Monday, September 6. Check back daily at 4 p.m. EST for each new piece in our preview series.
You can sum up the 49ers 2020/2021 season in two words, "Bad Luck". A Super Bowl hangover typically targets the victors of the Super Bowl, but for some reason the hangover landed on the 49ers. The amount of injuries this team experienced is truly unreal. By Week 9 there was approximately $80 million dollars of cap tied up to players on Injured Reserve. With this team playing in the NFC West, it seemed the 2020-21 season was in jeopardy early on. Despite the bad luck, the 49ers were able to stay at 0.500 with a record of 4-4 in the middle of the season. Eventually, the grind of the season would catch up to the team, going 2-6 the rest of the year and being last in the NFC West. Although the season did not go as any 49er fan would like, I have to say the team remained relevant in many games I thought they would lose strictly because the amount of injuries. Although it was truly a lost season, 49ers fans should have some reassurance with a healthy squad things should get back on track.
Off-Season Changes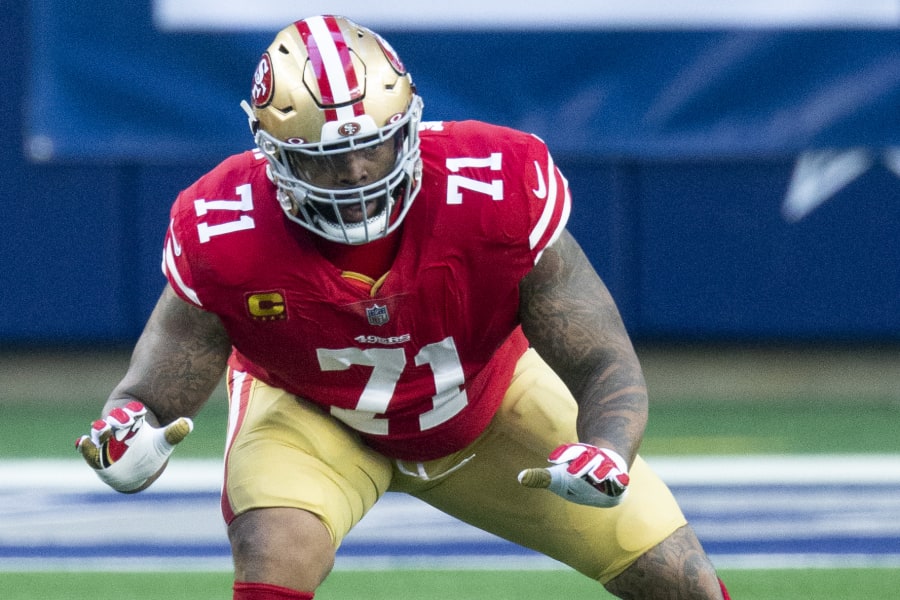 Last year the 49ers traded Washington Football Team for Trent Williams, giving up a 2020 Fifth Round pick and 2021 Third Round pick. Williams was set to become a Free Agent, but fortunately the 49ers were able to lock him up with a six-year, $138 million dollar payday. Large price tag, but securing the debatably best left tackle in the game is the best start to keeping a quarterback upright and injury free.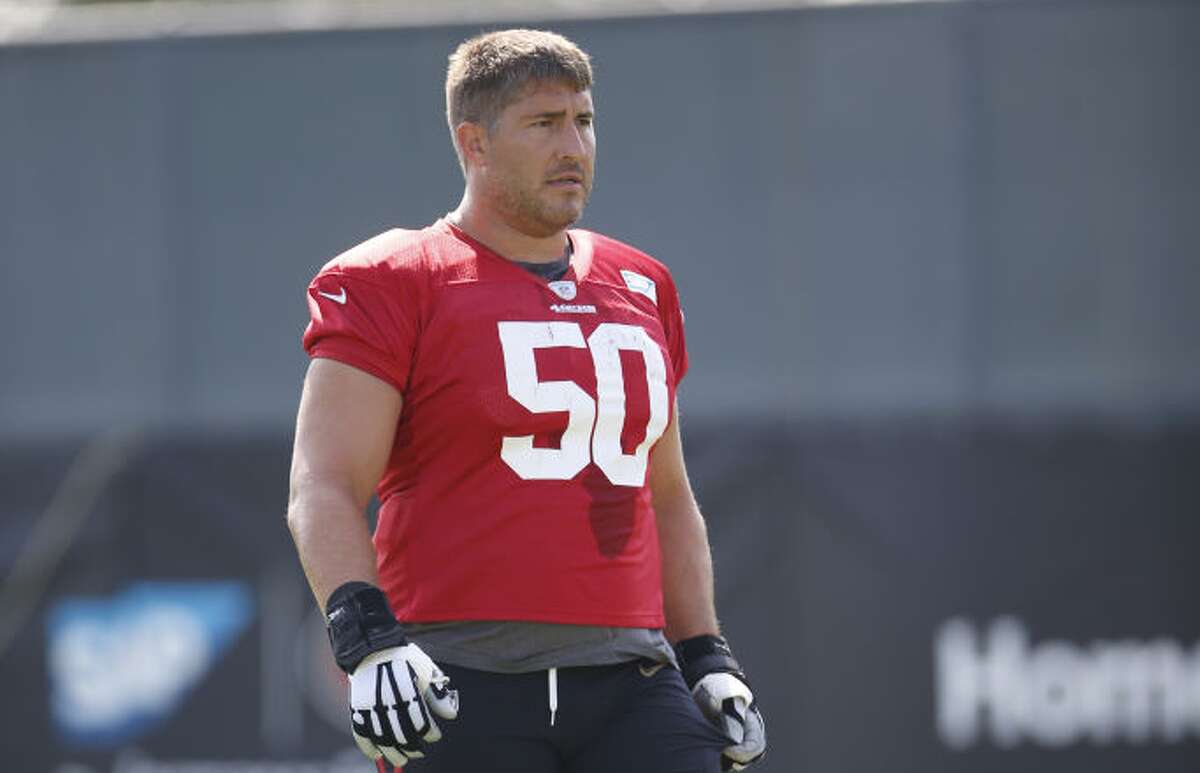 What may have been the second best upgrade for the 49ers roster was the addition of Alex Mack. Last year the center position was a turnstile for this offensive line. Mack is an instant upgrade and brings some short term stability to the middle of the line. He also is reunited with Kyle Shanahan for the third time. Mack and Shanahan were both on the 2014 Cleveland Browns and 2016 Atlanta Falcons where Mack had great success.
Bringing back Jason Verrett is definitely a dice roll for the 49ers. Verrett has shown when healthy, he is a top tier cornerback. The move to resign him makes sense given the receiver talent in the NFC West. It is a team friendly contract of one-year up to $6.5 million dollars if Verrett makes it to the Pro Bowl. In a year with lowered cap and with the 49ers spending heavy on the offensive line this was a good signing. Verrett being 30, and outside of him wanting to win, he is likely motivated to get one more solid payday before getting any older. A Pro Bowl type season would help make the case for a multi year contract next year.
What might be a big steal for the 49ers free agency is signing former Arizona Cardinal, Trent Sherfield. He was initially brought in as a strong special teamer and likely thought to be the fourth or fifth wide receiver for this team. However he has shined in camp and is making a strong case to lock up the third wide receiver spot. Sherfield's chance comes due to the fact receivers Jalen Hurd can't seem to get healthy and Richie James is just flat out not playing well. Maybe it is camp noise or perhaps all he needed was the right situation to show itself to demonstrate just how much of a receiving threat he can be. He and Trey Lance had a highlight connection Week 1 against the Kansas City Chiefs that resulted in an 80-yard touchdown putting the receiver firmly on the path to the third receiver spot.
In the weeks leading up to the 2021 NFL Draft, the 49ers were among the teams that made the most headlines. The biggest headline was the trade with the Miami Dolphins to go from pick 12 to pick 3 in the first round, which would end up being the dual threat quarterback Lance out of North Dakota. To move up nine spots and take Lance cost the 49ers three First Round picks and a 2022 third rounder. This means the 49ers do not have a First Round pick until 2024, so hopefully they got this pick correct.
With the 48th overall pick, the 49ers continued to add to their offensive line by taking guard Aaron Banks. With how much Jimmy Garoppolo is being paid and the number of draft picks used to get Lance, it makes sense that the second round resulted in an impressive addition to the offensive line. Banks allowed only two sacks and 19 quarterback pressures in 443 passing set situations. Banks may not beat Daniel Brunskill out for the starting position, but I believe he will be solid depth in the event an injury forces him into more action.
At 88th overall, John Lynch opted to pick the running back Trey Sermon out of Ohio State. His Ohio State stat line consisted of 2,946 rushing yards and 26 touchdowns. With how effective the 49ers typically are at running the ball and the updates to the offensive line, adding a potential top 5 running back from this years draft is a solid choice. Sermon may not be the starter at the moment, but he is currently listed as the back up to the often injured Raheem Mostert. Given the nature of the running back position we may a lot of Sermon this year.
The other draft picks for the 49ers are Ambry Thomas (Pick 102, CB, Michigan), Jaylon Moore (Pick 155, OL, Western Michigan), Deommodore Lenoir (Pick 172, DB, Oregon), Talanoa Hufanga (Pick 180, S, USC), and Elijah Mitchell (Pick 194, RB, Louisiana-Lafayette.
Fantasy Projections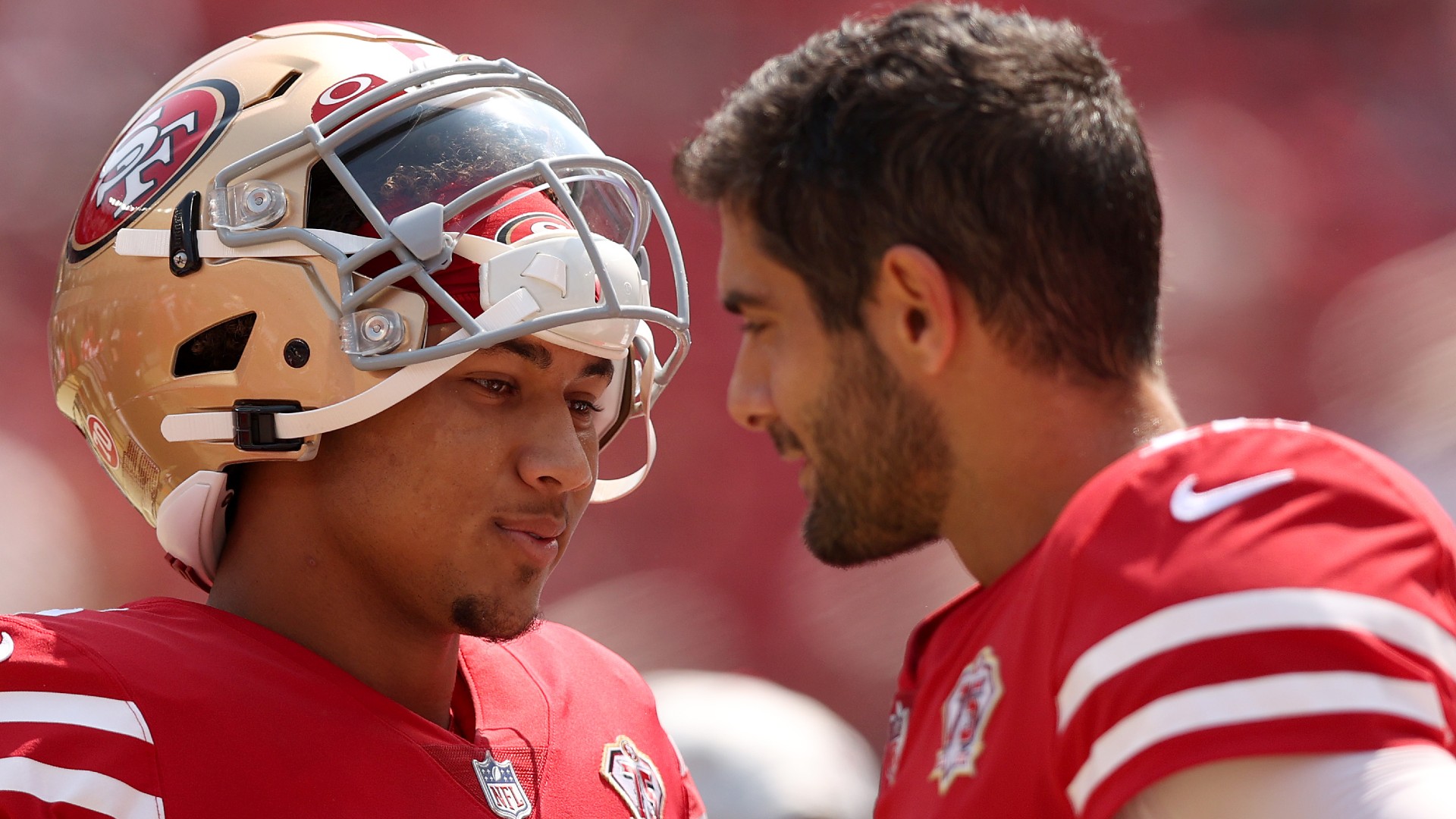 Drafting Garoppolo may mean also drafting Lance. It is not yet clear what Shanahan intends to do at quarterback despite preseason buzz that Lance has created. Regardless, if you wait on a quarterback and decide to go Garoppolo, Lance is the future of this organization. Garoppolo could be either beat out or benched via a bad game, or even traded. This obviously makes Lance an attractive dynasty pickup or eventual second option for 2 QB leagues. If/when Lance plays I think it is safe to expect a nice floor due to rushing ability, but obviously with no real regular season experience and a mediocre receiving core who knows what to expect in the passing game.
The receivers Deebo Samuel and Brandon Aiyuk are somewhat unproven as of yet. Not just cause the fact they are young, but because they have both been injured and unable to complete a full season. They have also had to deal with injuries to their starting quarterback. Samuel flashed in 2019 but had his 2020 season hampered by nagging injuries. For his career he has 1,193 receiving yards, four receiving TDs, 185 rushing yards and six rushing TDs. The hope is that this year he can build off of a strong rookie year and out injuries behind him. In drafts I have seen Samuel go before and after Aiyuk. Largely due to Samuel's injury last year, Aiyuk was thrusted into action early. He started in 11 games as a rookie and tallied 825 scrimmage yards with seven TDs. Both Samuel and Aiyuk seem similar to me in terms of how they will perform this year. I would not go reaching for either, but I'd say look for both of them to have a better year as they should finally be on the field together for most of a season.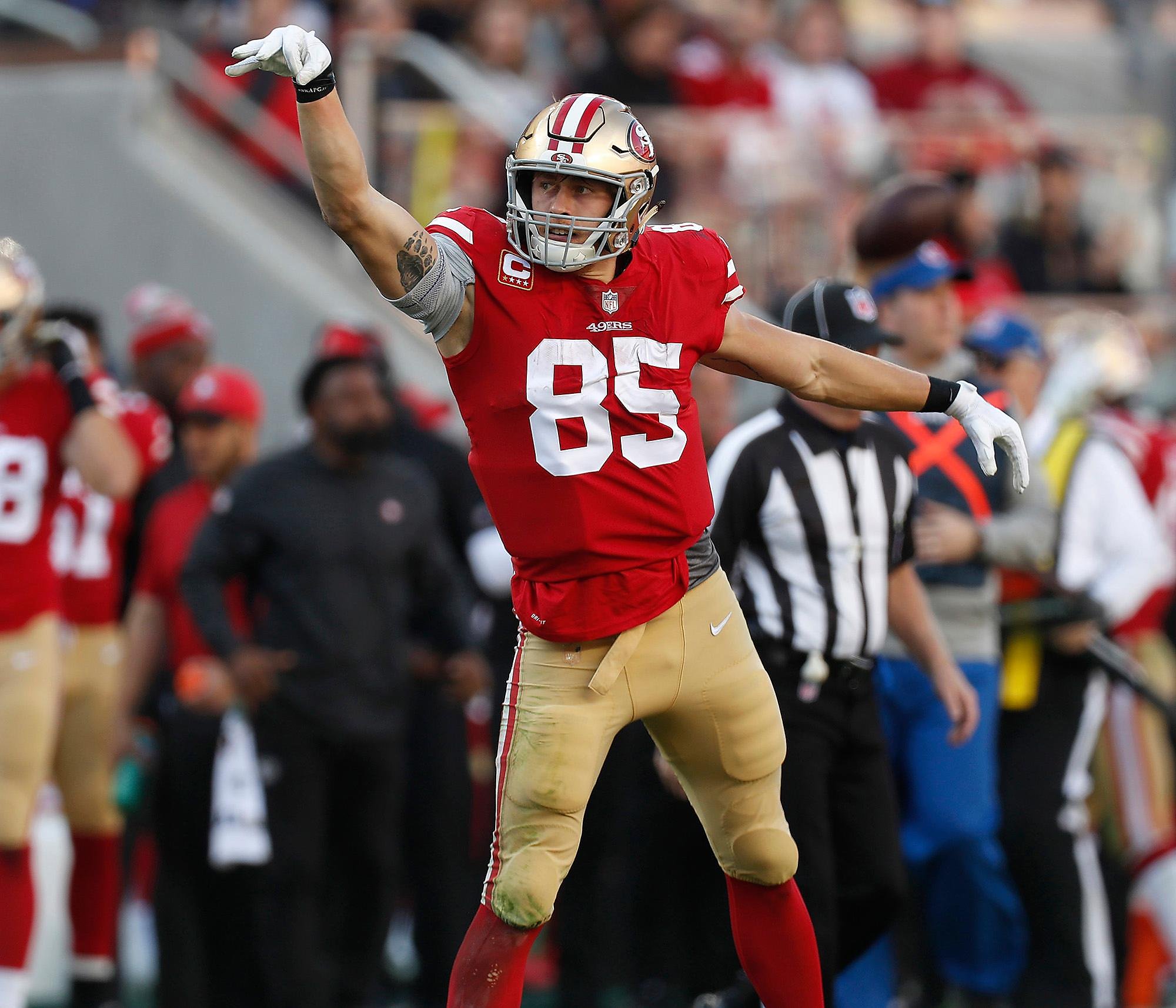 George Kittle is easily the teams best receiving threat. After being out about half of last year he still posted a solid stat line of 634 receiving yards and 2 TDs on 48 receptions. Kittle will be drafted as a Top 3 tight end and will certainly give you a good advantage at the position if you can part with 3rd or 4th round pick in your draft. Kittle will likely be elite despite Garoppolo or Lance throwing him the ball.
Despite who you take in this 49ers backfield, one thing is for sure, this team will run the ball a lot and efficiently. Raheem Mostert is starting the season off as the lead back, with Sermon, Wayne Gallman and JaMycal Hasty. The smart thing to do here if you do take Mostert is most definitely getting Sermon. Mostert is talented and excels in this offense, yet it just seems inevitable he will experience some type of injury. Hate to say it and definitely don't wish injury on anyone, but Mostert has played in 31 games over the last three years. It is also worth mentioning Sermon is relatively close to Mostert in a lot of rankings, so perhaps the best move with this backfield is a little forward thinking. It is likely Sermon takes the field at some point as the starter.
I never like targeting defense before very late rounds. It is tough to predict how they will perform fantasy wise based off last years production. The 49ers return a lot of defensive talent that were injured last year and also did not lose many starters. They did however lose defensive coordinator Robert Saleh. Moving away from Saleh could have a big impact. He was a big part of turning this defense around from being a bottom ranked unit to a Top 10, maybe even Top 5 at some point. Try to resist drafting defense until very late, but if you want to jump on a defense earlier than most, the 49ers defense is a better gamble than most.
Prediction
Last year I watched the 49ers remain relevant for at least half the season despite some unreal bad luck with injuries. I have often thought if they had an upgrade at quarterback, this team would be unstoppable. While it is still early to tell, I think they found that upgrade in Lance. Garoppolo will start the season, but I can see the 49ers trading him before the trade deadline and riding with Lance. The talent surrounding the quarterback position puts Lance in a good position to succeed. My probably wrong but best guess before the season starts is this team making playoffs as the NFC West king at 11-6.