The 2021 NFL Season is upon us and the Music City Drive In has you covered. We'll be previewing all 32 teams, as well as our picks for award winners and playoff participants each day through Monday, September 6. Check back daily at 4 p.m. EST for each new piece in our preview series.
The NFC East was a mess in 2020. The Eagles fell apart while injuries derailed the Dallas Cowboys and New York Giants. All that created an opening for the Washington Football Team. New coach Ron Rivera stepped into a sticky situation. The team retired its infamous mascot prior to the season, going with the generic WFT all year. And there were a lot of questions about second-year quarterback Dwayne Haskins and veteran Alex Smith, returning from a near career-ending injury.
Somehow with a little luck and a stout defense, Rivera was able to help his team stand up. From their surprise Week 1 win over the Eagles through to the end of the season, Washington displayed plenty of heart. The team finished 7-9, but that was good enough to win the NFC East and make the playoffs. Though the team lost at home in the Wild Card Round, it was a big step up for the franchise, one that has fans excited for 2021.
Off-Season Changes
Despite the success in 2020, Washington made some sizeable adjustments on offense. Haskins was released mid-season and Smith, the NFL's Comeback Player of the Year, retired this off-season. While the team still has backups Taylor Heinicke and Kyle Allen on the roster, they signed veteran Ryan Fitzpatrick to be the team's starter. Fitzpatrick has played with eight different NFL Teams, most recently with the Dolphins. He brings experience a bit more downfield passing, having led robust attacks throughout his NFL career.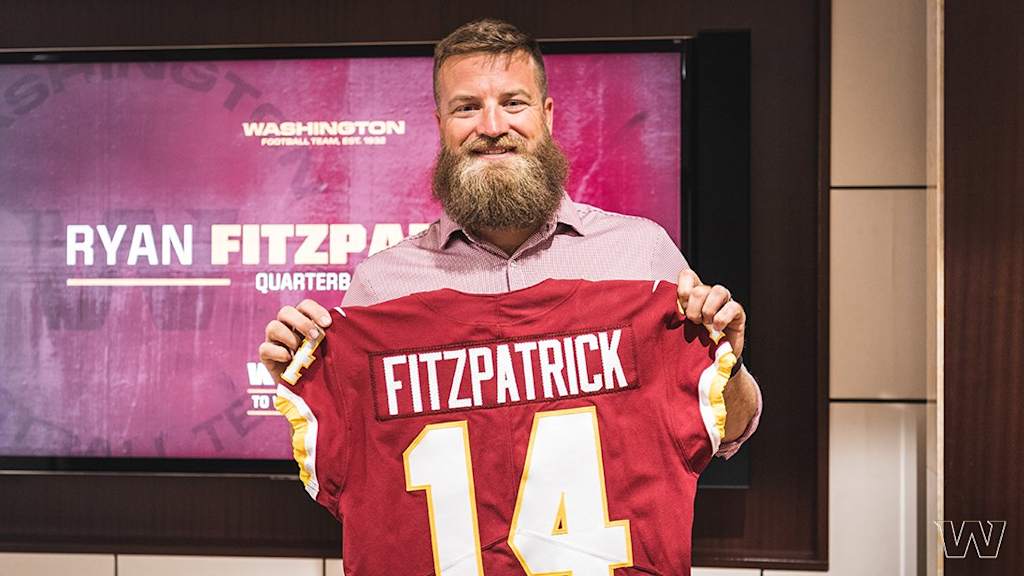 Washington also got Fitzpatrick some new weapons. While top receiver Terry McLaurin, top tight end Logan Thomas and top running back Antonio Gibson all return, the team added veteran receiver Curtis Samuel. Samuel had 77 receptions for 851 yards and 3 TDs with Carolina in 2020, rushing for 200 yards and 2 TDs. He finished as WR24 in 2020, giving them a solid starter opposite McLaurin. The team also added rookie Dyami Brown out of North Carolina. He caught 123 passes for 2,306 yards and 21 TDs in three seasons, including back-to-back years with 50-plus catches and more than 1,000 yards. He's a shifty weapon that gives the Washington offense a new dimension. The team also added veteran receiver Adam Humphries, most recently with the Tennessee Titans.
Defensively, the team saw veteran corner Ronald Darby sign with the Broncos, while defensive end Ryan Kerrigan shifted over to the Eagles. But the team signed corner William Jackson and drafted Kentucky linebacker Jamin Davis in the First Round.
Fantasy Projections
Fitzpatrick is a solid veteran who has produced well in the past. With the Dolphins in 2019, he finished as QB16. I think he has potential to be a solid QB2 in 2021. In the backfield, the team is led by Gibson, who finished as RB13 as a rookie. I think he maintains that value in 2021, finishing in the RB12-15 range. His running mate, J.D. McKissic, finished as RB17 thanks to being heavily involved in the passing game. He caught 80 passes for 589 yards in 2020. With a better receiving corps and a quarterback more apt to push the ball downfield, I think that production declines. I see McKissic as more of an RB3/4 in 2021.
Among receivers, top of the heap is McLaurin. He finished as WR20 in 2020, catching 87 passes for 1,118 yards and 4 TDs. I think he takes a step forward, moving closer to 100 catches and nabbing more TDs. I expect him to finish as a low-end WR1. Samuel will be involved, but I have him in the WR3 range, while Brown is an interesting dynasty prospect that might not have a huge role in 2021. At TE, Thomas was a Top 10 option in 2020 and figures to stay that way. He caught 72 passes for 670 yards and 6 TDs. I expect him to be heavily involved in the offense again, finishing as a TE1.
Prediction
Washington was a surprise in 2020, finishing atop the division and making the playoffs despite being only 7-9. I like the team to continue to be a factor in the NFC East in 2021. I think they move into the nine-to-11-win range and make the playoffs again, even if they don't finish atop the NFC East.
Matthew Fox is a graduate of the Radio, Television and Film program at Biola University, and a giant nerd. He spends his free time watching movies, TV, and obsessing about football. He is a member of the FSWA. You can find him @knighthawk7734 on Twitter and as co-host of the Fantasy Football Roundtable Podcast.