The 2021 NFL Season is upon us and the Music City Drive In has you covered. We'll be previewing all 32 teams, as well as our picks for award winners and playoff participants each day through Monday, September 6. Check back daily at 4 p.m. EST for each new piece in our preview series.
For the third year in a row, the Indianapolis Colts went into 2020 with a new starting quarterback and plenty of expectations. Philip Rivers, who spent most of his career with the Chargers, took over as the starting quarterback for Frank Reich, helping guide the Colts to an 11-5 record and a Wild Card berth. In the opening playoff game, the Colts came close thanks to star rookie running back Jonathan Taylor and a stout defense but ended up falling just short to the Buffalo Bills.
In 2021 the Colts will have yet another starting quarterback, but the question is whether they can repeat their efforts and make the playoffs again.
Off-Season Changes
After a season where he threw for 4,169 yards and 24 touchdowns, Rivers retired. The team also saw veteran quarterback Jacoby Brissett, who was the team's starter in 2019, head out, signing with the Miami Dolphins. That left the Colts to start over at the position again, and they struck gold by trading for Eagles' quarterback Carson Wentz. Wentz had a down year in 2020, ending the season benched in favor of rookie Jalen Hurts. He needed a change of scenery and is a good fit back with Reich, who was his offensive coordinator for the first part of his Eagles' career, helming the Colts.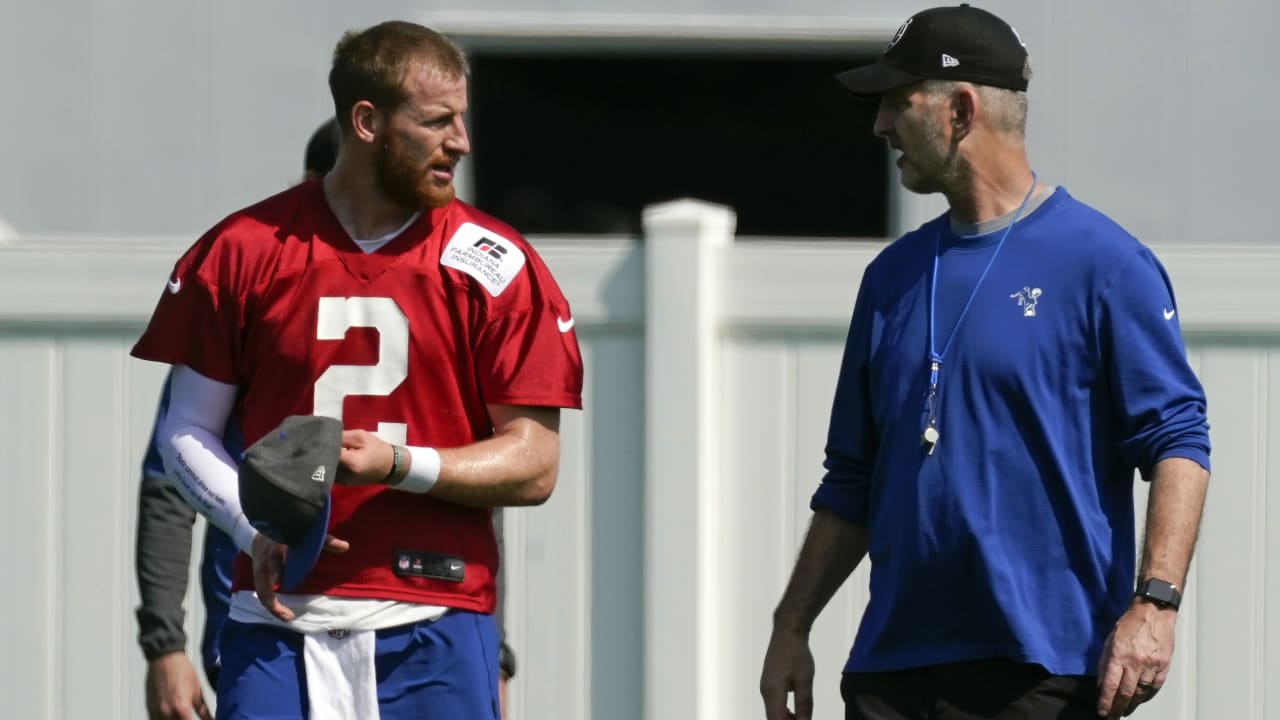 Wentz is entering his sixth professional season, throwing for 16,811 yards and 113 touchdowns during that time. His best professional season came in 2017, the last time Reich was his offensive coordinator, as Wentz was seemingly on pace to be the NFL's regular season MVP, guiding the team to an 11-2 record in 13 starts before injury. He threw for 3,296 yards and a career high 33 TDs. The hope is Wentz can regain that form in Indianapolis and finally solve the quarterback problem that has plagued Reich since Andrew Luck retired prior to the 2019 season.
Unfortunately for the Colts, waiting to see what Wentz can do reunited with Reich will have to wait. Early in camp, Wentz hurt his foot. In early August, the Colts announced Wentz will undergo foot surgery and miss five to 12 weeks, meaning he's likely out to start the regular season.
The Colts added a few impact free agents—like tackles Eric Fisher and Julie'n Davenport—while re-signing top receiver T.Y. Hilton and running back Marlon Mack. In the draft, the Colts snagged defensive end Kwity Paye in the first round and bulked up at tight end with Kylen Granson in the Fourth Round. Granson caught 78 passes for 1,257 yards and 19 TDs in two seasons at SMU and could make an impact right away for the Colts.
Fantasy Projections
The big question is quarterback. In a down season, Wentz was QB22 for the Eagles in 2020 despite only starting 12 games. If he can return quickly, he could do that again. But in his absence, what happens to the Colts? I have Wentz at QB32 as of now, expecting him to miss two to six games at least. It appears second-year man Jacob Eason or veteran Brett Hundley is the most likely starter at the beginning of the season, but I wouldn't be shocked if the Colts brought someone else in.
There is no question about the backfield. As a rookie, Taylor came on strong to end 2020, finishing with 1,169 yards and 11 TDs, catching 36 passes for 299 yards and a TD. He finished as RB6. Nyheim Hines, meanwhile, was RB15, doing most of his damage as a pass-catcher. Hines rushed for 380 yards and 3 TDs, catching 63 passes for 482 yards and 4 TDs. While Mack is back, I think Taylor takes a step forward. I like him as a Top 5 option in 2021. Hines, meanwhile, benefitted from dump offs with a depleted Colts receiving corps. He'll still have a role, but he's an RB3/4 for me.
At receiver, the Colts return Hilton along with second-year receiver Michael Pittman, Jr. and third year receiver Parris Campbell along with veteran Zach Pascal. Pittman was hampered by injuries as a rookie, limited to eight games and 40 receptions. But he showed flashes of being the top receiver the Colts sought when drafting him. Hilton led the team in receptions and brings veteran experience, while Pascal has been a consistent contributor. The biggest wild card is Campbell, who has struggled with injuries his first two seasons. In 2020, he only got one game—but in that game he saw nine targets, catching six passes for 71 yards. I suspect all four will have a role, with Pittman and Campbell stepping up in 2021. I think both have WR3 potential, while Hilton will be more of a WR4.
Another question is tight end. The Colts return veterans Jack Doyle and Mo-Allie Cox, along with the rookie Granson. I like the future potential of Granson, particularly in dynasty. But it can take young TEs a bit of time to mature in the NFL, and the Colts figure to use Doyle and Cox as well. I don't think any finishes higher than a TE3.
Prediction
It feels like Reich has been snake-bitten in his time in Indy. There was plenty of optimism early in the off-season that the team could build on its 2020 playoff finish, but the Wentz injury likely puts that on hold. The Colts don't have an easy schedule, and with Wentz likely missing to start the season, I think this team falls short of the 2020 finish and misses a return trip to the post-season.
Matthew Fox is a graduate of the Radio, Television and Film program at Biola University, and a giant nerd. He spends his free time watching movies, TV, and obsessing about football. He is a member of the FSWA. You can find him @knighthawk7734 on Twitter and as co-host of the Fantasy Football Roundtable Podcast.