The 2021 NFL Season is upon us and the Music City Drive In has you covered. We'll be previewing all 32 teams, as well as our picks for award winners and playoff participants each day through Monday, September 6. Check back daily at 4 p.m. EST for each new piece in our preview series.
The Panthers moved on from Cam Newton and Ron Rivera entering the 2020 season and had little in the way of aspirations for a playoff push. With Teddy Bridgewater and Matt Rhule at the helm, they managed a wildly inefficient air attack (16 PassTDs – 16 INTs) to a 5-11 record. After witnessing the admirable replacement value of Mike Davis, it is difficult to consider Christian McCaffrey's injury impact on football versus fantasy success, as well as a reignition of the "RBs don't matter" debate.
On the positive side, the offense revealed the long-awaited sleeper appeal of Curtis Samuel and the ever under-the-radar Robby Anderson. Both players elicited career seasons despite minimal TDs through the air, much in the way DJ Moore has been maligned through the opening act of his career.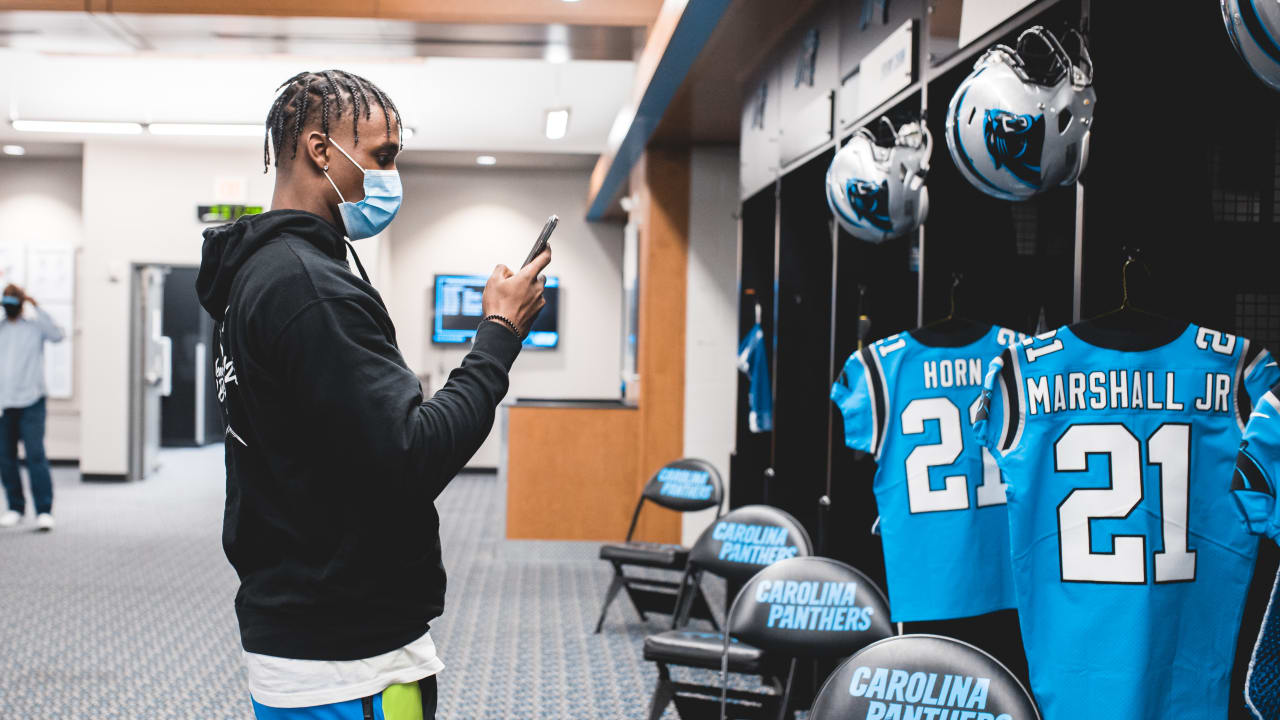 Off-Season Changes
Just as Samuel was lifting the spirits of the depressed Panther faithful, he moved on to the Washington Football Team via free agency. The receiving replacement is Terrace Marshall, Jr, the freshly minted rookie taken in the Second Round out of LSU. Carolina may have snuck away with the steal of the draft in Marshall, as his stock plunged from reports of a plagued injury history. Marshall was an efficiency monster in college, with 23 TDs on 94 receptions between his sophomore and junior seasons combined. Shedding Justin Jefferson, Ja'Marr Chase and Joe Burrow in 2020, he still built a powerful resume with 10 TDs through seven games before opting-out mid-season. The talent and collegiate tradition scream upside.
The acquisition of Sam Darnold quelled the QB speculation upon the departure of Bridgewater. Darnold now has no legitimate excuses and all the weapons to thrive as long-term starting QB, but it may not be enough to dramatically alter the win/loss column as the defense remains similarly unproven. Will Carolina ultimately regret passing on Justin Fields?
Fantasy Impact
McCaffrey remains the RB1 in fantasy, which is a testament to his consistent elite production when healthy. DJ Moore, Robby Anderson and Marshall present a strong and balanced receiving corps that is likely undervalued in most formats. Moore was previously a young, TD regression (positive) darling prior to last season but has marginally deflated to 54.3 overall on Sleeper's dynasty SF ADP*. Going in a similar range as Chris Godwin, Keenan Allen and Amari Cooper, he provides more of a Juju-esque floor with glimpses of ceiling. The question is whether a QB upgrade could improve his TD rate? Or perhaps, whether he will ever get a QB upgrade??
A preferred low-risk, high-reward approach would be to target a Darnold – Anderson/Marshall stack in the mid-draft rounds. Darnold's 101.6 dynasty SF ADP is a minimal price for a starting QB (who will likely be your QB3), while Anderson is 115 and Marshall is going at 122.1. Pair Darnold with Marshall if convenient, otherwise expect training camp "coach-speak" to inflate Marshall's value and make Anderson the more affordable option in dynasty.
Prediction
Circa Sports indicates a win total of 7.5* for Carolina heading into 2021. The 17th game comes on the road this season, which loosely indicates that the win total should receive only a marginal increase from a 16-game season. That said, 2.5 more expected wins marks considerable progress from last year, but perhaps this is more of an equity balancing due to speculation surrounding the outlook of divisional foes Atlanta and New Orleans. Look for Carolina to be an early season imposter, with several comfortable matchups and a surplus of home games. Watch as the decline hits around Week 7 and one of the more difficult rest of season schedules in the league begins. Look for Carolina to finish at 7-10, with more wins in weeks 1-6 than 7-17.
(*Sleeper Dynasty SF ADP and Circa Sports Season Win Total as of 7/24/21)
Jason Astarita (@AstaritaJason) is a professional in the sports gambling industry. He has an MS in Psychology (Industrial and Organizational) from Southern New Hampshire University and completed his undergraduate degree in Psychology at the University of San Diego. His passion for fantasy sports is over a decade old, but has recently been theorizing on the novel format of Superflex Best Ball in the Dynasty Fantasy Football arena. #superbestball