It's early July, so naturally we're ever so close to the NFL Season but still so far away that news is sparse. To help fill the void, I decided to look at some all-time selections at six different positions—Quarterback, Running Back, Wide Receiver, Tight End, Defense and Coaching. Over the next six weeks, I'll be giving my Top 10 at each, continuing today with Tight Ends.
Before we jump in, I thought I'd share a bit about this process. First, I was born in 1981 and have been watching football since the mid-to-late 1980s. The NFL has been around a lot longer, but in order to make sure bias doesn't play too big a role in choices, I've limited this look back to the last 41 years, since 1980. Second, this is a subjective list. While I consider stats, performance and metrics, I'm the one doing the evaluation, so ultimately it's my list. I encourage you to share your own thoughts and criticisms each week in the comments.
Now, on to the list. The group will appear in ascending order, beginning with one or two each week that just missed. On to this week's list!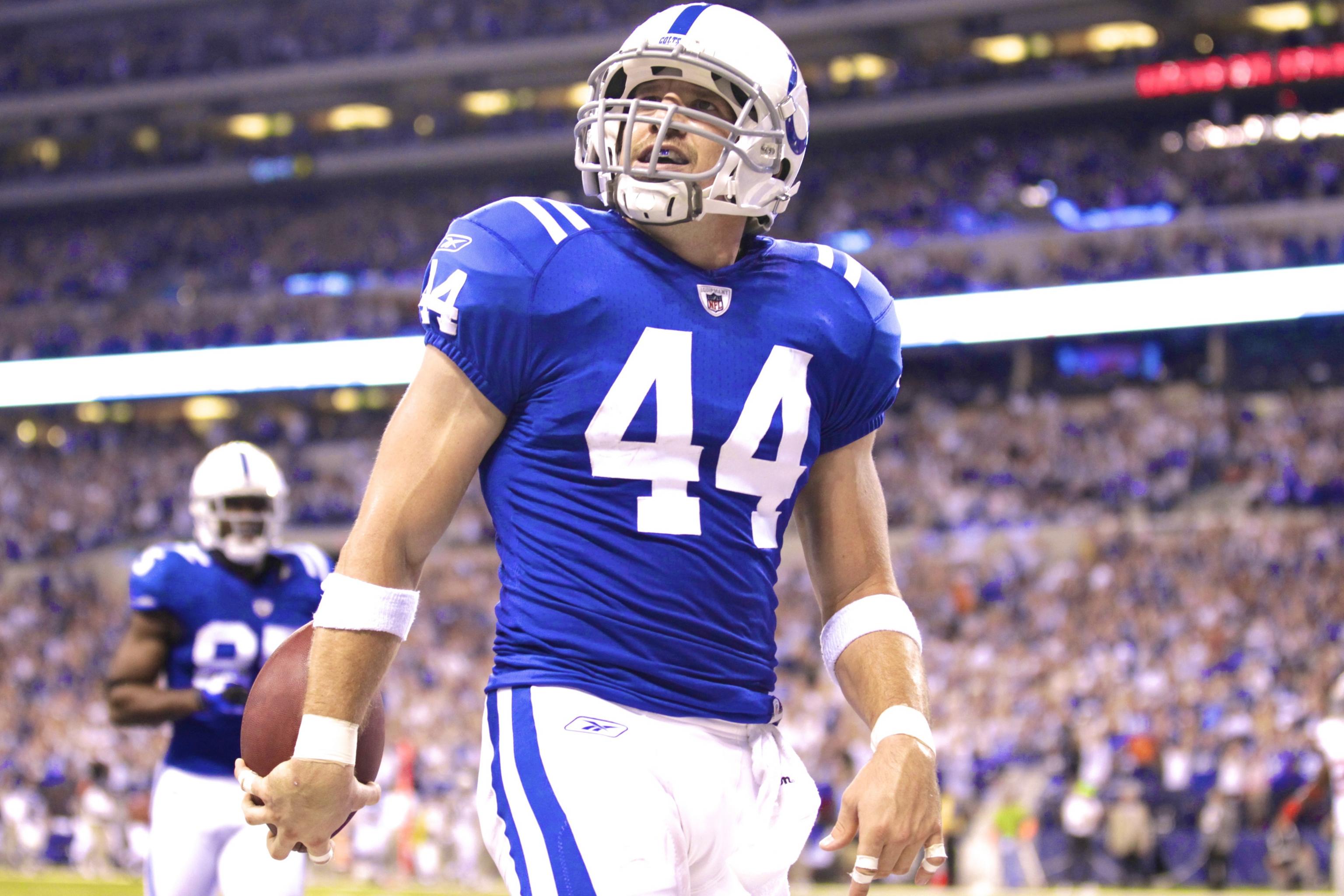 Just Missed: Dallas Clark (Indianapolis Colts, 2003-2011, Tampa Bay Buccaneers, 2004, Baltimore Ravens, 2005)
Stats: 505 receptions, 5,665 yards, 53 touchdowns
About: This was a hard omission to the list. He's a good player who had some great years at tight end, particularly with the Colts. (Side note, between Edgerrin James, Reggie Wayne, Marvin Harrison and Clark, I can't believe the Colts didn't win more titles). Clark had some good years and was a true weapon at the position, mostly for the Colts. But he struggled to stay on the field, and ultimately that's why I dropped him to No. 11 when I was going through this list. Despite that, he will be remembered as a great tight end who made a Pro Bowl and won a Super Bowl, putting up an excellent three-year run from 2007 to 20009.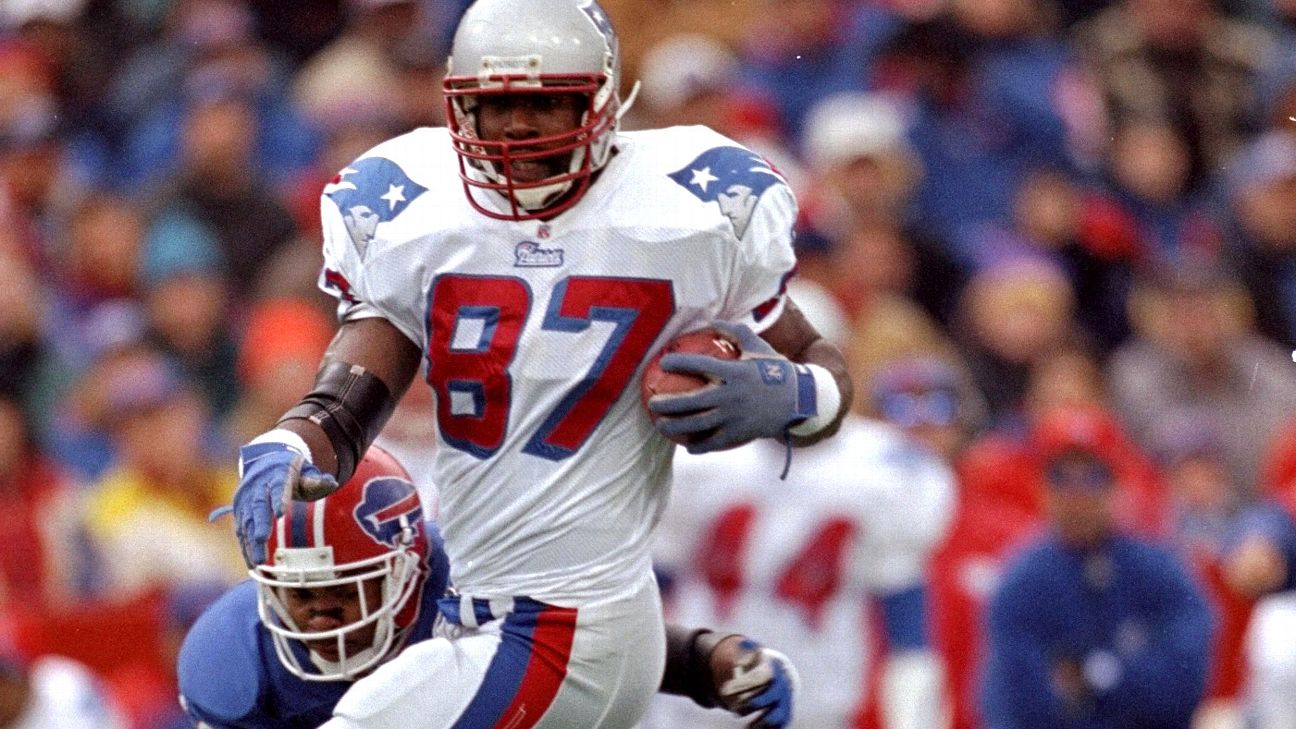 10. Ben Coates (New England Patriots, 199-1999, Baltimore Ravens, 2000)
Stats: 499 receptions, 5,555 yards, 50 touchdowns
About: This was a close call with Clark, who had a slightly longer run. But Coates had a more dominant streak, posting 90-plus target seasons from 1993-1998 as part of the Patriots' attack. He was a five-time Pro Bowl selection and ended up being a Super Bowl champion. I thought Coates was a weapon, one which had to be accounted for as he was a key cog in the Patriots' offense for a number of years. And, like many tight ends on this list, he did a stint in Baltimore as well.
9. Jimmy Graham (New Orleans Saints, 2010-2014, Seattle Seahawks, 2015-2017, Green Bay Packers, 2018-2019, Chicago Bears, 2020-)
Stats: 699 receptions, 8,339 yards, 82 touchdowns
About: Graham is one of three active players to make this list. His first stint was with the Saints, where he was not only one of the best tight ends, but one of the best receiving options in the game, period. From 2011 to 2014, Graham saw at least 125 targets and had at least 85 receptions in each season. Had he remained with Drew Brees in New Orleans, there is no telling what he could have accomplished. Despite injuries over the years, he's still been a productive force at tight end for the Seahawks, Packers and now the Bears since leaving the Saints. He has made five Pro Bowls and sits tied at No. 51 on the All-Time Receptions list and tied for No. 25 on the all-time Receiving Touchdown list.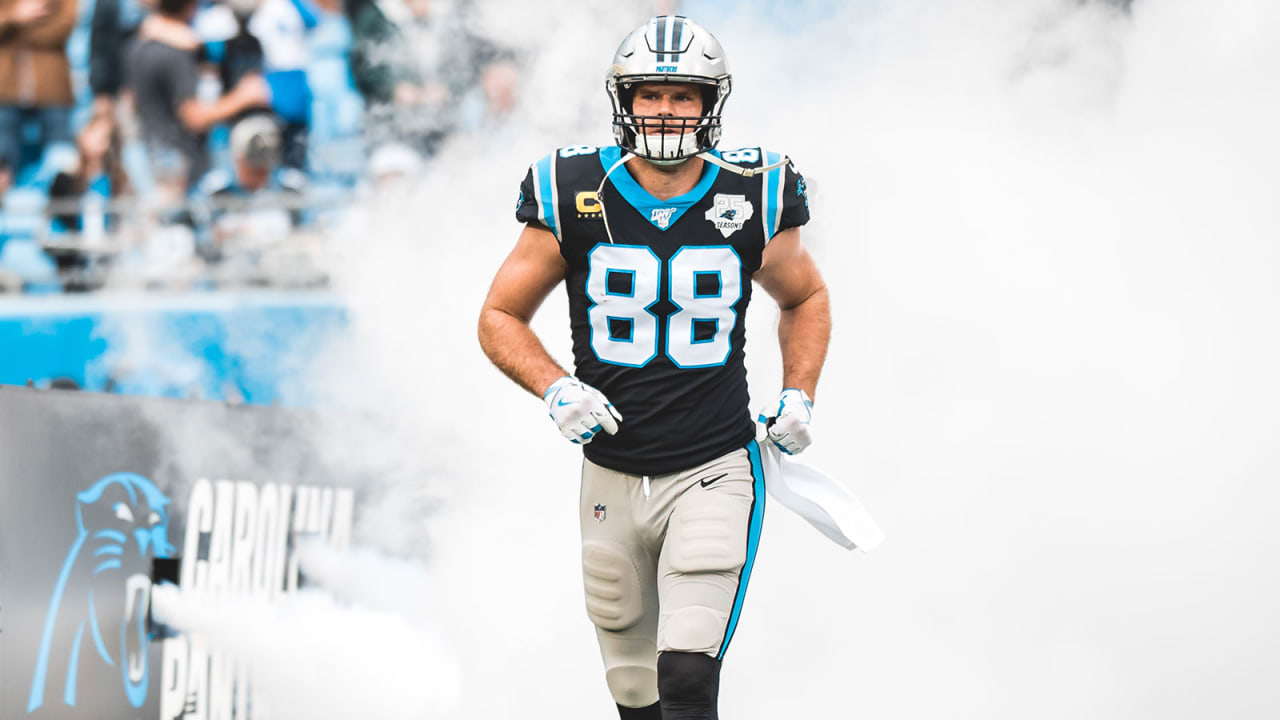 8. Greg Olsen (Chicago Bears, 2007-2010, Carolina Panthers, 2011-2019, Seattle Seahawks, 2020)
Stats: 742 receptions, 8,683 yards, 60 touchdowns
About: Olsen was a great weapon for many years. He began his career with Chicago, but he really blossomed into consistently one of the best at the position during his tenure with the Panthers. From 2012 through 2016 he saw 100-plus targets a season and was frequently the best player in the Panthers' pass offense, including being part of teams that went deep into the NFC Playoffs and even reached the Super Bowl in 2015. He finished last year with the Seahawks, but it was really persistent foot injuries that curtailed the final few seasons of his career. Still, he was one of the best at the position, and sits as No. 45 on the all-time Pass Reception list in addition to being a three-time Pro Bowler.
7. Travis Kelce (Kansas City Chiefs, 2013-)
Stats: 612 receptions, 7,881 yards, 48 touchdowns
About: Kelce is the second of the active players on this list. He's an incredible player and a powerhouse at the position. He's also still in the midst of his prime. In 2020, he caught 105 passes for 1,416 yards and 11 touchdowns. He's one of the best pass-catchers in the NFL today period, regardless of position. He's seen 100-plus targets each season since 2015 and shows no signs of slowing down. He's made the Pro Bowl six times and won a Super Bowl in 2019 with the Chiefs. He's already tied at No. 77 on the all-time Receptions list and there's no telling how high he could end up finishing.
6. Vernon Davis (San Francisco 49ers, 2006-2015, Denver Broncos, 2015, Washington Football Team, 2016-2019)
Stats: 583 receptions, 7,562 yards, 63 touchdowns
About: Davis played for three NFL teams in his career, but his most memorable stint was as part of the 49ers. He was a big weapon for the 49ers during a time when they didn't have the most robust pass offense. He was a two-time Pro Bowl selection and a Super Bowl champion. His numbers aren't as gaudy as some on this list, but he always made a big impression on the field and I think he's an under-rated tight end.
5. Jason Witten (Dallas Cowboys, 2003-2017, 2019, Las Vegas Raiders, 2020)
Stats: 1,228 receptions, 13,046 yards, 74 touchdowns
About: Witten was a beast for the Cowboys, and he did it for a long time. He's one of the best to play the position, solidifying his spot on this list. He made the Pro Bowl 11 times and sits as the No. 4 all time on the NFL Receptions list, the second-best mark by any tight end. He did it over a long career where he was always reliably a durable player on the field and a weapon in the passing game. Even after taking a year off for retirement in 2018, Witten returned and saw 83 targets, catching 63 passes. From 2004 to 2017, he never saw fewer than 87 targets in a season, and he produced when given the ball. He never got to enjoy the post-season success of some of his peers, but he was an incredible player and leader on the field.
4. Rob Gronkowski (New England Patriots, 2010-2018, Tampa Bay Buccaneers, 2020-)
Stats: 566 receptions, 8,484 yards, 86 touchdowns
About: Who knows how much time Gronkowski has left, but he's the third and final active player on this list. He's a fierce competitor, a great blocker, and a major weapon in the passing game. He's made the Pro Bowl five times and won the Super Bowl four times with three different teams. For many years he was a game-changing weapon on offense for some dominant Patriots teams and came out of retirement last year to get a ring with Tom Brady in Tampa Bay, making a big impact in the Super Bowl. He struggled with injuries at times due to how he played the game, but despite that his numbers are still eye-popping, and he's not done yet.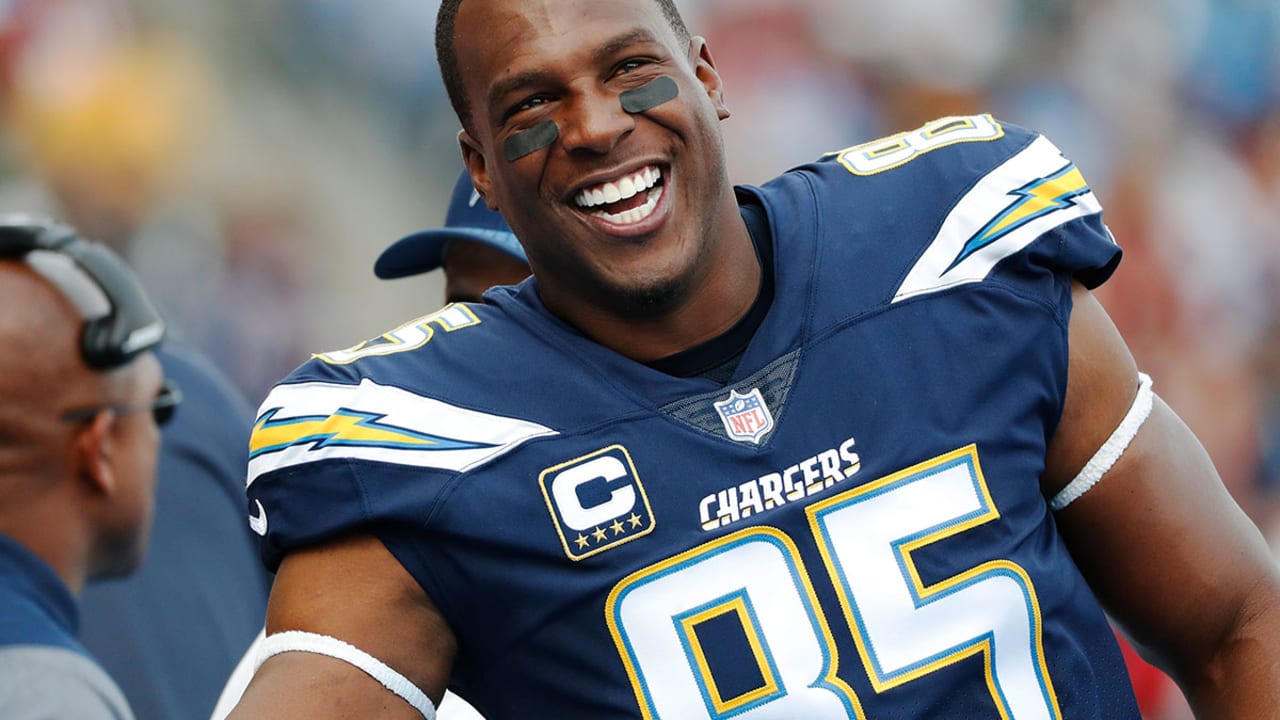 3. Antonio Gates (San Diego/Los Angeles Chargers, 2003-2018)
Stats: 955 receptions, 11,841 yards, 116 touchdowns
About: Gates was a huge weapon at tight end. He used his size and strength to best the competition, and at times he made it look easy. He toiled his whole career with the Chargers and is one of the best to ever play the game. It's just a shame he wasn't able to get a Super Bowl title. He was a weapon and one of the best to play the game. He made the Pro Bowl eight times and sits as No. 7 on the all time Receiving Touchdowns list and No. 17 on the all-time Receptions list.
2. Shannon Sharpe (Denver Broncos, 1990-1999, 2002-2003, Baltimore Ravens, 2000-2001)
Stats: 815 receptions, 10,060 yards, 62 touchdowns
About: Sharpe is one of my favorite NFL players of all time. He was a stalwart for the Broncos during the Super Bowl years and, after a brief stint in Baltimore, finished as a Bronco. He also had a larger-than-life personality, which made him a lot of fun to watch. He was great at his craft, making the Pro Bowl eight times on the way to being a three-time Super Bowl Champion in his Hall of Fame career. He also sits as No. 32 on the all-time Receptions list. Sharpe has been a fun analyst as well and was one of my favorites to watch play the game.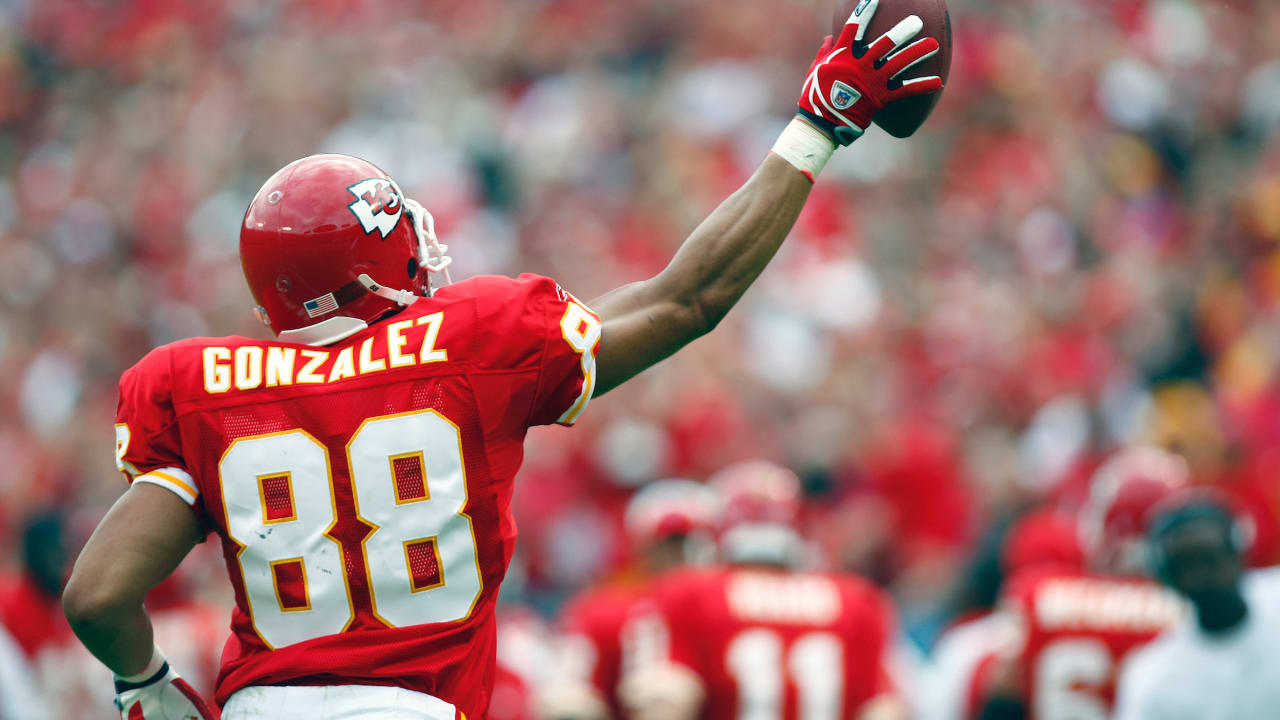 1. Tony Gonzalez (Kansas City Chiefs, 1997-2008, Atlanta Falcons, 2009-2013)
Stats: 1,325 receptions, 15,127 yards, 111 touchdowns
About: When you think about the tight end position, you naturally think about Tony Gonzalez. No one did it better. As a die-hard Broncos fan, I hated facing him when he was with the Chiefs, and I was grateful when he moved on to the Falcons. He was an incredible player and incredibly tough to defend throughout his lengthy NFL Career. He made the Pro Bowl 14 times, but sadly was never able to win a Super Bowl. He sits as No. 3 all time on the Receiving list, the top spot for a tight end, and No. 8 on the all time Receiving Touchdowns list. When you think of great tight ends, it starts with Gonzalez.
Matthew Fox is a graduate of the Radio, Television and Film program at Biola University, and a giant nerd. He spends his free time watching movies, TV, and obsessing about football. He is a member of the FSWA. You can find him @knighthawk7734 on Twitter and as co-host of the Fantasy Football Roundtable Podcast.