The 2021 NFL Draft is about a month in our rearview, we've had rookie camps and OTAs are in full swing. It's also rookie draft season for dynasty players as we march toward the 2021 NFL Season. It seemed a good time to revisit my dynasty rankings, now updated to reflect the draft that took place to close out April. Today, I'm continuing with my Top 50 Wide Receivers.
WRs:
1. Davante Adams, Packers. I'm a little nervous that Aaron Rodgers could leave, and Adams could be on another team next year, but he's great in that offense and by far and away the best option among Packers' pass catchers.
2. DeAndre Hopkins, Cardinals. He's still a beast at receiver in a good offense with Kyler Murray.
3. Tyreek Hill, Chiefs. Hill has been elite with Patrick Mahomes and the Chiefs and that figures to continue.
4. Stefon Diggs, Bills. Diggs was a perfect fit with Josh Allen in Buffalo, seeing 166 targets last season. He's a great receiver in a great situation.
5. A.J. Brown, Titans. The Titans haven't had the highest volume pass offense, and still Brown finished as a WR1. He's only getting better, and adding Julio Jones doesn't have me worried.
6. D.K. Metcalf, Seahawks. Metcalf took a big step forward in 2020 and I think that continue moving forward.
7. Justin Jefferson, Vikings. Jefferson had a fantastic rookie season. He's still on a run-first team, but his talent has him poised to succeed.
8. Michael Thomas, Saints. I love Thomas' talent, but he needs to stay healthy and hope the Saints offense stays high-octane.
9. CeeDee Lamb, Cowboys. I loved him coming out of the draft in 2020, and I think a full year of Dak unleashes more of his potential.
10. Terry McLaurin, Washington. McLaurin has been incredible his first two years and a better supporting cast and Ryan Fitzpatrick ought to help even more in 2021.
11. Chris Godwin, Buccaneers. There are a lot of mouths to feed in Tampa Bay, but there's a reason the Buccaneers gave him the Franchise Tag.
12. Allen Robinson, Bears. Speaking of Franchise Tags, Robinson got one too. He's made a career out of thriving despite subpar quarterback play. Now he has Justin Fields.
13. Amari Cooper, Cowboys. Lamb is the best receiver in Dallas, but Cooper's pretty darn good, and has great chemistry with Dak.
14. Keenan Allen, Chargers. Allen is paired with a great young quarterback and is clearly the best weapon in the Chargers' arsenal.
15. Calvin Ridley, Falcons. He showed he can be the guy with Julio missing time in 2020, and he will be the guy in 2021.
16. D.J. Moore, Panthers. 2020 was a bit of a down year, but with Sam Darnold I still believe Moore is a great talent.
17. Ja'Marr Chase, Bengals. Chase was elite at LSU with Joe Burrow and now re-teams with him in Cincinnati. He was the top receiver in the 2021 class for a reason.
18. Mike Evans, Buccaneers. A great talent and nearly always a lock for 1,000 yards. He is a reliably great receiver for fantasy players.
19. Kenny Golladay, Giants. Hopefully Golladay stays on the field more in 2021, but I'm not sold on his landing spot with the Giants.
20. Cooper Kupp, Rams. Kupp is a great receiver and the upgrade to Matthew Stafford figures to improve his performance going forward.
21. Courtland Sutton, Broncos. I still believe Sutton is a great talent and the best receiver in Denver. Hopefully he'll bounce back with a huge 2021.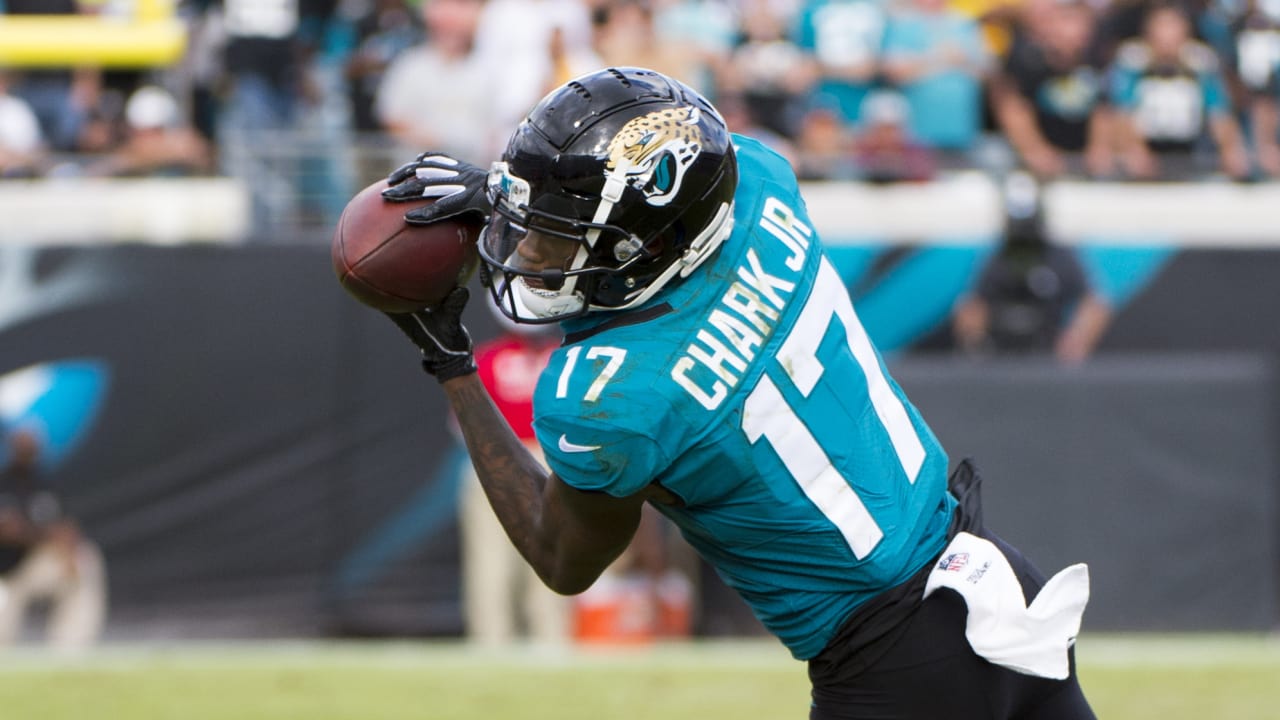 22. D.J. Chark, Jaguars. Chark struggled in 2020 due to a poor offense and poor quarterback play. He's got Trevor Lawrence now.
23. Tee Higgins, Bengals. Some are worried about Higgins, but the Bengals supported three 100-target guys in 2020 and I believe in Higgins' talent.
24. Brandon Aiyuk, 49ers. Is Aiyuk or Deebo Samuel the guy for the 49ers? Opinions are split, but I prefer Aiyuk.
25. Juju Smith-Schuster, Steelers. Juju is back in Pittsburgh in 2021, and that's not a bad thing. He's still young and posted a quietly great season in 2020.
26. Diontae Johnson, Steelers. Johnson was inconsistent at times in 2020, but he saw 160 targets. I think he's possibly going to lead the team in targets again in 2021.
27. DeVonta Smith, Eagles. Smith was the MVP of the National Championship Game, and he figures to be a huge part of the Eagles' attack.
28. Tyler Lockett, Seahawks. Metcalf is the best guy in Seattle, but Lockett has been a solid producer who the team just inked to a new four-year contract.
29. Robert Woods, Rams. Woods is a reliable and under-rated performer. He's not flashy, but he puts up numbers and will continue to do so.
30. Jerry Jeudy, Broncos. Jeudy was inconsistent as a rookie and needs to improve. I like the talent; the biggest question is pass volume in Denver.
31. Chase Claypool, Steelers. He was the big game and big play guy in 2020. He's continuing to have moments as he grows as a receiver.
32. Odell Beckham, Jr., Browns. I'm not ready to write him off just yet, but there are a lot of mouths to feed in Cleveland, a run-first offense.
33. Deebo Samuel, 49ers. Samuel has shown flashes, and I still like his potential, but I believe more in George Kittle and Aiyuk.
34. Julio Jones, Titans. Julio struggled with durability in 2020, but he gets paired with a great young receiver in Brown in Tennessee. The Titans are a playoff-contending team, and Jones should be a great weapon opposite Brown.
35. Jaylen Waddle, Dolphins. I loved the pick by the Dolphins and I think Waddle could end up leading the team in receptions and yardage in 2021.
36. Michael Pittman, Jr., Colts. I liked the selection of Pittman last year, but injuries and a lack of downfield offense limited him in 2020. Still, he saw 60 targets in just eight games. I like his potential.
37. Adam Thielen, Vikings. Thielen is still a good producer, especially in the Red Zone, but he has to maximize fewer opportunities with Jefferson emerging.
38. Tyler Boyd, Bengals. Boyd will be a solid producer, but I think he's third behind teammates Chase and Higgins.
39. Rashod Bateman, Ravens. Bateman has good talent; the question is volume in Baltimore.
40. Curtis Samuel, Washington. Another question of volume and how Samuel will be deployed, but he has WR2 upside as we saw in 2020.
41. Rondale Moore, Cardinals. The Cardinals need a weapon opposite Hopkins, and the shifty Moore figures to be a good fit in the offense.
42. Jalen Reagor, Eagles. I loved Reagor in last year's rookie drafts, but his offense did him no favors. I still have questions about usage in 2021, and I think Smith is the better guy there.
43. Corey Davis, Jets. Davis had a great 2020 which earned him a chance to be the guy in New York.
44. Marquise Brown, Ravens. Brown finally saw 100 targets in 2020, but he has a lot more competition now.
45. Elijah Moore, Jets. Moore is a shift asset that lands in a decent spot. He will compete to be the top target in New York.
46. Michael Gallup, Cowboys. Gallup is the third wheel in Dallas now, but that's not a bad spot to be. The question is if he can land in a better spot next off-season.
47. Henry Ruggs III, Raiders. Ruggs has speed, can that turn into consistent performance? 2021 is his chance to take a step up.
48. Terrace Marshall, Jr., Panthers. I liked the selection of Marshall, reunited with his college offensive coordinator in Joe Brady.
49. Laviska Shenault, Jaguars. Like Chark, Shenault should benefit from the arrival of Lawrence and a better offense.
50. Amon-Ra St. Brown, Lions. The Lions are re-building their receiving corps and I liked the selection of St. Brown in the Fourth Round. I think he's already the best receiver for the Lions.
Matthew Fox is a graduate of the Radio, Television and Film program at Biola University, and a giant nerd. He spends his free time watching movies, TV, and obsessing about football. He is a member of the FSWA. You can find him @knighthawk7734 on Twitter and as co-host of the Fantasy Football Roundtable Podcast.