The days are getting warmer and longer, and the original content is heating up, too. While traditional networks are winding down for the season, the cable and streaming outlets are keeping the new shows coming. But what is worth your time to check out? Let these weekly posts be your guide as I review the pilot and second episode of new scripted series this summer. Don't see a new show listed below? Check previous weeks.
Thursday Nights:
Let's Be Real, Thursdays at 9:30 p.m. on FOX (Premiered April 29)
About: This new series is a puppet sketch comedy from Robert Smigel. It started as a special last year and now is a weekly series, using puppets to skewing political figures and stories. The first episode had some funny sketches and some that didn't land. The second episode felt like it leaned more toward not landing. The idea is OK, and the concept is executed well, but this doesn't feel like appointment viewing. If you're looking for a quick distraction, a sketch show like this is the perfect pop in viewing option.
Pilot Grade: C
Second Episode: C
Fridays:
Star Wars: The Bad Batch, Fridays on Disney+ (Premiered May 4)
About: The latest Star Wars series on Disney+ is an animated sequel series to The Clone Wars, also created by Dave Filloni. The series launched fittingly on May 4, while the second episode dropped on Friday, as will subsequent episodes. This one picks up at the end of the Clone Wars, just as Order 66 is put into play. It centers on a group of clone soldiers that have been genetically modified to give them enhanced skills, but it's also given them a unique style and personality, making them immune to the kind of compliance to orders that impacted the rest of the clone army. The pilot was 74 minutes and set up the world and the characters well. The second episode clocked in at a more expected 30 minutes and continue the story. I liked the characters and I think there's some good potential here, filling in some of the gaps in the story between cinematic adventures. This will be a must for Star Wars fans.
Pilot Grade: B
Second Episode: B-
Streaming Series:
Girls5eva, Now Streaming on Peacock (Premiered May 6)
About: The latest Peacock original comedy comes from Meredith Scardino (Saturday Night Live, Unbreakable Kimmy Schmidt) and producers Tina Fey and Robert Carlock. It centers on a girl group that hits it big for a time and fades even more quickly. Now, many years later, the four surviving members of the group (Sara Bareilles, Renee Elise Goldsberry, Busy Phillips, and Paula Pell) are thrust back into the spotlight when their old hit is sampled on a new rap track. That prompts the ladies, who miss the limelight, to attempt a comeback. This one has the kind of wacky setup and jokes that we've become used to from Fey and Carlock-produced series. It has a decent cast, with each episode running around a half hour without commercials. The first season, eight episodes in total, dropped on Thursday. I like the concept and the performances from Bareilles and Goldsberry are quite good leading the cast. I found myself amused throughout the first two episodes if not totally laughing. This is a quick watch and one of the best offered so far by Peacock.
Pilot Grade: C+
Second Episode: C+
That Damn Michael Che, Now Streaming on HBO Max (Premiered May 6)
About: This new sketch comedy series for HBO Max comes from Che, the talented comedian who is part of the ensemble on Saturday Night Live. This one features interviews with Che sharing his views as he and others in the ensemble participate in different sketches that play to the theme of the episode. I screened two episodes, and one I liked a lot while the second was more of a shoulder shrug. I think this is the kind of series where your interest in the episodes will ebb and flow a bit based on subject. Che is amusing and has a unique perspective. The first season is just six episodes, ranging in length from 19 to 23 minutes, so it's a brisk watch and low-barrier commitment that's worth checking out.
Pilot Grade: B
Second Episode: C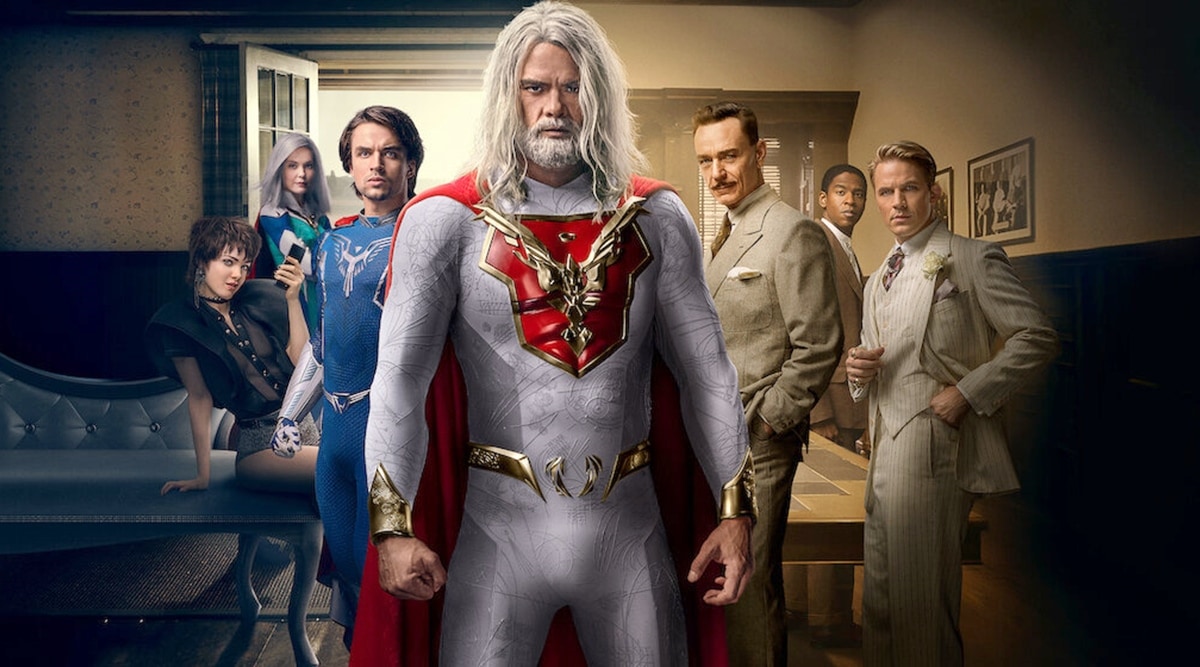 Jupiter's Legacy, Now Streaming on Netflix (Premiered May 7)
About: This new Netflix series is based on the comic book from Mark Millar, developed by Steven S. DeKnight. The series is set in two time periods—the present and the late 1920s early 1930s. It follows the first generation of superheroes, led by Sheldon Sampson (Josh Duhamel) and his brother Walter (Ben Daniels) and his wife (Leslie Gibb), as well as their children. In the present, Sheldon, Walter and Grace are the elder statesman trying to pass along the craft. In flashbacks we see how they got their powers and first formed their heroic group. The first season, eight episodes in all, dropped on Friday. They range in length from about 50 minutes to as little as 37 minutes, making it a fairly quick binge watch. I like the idea and cast, and I thought the first two episodes offered an interesting set up. The backstory set in the past was more interesting than the present, but all of it works to draw the audience in. Netflix has been a volume content producer of late, but it hasn't always created shows that stick. This one was uneven at times, but I like the premise and potential enough to see where it goes.
Pilot Grade: B-
Second Episode: B-
Matthew Fox is a graduate of the Radio, Television and Film program at Biola University, and a giant nerd. He spends his free time watching movies, TV, and obsessing about football. He is a member of the FSWA. You can find him @knighthawk7734 on Twitter and as co-host of the Fantasy Football Roundtable Podcast.