What a week it's been! We've seen tons of action and player movement as the NFL off-season is now well under way. There have been some big names changing teams, but also a few players remaining where they started. That was the case for Aaron Jones in Green Bay and now for another big free agent running back, Chris Carson, who re-signed with Seattle.
Carson went back to the Seahawks on a two-year deal for $10.425 million. Carson has spent all four years of his career in Seattle and has been very productive, rushing for 3,270 yards and 21 TDs, catching 101 passes for 775 yards. That includes back-to-back 1,000 yard seasons in 2018 and 2019. The move makes sense for the Seahawks, who've said they want to focus more on the run game.
Carson was a solid RB2 option in Seattle the past few years and that doesn't change with him re-signing. The bigger questions are Rashaad Penny and DeeJay Dallas. Penny seemed to be in line for a good workload with Carson potentially moving on, but with Carson back, Penny is an RB4 at best. Dallas is more of a speculative deep league hold at this time.
Now for a look at the other fantasy-relevant moves we've seen recently in free agency.
Running Backs
The Broncos saw their former running back, Phillip Lindsay, move on to Houston on a one-year, $3.25 million deal, while signing former Vikings' running back Mike Boone to a two-year, $3.85 million deal. The bigger move for fantasy is Lindsay, who has rushed for 2,550 yards and 17 TDs in three seasons. He has incentives in the deal if he hits 750 or 1,000 yards that boost the value, meaning the Texans see him as a potentially large part of the offense.
For now, I have Lindsay as a low-end RB3. The Texans recently signed veteran Mark Ingram and still have David Johnson. Signing Lindsay was a mild surprise that makes it fair to question what the rotation will be. Johnson drops to RB3 range, too, until the split is established and I'd say this makes Ingram irrelevant for the time being.
Boone wasn't much of a factor on the ground for the Vikings. He rushed for 379 yards and four TDs in three seasons. He is known as more of a special teams player, and figured to provide depth along with Royce Freeman behind starter Melvin Gordon.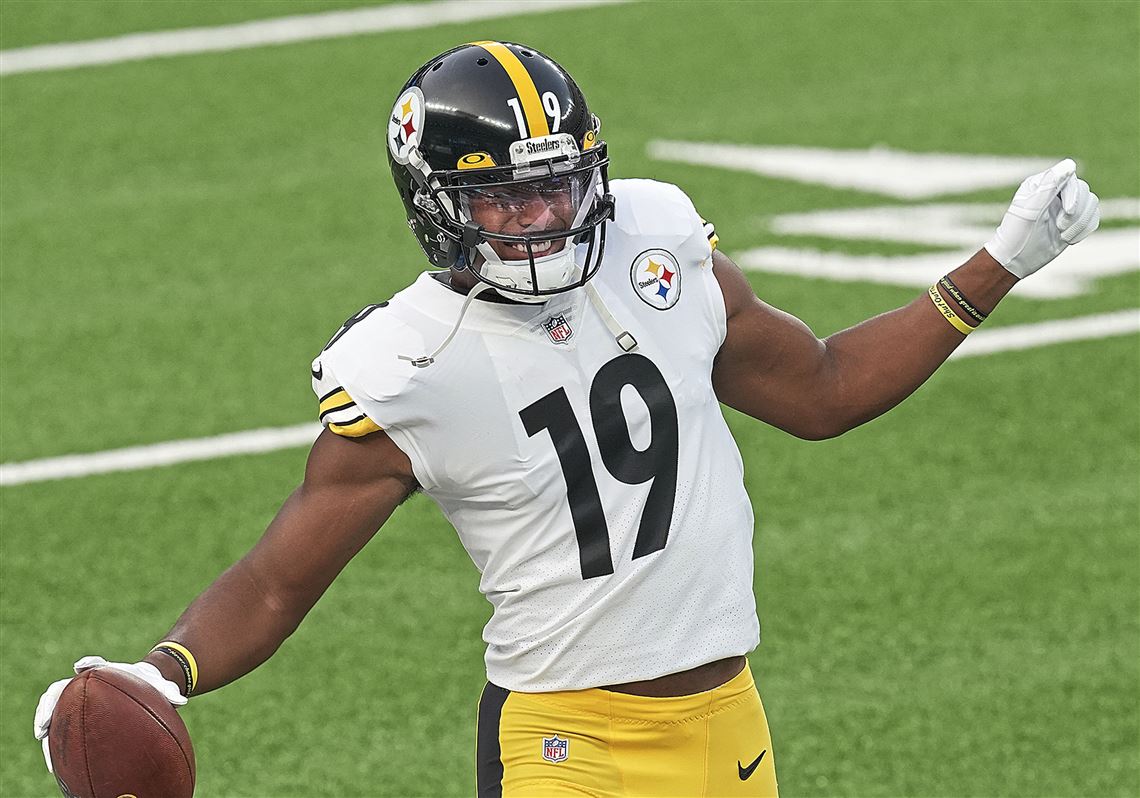 Wide Receivers
Juju Smith-Schuster returned to the Steelers on a one-year deal worth $8 million. Juju reportedly passed up on more lucrative deals to run it back with the team that drafted him. He has played all four of his seasons with the Steelers, catching 308 passes for 3,726 yards and 26 TDs. He led the team with 128 targets and 97 receptions in 2020, good enough to be WR16.
His return puts him back in an offense with fellow receivers Diontae Johnson (WR21) and Chase Claypool (WR23). All three were Top 25 receivers in 2020, and fantasy players have to hope that can be true in 2021 as well. I have Juju as a WR2 and he remains there going back to Pittsburgh. I have Johnson slightly higher with Claypool as a WR3. As long as all three remain with the Steelers, their ceiling will be capped by each other.
In Carolina, the Panthers added former Seahawk receiver David Moore on a two-year, $4.75 million deal. The Panthers had three receivers in the Top 25 in 2020, including Robby Anderson at WR19, Curtis Samuel at WR24 and D.J. Moore at WR25. Samuel moved on to Washington, and while Anderson and Moore figure to be the top pass catchers the Panthers hope Moore can be a strong third option as he was for Seattle. Moore played four years with the Seahawks, catching 78 passes for 1,163 yards and 13 TDs, including a career high 35 passes for 417 yards and six TDs in 2020.
The Lions continued re-making their receiver group by signing veteran Breshad Perriman to a one-year, $3 million deal. Perriman has played for the Ravens, Buccaneers and Jets, catching 125 passes for 2,066 yards and 14 TDs in five seasons. The Lions signed Tyrell Williams earlier in the off-season and return second-year receiver Quintez Cephus. For fantasy, Cephus is the one I'm most interested in right now, stashing him in dynasty leagues.
Tight Ends
The tight end market is thin now, but a couple more signings took place with Dan Arnold agreeing to a two-year, $6 million deal with the Panthers and Jacob Hollister signing a one-year, $1.1275 deal with the Buffalo Bills. Arnold showed flashes with the Cardinals in 2020, catching 31 passes for 438 yards and four TDs. He figures to push enigmatic tight end Ian Thomas, who was a non-factor in 2020. Still, Arnold is a TE3 for me.
Hollister had some moments with the Seahawks, and played with Allen at Wyoming. He joins a TE group that includes Dawson Knox. Knox caught 24 passes for 288 and three TDs in 2020, while Hollister caught 25 for 209 and three TDs. In a crowded pass-catching group in Buffalo, I expect these two to hurt each other's value, making them TE4s at best.
Other Notable Signings:
Guard Kyle Long came out of retirement to sign a one-year, $5 million deal with the Chiefs.
Cornerback Patrick Peterson, who played 10 years with the Cardinals, signed a one-year, $8 million deal with the Minnesota Vikings.
After being cut by Miami, linebacker Kyle Van Noy returned to the Patriots on a two-year, $12 million deal.
Pass rushing specialist Hasson Reddick moved on from the Cardinals, signing a one-year, $8 million deal with the Carolina Panthers.
Justin Simmons, the safety for the Broncos who received a Franchise Tag for the second year in a row, signed a four-year, $61.5 million deal.
Left Tackle Trent Williams re-signed with the 49ers on a six-year, $138 million deal, the largest ever for an offensive lineman.
Matthew Fox is a graduate of the Radio, Television and Film program at Biola University, and a giant nerd. He spends his free time watching movies, TV, and obsessing about football. He is a member of the FSWA. You can find him @knighthawk7734 on Twitter and as co-host of the Fantasy Football Roundtable Podcast.