The new league year and free agency officially begins on Wednesday, March 17, with the legal tampering period beginning Monday. With the Franchise Tag deadline passed, we have a better idea of the cream of the crop in the Free Agent class. As fantasy players, now's the time to hope and dream.
To that end, here's five top free agents at skill positions whose landing spot will have a huge impact on fantasy lineups. Let's start dreaming.
Aaron Jones, Running Back
*Editors note: Jones resigned with the Packers
Jones played four years for the Packers, developing into an elite weapon the last two seasons. In 2019, Jones was a top-tier fantasy back thanks in part to 19 touchdowns. He rushed for 1,084 yards and 16 TDs, adding 49 receptions for 474 yards and three TDs. That was good enough to make him RB2 in fantasy. The question was how far back to the pack he'd come in 2020 as another 19-touchdown output seemed unsustainable.
In 2020, Jones thrived again, going for a career-high 1,104 yards and adding nine TDs, catching 47 passes for 355 yards and two TDs. So, he finished with a strong 11 total TDs in 2020 and was RB5 in fantasy. He didn't get the Franchise Tag, so now he's a free agent. And adding a dual-threat running back that's a Top 5 fantasy option is appealing.
The Packers are rumored to be still trying to re-sign Jones, which makes sense. He's also been linked to potential openings for the Dolphins and Jets. Ideally, Jones needs a place to be The Man, featured in both the running game and passing game. In the right situation, he has the potential to hit numbers like we saw from peak Le'Veon Bell.
Ideal Landing Spots: Green Bay Packers, Pittsburgh Steelers
Leonard Fournette, Running Back
Fournette was a top draft pick by the Jacksonville Jaguars in 2017, where he toiled for three seasons. Prior to the 2020 season, Fournette was cut by the Jaguars in somewhat of a mild surprise. Fournette landed with the Tampa Bay Buccaneers on a one-year contract and ended up being part of the core of an offense that won the Super Bowl.
Now he's a free agent and figures to be in demand. Fournette didn't have a huge season for the Buccaneers, playing in a crowded running back group that includes Ronald Jones, LeSean McCoy, and Ke'Shawn Vaughn. In 13 games, he ran for 367 yards and six TDs, adding 33 receptions for 233 yards. But Fournette was the main man in the backfield in the playoffs, saving his best for last. That included going for 89 rushing yards and a touchdown along with four receptions for 46 yards and a touchdown in the Super Bowl.
But Fournette is no stranger to carrying a heavy load. In three seasons as the featured back in Jacksonville, he rushed for 2,631 yards and 17 TDs along with 134 receptions for 1,009 yards and two TDs. That included going for a career-high 1,152 rushing yards and 76 receptions for 522 yards in 2019 when he finished as RB7.
The Buccaneers are interested in bringing him back, but Fournette is likely to receive a few big dollar offers. He has big potential as a fantasy starter in the right situation, too.
Ideal Landing Spots: Tampa Bay Buccaneers, Miami Dolphins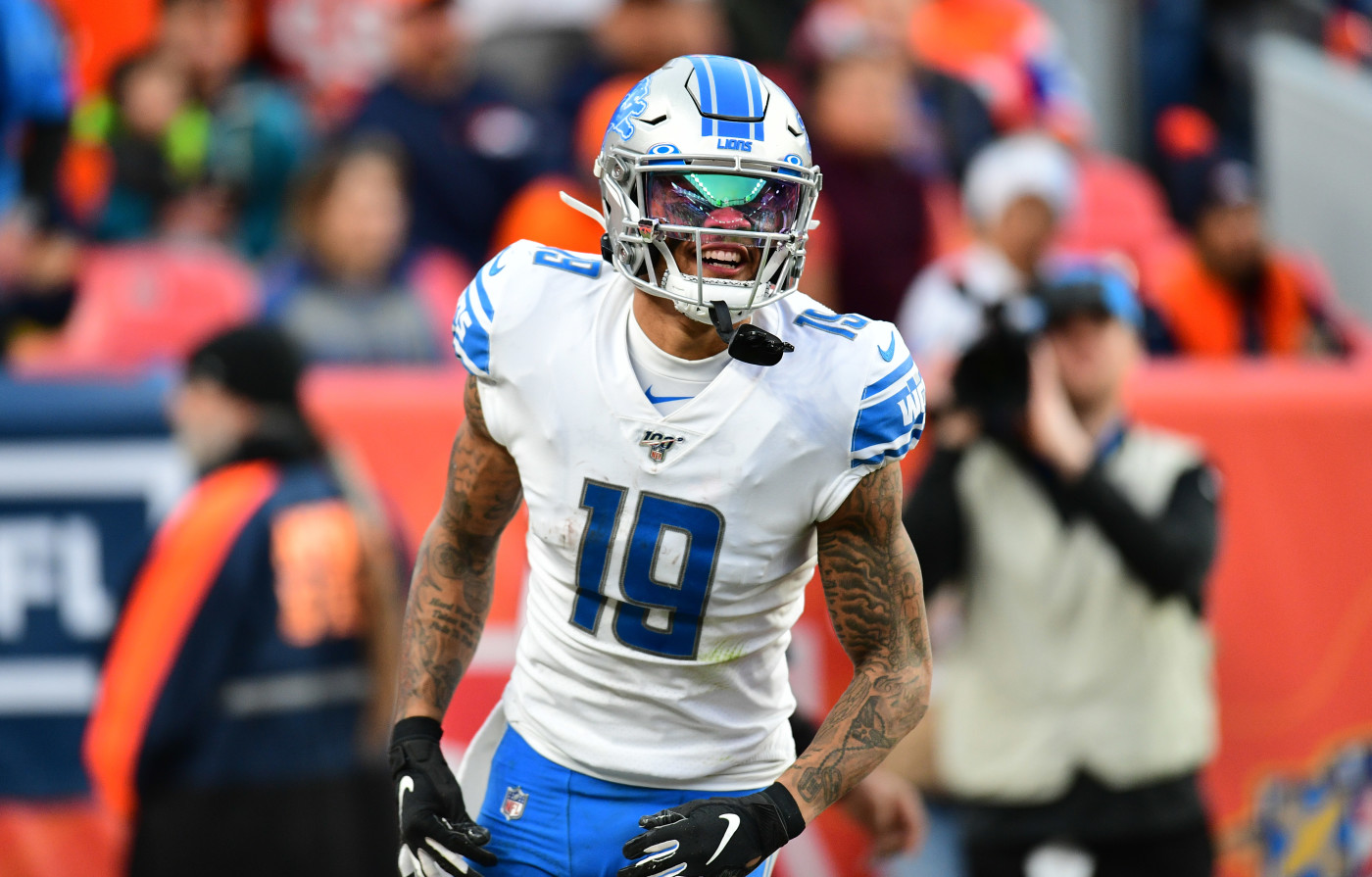 Kenny Golladay, Wide Receiver
Golladay was the big winner on Tuesday during the Franchise Tag deadline. Not only was he not tagged by the Lions, when Allen Robinson (Bears) and Chris Godwin (Buccaneers) drew tags, Golladay became the biggest name available in the free-agent wide receiver pool. And there figures to be plenty of suitors.
Golladay had a tough 2020. Injuries limited him to just five games and 32 targets. He caught 20 passes for 338 yards and two TDs. But in the two seasons prior, Golladay drew more than 100 targets and was productive. In 2018, he caught 70 passes for 1,063 yards and five TDs. In 2019, he caught 65 passes for 1,190 yards and 11 TDs, good enough to finish as WR9.
The 6'4" Golladay is a big target, and capable of making big plays. For his career, he has 21 TDs and has averaged 16.8 yards per reception. That makes him an ideal No. 1 target for an offense that has a big need.
Ideal Landing Spots: Indianapolis Colts, Miami Dolphins
Juju Smith-Schuster, Wide Receiver
It's hard to believe Juju is still only 24 years old. He was drafted in the second round of the 2017 draft by the Pittsburgh Steelers and has been a force on the field ever since. In four seasons, he's caught 308 passes for 3,726 yards and 26 TDs. His high-water mark came in 2018, opposite Antonio Brown, as he caught 111 passes for 1,426 yards and seven TDs. That was good enough to be WR8.
After an injury-marred 2019 where the entire Steelers' offense struggled, Juju had a better 2020. He had a better season even than many remember, finishing as the team's top wide receiver. He saw 128 targets, catching a team-high 97 balls for 831 yards and a career high nine TDs. That was good enough to finish as WR16. Now he's a free agent.
The Steelers have an embarrassment of riches at receiver, with Diontae Johnson and Chase Claypool under contract along with James Washington. Juju is rumored to want to be back with the Steelers, but it's likely he'll be able to receiver bigger offers elsewhere, and possibly a better chance to put up numbers. I think he'd thrive as a great No. 2 receiver in a good NFL pass offense.
Ideal Landing Spots: Arizona Cardinals, Washington Football Team
Hunter Henry, Tight End
Henry was another player that many thought would draw the Franchise Tag, as he did in 2020. Instead, the Chargers passed on tagging Henry for the second year in a row, leaving him as a free agent. He's the best tight end in the free-agent class, though the 2021 draft offers some appealing tight end prospects that would likely be better. Still, Henry figures to draw plenty of interest and has the potential to be a TE1.
Henry's biggest struggle has been staying on the field. But in 2020, playing under the Franchise Tag, he did just that and turned in a career season. In 14 games he saw 93 targets, turning it into 60 receptions for 613 yards and four TDs. That was good enough to finish as TE12 on the season. He seemed to be a great fit in a strong offense with emerging quarterback Justin Herbert, the 2020 Offensive Rookie of the Year.
A return to the Chargers isn't off the table, but Henry figures to draw interest from other teams, too. If he lands in a spot where he can be featured and stay on the field, the sky's the limit.
Ideal Landing Spots: Indianapolis Colts, New England Patriots
Matthew Fox is a graduate of the Radio, Television and Film program at Biola University, and a giant nerd. He spends his free time watching movies, TV, and obsessing about football. He is a member of the FSWA. You can find him @knighthawk7734 on Twitter and as co-host of the Fantasy Football Roundtable Podcast.