We are under a month away from the start of the new league year, free agency and, before you know it, the NFL Draft. As we prepare to turn the page officially to 2021, I made a first pass at my Dynasty Rankings. These rankings only include current NFL Players (2021 rookies will be added later) and are based on where we sit now. The wild next few months will play a role, so look for these to be updated throughout the off-season. For now, this first wave will be presented by position, today I continue with running backs.
For the running back position, I'm looking at my Top 50. This is another position that will change dramatically over the next couple months based on free agent landing spots, the NFL draft and other considerations. But here's where I like the running backs at this moment.
1. Christian McCaffrey, Carolina Panthers. McCaffrey only played in three games in 2020, and he scored six touchdowns. He was great when he was on the field and this offense is potentially only getting better. He's still the top dog here.
2. Dalvin Cook, Minnesota Vikings. The big question this time last year was the long-term future for Cook. He got paid in Minnesota and had another huge year, I don't see that changing soon.
3. Alvin Kamara, New Orleans Saints. I know some have questions about the quarterback situation, but Kamara is a dominant talent who also got a big contract. He'll be fine.
4. Saquon Barkley, New York Giants. The talent is there, but it's fair to wonder about the situation. Two years of missed time also dampens my enthusiasm some.
5. Jonathan Taylor, Indianapolis Colts. His usage and production exploded down the stretch. He's in a good offense and I expect him to be a big part of the Colts' attack.
6. Nick Chubb, Cleveland Browns. I know Kareem Hunt is there, but that doesn't dampen my enthusiasm for Chubb. When he's on the field, he's a beast. I expect it to stay that way.
7. Derrick Henry, Tennessee Titans. It's time to stop questioning Henry, who is a beast. The Titans will have a new offensive coordinator, but I feel like this is the offense they're going to keep running.
8. D'Andre Swift, Detroit Lions. Swift showed strong near the end of the season when on the field and he's the best piece of the Lions offense moving forward. New coach Dan Campbell seems committed to using him, too.
9. Aaron Jones, Free Agent (Packers). Jones has been a great runner and receiver, and now he's a free agent. There's potential he finds some place to give him an even bigger role than the Packers.
10. Austin Ekeler, Los Angeles Chargers. Ekeler lost time due to injury, but he was strong when he was on the field and had a good connection with Justin Herbert. He's an attractive piece of an emerging offense.
11. J.K. Dobbins, Baltimore Ravens. I love Dobbins' talent, but this one scares me a bit because of potential usage. Will he be solely the guy? If so, the sky's the limit. If they bring back Gus Edwards or sign/draft another back, Dobbins will drop for me.
12. Ezekiel Elliott, Dallas Cowboys. He wasn't great last season, but the offense in general stalled and he was battling injuries. Can he bounce back? I'm not sure. Honestly, this is a sell window for me.
13. Josh Jacobs, Las Vegas Raiders. Jacobs has been steady and gotten a heavy workload each of his two years. He might not have the ceiling of others, but he's a reliable performer.
14. James Robinson, Jacksonville Jaguars. Robinson was one of the best stories of 2020, an undrafted rookie who excelled. But the Jaguars are going through a lot of changes. I still like Robinson, but his position could change a lot in the next few months.
15. David Montgomery, Chicago Bears. Montgomery exploded to end the season, finishing as RB4. He has talent and opportunity, but I'm not ready to buy that hot stretch being his typical production quite yet.
16. Joe Mixon, Cincinnati Bengals. What to do with Mixon? He got a contract and he's in a good situation, but he's struggled with injuries and production. Top 10 potential, but will we see it?
17. Clyde Edwards-Helaire, Kansas City Chiefs. Rumors of him being a Top 5 back turned out to be greatly exaggerated. It's a good offense in Kansas City, but CEH feels like an up-and-down prospect. With Damien Williams coming back, there will still be a split in KC. He's good, but not an RB1 for me.
18. Cam Akers, Los Angeles Rams. Yes, Darrell Henderson is still there and figures to still be a factor, but we saw Akers leading the charge down the stretch. That continues in 2021 in possibly a better offense with Matthew Stafford.
19. Antonio Gibson, Washington Football Team. Gibson was a big question coming into his rookie year but he proved he could handle the load and excel. The future looks bright for Gibson and his offense.
20. Miles Sanders, Philadelphia Eagles. Sanders remains talented and explosive, but he's struggled with injuries and usage concerns. That figures to continue.
21. Leonard Fournette, Free Agent (Buccaneers). Fournette was good for the Buccaneers and could return. He could also get a big deal elsewhere. Either way, he has plenty of football left.
22. Chris Carson, Free Agent (Seahawks). Where will Carson run? He was solid for the Seahawks and should be an asset to an offense. His landing spot will influence his position here going forward.
23. Melvin Gordon, Denver Broncos. Gordon had a solid first season in Denver, doing some heavy lifting with Phillip Lindsay out down the stretch. Lindsay is a free agent now, and Gordon could be locked into some big production in 2021.
24. Kareem Hunt, Cleveland Browns. Hunt had an unbelievable finish in 2020 and has Top 10 potential. But with Chubb in the mix, he won't be the guy in Cleveland.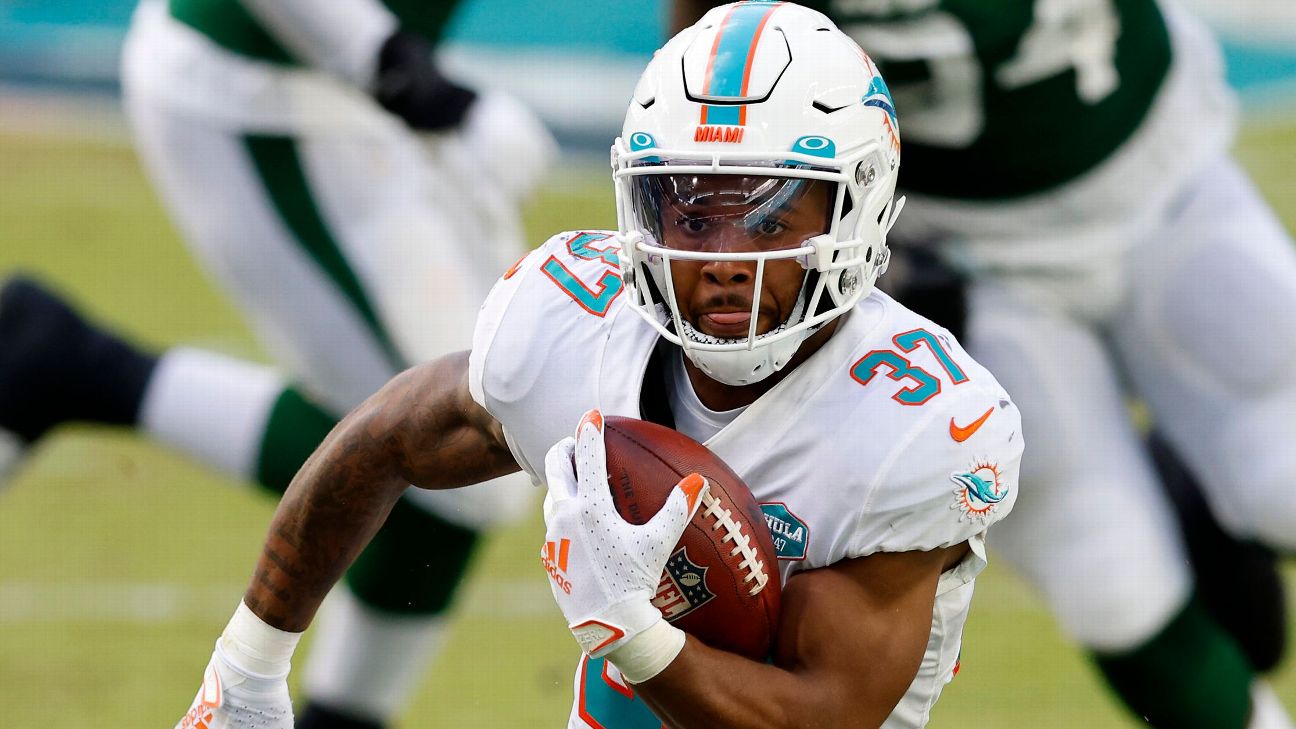 25. Myles Gaskin, Miami Dolphins. This is another spot I'm not confident in. Gaskin was great for the Dolphins in 2020, but only started seven games. The team has also been rumored to get a back in free agency and/or the draft. If that happens, Gaskin drops. If not, he could be poised for a big season. The question is, do you feel lucky?
26. Ronald Jones, Free Agent (Tampa Bay Buccaneers). Jones was the best back in Tampa Bay most of the season, but injuries hampered him down the stretch and in the post-season. Still, he should find a good landing spot, possibly right back with the Buccaneers.
27. Zack Moss, Buffalo Bills. Moss didn't explode as a rookie, but no one in the Bills' backfield did. If the team doesn't bring in serious competition, Moss is the back I like best there going forward.
28. A.J. Dillon, Green Bay Packers. Dillon didn't do a lot as a rookie, but with Jones and Jamaal Williams free agents, he's the best man standing in Green Bay. He should be poised for a bigger workload in 2021.
29. Damien Harris, New England Patriots. Can you ever trust a Patriots' running back? Perhaps not. The offense in New England has big questions, but Harris was strong when given a chance to run.
30. Kenyan Drake, Free Agent (Arizona Cardinals). Drake is the first of three backs in a row here I don't feel great about. He had a decent season after being franchised tagged by the Cardinals but didn't reach the heights many expected. Where does he go now?
31. James Conner, Free Agent (Pittsburgh Steelers). Conner once looked incredible spelling Le'Veon Bell, but he's struggled since. In 2020 he was better than you remember, but not as good as you'd hoped, particularly down the stretch. He's likely not back in Pittsburgh, so where does he get to run?
32. David Johnson, Houston Texans. Johnson isn't the guy we saw in 2016, and likely won't ever be again. It's also possible he's not back in Houston. But if he is, we saw a productive RB2 when he was on the field. He's not a sexy name, but you could do worse.
33. Nyheim Hines, Indianapolis Colts. Taylor is the big gun in the Colts' backfield, but Hines had a great season and proved an invaluable piece of Frank Reich's offense. He figures to remain a viable part of the attack in 2021 and beyond.
34. Tony Pollard, Dallas Cowboys. Pollard looked good at times in Dallas, sharing the load with Elliott down the stretch. Does that continue? That's the big question.
35. Raheem Mostert, San Fransico 49ers. Mostert got a new contract prior to the season and looked strong when he was on the field. Injuries limited him in 2020, and the 49ers seem committed to being in a committee, but Mostert has good upside.
36. Devin Singletary, Buffalo Bills. Singletary played and started 16 games in 2020 and his numbers declined. He doesn't appear to be the answer for the Bills and if Buffalo adds to the backfield, he could slide further down the list.
37. Darrell Henderson, Jr., Los Angeles Rams. Henderson figures to continue to have a role with the Rams, but Akers looked to be the better back.
38. Jeff Wilson, Jr., San Francisco 49ers. Wilson was a beast when he got carries for the 49ers. With Tevin Coleman and Jerrick McKinnon not expected back, Wilson figures to carry the load with Mostert. He feels like the better backfield value at the moment, too.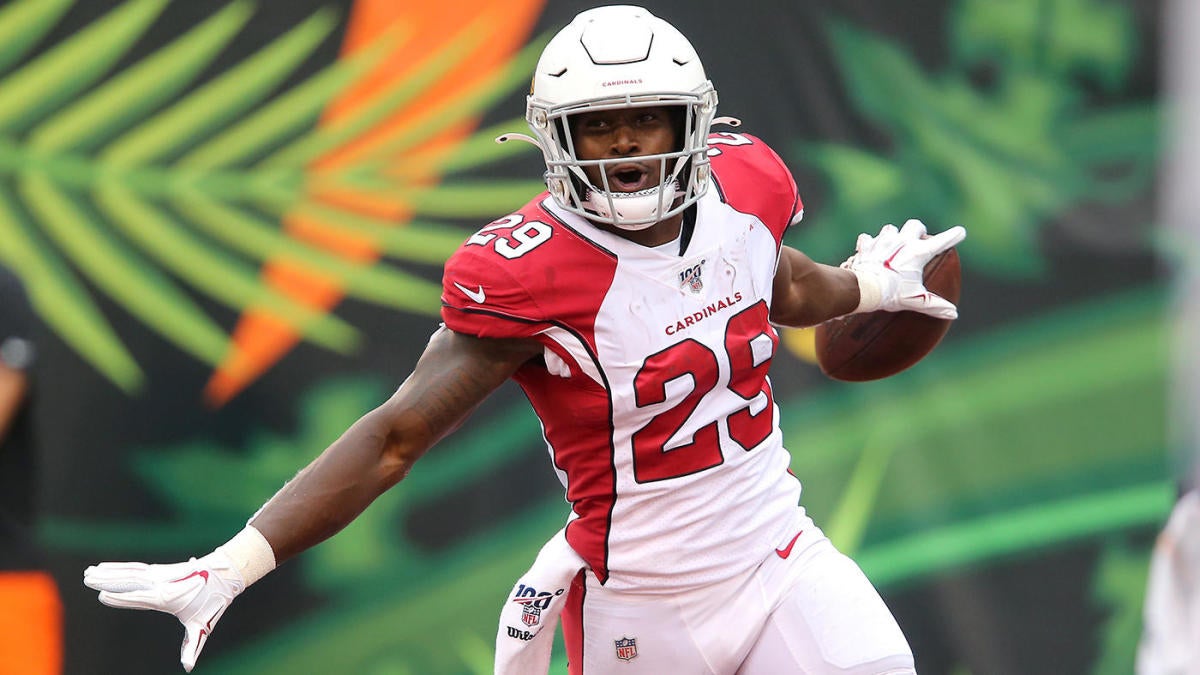 39. Chase Edmonds, Arizona Cardinals. Edmonds is a committee back that has the potential to explode from time-to-time, it's just hard to guess when that might be. He's a committee back.
40. J.D. McKissic, Washington Football Team. McKissic and Gibson formed a great tandem in Washington and that feels like a tandem poised for success in 2021 and possibly beyond. Unless Washington makes a move at the position, McKissic has some sneaky value.
41. Phillip Lindsay, Free Agent (Denver Broncos). Lindsay rushed for 1,000-plus yards his first two seasons. He's a back with some miles, but one who's shown he can be a tremendous asset. The landing spot matters here.
42. Rashaad Penny, Seattle Seahawks. Carson is a free agent, and thought Penny was not a factor in 2020, he was once a highly drafted asset. The Seahawks have said they want to run more, and Penny is the top of the heap for now.
43. Tarik Cohen, Chicago Bears. Cohen hasn't been a big factor the past few seasons but he has talent and skills. Can the Bears make better use of him in 2021?
44. Marlon Mack, Free Agent (Indianapolis Colts). An injury cut his 2020 season short, and Taylor's play has made him irrelevant in Indy. Coming back off injury, can Mack show the form he had in 2019? In the right spot, he could be a sneaky value.
45. Gus Edwards, Free Agent (Baltimore Ravens). The Gus Bus had a solid 2020 season, and now he's a free agent. If he goes back to the Ravens, I can envision another split workload, dropping Dobbins' ceiling. If Gus goes to the right spot, he could have a chance to shine.
46. Alexander Mattison, Minnesota Vikings. Mattison is a valuable handcuff, but will he ever be more? It's unclear right now. His greatest value might be to those who roster Cook.
47. Benny Snell, Jr., Pittsburgh Steelers. Snell had some flashes last year but wasn't consistent. With James Conner a free agent, Snell could get a shot but I'm not counting on it. He figures to be a depth or rotation back again.
48. Le'Veon Bell, Free Agent (Kansas City Chiefs). Just a few years ago Bell was a top pick in dynasty, now 48 feels like it might be too high among RBs. Bell didn't show much with the Jets or Chiefs in 2020, but a good spot in 2021 could turn that around. I'm not ready to cut bait yet.
49. La'Mical Perine, New York Jets. Perine looked good at times for the Jets, and he's the best back on the roster… for now. I expect the Jets to make some moves here.
50. Ke'Shawn Vaughn, Tampa Bay Buccaneers. Vaughn is in a precarious spot. If Fournette and Jones come back, he's likely buried on the depth chart again and fantasy irrelevant. But if only one, or none, return, he could finally cash in on the promise some saw when he was drafted last April.
Matthew Fox is a graduate of the Radio, Television and Film program at Biola University, and a giant nerd. He spends his free time watching movies, TV, and obsessing about football. He is a member of the FSWA. You can find him @knighthawk7734 on Twitter and as co-host of the Fantasy Football Roundtable Podcast.