The West Wing debuted on September 22, 1999. I remember watching it then, and I remember watching every subsequent episode. Created by Aaron Sorkin, The West Wing was a fictional look at staffers working at the White House. It presented an idealized vision of what Government Could, or perhaps Should be. And it was wildly popular with audiences and critics, winning 26 Emmy Awards over seven seasons, the last three after Sorkin left the day-to-day production of the series.
It was one of my favorite series at the time, and I believe it's one of the best series of all time. Shortly after election day, I started a re-watch, introducing the series to my wife. We finished our re-watch of all seven seasons, 155 episodes, in January. We started on Netflix but moved to HBO Max, as the series' rights moved on Christmas Eve. You, too, can watch all seven seasons, and if you've never seen it I encourage you to do it. The stories and characters still hold up. I was moved to tears, inspired, and laughed in equal measure.
This week for Binge Watch, I decided to chronicle my Top 10 episodes following my recently finished re-watch. If you've seen the series, enjoy this walk down memory lane. If you've never seen the series, I encourage you to watch it and come back to see what you think. Either way, if you agree, disagree, or have another favorite I encourage you to share it in the comments.
10. "Tomorrow," episode 7.22 (First Aired May 14, 2006)
About: This is the series finale, and it's a good one. It's also an emotional one. Ending a series is always tricky, but this one had the perfect built in ending as we finish on Inauguration Day, as President Bartlett (Martin Sheen) is leaving office after eight years. His administration is moving on, while President Santos (Jimmy Smits) is preparing to begin his Presidential journey. The characters are celebrating and saying goodbye to their jobs and the administration that defined their lives, while the audiences is bidding farewell to friends that have been a part of their lives for seven years. This is an emotional and rewarding journey.
9. "Election Day, Part 1 and 2," Episodes 7.16 and 7.17 (First Aired April 2, 2006 and April 9, 2006)
About: I put these two episodes together because they are really one story. This isn't the last time I'll do that, by the way. Call it cheating if you will, but it's my list… This is the second entry from the final season and was a beautiful and emotional two-part story that brings two seasons of storylines to a head with the Presidential Election. Santos is squaring off against Arnold Vinick (Alan Alda), and with how the show set it all up, it was easy to believe that anything was possible. At the same time, it was the episode where we said goodbye to Leo (John Spencer). Spencer tragically had a heart attack and died December 15, 2005, and this was the final episode for his character, who was also killed on the cusp of the election. It made the episodes an extra special emotional ride, especially for Josh (Bradley Whitford), who has the most touching line at the end of the two hours. The funeral in the following episode was equally emotional, but this episode is the one I stuck on the list.
8. "The Supremes," Episode 5.17 (First Aired March 24, 2004)
About: The fifth season, the show's first without Sorkin at the helm, was a bumpy ride to say the least. It's probably the least favorite for most viewers. Despite that, there were some moments that I liked, such as this episode where an opening on the Supreme Court and a judge in decline lead to an interesting and innovative change. Guest star Glen Close doesn't hurt, and I liked the idea and strong execution.
7. "2162," Episode 6.22 (First Aired April 6, 2005)
About: This was the finale of the sixth season, taking place at the Democratic National Convention. The title refers to the number of delegates needed to win the nomination, and the episode features a fierce battle between Santos, Vice President Bob Russell (Gary Cole), former Vice President John Hoynes (Tim Matheson) and Pennsylvania Governor Eric Baker (Ed O'Neill). It's a fun and frenetic episode, finally decided when Santos makes a speech that convinces President Bartlett to weigh in. I enjoyed the whole thing a lot, especially the twist as Leo is drafted for the Vice President slot to close the episode.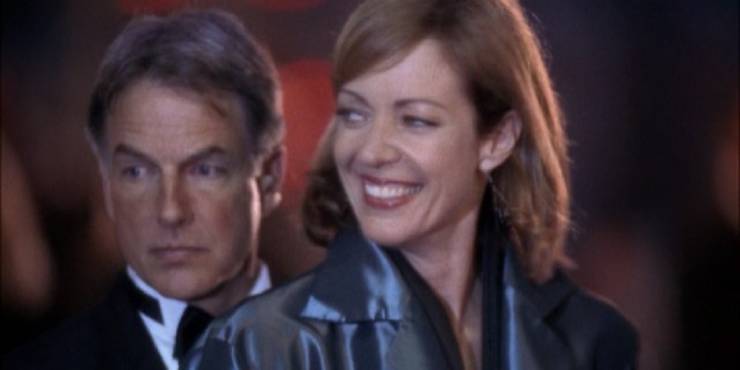 6. "Posse Comitatus," Episode 3.22 (First Aired May 22, 2002)
About: This third season finale packed in a lot. First there was the plot to assassinate a foreign leader with ties to terrorists, a decision that would linger through the fourth season and into the fifth season. Then there was Bartlett's fateful fundraiser meeting with his Republican Presidential opponent, Robert Ritchie (James Brolin). But, mostly, this was about the end of the storyline for C.J. Cregg (Allison Janney), who had been threatened and carried a Secret Service Agent, Simon Donovan (Mark Harmon), for the back half of the season. What starts out as a moment of relief quickly turns into something else for C.J., and Janney plays it beautifully. She won four Emmys for this role, and episodes like this remind you why.
5. "Election Night," Episode 4.07 (First Aired November 6, 2002)
About: This was the election for Bartlett's second term and, for a variety of reasons, the outcome never felt in doubt. But this was still an interesting and memorable episode. We see the President, even in victory, showing signs of the illness that will plague him the rest of his time in office. But, more importantly, this began the end game for Sam Seaborn (Rob Lowe), who unexpectedly saw a dead candidate win a race in California, forcing him to honor a promise and leave the White House, and the show. There were a lot of fun moments in this episode, and that's why for me it makes the list.
4. "What Kind of Day Has It Been," Episode 1.22 (First Aired May 17, 2000)
About: This finale for the first season really has it all. Sorkin crafts a great story that is a showcase for so many. The lines and the story feel like the best of The West Wing. And all of it leads to one of the most dramatic cliffhangers in the show's history, which won't be answered until the second season premier. I still remember how I felt when I first saw the episode, and how it felt waiting all summer to see what would happen. It's one of the show's best written episodes.
3. "In Excelsis Deo," Episode 1.10 (First Aired December 15, 1999)
About: This was the Christmas episode in the first season, and one of the most emotional. The trappings of the holiday and other stories are going on, but the focus is on Toby (Richard Schiff) whose business card is found in the jacket of a homeless veteran who froze to death in the park. Moved by his service and feeling somewhat helpless to solve the larger problem, Toby arranges for a full military funeral, using the President's name to get it done. His noble act inspires the President's secretary, Mrs. Landingham (Kathryn Joosten), who shares the story of her own children who perished in Vietnam. The funeral, juxtaposed with a rendition of "Little Drummer Boy" closes the episode, and tears will likely follow from those watching.
2. "Two Cathedrals," Episode 2.22 (First Aired May 16, 2001)
About: It was tough to decide my one and two on this list. "Two Cathedrals" is an incredible and emotional episode. President Bartlett, while grappling with a public scandal surrounding his having M.S. and the pressure to decide if he's going to run for re-election, is grieving the loss of Mrs. Landingham, his secretary and surrogate parent. He remembers meeting and forming a bond with her as a private school student and seeks her guidance as he faces this difficult decision. His grief, mixed with rage, comes out in a powerful speech to God in the National Cathedral following Mrs. Landingham's funeral. It was one of the most powerful and emotional moments of the show, which quickly culminates in a press conference, all while a storm is raging, that will decide the future of the administration.
1. "Commencement" and "Twenty Five," Episodes 4.22 and 4.23 (First Aired May 7, 2003 and May 14, 2003)
About: This was the final episodes with Sorkin as showrunner and he delivered a doozy. I put them together for obvious reasons if you've seen the show, so this is another spot where I'm taking some liberties. There is a moment near the end of the first season where President Bartlett lays out a scenario for his daughter Zoe (Elisabeth Moss). It's meant to frighten her, and it does. It was also a compelling idea that Sorkin returned to, and even acknowledges in the episode, as Zoe graduates from college. It's a time of celebration for the President and his wife (Stockard Channing), while Charlie (Dule Hill) tries to make amends with her. Her celebration comes to a head with an abduction, which leads to emotional and physical tolls on the President who ultimately decides to invoke the 25th Amendment. The problem is, with no Vice President, it elevates the Republican Speaker of the House (John Goodman) to the Presidency. While all this is swirling, Toby is at the hospital as his twins are born, leading to one of the most beautiful and tender moments between father and children. The emotion of these episodes combined with the story and production values will rightly give you chills before punching you in the gut. This two-episode stretch is, to me, the best of the series.
Matthew Fox is a graduate of the Radio, Television and Film program at Biola University, and a giant nerd. He spends his free time watching movies, TV, and obsessing about football. He is a member of the FSWA. You can find him @knighthawk7734 on Twitter and as co-host of the Fantasy Football Roundtable Podcast.