Happy Thanksgiving! I know this is a year like no other as most of us are enjoying the holiday with just those in our households, or with a much smaller group than normal. If you're missing time with your friends, I have a suggestion to warm your turkey day—time with our most famous Friends.
Throughout its 10 seasons, Thanksgiving episodes were a hallmark of Friends, one of the most popular and enduring sitcoms of all time. They produced a Thanksgiving-themed episode in each season, and I've watched them all (repeatedly) with my wife and prepared a ranking order for your viewing pleasure. Below is my ranking in ascending order. Friends is my wife's favorite series, and while she didn't make a ranking of Thanksgiving episodes, the two at the top of this list are among her favorites. In fact, the episode I chose to top this list is her favorite Friends episode of all time.
So, kick back, enjoy some turkey and find a little respite from 2020 and reason to be grateful as you spend around five hours with your Friends.
10. "The One Where Underdog Gets Away" (Episode 1.09)
Quote: "No thank you, I prefer to keep a healthy distance from all this merriment." –Chandler
About: This was the first Thanksgiving episode, and it's fun but not the best. In the sub plots Ross (David Schwimmer) tries talking to his son in utero, and Joey's (Matt LeBlanc) modeling gig doesn't go as planned when he ends up the spokesman for an STD that makes him persona-non-grata with his family. With Monica (Courtney Cox) and Ross' parents out of town, Monica decides to cook Thanksgiving. And one-by-one they all end up there, but when the gang gets locked out of the apartment, things don't go as planned. Dinner goes down the tubes and arguments begin. But, in the end, they gather for a fine meal of friendship and grilled cheese, which reminds me of Charlie Brown's Thanksgiving, making it fun. Plus, we get our first introduction to why Chandler (Matthew Perry) has ill feelings toward Thanksgiving. It's good, but not the best.
9. "The One with the Late Thanksgiving" (Episode 10.08)
Quote: "That was the adoption agency, we're getting a baby!" –Monica
About: This is the final season, and the final Thanksgiving episode. In some ways the arguments mirror the first season when everyone said eating at Monica's wasn't their first choice. In this case, Monica and Chandler want to pass on hosting Thanksgiving, but get guilted into it. Then Phoebe (Lisa Kudrow) and Rachel (Jennifer Aniston) end up getting side-tracked at a children's beauty pageant, and Ross and Joey end up late thanks to a Rangers' game. That leads to a stand-off between the four who failed to show on time and Monica and Chandler that ends with hilarious results. What gives this one the edge over Season One, to me, is the big piece of news as Monica and Chandler find out they're going to be parents, giving everyone something to be thankful about.
8. "The One Where Chandler Doesn't Like Dogs" (Episode 7.08)
Quote: "Say hello to the new champ of Chandler's dumb states game." –Joey
About: This one doesn't have any major guest stars or big plot items, but it's a steady and entertaining episode. The two big stories here are a running gag with a state naming game that Chandler gets the gang to play and a dog that Phoebe is babysitting. Unfortunately, this episode also features Rachel's assistant Tag (Eddie Cahill), who is a terrible character with a terrible performance. But the While I wasn't sold on the dog plot, I did quite enjoy the state game competition, especially the struggles Ross has nailing the list, costing him a chance to enjoy dinner.
7. "The One with the Football" (Episode 3.09)
Quote: "Our dad said nobody won the game and he was sick of our fighting, so he threw it in the lake." –Ross
About: In this one, the gang decides to play a little football as a group with hilarious results. This is especially true as we learn about the Gellar Cup, the trophy that Monica and Ross used to compete to win as children. The Cup, it turns out, is a Troll Doll nailed to a board. The game turns out to be a lot of fun, with Rachel being relegated to running deep and staying out the way after being picked last, Phoebe flashing Chandler to get an advantage and Joey and Chandler vying for the attention of a single woman at the park. Naturally, it ends with brother and sister locked in a grudge match for the ball where there are no winners.
6. "The One with Chandler in a Box" (Episode 4.08)
Quote: "Fine! Judge all you want to, but: [to Ross] married a lesbian; [to Rachel] left a man at the altar; [to Phoebe] fell in love with a gay ice dancer; [to Joey] threw a girl's wooden leg in a fire; [to Chandler] living in a box!" –Monica
About: This fourth season Thanksgiving finds Chandler and Joey at odds after Chandler kissed Joey's girlfriend. To keep from losing a friend, he agrees to spend Thanksgiving in a box thinking about what he's done. That doesn't keep him from offer quick quips. In the other storyline, Monica gets hit in the eye with some ice and must make an emergency trip to the eye doctor. She comes back with a patch like a pirate and a new guest for dinner, Richard's son… which understandably meets with some concern from her friends. There are some quotes here that make me laugh hard, including the exchange I captured in the episode quote.
5. "The One with Rachel's Other Sister" (Episode 9.08)
Quote: "Well, what do you know, I guess I'll be the one who dies first." –Chandler
About: There's a lot to unpack here. First, Rachel's other sister, Amy (Christina Applegate), arrives and has some thoughts about who should get Emma if Rachel and Ross die, kicking off some awkward discussions among the group. Joey also misses being in the Macy's Thanksgiving Day Parade, leading to him needing to take lessons on lying from Phoebe. But, most importantly, Chandler convinces Monica to use their fancy wedding china and it does not go well. There are some hilarious moments here and this one ends up being a lot of fun.
4. "The One with the List" (Episode 2.08)
Quote: "Sweet Lord, this is what evil must taste like." –Phoebe
About: This is probably the least traditional of the Thanksgiving episodes, as the gang doesn't even gather for the big meal. But it still counts, because Monica spends most of her time trying to create new Thanksgiving recipes for mockolate, the chocolate alternative that is not good. The big storyline of the episode is Ross trying to decide between Rachel, who he now knows is in love with him, and his girlfriend Julie (Lauren Tom). That, predictably, goes poorly. It's an important moment in the Ross-Rachel romance, but what makes this episode hum for me is the mockolate.
3. "The One with all the Thanksgivings" (Episode 5.08)
Quote: "Did the little rich boy have a problem with the butler? Yes, mine's worse!" –Phoebe
About: In this fifth season, the gang sits around after dinner and shares stories of their worst Thanksgiving experiences. This includes finally seeing a re-creation of Chandler's fateful day, Joey getting stuck in a turkey and Phoebe's past life experiences. But, the main focus is back-to-back flashbacks with Ross bringing his then college roommate Chandler home for Thanksgiving. The first year Chandler unwittingly offending Monica only to pay a pretty high price the following year. It also brings Monica and Chandler to a new place in their relationship.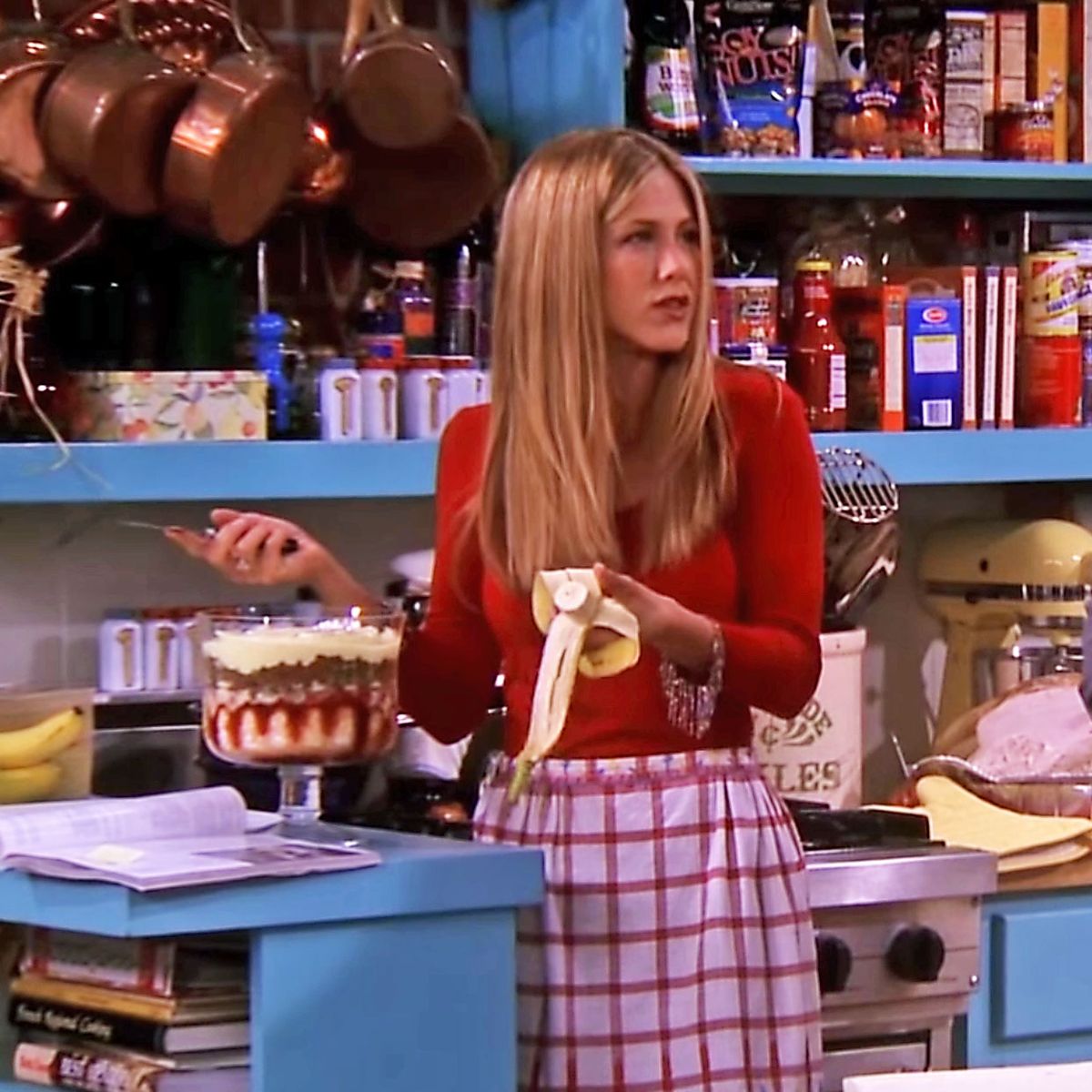 2. "The One Where Ross Got Hight" (Episode 6.09)
Quote: "What's not to like? Custard, good. Jam, good. Meat, GOOD!" –Joey
About: It was like Sophie's Choice for me deciding between this episode and the one that tops the list. Both are INCREDIBLE. This one sees Monica making dinner as usual and inviting her parents, Jack (Elliott Gould) and Judy (Christina Pickles), in an effort to get them to warm up to Chandler before she tells them they're together. But, more importantly, Monica allows Rachel to make the dessert, and she aims to make a traditional English Trifle, which doesn't go according to plan. Things all come to a head when it turns out Ross' lies are to blame for the iciness Jack and Judy have toward Chandler, leading to a fun explosion of truth to cap the episode.
1. "The One with the Rumor" (Episode 8.09)
Quote: "My two greatest enemies—Rachel Green and complex carbohydrates." –Will
About: And now we get to the big one, the Season 8 Thanksgiving episode. Rachel is expecting Emma at this point, and Monica invites her old friend Will (Brad Pitt) to Thanksgiving. Will used to be a big guy, and also used to be big friends with Ross. They were brought together by their mutual disdain for Rachel, which comes to the forefront in a big way during the dinner celebration. This is the biggest Thanksgiving guest star Friends had, and also one of the funniest set ups. It's my wife's favorite episode of all time, and after some debate it made it to the top of this list.
Matthew Fox is a graduate of the Radio, Television and Film program at Biola University, and a giant nerd. He spends his free time watching movies, TV, and obsessing about football. You can find him @knighthawk7734 on Twitter and as co-host of the Fantasy Football Roundtable Podcast, a proud member of the Drive-In Podcast Network.