Another eventful and surprising week in the NFL, with a number of upset wins, surprising performances and major injuries. All that could leave you seeking a Monday Night Miracle in a crucial Week 11 matchup. But more on that in a minute, first let's consider some lessons learned from the rest of Week 11.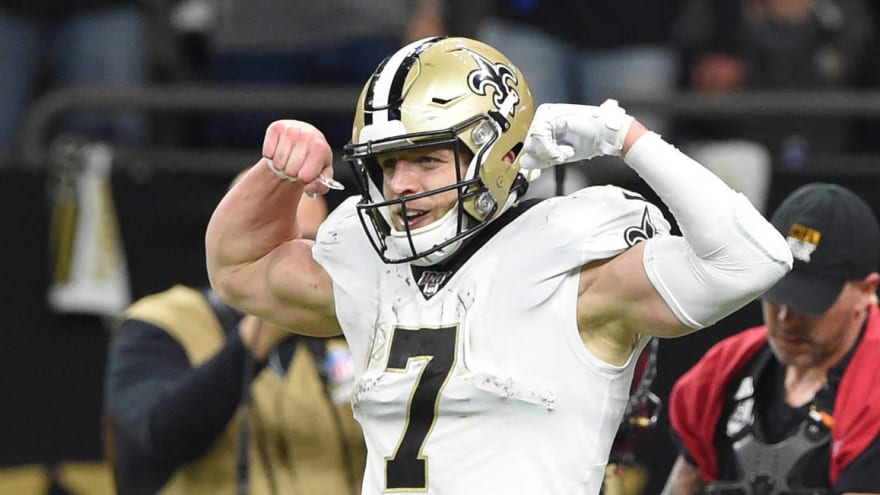 Taysom Hill Looks Like the Real Deal
Much was made of the Saints electing to start Hill over the more seasoned Jameis Winston. But the Saints invested in Hill in the off-season, and it made sense for Sean Payton to see what he has in the young weapon. Drew Brees is on the shelf for at least three weeks, and likely this is his final dance. Hill has talent and versatility, but he hadn't gotten much experience as a starting quarterback. Until Sunday, when he led the Saints to a solid 24-9 win over the Falcons. He still hasn't thrown a touchdown pass, but he ran for two and missed on only five passes. He had a firm command of the offense and led Michael Thomas to his best day this season. I have long liked Hill and I'm excited to see what he can do in this key stretch for the Saints.
Washington and Dallas Aren't Done Yet
The Eagles lost again on Sunday, and face a brutal stretch against playoff contenders the next four weeks. The path to six or seven wins is looking thin for the team with just a half game lead on the rest of the field in the NFC East. Washington got a win over the Bengals, and Dallas topped the Vikings on Sunday. Now the Cowboys, Giants and Washington are all tied at 3-7, just a half game back. With Washington and Dallas playing Sunday, one is assured of a fourth win (unless, you know, we get another 2020 tie). That could easily put one of these teams on top in the NFC East. In short, the division is still wide open, so place your bets now.
Joe Burrow Will Be Back
Yesterday, Burrow took a brutal hit to his left knee and was quickly taken from the field. His Bengals lost behind Ryan Finley, and it's been another tough season in Cincinnati. Before the game was even over, Burrow took to Social Media to let fans know he'd be back, and I believe him. He had a solid rookie season, showing promise as a franchise quarterback. This knee injury is an unfortunate end to the season, but Burrow looks worthy of a top pick. Now it's up to his team to get a better line in place so this doesn't happen again.
Now, on to the Monday Night preview.
Los Angeles Rams (6-3) at Tampa Bay Buccaneers (7-3)
This is a good and crucial NFC matchup. The Rams entered the week atop the NFC West, locked in a three-way tie at 6-3. The Seahawks won, so the Rams need a win to keep their position and keep pace. The Buccaneers, meanwhile, entered the week a half game back of the Saints, having been swept by them this year. Hill led the Saints to the win, so the Buccaneers need a win to keep within spitting distance.
For NFL purposes, the Rams' offense has been solid. Using three backs, three to four receivers and several tight ends, the Rams have found ways to win. For fantasy purposes, this has made it tough to figure out who to rely on. All three running backs were used in Week 10, and Josh Reynolds out produced both Robert Woods and Cooper Kupp. Still, if you're looking for a start, quarterback Jared Goff is a QB2, while Woods and Kupp are both in the WR2 range. Among the backs, I still prefer Darrell Henderson, who I see as an RB3.
For the Buccaneers, it's been an embarrassment of riches with three solid receivers, two solid running backs and a couple good tight end options. All of it led by 43-year-old Tom Brady, who is a borderline QB1. Among the receivers, I like Mike Evans the best as a Red Zone target. He's a WR2 for me, as is Chris Godwin. Antonio Brown is talented, but more of a WR3 in this offense. Rob Gronkowski is starting to look like the Gronk of old, and has moved into TE1 range with his touchdown ability. Running back is the biggest question, but I can't quit Ronald Jones. He's an RB2 for me with Leonard Fournette as an RB4.
If you're in need of a miracle, Jones, Evans and Gronk feel like the best bets for one or more scores.
Prediction: The Rams spread the ball around, frustrating fantasy owners, but come away with their seventh win of the season.
Matthew Fox is a graduate of the Radio, Television and Film program at Biola University, and a giant nerd. He spends his free time watching movies, TV, and obsessing about football. You can find him @knighthawk7734 on Twitter and as co-host of the Fantasy Football Roundtable Podcast, a proud member of the Drive-In Podcast Network.