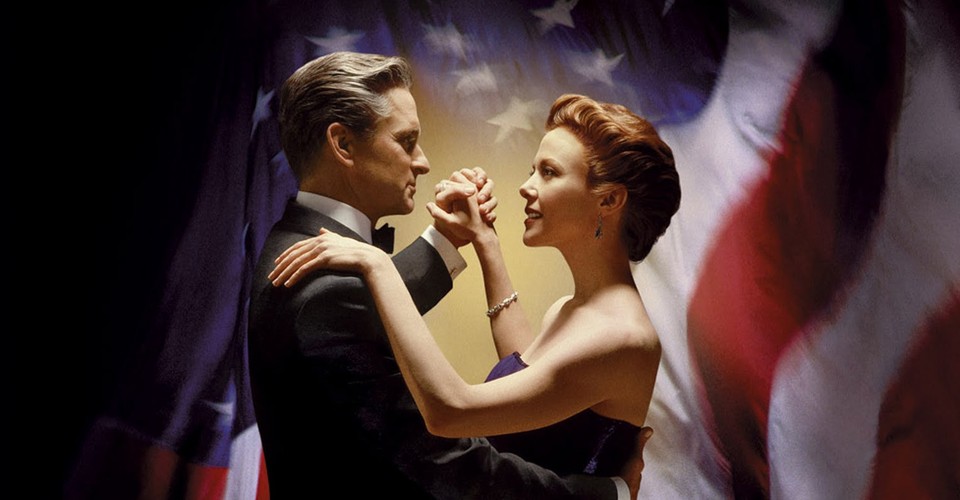 It's been a long and eventful week in our country. But Election Day has come and gone, so at least hopefully we can go back to just wall-to-wall pizza and beer commercials during our Sunday football watching. But, if you're like me, you're captured by the current moment when it comes to what to watch for entertainment. And when it comes to elections, there are some interesting films to choose from.
This week I'm looking at election films but, being as 2020 has been hard enough, we're going to stick with five comedies that provide different takes on the topic. So, if you're missing the election coverage (for which I have many questions that will go unanswered), these films might get you fired up.
Speechless (1994)
About: Brace yourselves, a lot of this week's list will come from the 1990s. It starts with Speechless, which stars Michael Keaton and Geena Davis as insomniac speech writers who fall for each other while being on opposite sides of a political race in New Mexico. (Side note, two of five of these movies center on New Mexico. What draws people to New Mexico politics?) Davis is writing for the Democratic candidate while Keaton is writing for the Republican counterpart. And each are dealing with exes, Keaton's being the campaign manager for his candidate and Davis' being a war correspondent played by Christopher Reeve, that want to play spoilers here. There is comedy and some good romantic rapport. This was right when Keaton and Davis were both in the zone, and they help make the movie.
The American President (1995)
About: This one comes from Aaron Sorkin. Before he was giving the world the Bartlett Administration in The West Wing, he was writing this tale where Michael Douglas plays the President, Martin Sheen is the Chief of Staff and Annette Benning plays the political consultant who ends up becoming the President's girlfriend. (Before you panic, the President is widowed and unmarried.) This relationship, however, becomes an issue when Douglas' President Andrew Shepherd is running for re-election against a candidate played by Richard Dreyfuss. I love this movie and the cast, which includes Michael J. Fox as a part of the President's staff. You can see a bit how this eventually led to The West Wing four years later.
Primary Colors (1998)
About: This one was plenty controversial when it was released because it seemingly hits pretty close to rumors about then-President Bill Clinton. This one is based on the novel from Joe Klein and was directed by Mike Nichols. It focuses on a southern Governor (John Travolta) who is running for President and soon is plagued by scandal. The great Emma Thompson plays his wife, and the cast includes Billy Bob Thornton, Kathy Bates, Larry Hageman and Maura Tierney, among others. This one is interesting and has some good moments and performances, while not being my favorite overall. But it's worth checking out Travolta's accent, if nothing else.
Swing Vote (2008)
About: We return to New Mexico where a slacker single father (Kevin Costner) ends up being the literal single deciding vote for the Presidential election. Due to some shenanigans by his daughter, and technical difficulties, his ballot is approved but not actually selected. That leads the candidates (including the sitting President played by Kelsey Grammer and his challenger played by Dennis Hopper) traveling there to woo Bud Johnson's (Costner) vote. The whole idea that one literal vote could determine it seems like a reach, but the idea that said vote would be in New Mexico feels like a bit of tourism fantasy written by the state. That being said, there's a fun cast here and an interesting idea. I like Costner, so maybe I'm an easier sell. This film wasn't wildly popular when it came out, but it might be good for a laugh right now.
Irresistible (2020)
About: This one was released earlier this year and comes from writer/director Jon Stewart. It features Steve Carell and Rose Byrne as rival political operatives that, in the wake of the 2016 Presidential election, try to find themselves again by waging war on a mayoral race in small town America. Chris Cooper plays a former soldier who burst on to the national scene thanks to some tough talk at the town council meeting, and soon Carell's political mover and shaker arrives to run his campaign. Byrne arrives shortly after to work for the other side, and soon tons of political dollars are being waged on what feels like the smallest of small town races. That's the point here for Stewart, who throws in a twist in the plot that turns this film into something of a send up of the modern political process in general. It's uneven in its story, but it's got a good cast and some fun performances and moments.
Matthew Fox is a graduate of the Radio, Television and Film program at Biola University, and a giant nerd. He spends his free time watching movies, TV, and obsessing about football. You can find him @knighthawk7734 on Twitter and as co-host of the Fantasy Football Roundtable Podcast, a proud member of the Drive-In Podcast Network.