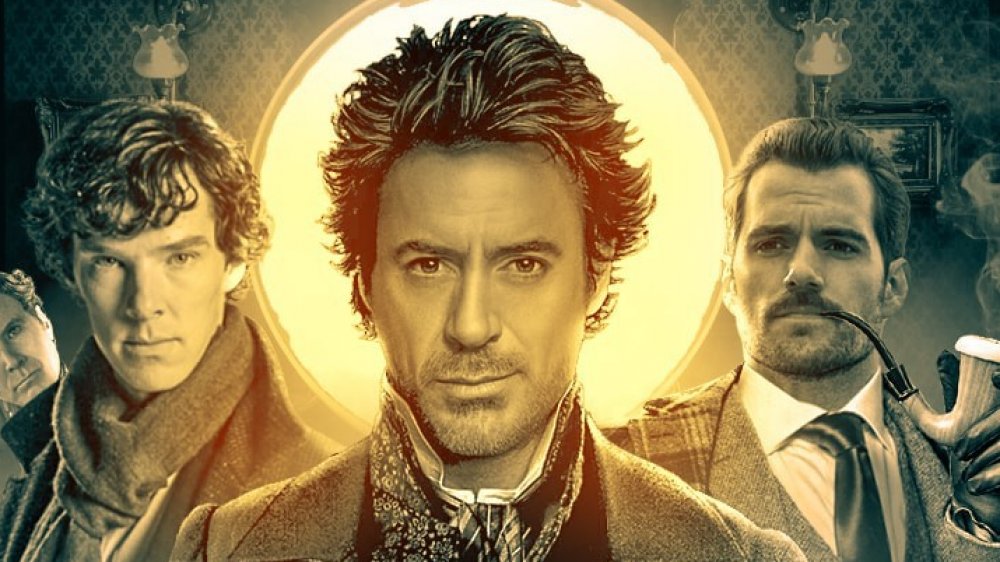 On September 23 Enola Holmes became the latest entry into the famous expanded media world of Sherlock Holmes. In the Netflix original film, Millie Bobby Brown played Sherlock's younger sister, Enola, while Henry Cavill, Superman himself, became the latest actor to take on the role of Sherlock Holmes. I thought it was an interesting movie, and one that I could see becoming a franchise. But it also got me thinking about other takes on the famous detective.
For this week's Binge Watch, I'm looking at the takes on Sherlock Holmes in recent years, plus an interesting take from the 1980s. So, if you watched Enola Holmes and it made you want more, you're in luck!
Young Sherlock Holmes (1985)
About: This take bring Sherlock Holmes (Nicholas Rowe) and John Watson (Alan Cox) back to their school boy days. The script comes from Chris Columbus and Barry Levinson handled the directing duties, making this a more high-profile project. In fact, this one earned an Academy Award nomination for Special Effects, which is more amusing if you watch this film in 2020. The action here is OK, but this one feels a bit like it's aimed at kids and teens, which it probably was. It's not your typical Sherlock Holmes. In fact, with Holmes and Watson as boarding school buddies, teaming with a female student, it felt a bit like Harry Potter. And the dark cult they expose felt a bit like Indiana Jones and the Temple of Doom. So, this hybrid is lighter and fun, but not particularly memorable. It's also not likely what you're looking for when you think of Sherlock Holmes.
Sherlock Holmes (2009)
About: Guy Ritchie took the reigns of this modern take on Sherlock Holmes, casting Robert Downey, Jr. as the infamous detective and Jude Law in the role of Watson. This one took some heat from purists because it was more of an action-film take on the stories, feeling a little closer to Ritchie's gangster films than the typical take on this world. But I enjoyed Rachel McAdams as Irene Adler and thought Mark Strong made for a decent villain. Downey does a good job inhabiting the role and this film is fun.
Sherlock (2010)
About: OK, fine, this is a TV series. But here's what I'll say in my defense, these types of British drama series are really a series of films. Each season has three to four 90-minute films. There are strands that connect them, but they're tackling different Sherlock Holmes cases. The other thing I'll say in my defense is this show is so darn good, it can't be left off the list. Benedict Cumberbatch and Martin Freeman are GREAT as Holmes and Watson, and Season Two even features the great Andrew Scott as Moriarty. If you enjoy Sherlock Holmes, this is a must watch.
Sherlock Holmes: A Game of Shadows (2011)
About: This sequel from Ritchie brings back Downey and Law and ups the ante with Stephen Fry as Mycroft and Jared Harris as Holmes' most famous nemesis, Moriarty. I thought this second film was better than the first, and it left me excited about this franchise possibly continuing. Rumors have long swirled about a third installment, but it hasn't come yet. So, for now, we can enjoy the two films Ritchie made, this second one being the most under-rated.
Mr. Holmes (2015)
About: This is a completely different kind of take, as Ian McKellen plays an older Sherlock Holmes who is retired and haunted by memories he can't quite put into place. He's suffering from dementia but knows something is wrong in his last case, he just can't quite put the pieces together. Laura Linney is in the supporting cast, and Bill Condon directs the film. It's fascinating and different, especially thinking about a character who begins to lose his greatest asset—his mind. McKellen is solid and I found this film engaging as a fan of the character.
Holmes & Watson (2018)
About: The most recent cinematic take on Sherlock Holmes was a buddy comedy starring Will Ferrell as Sherlock Holmes and John C. Reilly as John Watson. It was released around Christmas and was meant to be a comedic take on the world. AND, it doesn't work at all. This movie is bad, like unwatchable bad. It's even worse if you were a fan of the character and the stories. I hoped it would be a little bit of fun, but I was glad I never saw it in theaters. This one can be safely skipped.
Matthew Fox is a graduate of the Radio, Television and Film program at Biola University, and a giant nerd. He spends his free time watching movies, TV, and obsessing about football. He is a member of the FSWA. You can find him @knighthawk7734 on Twitter and as co-host of the Fantasy Football Roundtable Podcast.