We're here, ready for the first NFL Sunday. We got our first taste of game action last night, and now we turn our sights to a full slate of NFL action on Sunday. In these weekly posts, I'll be highlighting five games from Sunday I'm excited to see. I'll also be posting picks, both straight up and against the spread, and my wife's sometimes better picks.
But first, let me plug The Best Damn Fantasy Football Chat. It's the new Discord hosted by myself, my co-hosts from the Fantasy Football Roundtable Podcast and the hosts of the Devy Delight Podcast. We're there to answer all your questions, provide trade and sit/start advice and just generally celebrate the game we all love, both in the NFL and College versions. And, as a bonus, we'll be posting our weekly consensus ranks. To get in on the fun, click here.
Now, on to the Friday Five!
Sunday Early Games
Seattle Seahawks at Atlanta Falcons
About: The Seahawks were a power contender last year that struggled with injuries at the end. The Falcons started 1-7 but looked like a completely different team in the second half, going 6-2. That resurgence got head coach Dan Quinn another year, and the Falcons re-loaded with Todd Gurley and Hayden Hurst joining Julio Jones, Calvin Ridley and Matt Ryan to form a fierce offense. For the Seahawks, Chris Carson appears healed from his hip fracture, and the team has veteran tight end Greg Olsen along with receivers Tyler Lockett and D.K. Metcalf to give Russell Wilson his own fierce set of weapons. The Seahawks also landed safety Jamal Adams from the Jets via trade, giving them a lift as they try to build a new Legion of Boom. This is a crucial NFC battle of teams that hope to contend in 2020. It's a great way to kick-start the new season.
Prediction: I think this will be a good game, and I'm hoping for a see-saw battle with plenty of points. Ultimately, I think the Seahawks are the better team but the Falcons will pull out a little opening day magic at home.
Green Bay Packers at Minnesota Vikings
About: This clash of division rivals comes on opening day, and it's hard not to get too excited. The games between the Packers and Vikings were incredibly close in 2019, and helped to determine the course of playoff seeding. This year, the team's clash to open the season. It was a quiet off-season for both teams as the Packers roll in with Davante Adams, Aaron Jones and not much else of note supporting Aaron Rodgers. The Vikings, meanwhile, dealt Stefon Diggs to the Bills. That left them with Adam Thielen and rookie Justin Jefferson along with a pair of solid tight ends in Irv Smith, Jr. and Kyle Rudolph for Kirk Cousins. But the real power in their offense is running back Dalvin Cook, one of the league's best, who figures to play a big role for new Offensive Coordinator Gary Kubiak. This is one of the best Week 1 matchups.
Prediction: I think the Vikings will come out strong and hold serve at home. Hopefully this game has as much excitement as their meetings did last year.
Cleveland Browns at Baltimore Ravens
About: This is a clash of AFC North rivals figures to be intense. Despite a down season in 2019, the Browns handed the Ravens one of their two regular season losses in 2019. The team has a new coach in Kevin Stefanski and hopes to see the offense led by Baker Mayfield and featuring Nick Chubb and Kareem Hunt in the backfield, receivers Odell Beckham, Jr., and Jarvis Landry and tight end Austin Hooper can provide some fireworks. The Ravens' should offer plenty of fireworks of their own as MVP Lamar Jackson is back and still has a loaded offense. Mark Ingram and rookie J.K. Dobbins lead the backfield, while Marquise Brown and Mark Andrews lead the passing attack. The Ravens were the best team in the AFC last season and are looking for a repeat in 2020, while the Browns are hoping to deliver on the promise of their roster and reward long-suffering fans with a trip to the playoffs. This figures to be an explosive opening day battle in Baltimore.
Prediction: I think both these teams will be in the playoffs come January, but this won't be the Browns' week. The Ravens get the win here to start the season off 1-0 and the Browns return the favor later this season in Cleveland.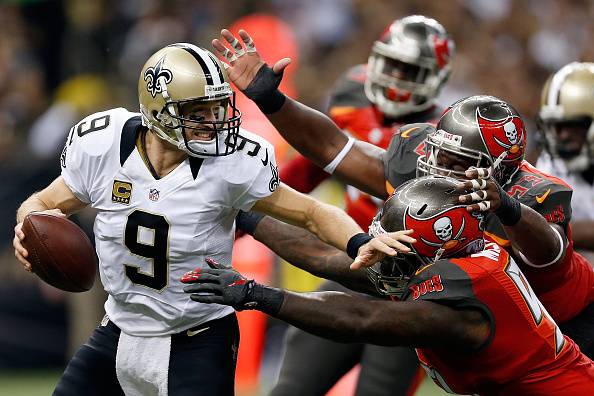 Sunday Late Games
Tampa Bay Buccaneers at New Orleans Saints
About: This clash of NFC South rivals will take on some new intensity this year. The Buccaneers made a huge splash this off-season by signing Tom Brady at quarterback, keeping it going by adding tight end Rob Gronkowski and, recently, running back Leonard Fournette. That trio joins perhaps the best receiver duo in the league in Chris Godwin and Mike Evans, while third-year running back Ronald Jones also still in the mix. The Saints, meanwhile, have been among the best teams in the NFC for the last few years. Their problem has been the playoffs. But Drew Brees is back to give it another go, as is running back Alvin Kamara, tight end Jared Cook and the league's best receiver in Michael Thomas. This time, the Saints added firepower in veteran receiver Emmanuel Sanders, giving Brees the best No. 2 receiver he's had in years. Both these teams enter the season with lofty hopes and lofty expectations, and we'll see an incredible clash of Hall of Fame quarterbacks. This is the premier game during the late window Sunday, and one that will have a lot of early playoff implications.
Prediction: I think the Saints have the better team still, and certainly have more time playing together. They get the win at home to begin the season.
Sunday Night Game
Dallas Cowboys at Los Angeles Rams
About: The Rams open their brand new home stadium in Los Angeles, but not quite the way they would have hoped. Still, this should be an exceptional matchup to open Sunday Night Football. The Cowboys have a great trio of receivers in Amari Cooper, Michael Gallup and rookie CeeDee Lamb, along with running back Ezekiel Elliott and led by quarterback Dak Prescott, one of the league's best. But the Rams are no slouches, still retaining many of the offensive stars that helped carry the team to the Super Bowl following the 2018 season. Jared Goff and receivers Robert Woods and Cooper Kupp will have to do the heavy lifting. Gurley is in Atlanta now, and the Rams' running game is more of a question with rookie Cam Akers, second year man Darrell Henderson and veteran Malcolm Brown filling the void. Hopefully we'll get some fireworks to cap our first NFL Sunday of the season.
Prediction: This should be a pretty great game, and I think the Cowboys will come out on top thanks to their offensive firepower.
Week 1 Picks:
Each week I'll be posting my picks for the week in the Friday column. It should be a good laugh when I've missed on the Thursday pick the night before… Anyway, I've long picked games against my wife, Lindsay, and this year you'll get to follow our year-long competition.
Matt's Picks:
Chiefs Over Texans
Falcons Over Seahawks
Bills Over Jets
Lions Over Bears
Ravens Over Browns
Vikings Over Packers
Colts Over Jaguars
Panthers Over Raiders
Patriots Over Dolphins
Eagles Over Washington
Bengals Over Chargers
Saints Over Buccaneers
49ers Over Cardinals
Cowboys Over Rams
Steelers Over Giants
Broncos Over Titans
Lindsay's Picks:
Chiefs Over Texans
Falcons Over Seahawks
Bills Over Jets
Bears Over Lions
Browns Over Ravens
Packers Over Vikings
Jaguars Over Colts
Raiders Over Panthers
Dolphins Over Patriots
Eagles Over Washington
Chargers Over Bengals
Buccaneers Over Saints
49ers Over Cardinals
Rams Over Cowboys
Steelers Over Giants
Titans Over Broncos
Matt's Picks Against the Spread:
Texans +10.5 Over Chiefs
Falcons +1.5 Over Seahawks
Jets +6.5 Over Bills
Lions -1.5 Over Bears
Browns +8.5 Over Ravens
Packers +3.5 Over Vikings
Colts -7.5 Over Jaguars
Panthers +1.5 Over Raiders
Dolphins +6.5 Over Patriots
Eagles -6.5 Over Washington
Bengals +3.5 Over Chargers
Saints -3.5 Over Buccaneers
Cardinals +7.5 Over 49ers
Cowboys -2.5 Over Rams
Steelers -3.5 Over Giants
Broncos -2.5 Over Titans
Matthew Fox is a graduate of the Radio, Television and Film program at Biola University, and a giant nerd. He spends his free time watching movies, TV, and obsessing about football. He is a member of the FSWA. You can find him @knighthawk7734 on Twitter and as co-host of the Fantasy Football Roundtable Podcast.