3. Tyler Lockett:
If you like underrated dynasty assets, on your squad, it doesn't get much more underrated than one Mr. Tyler Lockett. You know Old Tom has always wondered how this young man would have fared had he of been drafted by an organization, a bit more committed to the passing game. Just an absolutely sensational WR, in my eyes, you don't have to look much further than Lockett's four year college resume to know that he has all the ability in the world, he just needs the opportunity. Kansas State's all-time leader in receptions (249), yards (3710), and receiving touchdowns (29) Tyler Lockett may have gotten off to a slow start, to his professional career, but he's picked up quite a bit of steam these last two seasons. As your WR16(PPR) in 2018 and your WR13(PPR), in 2019, Lockett seems to have developed a relationship with Russell Wilson, that lends itself to trust in #16's ability to make a play. With D.K. Metcalf as the only other legitimate WR threat to steal targets from Lockett, Old Tom has all the confidence in the world that 2020 and beyond will continue to result in high-WR2/low WR-1 numbers coming his way. Buying low any way you can, on Tyler Lockett is a dynasty move you'll greatly enjoy moving forward.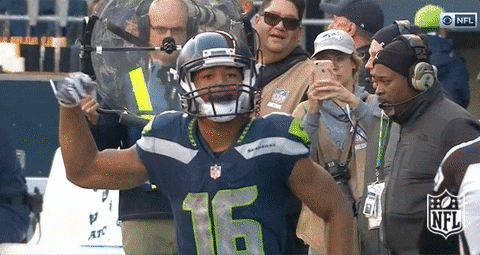 2. Russell Wilson:
After finishing my Tyler Lockett spiel, I can't help but feel my use of the word "underrated" doesn't produce as much conviction, when I use it to describe Russell Wilson. For this, I'm fully understanding and fully apologetic to readers who feel disgusted by my lack of creativity. However, I still want to throw it out there from my own personal point of view. Old Tom, and maybe only Old Tom, always finds himself discounting Wilson and his accomplishments, across his eight-year career. Then, every time I stop and look at said numbers and accomplishments, I seem to arrive at a similar conclusion – he's so very good at the football. While there are many who might like to see Wilson have the ability to sling the old pig skin around, a bit more, nonetheless his 29,734 passing yards and 227 passing touchdowns across his eight NFL campaigns (post-season play not included) is quite impressive. In addition to his passing ability, Wilson gives fantasy owners the added dimension of his legs. Scrambling for almost 4,000 yards while adding 19 rushing touchdowns has been enough to consistently place Russ among the top fantasy quarterbacks on a year-in-year-out basis. In fact, across his NFL career, Russell Wilson has averaged the 6th place finish among QBs. This of course accounts for his #1 overall finish in 2017. So, just for a recap on the statistical side of things, on average #3 is giving you a stat-line of 3,700/28 through the air and 500/2 on the ground. The way Old Tom likes to read that, for the interested out there, is simply 4,200/30 all purpose deeds. Yes, I understand this take on Wilson is pretty vanilla. Nonetheless, I hold the belief that sometimes it is simply best to remain simple. Especially, when universal greatness is being discussed. After all, you already know everything there is to know about "The Professor".
D.K. Metcalf:
Well, we've done it my friends. We've made it to the very end of my 32-team dynasty breakdown. Old Tom can't think of a better way to wrap this series up, than with one of my favorite young players in a very very very long time. Mr. DeKaylin Zecharius Metcalf or as he simply prefers, D.K., is as truly special as they come. I know, I know…everyone is special, everyone is primed for greatness, everyone is a "must-own". While, there are no doubt many talents, I'm here to tell you folks that this one is quickly finding himself rising up the overall list and his ceiling is with the likes of Julio and Megatron, whom consequently are the two WRs I can't help but think of when I watch him go to work. I don't usually like to use such small sample-sizes, especially when discussing long outcomes, but bear with me. Across Metcalf's final three games of his 2019-2020 NFL season he saw the field the way a true cemented offensive asset normally would, at his position. Across these three contests he delivered a stat-line of 26-17-300-2. I'm not expecting those numbers to extrapolate themselves out across his 2nd NFL campaign, but if they did we'd be looking at 139-91-1,600-11. What I am most interested in seeing is how D.K.'s production might look if he regularly hit that 90%+ offensive snap share. Taking just those 7 games (playoffs included) and running his numbers out across an entire season reveals what I believe is your true year two Metcalf, with room to grow – 117/73/1,157/11. Please also keep in mind that includes D.K.'s week 16 egg he laid by only seeing 1 target across the entire 60 minutes of play. In conclusion, Old Tom is here to simply give you my simple and subjective advice. When it comes to #14 in Seattle, I'm strongly advising you to test those waters. His situation, all variables accounted for, is as close to perfection as we tend to see in dynasty formats. Good luck, friends.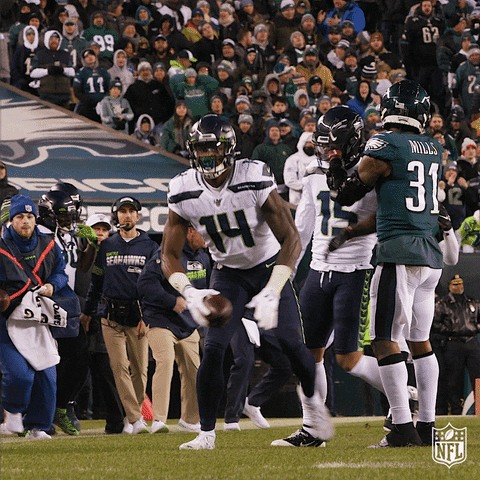 Make sure to follow Old Tom on Twitter @BombadilFantasy!