3. Mike Williams:
A potential head-scratcher, right out of the gates, Old Tom had one heck of a time narrowing this Chargers dynasty list down. As I think back on the process, I've come to the belief that it's much more a testament to the young offensive talent they've acquired, more than anything else. However, the deciding factor in selecting Mike Williams was his massive potential, at a position oh so important to fantasy success. It's no mystery that the former #7 overall selection, out of Clemson, had an abysmal rookie campaign due in large part to a handful of back injuries. With that said, over the course of his next two seasons, there were some real bright spots when looking at the bigger picture. The 10 receiving touchdowns in 2018 coupled with the 1,001 receiving yards in 2019 are the two pillars fantasy owners are resting their hats on, as they look to Williams' 4th NFL season and a possible breakout one, at that. One bit of good news working in Williams' favor is the fifth-year option the Chargers exercised on him, back in April. Many wondered if they'd pick it up or let him "prove" his worth in 2020. Well, now we know. Another positive in Mr. Mike's corner, and the best news I believe he could have hoped for, transpired about a week earlier than the extended contract. When the Los Angeles Chargers used the #6 over the selection, in the 2020 NFL Draft, on Justin Herbert they gave Williams and his professional future a much-needed adrenaline shot. As a very large fan of one Mr. Justin Herbert, Old Tom is an even bigger fan of the future Herbert to Williams's connection. As I look back on the progression Mike Williams has made, especially from year 2 to year 3, I see so much promise. His route running has improved and his deep ball skills are second to none. In fact, in 2019 Williams led the league in yards per receptions (20.4). We all know that sometimes it takes a few years for WRs to really come into their own. My friends, that's what Mike Williams is doing. My advice is to buy low and watch the talent go to work, for you.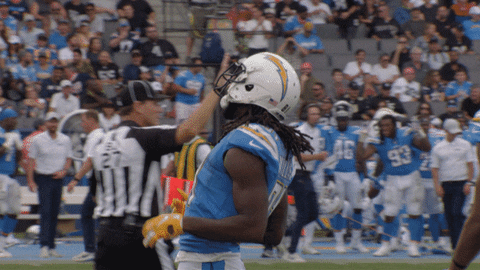 2. Keenan Allen:
Is there a more underappreciated WR in the league than Keenan Allen? As far as Old Tom is concerned, that answer is a resounding no. Now, please understand, I'm not saying there isn't other stud WRs who are also treated poorly, in the fantasy community. What I'm saying is that when you attempt to marry the disrespect with the stat-production, Mr. Keenan takes the cake, in Old Tom's eyes. One reason, the main reason really, I believe Allen seems to have a tough time knocking off the negative vibes, stems from his year two regression and the following two injury-riddled campaigns. The final straw, unfortunately for many, was the torn ACL suffered in Week 1's contest back in 2016. What that did was it gave Allen the all so important "injury-prone" tag, that found its justification in the reality of 25 missed games over the course of his team's previous 34 contests. Ouch! (pun intended) Well, to quote Bill Belichick, "To live in the past is to die in the present." Welcome to 2020, where all Keenan Allen has done over his previous three NFL seasons is play in 100% of his team's contests and post WR (PPR) finishes of 3, 12, & 6 respectively. Diving a little deeper into said finishes we see that the LOWEST Allen has fared in the key receiving stat-lines, across this time frame, all stem from his WR12 (PPR) season in 2018, where he posted 136-97-1196-6. Now, while Old Tom firmly understands that Philip Rivers has moved on, I'm here to advise you that acquiring the recently turned 28-year-old WR is still a terrific dynasty investment. In fact, doing so amid the Tyrod Taylor experiment and before the Justin Herbert takeover might just be one of the best moves you'll ever make, in hindsight.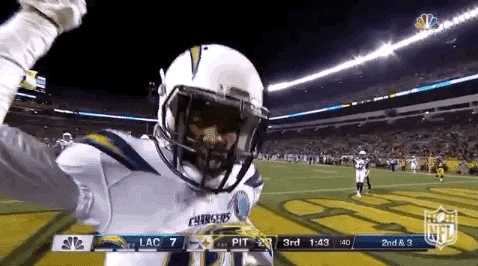 Austin Ekeler:
Isn't the NFL such a funny little thing? If Old Tom was writing this column exactly 365 days ago, Austin Ekeler would have been simply an afterthought. Even with the Melvin Gordon holdout in full swing, I'm not sure I can tell you, with a straight face, the production level Ekeler would ultimately end up producing in a semi-featured-role. Well, round the clock forward 1 year and all we have is the 2019 RB4 (PPR) finisher, on our hands, and the recipient of a shiny new four-year contract. The latter of which is exactly what Old Tom needed to see to bump Ekeler up to this #1 spot. Security, my friends. As we look at Austin Ekeler and his future, from a fantasy football perspective, the best news we can take away is that what he accomplished in 2019, took place with only a 57% offensive snap share. *, enter the stunning face emoji* With that understanding, we don't have to try and find ourselves making an argument for any sort of featured-role when trying to justify his worth, to this ball club. While I have no doubt the Chargers will attempt to utilize both Justin Jackson and Joshua Kelley, throughout the upcoming season in hopes of finding out what they can offer, I also have the utmost confidence that it will have zero impact on what Ekeler can and will offer fantasy owners. With only 1 year of fantasy excellence under his belt and coupled with the QB uncertainty that is 2019, for this Chargers organization, Old Tom is fully advising dynasty owners to act on the Ekeler acquisition front. I'll tell you right now, add another 365 days onto the calendar, and this air-guitar artist's price tag is going to be quite expensive.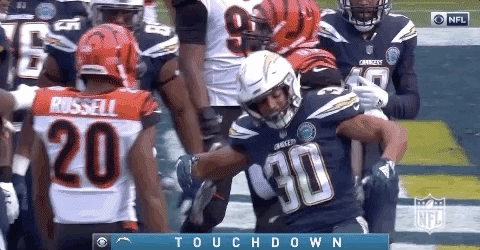 Make sure to follow Old Tom on Twitter @BombadilFantasy!