3. Brandon Aiyuk:
While Old Tom tries to never get too giddy over rookies (with your clear 1.01 exceptions), like others in the industry might, Aiyuk is one individual that I just can't seem apply that rule to. Of course an immediate knock on the 22-year-old WR is that of his landing spot. "Ugh…the run-heavy 49ers." An entirely fair frustration, as San Francisco ranked 2nd in rushing attempts, per game in 2019. In addition, they fell in at #21 in terms of passing yards per game (220.7). However, if there's one thing I'm sure of it's that Kyle Shanahan is fully capable of deploying just as heavy of a passing offense as he is running one. In fact, as we look back on Shanahan's coaching tenure we see exactly that. In 2008 & 2009 as the Offensive Coordinator for the Houston Texans his teams finished 4th and 1st, in said same category. During his tenor in Washington we saw finishes of 9th, 14th, 23rd, and 17th respectively. In 2015 and 2016, when he really began to make a name for himself, we saw him orchestrate the Atlanta Falcons offense to a 6th and 2nd place finish, in back-to-back seasons. In fact, in Shanny's first season as the HC of the 49ers his ball-club registered as the 9th best passing team, on a per game/yards basis. A lot of numbers, no doubt, but Old Tom's point is simply that if you're discounting these 49ers receiving weapons because you think there's no way this offense can incorporate them into the game plan, you are doing yourself a grave disservice. When it comes to Aiyuk, maybe his biggest advantage out of the gate, is the opportunity created by the unfortunate injury to teammate Deebo Samuel. I don't know how Kyle Shanahan plans to use his new 5'11 201 lb weapon, but I can promise you he has very specific plans. NFL teams don't use first round selections on skill-position players they just want to add to the mix. With that said, NFL teams especially don't trade up in the first round to draft just another guy. This 49ers ball-club got a scent of the pinnacle just 5 months ago, and now they're all in. As Shanahan witnessed, first hand with the Falcons, Super Bowl windows sure do close in a hurry. It may be now or never for the San Fransisco 49ers and Brandon Aiyuk could be that missing piece to the puzzle.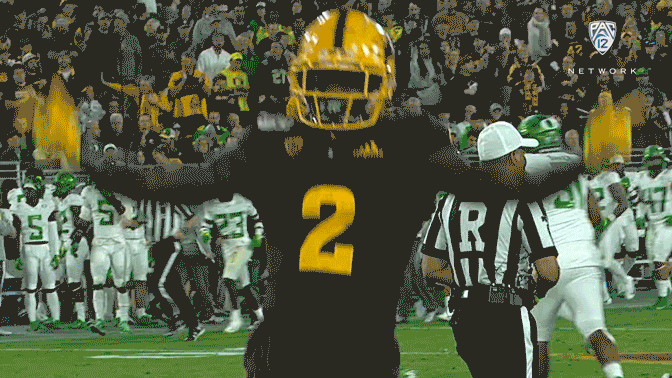 2. Deebo Samuel:
One of the real surprises and enjoyments of this last NFL season was the emergence of some truly special talent at the WR position. Among that group of rookies was one Mr. Deebo Samuel. Heading into the season so many, including Old Tom, were buying up all the Dante Pettis stock we could find only to be sorely disappointed by week 2. Regardless of that situation and the manner in which it played out, there's no denying that San Fransisco struck gold with their 2nd round selection out of South Carolina. From weeks 8-17 Samuel ranked as the WR8 (PPR) in one of the most underappreciated and perplexing manners, of all time. While only seeing the field 80% of the time, logging 42 receptions (4.2 a game), and finding the endzone a mere two times via the air you're probably left scratching your head. Well, thanks to Kyle Shanahan's ability to get his play-makers involved, he deployed Deebo in the run game and let his athletic ability take over. In addition to his 59-42-634-2 receiving-line, Samuel also put up 11 rushes for 151 yards and an additional 3 scores. Although, Deebo Samuel technically logged 15 games played, during the regular season, he didn't really hit his stride and cement his role with the team until week 8. Extrapolating his numbers from then on, you're looking at 94 targets, 1,256 total yards, and 8 total scores. Not bad, not bad. With all that said, when discussing Mr. Samuel in a dynasty context we must address the broken foot he suffered back in June, during a throwing session with teammates. A real blow, to say the least, yet please don't lose sight of what #19 accomplished, as a rookie, and what he is capable of accomplishing throughout his career. Old Tom's advice is reach out to those Deebo owners and see what they'd want for him. I'm going to guess a number of you will run into some stubborn individuals, who are still upset they lost such a promising young star to a foot injury in June. While they may make your transaction a bit more difficult than it needs to be, don't let that discourage you from ultimately acquiring the prize. Ask, acknowledge, accept, enjoy. Good luck, friends.
George Kittle:
Well folks, I fear that I may not have much to tell you here that you already don't know. George Kittle is as special as they come, and at just 26 years old he's one of the easiest dynasty locks this side of the Mississippi. In fact, he's one of the easiest locks on both sides of said river. If you find yourself in a TE Premium dynasty league, a real argument could be made to select Kittle with your first round selection, especially in light of the Deebo Samuel injury. Old Tom easily sees #85 hitting that 2018 statistical range of 130+ targets and almost 1,400 yards. However, this time around I have a feeling we will see Mr. Kittle break the century mark in receptions, the first of his career. Potentially the bit of information that makes Young George so special is that while finishing as the TE2 & TE3 (PPR) the last two seasons, he's only found the end-zone 5 times, each year. Not terrible, by any means, but definitely room to grow. As the #1 receiving option, in a Kyle Shanahan offense, Old Tom is thoroughly excited to spend 2020 watching just how creative the gameplans become, in order to utilize Kittle's clear physical and athletic advantages. I'll tell you right now, if George Kittle breaks his own receiving yards' record this go-around, I won't have to spend any time picking my jaw up off the floor. It's a real possibility, friends.
Make sure to follow Old Tom on Twitter @BombadilFantasy!