Thank you to Netflix for allowing me to watch and review this show!
This is a running review, as after each episode I will write about that episode until I finish the series. Each "Episode Review" will be my immediate thoughts following the episode, and the "Series Review" at the bottom will be my thoughts on the show as a whole.
Creators: Ian Brennan, Ryan Murphy
Stars: Darren Criss, Jeremy Pope, Patti LuPone, Jake Picking, Samara Weaving, Laura Harrier
Synopsis: Hollywood is a mini-series from Netflix that follows a group of aspiring actors and filmmakers in post-WW2 Hollywood, who will do whatever it takes to achieve their goal.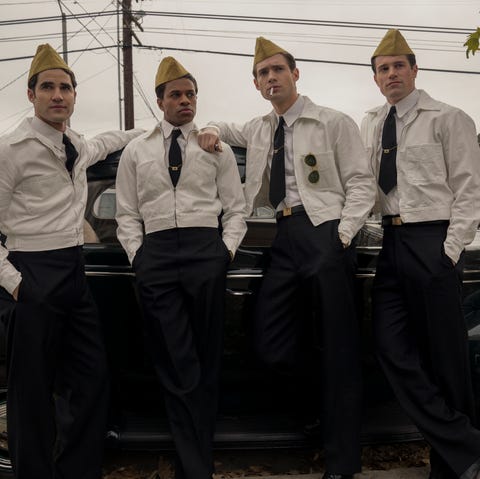 E1: Hooray for Hollywood: Part 1
This episode starts you off quickly with the "lust" for fame in Hollywood and keeps that lust alive throughout the episode. However, it slows down tremendously and gets repetitive throughout. I truly had no idea what I was getting myself into when I started this, but I can assure you this was not it. It is an interesting look at the Golden Age of Hollywood, but it was very clearly a first episode. It was slow at times, and all over the place at others. However, it does really harp down on the "lust" for fame in quite a literal way, and manages to do just enough to keep you wanting to watch more.
E2: Hooray for Hollywood: Part 2
This episode was much better than the first. We are actually given the chance to be in Hollywood, and instead of slowly dragging along, we are quickly brushed through the characters and into the real story. A much better second episode, and a much better feel of what the show is going to be.
E3: Outlaws
Fittingly named, I feel like this episode sets up for a major showdown coming up. There are two parts up for grabs, and everyone wants them and thinks they have them. This show is getting more exciting with every episode so far.
E4: (Screen) Tests
What… an… episode. This is easily the best of the series so far, and I hope it continues to go up from here. This show is strongly wanting to see the people of color and is doing a fine job of showing them. There is a scene in this episode that is played so absolutely beautifully by Jeremy Pope that it struck me to my core. This show has come so far from the first episode.
E5: Jump
A strong episode with a strong continuation of recognizing and seeing minorities. The changes made are powerful ones when thought about thoroughly. Jack's story takes a sad turn. Jim Parsons is a badass I never knew about.
E6: Meg
Everything is beginning to work out. Until the very end. For most of this episode, it felt out of place, but the end reels it back in. It might not be the best of the bunch, but leads off on the best cliffhanger yet.
E7: A Hollywood Ending
Went back and forth on this for a while. Ultimately think it is very good, but there is something missing. I have some thoughts, that I will hopefully expand on more in the full review.
Full Review:
In the world post-war the film industry flourished. Neorealism, the French New Wave, and Hollywood's Golden Age all came to fruition during this time. The industry changed, and Hollywood became so much more than just movies on a screen, it became a movement in and of itself. These pictures were a way to let people into stories and lives of what they may never experience. What Ryan Murphy does with Hollywood shows us a different version of the same story.
In the real version of Hollywood, certain people were confined to the roles they were in. Whether that be because of race, ethnicity, or sexual preference. In 1949 the LAND was removed from the HOLLYWOODLAND, as a way to accurately portray the area and not the housing development, but I would personally like to believe the twist on history that Ryan Murphy created is Hollywoodland. This is the history of a Hollywood that had altered for the better. "Hollywoodland" was a place where dreams could flourish, and it didn't matter who you were. There is a change made to the film they are shooting, and I believe that change is what set off on this path of creating a brighter and better future for all. This show did that, and throughout the final episode, they really tried to show what these changes meant to many people around the country who had never felt recognized before.
Personally, I am not Black or part of the LGBTQ+ and I would love to hear their thoughts on this because, from an outsider's point of view, these groups of people were seen in a way that they would have never been seen in this time. That means something, and shows the hypocrisies of the society then as there is today. To me, I don't see a want or a need that these individuals have to feel powerful over the people who hold them down, but want to feel like they are on the same page and in a natural way. In an accepting way. The show might not have been realistic for the time, but it is important for all time to show that these people are seen and are important.
The standout actor of this show is Jeremy Pope who plays Archie. He is able to show the audience everything that was wrong with the industry then and is still wrong now. He acts beautifully and seamlessly in every line, oozing with charm and charisma. But it isn't his smile or his powerful and moving speech that captivated me, but his pain and anger being thrown onto the screen. His moment in Episode 4 is one of the strongest pieces of acting I have seen in a long time, especially for television. He bears the weight of this world and the lies and deceit that comes with it and is able to show that in such an incredible way.
The rest of the acting is very good as well across the board. Jim Parsons is a badass I never knew he was, Laura Harrier is stronger than I have ever seen her, Darren Criss, Jake Picking, Samara Weaving, you name it, they all give powerful and honest performances. This goes to help with some well-written characters as well.
While the characters themselves were written well, I don't think the show was always on the same page with it. I understand what they are trying to do, and still have many thoughts that I don't think I will be able to articulate as precisely as I would like to. The message of the story is clear and is told time and time again throughout the show. My issue with the message of it all is, there isn't always a happy ending. I think this show hit a point and disregarded the struggles of everything going on around them. It touched on the backlash, but then noted the riots just… went away. Climbing the H in the Hollywoodland sign is a big symbol of the show, but I have a problem if they forgot why they climbed the sign, or if the whole idea of climbing the sign was altered in the end. This is something I personally will have to look into more when more people see the show, but it is also an issue that I think will spark many conversations surrounding the show as a whole.
Final:
Hollywood is a show about being seen for the first time. This show is anchored by the tremendous performances from the entire cast, led by Jeremy Pope, and a strong vision of a different "Hollywood". This show is bound to spark many conversations, and I believe that is what a filmmaker wants more than anything, is to have people talk about their films. I was barely holding on after episode one, but this show continuously gets better along the way. It is definitely something I could see myself revisiting in the future. Just like in the show, I think Netflix took a risk on this one, and I think it will hit big.
ON NETFLIX MAY 1
Jacob is a film critic and co-founder of the Music City Drive-In. He is a member of the Music City Film Critics' Association and specializes in the awards season. You can find him on Twitter @Tberry57.