Hello, readers of MCDI! Your favorite college basketball writer is back after a few month's hiatus! It's been a long season, and while we haven't been able to give you the weekly power rankings we did last year, we are excited to be able to give you a small preview of the best month in sports. The NCAA Tournament is always filled with intrigue, twists, and turns and, most importantly, upsets. Nowhere else in sports does a 68-team tournament begin with everyone on the same footing. Sure, you have huge favorites in the first round, but even number 1 overall seeds can lose (*cough* Virginia *cough*) if they aren't ready to play. While I don't think there will be any upsets of that magnitude, the parity across college basketball has never been better. There are, realistically, 10 to 15 teams that could potentially cut down the nets in Houston this year. We will be previewing all four regions, giving a Final Four prediction as well as picking a national champion to cut down the nets. We will also give one upset pick for the first round of games for each region, which you can lock in for those of you who have a gambling itch to scratch.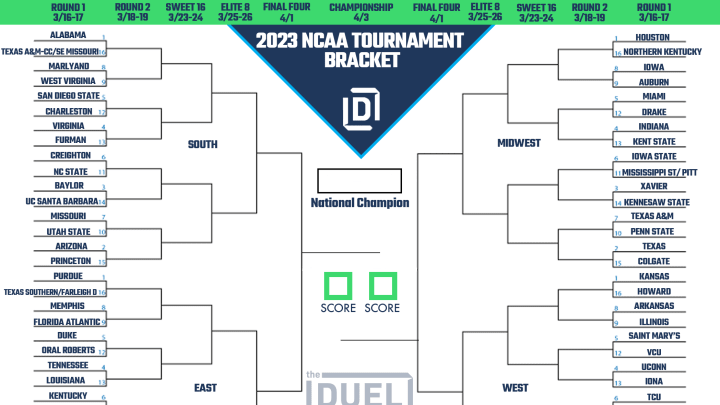 SOUTH REGION
Alabama comes into the tournament as the number 1 overall seed, the first time in their program history and the first for an SEC school since Kentucky in 2015. They have been one of the best teams in college basketball all year, and won the SEC regular season and tournament titles for the second time in three years under Nate Oats. Brandon Miller may end up being the first college player off the board during the next NBA draft, but there has been a cloud over this team since the shooting in mid-January that resulted in the murder of Jamea Jonae Harris. Do they keep plugging along amid the distraction or does the moment become too big? Time will tell.
This region isn't all Alabama and no one else, however. There are a few teams that could represent the South in the Final Four if the ball bounces their way. Baylor, if they can get healthy, has the guard play and athleticism to make a deep run in this tournament. Keyonte George is the type of player who can take over a multi-game run to get this team into the second weekend and beyond, not to mention one of the best coaches in the country in Scott Drew. Arizona has the talent and experience from last year, as well. Tommy Lloyd's team won the Pac 12 tournament title over UCLA and could easily get to Houston on the backs of Kerr Kriisa, Azoulas Tubelis and Oumar Ballo.
However, the sleeper team in this region is going to be the 6th-seeded Creighton Blue Jays. A top 10 team coming into the year because of their returning roster, this team has the size, skill and guard play to make a lot of noise in this year's tournament. They ran into a buzzsaw in the form of the resurgent Big East, but don't count this team out of making a run against the likes of Baylor, Arizona and Alabama. One of those four teams will most likely make it to Houston, but ultimately the pick is going to be Alabama.
Upset Alert: (12) College of Charleston over (5) San Diego State
MIDWEST REGION
Everything is set up for Houston to play in their home city during the 2023 Final Four. However, if Marcus Sasser is limited or out for a number of games, this team will miss his offensive game and defensive tenacity. This team goes as Sasser goes, even though they are extremely talented in other areas. It just doesn't seem plausible for them to make good on being the odds on favorite to win it all without Sasser being at 100%.
Elsewhere in this region, you have the top 2 seed in Texas with the potential to play former rival and future SEC co-member in the second round, 7 seeded Texas A&M. Texas A&M being a 7 seed as one of the hottest teams in the country is either a testament to their very weak non-conference schedule (two bad losses to Murray State and Wofford happened, Aggies) or, my personal favorite conspiracy theory, a personal vendetta for the committee against Buzz Williams after his comments and nine page dissertation as to why the Aggies should have made it to the tournament last year. Texas is probably Houston's biggest competition in this region, as they dismantled Kansas in the Big 12 title game and had an outside shot at a 1 seed after a strong finish to the season. Marcus Carr as their lead guard can get hot and stay hot to lead this team on a deep run. After the tumult of the firing of Chris Beard for assault allegations, Texas being in this position at all is a sign of great things to come for the Longhorns.
Upset Alert: (13) Kent State over (4) Indiana
WEST REGION
This region is known as the "Region of Death" for a reason. Four of the 9 shortest odds to win the national championship reside in the West (Kansas, UCLA, Gonzaga and UCONN). While I do think that Kansas is the best team in this region, the questions around Bill Self's health to go along with the daunting task of repeating as national champions gives the vibe that this won't be the year for the Jayhawks. While Jalen Wilson can take over any game, this just isn't the same deep team as a year ago.
UCLA has the experience with Tyger Campbell and Jaime Jaquez Jr to make it to Houston as well, the loss of Jaylen Clark as their best overall defender for the remainder of the year will be a huge hurdle for them to overcome. Don't count out Mick Cronin's team just yet, as they can score with anyone if they get hot and will always play their hearts out defensively like his old Cincinnati teams.
If it seems like a down year for Gonzaga, that is because it has been. A 3 seed in the NCAA tournament and a WCC tournament title would be a great year for most "mid-majors," but Gonzaga hasn't been a true mid-major in a number of years. Drew Timme's final hurrah, he has said he isn't using the extra COVID-year of eligibility, will hinge on how well the guards on his team play. We know Timme will get his, but can Nolan Hickman and Malachi Smith play well enough to get him back to the Final Four? They'll have to get through a finally healthy TCU team with Mike Miles back on the court in the second round.
This is without a doubt the deepest region this year, since we haven't even gotten to UCONN who was at one time ranked number 1 in the country. This region actually has three teams that were at one time ranked number 1, the same schools mentioned earlier, minus UCLA. Dan Hurley has a fun matchup against Rick Pitino's (future Big East rival, anyone?) Iona Gaels. This feels like a region where it could end up chalk with Kansas making it but also could get turned upside down after the first weekend.
Upset Alert: (10) Boise State over (7) Northwestern
EAST REGION
The South Region also has a lot of intrigue to it, with Purdue as the number 1 seed, most likely, to me, to be the one to not make it out of the first weekend. Zach Edey is a monster and most likely the National Player of the Year, but can their freshmen guards push through the "freshman wall" to get Purdue to their first Final Four since 1980? They started the year 22-1 but faltered down the stretch while still clearing the rest of the B1G by 3 games and winning the B1G tournament title.
Marquette, as the 2 seed in this region, has a very beneficial path to the Final Four. The region finishing in Madison Square Garden, where they just won their first Big East tournament title under Shaka Smart, is icing on the cake. Tyler Kolak is an All-American at the PG position and could very well lead this team to Houston.
One team that will garner a lot of attention in this region is the Duke Blue Devils. Out of the shadow of Coach K, Jon Scheyer has this team healthy and firing on all cylinders. They have won 9 straight coming into the NCAA tournament, including the ACC tournament championship. They are probably seeded a bit too low as a 5 and have a favorable path to the Final Four, especially if Purdue gets knocked off early by Memphis or good FAU squad.
Elsewhere in the South, Tennessee is too high as a 4 seed. We realize that their NET ranking and all of the metrics point to a very good team, but Zakai Zeigler is hurt and they have 7 losses since February 1st, including a 79-71 loss to Missouri in the SEC tournament. Their calling card is their defense, but without Zeigler their guards can't seem to keep up. Kansas State will be a tough out in this quarter of the bracket, as well. Keyontae Johnson and Mike Norwell are two of the best guards in the Big 12 and country, and Jermone Tang has them playing with the same defensive fervor as the Baylor teams he was the head assistant for under Scott Drew. The Wildcats could make some noise in the South.
The biggest enigma in all the South, and maybe in the entire NCAA tournament, is the 6th seeded Kentucky Wildcats. It may be the homer in me, but this team could easily make it to Houston as the representative from the South. They have the talent and the experience, however they could also lose in the first round to former Wildcat Bryce Hopkins and Providence. Cason Wallace needs to get 100% healthy and Oscar Tshiebwe needs to play smart, but the x-factor is Jacob Toppin. If he stays engaged like he was against Arkansas without a PG, they can beat anyone. If he struggles with defensive lapses and offensively, they could lose to anyone as shown by the two losses to Vanderbilt that sandwiched that win against Arkansas.
Upset Alert: (13) Louisiana over (4) Tennessee
FINAL FOUR
South – (1) Alabama
Midwest – (1) Houston
West – (3) Gonzaga
East – (2) Marquette
CHAMPIONSHIP GAME – (1)    Alabama vs. (1) Houston
NATIONAL CHAMPION – (1) Houston
I am sticking with my preseason prediction for the national championship. Once Marcus Sasser comes back, this will be the most complete team in college basketball. With the Final Four being in Houston, it will be too much for any other team to win it all. The storybook ending for Kelvin Sampson finally comes full circle for the Houston Cougars.