Music City Drive In! Welcome back to the best season of the year! College basketball is just around the corner, we have a little over a week until we get real life college basketball. I've been on hiatus from writing, unfortunately, since I put out my final ranking of the season and my MLB preview. Life gets in the way, sometimes, and buying your first house is a lot more work than you would think. Who knew? (Literally everyone knows this, we were just willfully ignorant. Or at least I was).
Anyway, lets get to our first college basketball ranking of the season! There is a lot of intrigue going into the year, with a lot of returning star power across the country and no clear-cut favorite out of the gate. We normally have a feeling of one or two teams who have the returning star power and impact freshmen who will come out of the gates firing on all cylinders, but that does not seem to be the case this year.
We are going to kick off the preview with a list of my top 20 teams going into the season with a little info on each team, followed up by some games to watch this year as well as my picks for Power 6 conference champions, All-Americans, and ending with who I believe will end up in the Final Four and cutting down the nets in Houston at the end of the year.
Follow along throughout the year as I update the rankings weekly and get excited about another season of college basketball!
Top 20 Teams
North Carolina – UNC returns every meaningful player from their surprise run to the NCAA championship game as an 8 seed last year, so they deserve at least the first look at the top overall spot. Armando Bacot leads a deep team with title aspirations in Hubert Davis's second season at the helm in Chapel Hill. Impact transfer Pete Nance (Northwestern) highlights a impact class of newcomers that augment the returning firepower.
Gonzaga – The surprise news of the last month was the agreement of Gonzaga and Kentucky to play a home and home series over the next 6 seasons, increasing the Zags chances of proving themselves as title contenders earlier in the year than previously. Drew Timme is back on campus and transfer Malachi Smith (Chattanooga) headline another loaded roster in Spokane.
Kentucky – Oscar Tshiebwe returns to Lexington with a promise to bring number 9 back to UK after last year's devastating loss to St. Peter's in the round of 64. He is the first consensus NPOY to return to school since Tyler Hansbrough at UNC, who came back and won a national championship for Roy Williams. It feels like championship or bust this year with the returning players like Sahvir Wheeler and Jacob Toppin with freshmen Cason Wallace and Chris Livingston.
Houston – The biggest question mark surrounding the Cougars is how long will it take for Marcus Sasser to return to his pre-injury form from last year, when he was playing like an All-American. Jamal Shead returns as well to make what could be the country's best backcourt for Kelvin Sampson. Could we see Houston cut down the nets in their own city?
Kansas – Ochai Agbaji, Christian Braun, Remy Martin and David McCormack have all left Lawrence, but Bill Self won't rest on his laurels from winning a national championship. Jalen Wilson returns, and Kevin McCullar Jr. joins him from Texas Tech as one of the top transfers this season, so Self will hardly be playing with a bare roster.
Baylor – Nipping at the heels of the Jayhawks in the Big 12 will be Baylor. Scott Drew brings back another stellar back court in Adam Flagler and LJ Cryer while also adding top 10 guard Keyonte George, and even though they lost Jeremy Sochan they will look for Jalen Bridges to take a major step forward in his junior year.
UCLA – Jaime Jaquez and Tyger Campbell return to lead the Bruins, with it looking like a top-heavy conference this year again. Mick Cronin has brought in an impact freshman on the wing in Amari Bailey as well. With Johnny Juzang off to the NBA, they will need to find another impact scorer on the wing to live up to some lofty preseason expectations.
Duke – Coach K's farewell tour didn't go as planned, but John Scheyer has seemingly picked up the pieces well. They secured the number 1 recruiting class in the transition between coaches with Dereck Lively, Dariq Whitehead and Kyle Filipowski all top 10 recruits. We will see if Scheyer can get as much out of his freshmen as Coach K usually did early and often.
Arkansas – The Muss Bus rolls on! Adding top prospect Nick Smith plus two other top 15 freshmen to an already talented roster while also adding some impact transfers will have the Razorbacks in most top 10 rankings to begin the season. They will be at the top of the SEC this year and challenge for Muss's first SEC title.
Creighton – Can Greg McDermott finally knock off Villanova now that Jay Wright has ridden off into the sunset? This will be his best chance in a while, but the Big East should run through Omaha this year. A lot of returning talent as well as some intriguing freshmen for the Blue Jays.
Tennessee – Rick Barnes finally must coach a team without John Fulkerson on it for what feels like since he was at Texas, but don't sleep on the Volunteers. The football team is grabbing all the headlines right now, but the basketball version returns a lot of talent in Zakai Zeigler, Josiah Jordan-James, and Santiago Vescovi.
Indiana – Trayce Jackson-Davis returns to Bloomington to give Mike Woodson a preseason All-American candidate and shoots the Hoosiers to the top of B1G and conference favorites. Indiana deals with enormous pressure from its fanbase every year, does this team live up to the hype?
Texas – It was an up and down first season for Chris Beard in Austin, TX last season. He brings in one of the top freshmen in the country in Dillon Mitchell, but the Longhorns will need Dylan Disu and Marcus Carr to live up to the preseason hype after transferring before last year to have a successful season.
TCU – Jamie Dixon probably has his most talented roster as the Horned Frogs head coach, which comes with lofty expectations to begin the year. Simply making the tournament won't cut it this year, they need to win a game or two in the tournament. Chuck O'Bannon, a sneaky pick for Big 12 player of the year, looks to improve on his junior year in Fort Worth to challenge Kansas, Baylor, and Texas in the Big 12.
Arizona – Bennedict Mathurin has left campus, but Tommy Lloyd is hardly starting from scratch in his second season. Last year's surprise team came out of nowhere with some great development of player's leftover from the previous regime so look for them to improve even more this year. Kerr Kriisa returns to lead the team from the point guard position and will need to steer this team through some bumps and bruises to challenge for the Pac 12 championship.
Villanova – What does the first year in a post-Jay Wright world look like? Kyle Neptune is about to find out. They could have hired almost anyone from college basketball but decided to promote from within the program. This could provide some needed stability to a roster which returns some upperclassmen that will be leaned on, like Chris Arcidiacono, Caleb Daniels, and Justin Moore (who is still recovering from an Achilles injury).
Auburn – Allen Flanigan and Wendell Green Jr. return to headline Bruce Pearl's Tigers in 2022. However, they must replace Walker Kessler's impact on both ends of the floor somehow, and I am not sure if freshman Yohan Traore is up to that challenge yet. One thing is for certain, this team is going to run and put up a lot of 3s. It has worked in the past for Pearl's squads.
Alabama – Nate Oats' fast paced tempo adds two impact freshmen in Branden Miller and Jadan Bradley, but Jahvon Quinerly is the one who will make this offense go. The senior point guard returns with the keys to one of the most fun offenses in the sport, and this team will be fun to watch once again.
San Diego State – The darling of mid-majors, the Aztecs have been seemingly building toward this season for a few years now with 13 juniors and seniors on the roster. Nathan Mensah returns as arguably the top shot blocker in the country, and Brian Dutcher has always been known for his defense. If they can get through the non-conference unscathed, they could be on undefeated watch going into the tournament.
Virginia – Tony Bennett and the Cavaliers had a down year last year, by their metrics, but return some meaningful pieces with Kihei Clark back in the fold at point guard to headline the team. This should be a classic Virginia team that slows down the pace and wins games in the 50s and low 60s with some great defense.
5 games I am excited for this season:
(3) Kentucky @ (2) Gonzaga – Spokane, WA – 11/20 @ 7:30 EST on ESPN
The aforementioned game during Gonzaga's preview, these two programs have been talking about playing a yearly series for a while now. Well, we are getting 6 seasons of it now with it starting in Spokane this year. Oscar Tshiebwe and Drew Timme will get the headlines leading up to the game, but this one will be won in the backcourt. If Kentucky's freshmen come to play, this will be the game of the season.
(8) Duke vs. (5) Kansas – Indianapolis, IN – 11/15 @ 9:30 PM EST on ESPN
The State Farm Champions Classic takes place in Indy this year, with the Duke vs. Kansas matchup headlining it. This will be John Scheyer's first test as the head coach of the Blue Devils with the star-studded freshmen class he has put together. Hopefully Dereck Lively is healthy, otherwise these talented freshmen will have a hard time against the experience in the Kansas locker room coming of a national title.
(7) UCLA vs. (3) Kentucky – New York City – 12/17 @ 5:15 EST on CBS
The Wildcats and Bruins take on each other in a battle of two of the top college basketball programs in history in the CBS Sports Classic. This year's edition will pit two top 10 teams against each other, with the matchup of Tyger Campbell against Sahvir Wheeler being the tipping point. Whichever PG limits the turnovers and facilitates the firepower on each roster will lead their team to the win.
(18) Alabama vs. (4) Houston – Houston, TX – 12/10 @ 3:00 EST on ABC
The run and gun of Nate Oats' Crimson Tide run up against one of the best defensive programs in the country in Kelvin Sampson's Cougars. Which side will prevail? The experience of the Houston backcourt could prove to be the deciding factor in this one.
(1) UNC @ (7) Duke – Durham, NC – 2/4 @ 6:30 EST on ESPN
This will be the first time in 47 years that Coach K isn't leading the Blue Devils against the Tar Heels. John Scheyer gets his first matchup at home against UNC, so home-court advantage could be useful to get off on the right foot in the series.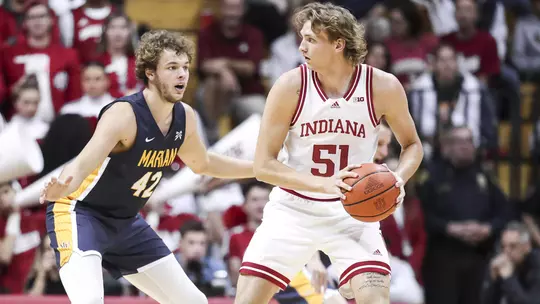 Power 6 Conference Champions
ACC – North Carolina
The Tar Heels are the most complete team in the ACC but will be challenged by Duke once again. If they stay healthy, however, UNC is the class of the ACC.
B1G – Indiana
The B1G will be as deep as ever and will probably get 8 or more teams into the tournament because of it. Indiana returns the best player in the conference in Trayce Jackson-Davis but look for them to be challenged by a lot of teams in this conference.
Big 12 – Baylor
With Kansas coming off a national title and returning a few key pieces, they would be the safe pick here. However, Baylor is just as talented, and Scott Drew will be looking to bounce back from a disappointing loss in the tournament last year.
Big East – Creighton
Villanova will have some growing pains without Jay Wright on the sidelines this year and look for the Blue Jays to take advantage to win their first Big East title.
Pac 12 – UCLA
UCLA ceded the Pac-12 to a surprising Arizona squad last year and will be challenged again by USC on the other side of LA. However, with Jaime Jaquez and Tyger Campbell back UCLA should be able to take the Pac-12.
SEC – Kentucky
Oscar Tshiebwe is a man on a mission and will stop at nothing to not only win the SEC but take home number 9 for Big Blue Nation. Look for challengers in Arkansas, Tennessee, Auburn and Alabama as SEC basketball has never been better.
All-Americans
First Team
-Oscar Tshiebwe, Kentucky
-Drew Timme, Gonzaga
-Armando Bacot, North Carolina
-Jaime Jaquez, UCLA
-Marcus Sasser, Houston
Second Team
-Trayce Jackson-Davis, Indiana
-Dereck Lively, Duke
-Kevin McCullar Jr., Kansas
-Adam Flagler, Baylor
-Tyger Campbell, UCLA

Now for what we have all been waiting for. If you have made it this far, you are a true college basketball fan. Below is my prediction for the Final Four for the 2022-23 season, which is being held in Houston this year.
Final Four
Kentucky
Houston
Baylor
Arkansas
National Champion
Houston – This would be a storybook season for Marcus Sasser and the Houston Cougars. Not only is the Final Four in Houston this year, but it would be the final redemption arc for Kelvin Sampson after his miscues at Indiana. The Cougars are good enough to win in March and have the lethal backcourt to get it done.