Good morning all and welcome back! It pains me to say that the college basketball regular season is now over, but with that comes championship week. With less than a week from Selection Sunday, a lot of seasons are hanging in the balance. This week is always special because you see teams like Louisiana who finished 8th in the Sun Belt but have a chance to play their way into the NCAA tournament on Monday night. A season can become special beginning this week. Since I didn't give you much in the way of analysis last week, I've been trying to figure out some extra content to come up with, to make it up to you. I cannot possibly come up with content any funnier than what happened at Cameron Indoor on Saturday night, though. In the meantime, while I figure that out, please enjoy the final power rankings of the 2021-22 college basketball season. As always, last week's ranking is in parentheses.
Gonzaga (1) – 24-3
Gonzaga is at the top of every metric system anyone uses, KenPom, Sagarin, BPI, etc. They didn't play this week, so there isn't a reason to drop them. St. Mary's showed that the Bulldogs are not unbeatable, but they are as close as we are going to get this season. They would need to lose their semifinal game in the WCC Tournament in order to lose the number 1 overall seed.
Arizona (2) – 28-3
Arizona put on an offensive clinic this past week, bouncing back from their third loss with an undefeated week. The Wildcats are comfortably a 1 seed in the NCAA tournament and are the favorites to win the Pac 12 tournament, obviously. They put a beatdown on USC, scoring 51 first half points before winning by 20 points.
Baylor (3) – 26-5
That's the James Akinjo the Bears need to repeat as national champions. He was very clearly hampered by the tailbone injury from January but seems to be rounding into form at the right time. He averaged almost 20 ppg as Baylor wrapped up a share of the regular season Big 12 championship.
Auburn (4) – 27-4
It seems that Auburn still hasn't really figured out that they have the number overall pick on their roster, because Jabari Smith still gets lost within the team a lot. He can be dominant for stretches and is the type of player that can carry a team to a Final Four. If he can dominate like he has over the past 6 games, where he is averaging almost 25 ppg, Auburn could win the 9 games it will take to get an SEC and national championship.
Kentucky (6) – 25-6
Oscar Tshiebwe just continues to do things that haven't been seen in college basketball in years. He's the first player to average 15 ppg and 15 rpg for a Power 6 school since a guy named Tim Duncan did it for Wake Forest in the 90's. The Big O should win the National Player of the Year award, but Kentucky's ceiling gets a lot higher if Kellan Grady can get his shooting stroke back. He's been in a bit of a slump over the past couple of weeks, and for Kentucky to cut down the nets he needs to get back to the 45% clip he was at before.
Kansas (7) – 25-6
Kansas has just kind of been there over the past few weeks. The offense has struggled, and it has shown in the two losses against TCU and Baylor over that time span. It cost them the outright Big 12 championship as Baylor was able to tie them at 14-4 when Kansas had a one game lead just a week ago. For this team to run the table, the offense must get back into form.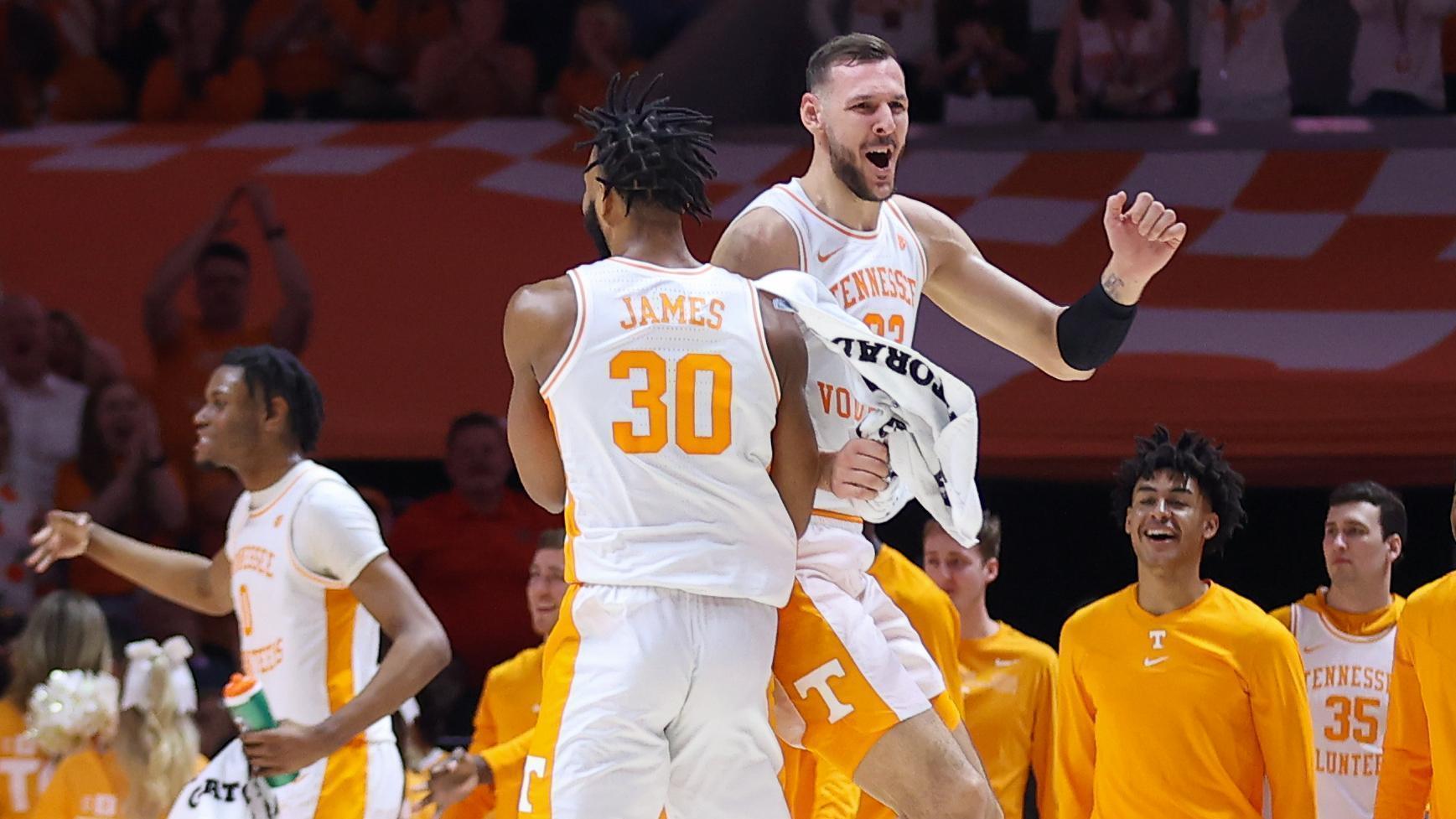 Tennessee (11) – 23-7
Tennessee has been playing better than anyone over the last month. They've been unbeatable at home, which won't help them much in the NCAA tournament, but the wins have piled up. The Volunteers were blowing out a good Arkansas team before letting them creep back into it, but the win was comfortable.
Duke (5) – 26-5
That was objectively hilarious. Duke pulled out all the stops to send Coach K off in style during his last home game at Cameron Indoor Stadium. Over 90 of his former players were there along with countless celebrities. They must have won the game, right? Wrong. UNC came in and took a 13-point road win running away. All jokes aside, the Blue Devils will probably be a 2 seed unless something crazy happens in the ACC tournament. Farewell, Coach K, Duke-UNC won't be the same without you.
Villanova (14) – 23-7
The offense has always been there for 'Nova, that has never been a question. What this team can't get away with is giving up a ton of points on the other end of the floor. They can outscore anyone, but their defense isn't going to be able to save them if they go cold for one night in the tournament. That is how seasons end in the first round in March.
Purdue (8) – 25-6
The Boilermakers are in the same boat as Villanova. Their offense can score with anyone, but the defense won't bail them out during an off night. Matt Painter continues to figure out how to play Zach Edey and Trevion Williams, but Jaden Ivey will be the one who keeps the team rolling. If he goes cold, then it'll be a quick exit in the tournament.
Providence (9) – 24-4
This is where all those close games that the metrics said Providence shouldn't have won will help them. Knowing how to win close games is when it matters in March. Ed Cooley has a deep, veteran team that won't be deterred by the bright lights of the tournament.
Wisconsin (10) – 24-6
If Johnny Davis can't go or is hindered by the hard foul injury from Sunday, then this team's trajectory is completely changed. Without him this season the Badgers' offense has basically halted. We can only hope that he avoided a major injury, because he is the type of guard that can pull a Kemba Walker in 2014 and win a national championship.
Texas Tech (13) – 23-8
Defense normally wins championships, right? Then why aren't more people talking about Texas Tech as a legitimate national title contender? Probably because they shoot less than 30% from the 3-point line, and teams that bad at shooting the three normally don't win in March. I like team's chances against most opponents, but if they run into a hot shooting double digit seed it could be a quick exit for them.
Arkansas (12) – 24-7
The Razorbacks made it a game against Tennessee, avoiding an embarrassing blowout loss with a furious comeback that just fell short. JD Notae is still what makes this team run, but he will need some help on the defensive end from the rest of his teammates. They have been the best defensive team in the SEC over the last 16 games, 14 of which were wins, but the last 5 or 6 games that performance is skewing the opposite direction.
UCLA (16) – 23-6
UCLA has quietly been very solid over the past few weeks, and it seems like they are finally getting 100% healthy. Johnny Juzang and Jaime Jacquez are rounding into form, especially Jacquez. He put up almost 60 points in two games last week. If things work go their way and they end up with a Pac 12 title, which would include a win over Arizona, they could play their way to a 3 seed.
St. Mary's (18) – 24-6
That win against Gonzaga solidified the Gaels' NCAA Tournament bid, which has been a forgone conclusion for a long time. Being a low digit seed is very doable at this point for St. Mary's, and could do so with another win against Gonzaga.
Houston (15) – 26-5
At this point, Houston has not beaten a sure-fire NCAA tournament team. The second loss to Memphis was troubling, as the Cougars are suddenly playing worse than their metrics show. Memphis embarrassed Houston, so it will be curious to see where the committee ultimately puts them. They would probably need to win the AAC tournament easily to snag a top-4 seed.
Illinois (NR) – 22-8
Andre Curbelo showed how he takes this team to the next level on Sunday with his playmaking abilities. If they can get consistent work from him, they'll do well in the NCAA tournament. Kofi Cockburn is going to get his 20 and 10 every night, but Curbelo can help this team get to the second weekend and beyond.
Murray State (20) – 30-2
This Murray State team is just so much fun. Tevin Brown was the star of the show during the OVC championship game, but KJ Williams is this team's top player. They have won 20 games in a row and will make some noise in the tournament as they are deep and experienced.
UConn (19) – 22-8
UConn missed out on moving up by way of a loss to Creighton. They have huge opportunities in the Big East tournament that can move them up a seed line or two. With possible games against Seton Hall and Villanova before even getting to the championship game, they can make their case to the committee for a top 5 seed.
Teams that Dropped Out: USC (17)
With conference tournaments here, I am going to switch up the games to watch section and rank the Power 6 conference tournaments and give a pick for the tournament winner. Championship week is so much fun, there are basketball games on constantly. I cannot just give you 3 games to watch this week, just turn the TV on and watch as much as you can.
SEC – the top 4 teams in the SEC could beat anyone in the country, and the league is a lot deeper than most people think. With Kentucky, Auburn, Tennessee, and Arkansas we could see multiple SEC teams move through to the second weekend and beyond.
Winner: Kentucky
Big 12 – the Big 12 could legitimately see 80% of the teams in the league make it to the NCAA tournament. Kansas and Baylor are the top two teams but don't be surprised if there is a sleeper in there who can take it.
Winner: Baylor
Big East – I want to see if Providence can keep the close game magic going, but it is going to be tough to win the conference tournament to go with their regular season title.
Winner: Villanova
B1G – there are so many good guards in the B1G that it'll be tough to pick just one, but I think if Johnny Davis is healthy then it is Wisconsin's tournament to lose.
Winner: Wisconsin
Pac 12 – the bottom half of the Pac 12 is awful, with only 3 tournament teams in this conference. Arizona ran away with the regular season title, but UCLA has been playing well enough recently to give them a go for it.
Winner: Arizona
ACC – the ACC stinks out loud. Duke is probably going to win the conference tournament, but as they showed on Saturday anything can happen. UNC can win the tournament as well, but probably not.
Winner: Duke