Hello again and welcome to another edition of our weekly power rankings! Readers of Music City Drive In have seen a few different teams ranked number one so far this year, but it is an old friend who regains the top spot this week. Gonzaga returns to the top spot for the first time since January began and unless something goes incredibly awry in the WCC, they should stay there until the NCAA tournament starts. There is a little bit of a shuffle at the top with over half of the teams in the top 20 having suffered losses last week as well. Let's get to the rankings, as per usual last week's rankings are in parentheses.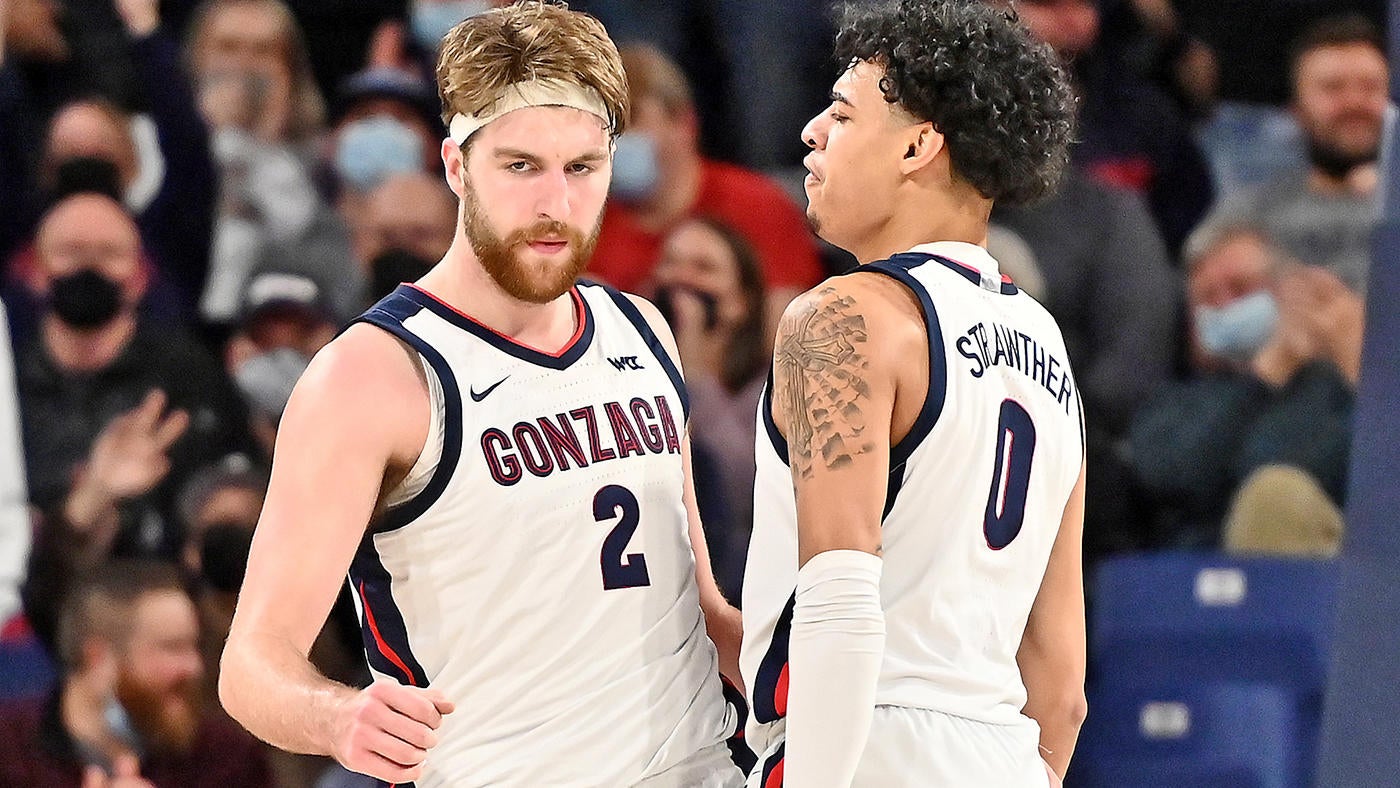 Gonzaga (2) – 21-2
For those of you who think there aren't any dominant teams, look at Gonzaga. They have beaten the other three likely tournament teams from the WCC by an average of 16 points. Chet Holmgren has really come into his own, and his versatility allows Drew Timme to man the paint without clogging the lane for the rest of their wings. They aren't as athletic as last year's team, few teams are, but the pieces are here for a national championship.
Auburn (1) – 23-2
Bud Walton Arena gave Lubbock, TX a run for their money last Tuesday during Auburn's first defeat in 19 games. The Tigers still have not lost in regulation this year, with Arkansas and UConn being the only teams to defeat them in OT. However, big guards that can switch defensively seem to give them fits. Walker Kessler is going to get his, but if Wendell Green and KD Johnson are not feeling it this team can lose. They are 23-2 for a reason, though, and are still the favorite to win the regular season SEC title.
Kentucky (4) – 21-4
The entirety of Big Blue Nation held their collective breaths when TyTy Washington seemed to suffer a significant injury during the second half of their game against Florida on Saturday. Coach Cal eased some of the fears saying that he avoided a major injury after the game ended, though. If Kentucky is going to cut down the nets this year, TyTy Washington will be a big part of it. The Wildcats hope he is only out a game or two, which doesn't bode well for a trip to Knoxville, TN on Tuesday to face a rising Vols squad.
Arizona (5) – 22-2
Arizona has a stranglehold on the Pac-12 race right now with a 2.5 game lead over USC, who the Wildcats have beaten twice already. This team is going to go as far as Kerr Kriisa takes them because they do not have much depth at the PG position. Bennedict Mathurin, who has been an All-Pac 12 player this season so far, seems to get lost in the offense sometimes and gets into a habit of disappearing if the offense isn't running through him.
Purdue (3) – 22-4
Purdue avoided disaster this past week, salvaging a 1-point win over Maryland at home on Sunday to finish the week 2-1. They got blown out by Michigan on the road, proving there are no easy games in the B1G in the process. This team is who they are at this point, an incredible offensive team that must outscore you because the defensive end is awful. That can spell trouble in the NCAA Tournament as one off night shooting the ball can send you packing.
Kansas (8) – 20-4
As I was writing last week's power rankings, Kansas was in the process of losing at Texas. Whoops. They salvaged the week by coming back from a second half deficit to win by two against Oklahoma, and they move up for the sole reason of two teams in front of them suffering worse (or multiple) losses. Jalen Wilson has quietly become a strong third option to Ochai Agbaji and Christian Braun, averaging almost 15 points per game over his last 10. Having a consistent scoring option when those two have an off night is very important for this team's national title hopes.
Providence (11) – 21-2
Metrics be damned, Providence just keeps winning close games. At the end of the day, wins are what matter and Providence has 21 of them against only 2 losses. It took overtime for the Friars to pull out a win against a bad DePaul team but they are still a half game up on Villanova in the Big East race. The Wildcats come to town this week, so Providence has a great chance to prove the metrics wrong.
Baylor (10) – 21-4
The injury bug has bitten Baylor again, as the Bears lost their starting center Jonathan Tchamwa Tchatchoua to a significant knee injury and is out for the year. Flo Thamba played admirably for 30 minutes in their blowout win against Texas, but their depth took a serious hit as they do not have another true big that they can turn to if Thamba gets into foul trouble. LJ Cryer should be back soon and it seems that Adam Flagler and James Akinjo are both healthy again, however, so they could be alright.
Duke (7) – 21-4
Just like Kansas, Duke was in the process of blowing another late lead to a subpar team while I was writing last week's power rankings. Only the Blue Devils lost at home to Virginia, which is a terrible loss. Paolo Banchero is the only consistent player on this team, so if they get caught on an off night from AJ Griffin or Trevor Keels, they can lose to pretty much anyone.
Texas Tech (9) – 19-6
Texas Tech is apparently a different team on the road than they are at home. Just a few days after losing by double digits to an Oklahoma team whose NCAA tournament hopes are on life support, TCU rolls into town to get blown out by the Red Raiders. It is tough to gauge how Tech will play on a neutral court in the tournament. They have the rematch at Texas this week, so let's see if they get up for that road game to try and embarrass Chris Beard again.
Villanova (17) – 19-6
Villanova has a huge opportunity to move past Providence this week in the Big East race and must do it with Colin Gillespie and Justin Moore nursing ankle injuries. They both gutted it out for a gritty win against Seton Hall on Saturday, but Providence is so good at winning close games that the Wildcats will need more than that to pull out a win.
Illinois (12) – 18-6
Illinois had a golden opportunity to even the series against Purdue last week, as they were up at halftime. However, Jaden Ivey took that game over and in the blink of an eye the Illini were down by double digits. What will trouble this team in the tournament is free throw shooting. Hack-a-Kofi is already in full force, and unless he can start hitting some free throws their opponents will be more than happy to put him at the free throw line.
Houston (6) – 20-4
Houston's injury issues have finally caught up to them, as they lost their first two games in AAC play this last week. Watching them struggle defensively against SMU and Memphis was a complete 180 on how they have played the entire season. At the end of the day, Kelvin Sampson will have this team good to go come tournament time. They just cannot suffer any more injuries to key players before they get there.
Wisconsin (13) – 19-5
The Badgers are wildly inconsistent. To go on the road and win against Michigan State in February is a very big deal, but then Wisconsin turned around and lost at home to Rutgers. The Johnny Davis hype train is in full swing right now, but if he isn't hitting shots or is inefficient then they are vulnerable.
Tennessee (19) – 18-6
Tennessee has a huge opportunity this week with Kentucky coming to Knoxville this Tuesday. Win that game and they could be in line for top 4 seed come Selection Sunday. They have won 7 of 8 since they got embarrassed in Lexington, so the Volunteers will be looking to exact some revenge. Down starting forward Olivier Nkambhoua, the rest of the year does not help, but this team is so good defensively that they will have a shot in any game they play.
USC (20) – 21-4
USC scored a huge win for their tournament team sheet on Saturday, with their best win of the year coming against UCLA at home. Isaiah Mobley has been out recently but that has forced the rest of the team to step up, so when he comes back, they will be better equipped to win big games.
UCLA (15) – 17-5
Just like that, the Bruins have lost three of four and are looking up at Arizona and USC in the Pac-12 standings. After thoroughly dominating Arizona two weeks ago, their offense has completely fallen apart. Without a serviceable backup to Tyger Campbell, they cannot afford him to get into foul trouble or get hurt. Johnny Juzang is going to get his, but the x-factor for this team is Jaime Jacquez. He needs to transfer some of his fight to his teammates, as he cannot drag this team to wins by himself.
Ohio State (14) – 15-6
Ohio State was one of three ranked teams to drop games against Rutgers over the last week and a half, so they don't drop completely out of the rankings because the Scarlet Knights might be good? No idea. However, EJ Liddell needs some help as he has all year long. If teams can double him all game long because no one else is a consistent scorer, it will be a quick exit come march for the Buckeyes.
Texas (NR) – 18-7
We were fully ready to declare Texas all the way back after their win over Kansas last Monday. But, alas, they went into Waco and got blown out by Baylor over the weekend. Texas Tech comes to town this week for a rematch of their game a few weeks ago, and if the Longhorns can pull off a win it will go a long way for their tournament seeding.
Michigan State (18) – 18-6
Michigan State is in danger of falling into the high single-digit seed range come Selection Sunday. They don't really have anyone on their team who is an elite talent so to play into the second weekend, someone will need to step up. This isn't your typical Tom Izzo team talent-wise, so it will be interesting to see where they go from here.
Teams that Dropped Out: Marquette (16)
Three Games to Watch this Week:
(11) Villanova @ (7) Providence – Tuesday 2/15 @ 8 PM EST on CBSSN
This game represents a huge opportunity for both teams. Providence gets to try and prove that the metrics are wrong. Villanova wants to move past them for first place in the Big East. If Providence can pull out the win, they will be staring a top 2 seed in the NCAA tournament in the face and Ed Cooley will win the National Coach of the Year
(3) Kentucky @ (15) Tennessee – Tuesday 2/15 @ 9 PM EST on ESPN
All eyes will be on how Kentucky plays with TyTy Washington likely out. Davion Mintz will most likely be asked to start again since he is the first guard off the bench. The Wildcats come in hobbled, with Jacob Toppin likely out as well, so Tennessee can notch a marquee win and show they are better than the embarrassment Kentucky handed them a month ago.
(8) Baylor @ (10) Texas Tech – Wednesday 2/16 @ 9 PM EST on ESPN2
Lubbock will be rocking again with Baylor coming to town. The Bears will be without Tchamwa Tchatchoua for the first time this year and Texas Tech will look to take advantage of a limited squad to impress the selection committee. Matthew Mayer and Jeremy Sochan will have to disrupt the no middle defense of the Red Raiders from the wings to pull off a win.