Good morning and welcome to February, readers of Music City Drive-In! Now that the calendar has turned to February, we have entered the home stretch of the college basketball season. We are about 30 or so days until Selection Sunday, which gives our teams about a month left to either push their way into to the tournament or play their way up the seed line. There is movement throughout the rankings this week, but the top four teams remain unchanged from last week. The cream is starting to rise to the top and these four teams are looking to position themselves as the top four seeds come Selection Sunday. With that being said, let's get to the rankings. For those who are new to these rankings, a team's previous week's ranking is in parentheses.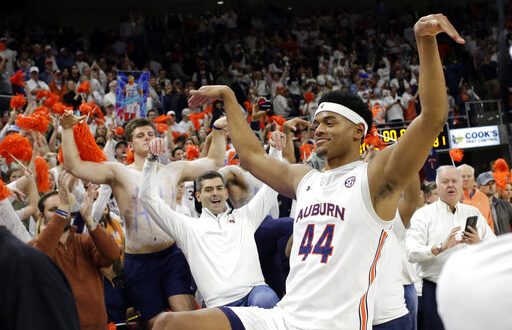 Auburn (1) – 22-1
Auburn retains the number one ranking for another week, but it did not come without another scare. This is week it was a two-point victory over a 6-win Georgia team, which followed a scare on the road at Missouri the week prior. The Tigers, however, found ways to win in both games in which they didn't force feed their two big men, Jabari Smith and Walker Kessler. Both are incredible matchup problems for any team and for them to avoid a shocker in the tournament they should run their offense through them.
Gonzaga (2) – 19-2
Hate to beat a dead horse, but Gonzaga has long been in the meat of the WCC schedule that has not offered up nearly as much resistance as everyone thought it would. The latest was a 33-point bludgeoning of BYU on the road. Chet Holmgren is coming into his own, averaging over 20 points per game and almost 15 rebounds per game in two contests last week. He takes this team to another level with his ability to stretch the floor, as he is shooting an absurd 46% from 3.
Purdue (3) – 20-3
Purdue has turned into an offensive juggernaut over the last couple of weeks, scorching every team in their path on the offensive side of the ball. They've scored at least 80 points in 7 of their last 8 games, coincidentally those are the 7 games they won in their last 8. If they can tighten the clamps down even a little bit on the defensive side of the ball, other teams will not be able to keep up. To make a deep run in the tournament and survive an off night shooting the ball, they'll have to shore up on the defensive end.
Kentucky (4) – 19-4
This Kentucky team is downright scary right now, and the ultimate palate cleanser after last year's train wreck. They have proven once again that they can win in a tough road environment when shots aren't falling, beating an Alabama team that usually rises or falls to the opponent they are playing. When John Calipari can bring a 5-star freshman, Daimion Collins, who had played 12 total minutes in the past 8 games and have that freshman record 10 points and 6 boards in 9 minutes when Oscar Tshiebwe struggles, you know he has a dangerous team.
Arizona (8) – 19-2
Arizona took control of the Pac-12 regular season title race this past week, with wins over UCLA and USC to move into sole possession of first place. The way the Wildcats dominated UCLA at home after struggling offensively the previous week against the same team was good to see, and really solidifies Arizona as a Final Four contender. If they don't slip up against the bottom of the conference, they should be in line for at least a top 2 seed and in conversation for the 1-line in a couple of weeks.
Houston (6) – 20-2
Have a week, Fabian White. With the extensive injuries to the backcourt of this Cougar team, someone needed to step up on the wing or down low to help bear some of the offensive load. While it wasn't a murderer's row of opponents, Fabian White did have two 20-point games this past week. If Houston wants to go past their Final Four run from last year, they'll need more performances like that from some of the bench guys.
Duke (9) – 19-3
AJ Griffin has taken the final Blue Devil team of Coach K's career to another level. He's shooting over 50% from 3-point range in ACC play alone and has allowed Duke to bring Trevor Keels back from injury at a slower pace because of how great he is playing. They haven't really been tested because of how weak the ACC is this year but winning their first regular season ACC title since 2010 is still an accomplishment.
Kansas (11) – 19-3
We aren't sure what happened in the locker room after Kentucky left Phog Allen, but whatever Bill Self told his team has lit a fire underneath them. After going into Hilton Coliseum and handling Iowa State without Ochai Agbaji or Remy Martin, they ran Baylor out of the gym by 24 points. The Jayhawks have reasserted themselves as the Big 12 favorite once again.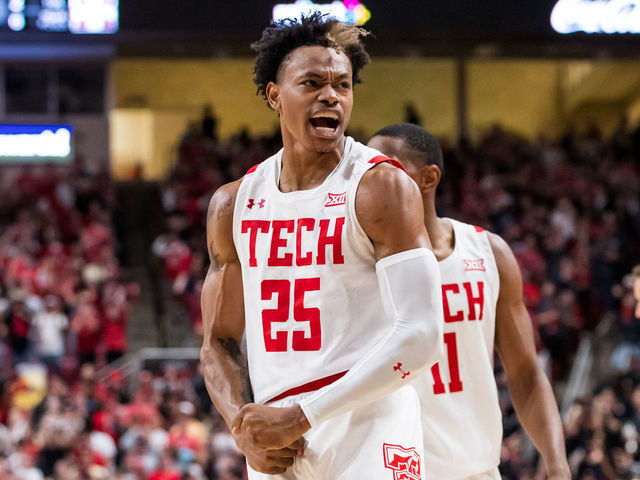 Texas Tech (14) – 18-5
How about that environment in Lubbock last Tuesday? That was one of the best environments college basketball has seen in years and to their credit the fans kept it clean throughout the game. Mark Adams' defense is the best this team has looked since they made a run to the national championship game in 2019. This team could make the same type of run by playing that no-middle defense, which is currently number 2 in the country in adjusted defensive efficiency.
Baylor (7) – 19-4
There is one thing this team needs, and it is to get healthy. LJ Cryer and Adam Flagler both missed the beat down that came from Kansas on Saturday. Until those two return and James Akinjo is back to 100%, we won't be able to see this team defend their national championship successfully. They aren't as deep as they were last year and cannot afford to lose those three for any more significant time.
Providence (15) – 20-2
The metrics absolutely hate Providence but the Friars just keep on winning. This is their best record through 22 games since the 1972-73 season. They keep winning close games, and the metrics say they are probably around 20 to 25 but who cares? This team is old and experienced together, and Ed Cooley is a great coach. These close wins are going to help them win a game or two in the tournament that they probably have no business winning because now they know how to close out games.
Illinois (18) – 17-5
Kofi Cockburn is a force to be reckoned with once again. He put up a ridiculous 37 points and 12 rebounds against Wisconsin this past week, and if the Illini get that type of performance consistently the rest of the way they can contend for a national championship. With Andre Curbelo finding his footing again and Trent Frazier becoming a legitimate third option, things are coming together in a hurry for Brad Underwood in Champaign. Next up is a rematch with Purdue in West Lafayette that we know gave Cockburn fits last time.
Wisconsin (10) – 18-4
The team on the other end of that dominant Kofi Cockburn performance, Wisconsin could not do much to get in his way. The Badgers are not very deep in the front court but any deficiencies there can be masked by Johnny Davis on most nights. 22 points on 5-19 shooting is not the type of night that is going to cover up those weaknesses, though.
Ohio State (16) – 14-5
Ohio State had their first game of the week against Iowa postponed because of inclement weather last week but took care of business against Maryland. EJ Liddell is continuing his All-American season, finishing with 24 points and 11 boards against the Terrapins. They move up by way of other losses by teams around them so lets see how they fare in two tough road games this week against Rutgers and Michigan.
UCLA (5) – 16-4
No one would have faulted UCLA for losing the way they did against Arizona. It was an emotional rematch against a team they had handled the week previously, but Arizona is a great team. However, it is inexcusable to lose to Arizona State in any capacity. The Bruins tumble down the rankings after the 3-OT loss for our biggest drop of the week. They are good defensively but for a repeat run at a Final Four, someone other than Johny Juzang is going to need to be more consistent offensively.
Marquette (NR) – 16-7
Shaka Smart just needed to get out of Austin, because this team looks like a vintage VCU squad defensively. They have been elite on that side of the ball which was showcased in both victories over Villanova this season. The x-factor and worst kept secret in the Big East this year has been Justin Lewis. This guy is having the type of season that precursors a surprisingly deep run into the tournament because he put the team on his back. He's averaged almost 20 points per game during his last 10 games.
Villanova (13) – 17-6
Villanova took the season sweep of losses to Marquette, losing on Wednesday to the Golden Eagles, but bounced back nicely on the road to UConn on Saturday. Eric Dixon is coming into his own down low, and it seems that Collin Gillespie is rounding into form as well, however they are on the outside looking in for the Big East regular season title race. The Wildcats still have two dates with Providence coming up to make up some ground but need to find consistency against the bottom tier teams in the conference.
Michigan State (12) – 17-5
The RAC is never an easy place to play, but no one really expected Tom Izzo's team to put up the type of stinker they did this past week against Rutgers. The Spartans lost by 21 on the road in that game that was ugly from the start. The defense was non-existent at every stage of a game that probably was not even as close as 21 points really. They've got Wisconsin on Tuesday followed by Indiana, so the schedule is not getting any easier.
Tennessee (NR) – 16-6
It hasn't come against the best the SEC has to offer, but the Volunteers have won 5 of 6 and the shots are starting to fall more consistently. Tennessee won games against South Carolina and Texas A&M last week with games against Mississippi State and Vanderbilt this week, so we shouldn't see too much of a drop off offensively. If they can keep this up through the rest of SEC play, they could make some noise moving forward.
USC (19) – 19-4
Just like UCLA, USC struggled against Arizona State. Unlike UCLA, USC won that game. After losing to Arizona, they still drop a spot in our rankings because of the performances of some other teams. They get the first of their two games against the crosstown rival this week, so we will see which of the LA teams comes out on top.
Teams that Dropped Out: UConn (17), Iowa State (20)
Three Games to Watch this Week:
(12) Illinois @ (3) Purdue – Tuesday 2/8 @ 9 PM EST on ESPN
A rematch of a double OT thriller a few weeks ago, this game should live up to the hype. Purdue handed Illinois one of their only two B1G losses of the year so far in that game and this one will be for first place in the league. Kofi Cockburn gets to go up against Zach Edey and Trevion Williams once again, let's hope he can stay out of foul trouble this time.
(6) Houston @ SMU – Wednesday 2/9 @ 7 PM EST on ESPN2
Houston gets one of its only chances in AAC play for a Quadrant 1 win against SMU on Wednesday. SMU has been quietly one of the better teams in the AAC this year and is probably the conference's last shot at being a two-bid league if Houston wins the conference tournament.
Saint Mary's @ (2) Gonzaga – Saturday 2/12 @ 10 PM EST on ESPN2
Saint Mary's always seems to give Gonzaga a good game and this is probably the WCC last chance to give the Bulldogs a loss. The Gaels play slow and defend well, which could be a recipe for an upset in Spokane.