What a week of college basketball. While everyone is focused on the NFL Divisional Round, conference play is heating up across the country. Not only do we have a new number one team this week, for the first time this season it isn't because the number one team from the week prior lost.  The top half of our rankings are solidifying, with shuffling among the teams but with the teams for the most part remaining the same. If the season so far is any indication, the rest of the conference play is going to be a doozy. If you're just now jumping into the college basketball season and looking for a gauge at how the season has gone so far, you've come to the right place. Now, on to the rankings and as always previous week's rank is in parentheses.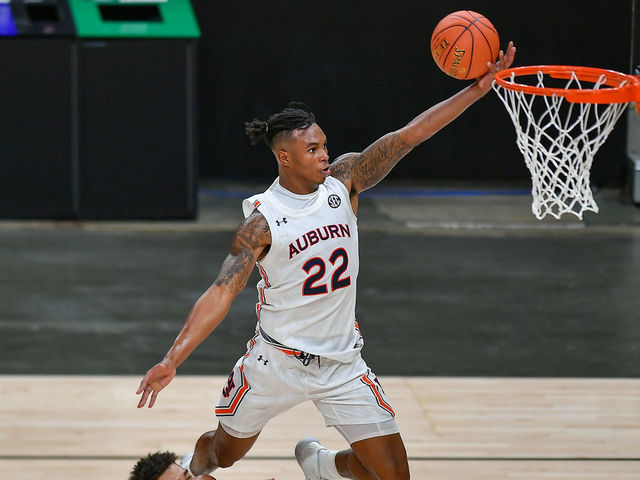 Auburn (2) – 18-1
Kentucky came to Auburn on Saturday and Auburn secured a great home victory against the Wildcats. The Tigers outscored the Wildcats by 15 points in the second half to win by 9 and Jabari Smith was able to do whatever he wanted on the court. Add that to a dominant performance by Walker Kessler and it becomes the recipe for the best team in the country. Auburn has already played their toughest games on the SEC schedule, so they may cruise to the regular season title.

2. Gonzaga (1) – 15-2
Like we alluded to up in the introduction, it was more about what Auburn did to earn the number one spot than anything Gonzaga did to lose it. Drew Timme is still playing like an All-American, Andrew Nembhard is really settling into running the offense and Chet Holmgren keeps doing his thing down low. The Zags won't be tested again until the NCAA Tournament, it seems, so they may enter the tournament with only the two losses.
Arizona (3) – 16-1
It is hard to get lost in the shuffle when a team is ranked number three in the country, but it seems that may be happening to Arizona. This is probably the product of blowing out inferior PAC 12 opponents combined with not having played the other two top teams in the conference (UCLA and USC). That changes this week with a road game to Pauley Pavilion to take on the Bruins.
Baylor (6) – 17-2
The Bears followed up their historic week of misery with two very ho-hum victories over West Virginia and Oklahoma. With Jeremy Sochan still out, the return of James Akinjo seems to have stabilized Baylor. Matthew Mayer has also stepped up in a huge way with Sochan out, averaging better than 15 points per game over his last three. Until Sochan comes back, however, this team will be playing at less than full strength.
Kansas (7) – 16-2
Jalen Wilson is finally playing like the guy he was last season, which is useful. Remy Martin is also back just in time for two huge games this week, with Texas Tech and Kentucky coming to Phog Allen Fieldhouse. He isn't scoring at all, but he gives the Jayhawks a proven playmaker and once he gets back into the swing of things the ceiling of this team will be raised significantly.
Houston (9) – 17-2
It is time to start talking about Kelvin Sampson as the National Coach of the Year. The Cougars have gone through as much adversity as anyone this season on the injury front and yet they just keep on winning. The amount of quality wins to be had in the AAC is almost zero right now, so their ranking probably cannot get much higher than this. However, Houston keeps beating the teams in front of them which is all anyone can ask.
UCLA (10) – 13-2
UCLA has escaped a couple of games they probably should have won by more comfortable margins, but they still won. Johnny Juzang is hitting his stride in the scoring column, but the Bruins need Jaime Jaquez to find his Final Four run form for this team to challenge Arizona. It just so happens that the Wildcats are coming to town on Tuesday, so we will see how these two PAC 12 foes stack up against each other soon.
Purdue (5) – 16-3
Purdue went into Champaign and knocked off the Illini on Monday, which is a great win with Andre Curbelo back for Illinois. The Boilermakers followed that up with an absolute stinker at Indiana, losing a heartbreaker on a last-second 3-pointer that they most certainly should have won. This team is probably still the class of the B1G, but it isn't as clear-cut as we may have thought coming into the season.
Michigan State (13) – 15-3
Speaking of the B1G, Michigan State picked up a huge win in Madison beating Wisconsin by double digits. The Spartans have flirted with the top 10 mostly because of losses by other teams instead of signature wins, but now at 6-1 in the B1G they lead the conference. If they hadn't lost to a bad Northwestern team last week, this ranking would probably be higher.
Duke (4) – 15-3
It seems that every time we think the Blue Devils are going to turn the corner and become a national title contender, they suffer a baffling loss and come tumbling back down to earth. The fact of the matter is, if the outside shots aren't falling like they were against Syracuse there isn't much offense to be had here outside of Paolo Banchero. With the ACC as bad as it is this year, there isn't much room for error if Duke wants a high seed in the NCAA tournament. They need their other freshmen to find some consistency if they are going to find themselves on the top line or close to it.
Wisconsin (8) – 15-3
Wisconsin was down one of their best players, Tyler Wahl, when they lost to Michigan State this past weekend, so it is tough to drop them too far. Johnny Davis is still a revelation, scoring 25 points in that game. Regardless, this team hasn't been at full strength this season so once they get completely healthy, we should be looking at a big challenger to the top of the B1G.
Kentucky (11) – 15-4
Whenever Kentucky comes to town in the SEC, it seems there is either a t-shirt game or something. Against Auburn, students were camped out for two days to get the best seats in their student section. When TyTy Washington went down with 9 minutes to go in the first half, the Wildcats were up by 9 points and in control of the game. It's tough that their two SEC losses have come when their starting backcourt has missed significant time. If Sahvir Wheeler is going to make it through this season, UK will need to start calling out screens otherwise he may fight someone on the team.
Texas Tech (15) – 15-4
The Red Raiders avenged their loss at Iowa State by returning the favor at home last week as well as taking it to West Virginia. The good news is that they are scoring points now along with smothering opposing teams on defense. Kevin McCullar and Terrance Shannon are back, giving this team two legitimate scorers to go along with that top notch defense.
USC (18) – 16-2
After suffering two losses in three games, the Trojans got back on track against Colorado and Utah this past week. Since they missed their first scheduled outing against Arizona, USC won't play one of the other two top teams in the PAC 12 (Arizona and UCLA) until back-to-back games during the first two weeks of February. Until then, they should feast on the dregs of the conference.
Villanova (12) – 14-5
Nobody really saw that loss to Marquette coming as Villanova hadn't lost at Finneran Pavilion since 2018 and they were favored by 14 points. The Wildcats also avoided another loss after Georgetown almost pulled off the upset before Nova pulled away in the final 5 minutes. The top of the Big East may have caught up with them, but this team is going to fight for another conference title.
Ohio State (19) – 12-4
Ohio State will have gone 11 days without playing a B1G game because of COVID issues with the Nebraska program but get a huge one on Saturday when they travel to West Lafayette to play Purdue. In between now and then, however, there is another tough game at Minnesota that is the definition of a trap game. EJ Liddell is continuing his dominant performances, but the rest of the team is finally coming along.
Tennessee (NR) – 13-5
Just when we thought the Volunteers were going to fade into the abyss, their defense shows back up and holds LSU to 50 points in Knoxville. Justin Powell, the transfer from Auburn, was supposed to be the outside spark for this team from the get-go and now he may be starting to get the minutes he deserves. With program stalwarts like John Fulkerson floundering this season offensively, Powell will be needed to score for this team to contend for an SEC title.
Providence (NR) – 16-2
The Friars find themselves back in our rankings after two wins over Georgetown and Butler last week. Every metric-based system in America says that this team is not very good, but Ed Cooley just keeps guiding them to victories. They are currently tied with Villanova atop the Big East standings with tough tests coming up this week in the form of a road game against Xavier and Marquette coming to town.
LSU (14) – 15-4
We couldn't drop LSU fully from our rankings, as their last three losses and four games total have come without Xavier Pinson in the lineup. Their offense has sputtered to a complete halt without Pinson, so Will Wade will have to find someone else who can initiate the offense until he comes back. With the losses mounting up, it won't be long before LSU has too much ground to make up in the SEC.
Marquette (NR) – 14-6
It wasn't long ago that Marquette was left for dead by everyone. A team that started 8-6 and lost their first three games in the Big East has found themselves with six straight victories, including wins at Villanova and against Xavier last week. Shaka Smart has this team playing like his vintage outfits at VCU, and they are fun to watch. With two road games against Seton Hall and Providence coming up this week, the Golden Eagles could find themselves even higher next week with a couple of wins.
Teams that Dropped Out: Iowa State (16), Illinois (17), Xavier (20)
Three Games to Watch this Week:
(3) Arizona @ (7) UCLA – Tuesday 1/25 @ 11:00 PM EST
It should be a crime to have a top 10 matchup tip off after 11 PM Eastern Standard Time. Those are the breaks with West Coast basketball, though. If you can stay up that late, this game will not disappoint. Arizona finally gets to prove who is the top team in the PAC 12 as well as make their case for the number one ranking alongside Auburn and Gonzaga. UCLA gets to try to prove that the PAC 12 still runs through LA. This one is going to be fun.
(18) Providence @ Xavier – Wednesday 1/26 @ 6:30 PM EST
Providence gets a shot to prove their mettle against Xavier on Wednesday. Ed Cooley has this team firing on all cylinders, the only thing they are missing is another statement win. If they can get it against another AP top 25 team, it will solidify Providence as a favorite for the Big East title.
(12) Kentucky @ (5) Kansas – Saturday 1/29 @ 6:00 PM EST
Kentucky vs. Kansas. Blue Blood vs. Blue Blood. Phog Allen Fieldhouse. You cannot write a bigger script for a Big 12/SEC Challenge game. These two storied programs are once again at the top of their conferences and will battle it out on Saturday. Will Oscar Tshiebwe be able to take advantage of inconsistencies inside for the Jayhawks? Or will Ochai Agbaji add another chapter in his All-American storybook? Saturday's game will feature a lot of talent on both ends of the court, and we cannot wait to watch.