Happy New Year to all the readers of MCDI out there, we over here at MCDI hope that each of you had a wonderful New Year's celebration and you are faring better on the COVID front than a lot of college basketball programs out there. A new year means we are kicking of 2022 with a new set of power rankings after having some big games over the weekend. We had our first top 10 matchup in what feels like weeks that did not disappoint and one team out of the Big East that is our biggest riser this week. Here is to hope that our 2022 is filled with as much college basketball as humanly possible in these uncertain times, but for now let's get on with the rankings. As usual, previous rankings are in parentheses.
Baylor (1) – 13-0
Their game against Iowa State in Ames did not disappoint, as the Bears came out with the W 77-72. It was only the fourth matchup in NCAA history where both teams were 12-0 or better, which makes this win even more impressive for Baylor. There will be plenty of tests in a loaded Big-12, but this is your odds-on favorite for the number one overall seed going into 2022.
Duke (2) – 11-1
The two Blue Devils' games last week were postponed because of COVID-19 issues within Coach K's program, so we will see if they are able to take the court at all this week. As with a lot of leagues, the ACC reduced their guidelines to follow the CDC's new COVID protocols so maybe we are able to see them play.
Purdue (3) – 12-1
The only game the Boilermakers played last week was against Nicholls State and they held serve by winning by 14. However, their defense did look a little sketchy in this game, allowing them to shoot better than 40% from deep. For Purdue to reach it's ceiling as a final four and national title contender, they will need to get that 3-point defense figured out during B1G play.
Gonzaga (4) – 11-2
Gonzaga, like so many other programs, is currently on pause due to COVID. They took care of business against North Alabama but their game against Loyola Marymount was postponed on Saturday. However, if they can pass protocols, one of the biggest tests they will have in the WCC will come Thursday in the form of a one-loss San Francisco team.
UCLA (5) – 8-1
Just like last week, UCLA was idle because of COVID. They hold steady in our rankings until something changes otherwise.
Kansas (6) – 11-1
The Jayhawks dispatched George Mason by 9 points on Saturday without Remy Martin. With Ochai Agbaji finally coming back down to earth for one game, it fell on two grizzled veterans who I believe started their collegiate careers with Perry Ellis. Mitch Lightfoot has been in school for about a decade so it is nice to see him finally make his mark on the Kansas program.
Arizona (7) – 11-1
With USC and UCLA both on pause due to COVID, Arizona lost two good opportunities to solidify their status as a contender. Alas, the Wildcats were able to reschedule their game against Washington for Monday evening so they will be able to get onto the court for the first time since losing to Tennessee before Christmas.
USC (9) – 12-0
See: UCLA. We have no idea when the Trojans will get back on the court, but they still move up a spot because of losses elsewhere.
Auburn (11) – 12-1
Auburn continues to wreck teams defensively and Jabari Smith is doing everything he can to make the number one overall pick next summer a three-player race. This must be your favorite for the SEC moving forward after handling LSU fairly easily last week.
Michigan State (10) – 12-2
The Spartans were able to win their B1G opener against Northwestern after trailing by 13 in the first half. Gabe Brown continues his breakout campaign in East Lansing and significantly raises this team's ceiling if he can keep this up.
Iowa State (8) – 12-1
Iowa State had a huge opportunity against Baylor on New Years Day but unfortunately let it slip through their fingers losing by five points to the defending national champions. They acquitted themselves well, however, disrupting a very efficient Baylor offense to the tune of almost 20 turnovers. They have two big games this week to prove their non-conference slate was not a mirage to solidify their status.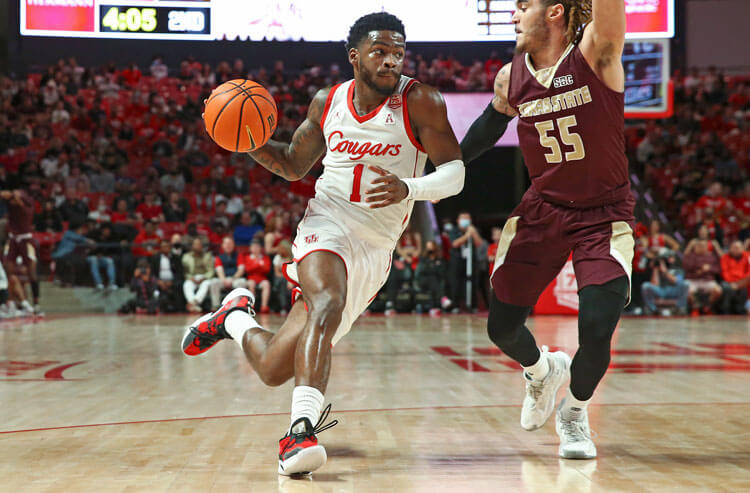 Houston (15) – 12-2
We finally were able to see how the Cougars look without Marcus Sasser and Tremon Mark. The result was a gritty win against Temple in Philadelphia. Houston is probably still the favorite in a tough AAC but will need Jamal Shead to continue to step up in order for that to happen.
Ohio State (12) – 9-2
Ohio State struggled mightily in their OT win over Nebraska on Sunday, which is never a place any legitimate team is going to want to see. However, after a 23-day absence due to COVID, getting any sort of victory was much needed. The Buckeyes have Indiana at home and play Northwestern on the road before really getting into the thick of their B1G schedule.
Texas (16) – 11-2
West Virginia may have been short-handed against the Longhorns, but it still counts as a top 50 win on paper. The good news is that Marcus Carr finally looked like the player he was at Minnesota. Chris Beard needs to get him going consistently for this team to challenge the likes of Baylor and Kansas in the Big 12.
Providence (NR) – 13-1
This week's biggest riser, jumping from out of the top 20 to number 15 in our rankings. Ed Cooley has the most surprising team in college basketball so far and the Friars have 6 wins over Quad 1 opponents already. Providence is 3-0 already in a wide-open Big East, so look for them to challenge the likes of Villanova and Seton Hall, whom they just beat last week, for the top spot in this conference.
Kentucky (17) – 11-2
The Wildcats still don't have a signature win, with their best win coming against a mediocre North Carolina team. However, not many can argue that they are not playing like one of the best teams in the country right now. Kellan Grady has taken Coach Cal's advice to shoot whenever he touches the ball, and he is shooting 65%(!) from 3 during the current four-game winning streak.
Alabama (19) – 10-3
The highs are high, and the lows are low for the Crimson Tide so far this season. On any given night they can look like the best team in the SEC then turn around and lose a head scratcher. Case in point the inexplicable loss to Davidson was followed up with a win over Tennessee in Tuscaloosa. Nate Oats needs to get this team performing consistently in order to defend their regular season SEC championship.
Colorado State (20) – 10-0
Colorado State still has not played since December 11th against Mississippi State but has two games scheduled this week that will hopefully be played. While Boise State's last two games were postponed due to COVID, if the game is played the Rams will have their first big test of the Mountain West Conference slate.
Tennessee (13) – 9-3
Kennedy Chandler and John Fulkerson didn't play in the loss to Alabama so I could not justify dropping them too far. This team is special defensively, so if they can get any consistent offensive production on the perimeter to go with Fulkerson's game down low, they will challenge for the SEC title.
Villanova (NR) – 9-4
Villanova continues their topsy turvy season and looks as vulnerable as they ever have in the Big East under Jay Wright. They re-enter our rankings after wins over Xavier (before Christmas) and on New Year's Day against Seton Hall.
Teams that Dropped Out: Seton Hall (14), LSU (18)
Three Games to Watch this Week:
(17) Kentucky @ LSU – Tuesday 1/4 @ 7 PM EST
Kentucky gets their first shot at a signature win against the Tigers on Tuesday in Baton Rouge. LSU will be naming the court after legendary coach Dale Brown that evening, so we will see if the Wildcats can ruin the party. Kellan Grady will need to be lights out again for the Wildcats to leave with a W.
Texas Tech @ (11) Iowa State – Wednesday 1/5 @ 9 PM EST
Two of the best defenses in the country square off in this battle in Ames. We believe Iowa State is the real deal after a great showing against Baylor, but we will see just how good they are and if they can avoid a hangover against the Red Raiders.
San Francisco @ (4) Gonzaga – Thursday 1/6 @ 9 PM EST
We go out west for our third game of the week that pits a 1-loss San Francisco squad against the annual class of the WCC, Gonzaga. The Dons are a good team this year, so do not automatically put in a W for the Bulldogs. Hopefully this game is played, Gonzaga is shut down right now because of COVID, so that we can see if Gonzaga will be even remotely challenged in the WCC this year.