Hello everyone, and welcome to my first column here on the Music City Drive-In. I've known Ricky for a long time and have been giving him great advice about college basketball for years. I've wanted to contribute here as well, and there is no better time to do it when we are on the cusp of yet another college basketball season.
You're probably expecting a homer UK preview, where I rank them number 1 and you guys skip the article. However, that is the exact opposite of what you are going to get. I'm only going to give you my top 20, because everyone gives you a top 25. If you think I am going to give you what everyone else is going to give you, you are mistaken. College basketball is what I live by, and here is the unequivocal top 20. You will not get a better ranking from anywhere else.
1. Gonzaga
This is the easiest number 1 overall ranking I've ever had. This team finished 39-1, returns 4 starters and my preseason NPOY. Lock them in at 1 and Drew Timme as your NPOY.
2. Villanova
They get back Collin Gillespie, who should be the best point guard in the country. Leave them here, and thank me when your 'Nova to make the Final Four bet cashes in April. Jay Wright is one of the top coaches in the country, duh, and he returns a ton of experience.
3. Kansas
The only reason I am putting them here is because of Remy Martin. He can take over a game and put the ball in the basket. Bill Self is a Hall of Famer
4. Texas
The only person I trust more with a group of newcomers is the mom from Big Little Lies. Give me Chris Beard at Texas to win a title in the next 5 years.
5. UCLA
I hate ranking this team, because Mick Cronin will inevitably lose 10 games with a Final 4 team from last year. I do not trust Mick Cronin, and neither should you. Why do we think a team that finished with 10 losses in the regular season is a top 5 team in the country? They got hot and won 6 games. That is all.
6. Michigan
Juwan Howard is recruiting, and Ann Arbor is a Fab 5 destination. Hunter Dickinson is the B1G player of the year.
7. Kentucky
Cal's oldest team ever, and UK's most experienced team since the 50's. +1000 as of now to win a championship, my pick to win the SEC and Cal's first Final 4 team since the 39-1 2015 team. Cal is on a mission after last season's debacle, so sit down and buckle up.
8. Purdue
Matt Painter has his best team ever in West Lafayette; however, he will make sure he loses four to eight dumb games.
9. Baylor
We will see if they can avoid the hangover, I love Scott Drew but they lost a lot from their title team. Matt Mayer and Adam Flagler lead this team as one of the biggest threats to Kansas in the Big 12.
10. Duke
This will be the most annoying season in college basketball history. Coach K is retiring, and he wants to make sure every single person in the universe knows it.
11. Memphis
Penny has the best high school player since Lebron on campus, if he can't get to the tournament with Emoni Bates then he won't get there
12. Illinois
Kofi Cockburn and Andre Curbelo are going to be the best 1-2 inside out tandem in college basketball this year, but they lost a lot when Ayo Dosunmu left as well as Brad Underwood's top 2 assistants.
13. Alabama
This will be the most fun team in America this year. Nate Oats has this program rolling, and you can guarantee that they will score some points. Jahvon Quinerly is back to lead this team once again but they will need to rely on him more after losing a lot of pieces off last season's SEC champion team.
14. Oregon
N'Faly Dante will finally play a basketball game, how about that. All jokes aside, Dana Altmann has a very talented team that will definitely challenge UCLA in the Pack 12.
15. Houston
Quentin Grimes is gone, but the rest of the team is back. Kelvin Sampson left his demons in Norman, and he is going to win some games this year in the AAC. If he can get past Memphis, watch out.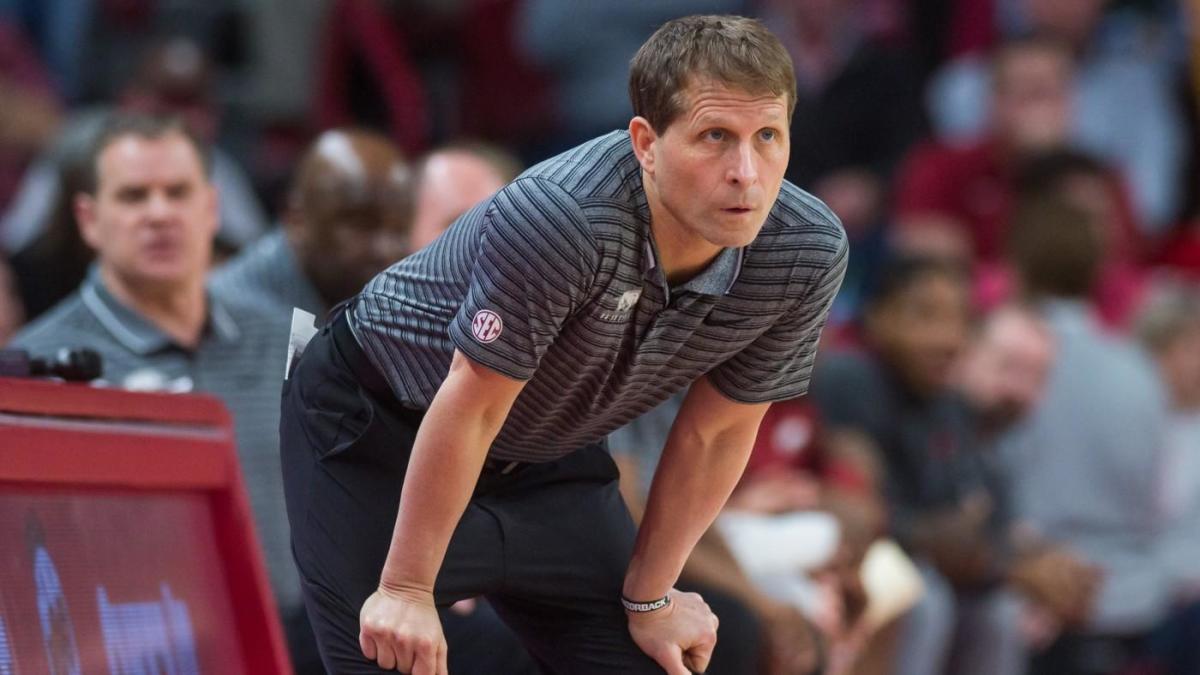 16. Arkansas
Dark horse SEC champ bet here; Eric Musselman has reloaded his team once again with transfers. However, this time he brings back some firepower from their tournament team from last year.
17. Florida State
Leonard Hamilton will always get my respect, even though the national media continues to sleep on his teams. Two things you can count on here: this team is long, and they will play defense, which is a recipe for success for FSU. They are +525 to win the ACC regular season, which feels like a lock considering the rest of the conference.
18. Ohio State
EJ Liddel is an All American, but will he be enough to compete for a B1G title this year? I don't believe so, but Chris Holtmann has done way more with a lot less.
19. North Carolina
Hubert Davis' first team in Chapel Hill is lead by Armando Bacot, a sneaky pick for ACC player of the year considering he doesn't have to split time or touches with Garrison Brooks anymore. This team is going to do what every UNC team does, and that is create possessions by rebounding the ball.
20. Tennessee
John Fulkerson is back for what feels like his 9th season in Knoxville, but Rick Barnes is going to do what Rick Barnes is going to do. They'll win 25+ games this year then eventually lose in the first weekend of the tournament as a single digit seed.
---
All American's
Hunter Dickinson – Michigan
Drew Timme – Gonzaga – National Player of the Year
Emoni Bates – Memphis
Johnny Juzang – UCLA
Marcus Carr – Texas
Conference Champions and POY
ACC
Champion – Florida State
POY – Paulo Banchero – Duke
B1G
Champion – Michigan
POY – Hunter Dickinson – Michigan
Big East
Champion – Villanova
POY – Collin Gillespie – Villanova
Big 12
Champion – Kansas
POY – Marcus Carr – Texas
Pac 12
Champion – UCLA
POY – Johnny Juzang – UCLA
SEC
Champion – Kentucky
POY – Jahvon Quinerly – Alabama
---
You have read over 1000 words at this point, which is awesome, just to get to the best part. The best time of the year, no matter what your favorite sport is, is March Madness. You can argue against that fact all you want, but you would be wrong, and you are more than welcome to be as wrong as you want.
The one thing I hate the most about college basketball previews is having them be chalk repeatedly. Do I think Gonzaga is the best team in the country? Yes. Do I think that they will win the national championship? They have the best odds according to Vegas. However, winning a national championship in college basketball is the toughest thing to do in sports.
Without further ado, here is my Final Four prediction and national championship pick.
Final Four
Villanova
Purdue
Kentucky
Gonzaga
National Champion – Villanova