Fight Fire with Fliers is a weekly fantasy football series that discusses emergency free agent adds or stash candidates for deep rostered or 14+ team leagues. The post publishes on Saturdays following typical weekly waiver runs, allowing forward thinking managers a last minute opportunity to roster players ahead of their breakouts.
The bench is a powerful asset in any fantasy roster. Following draft strategy, managing the bench is a vital part of your team enhancement process. While some have the luxury to bench WR3s and flexible RBs, those on the deeper frequencies, I speak for you. Outside of your startable rotation, that blends the fringes of your flexes and bench, the remaining spots should be relegated to unrealized upside with real narratives toward achievement.
If they haven't achieved anything, why should we roster them? Because the moment they have identifiable value and production, the market has moved. If unrostered, you are left to pay the price in FAAB. The goal of this series is to embrace the unknown and capture shares of potential league winners while risking relatively little. The difficulty is in discerning the narratives to realistic upside…
Stash (10 to 6 percent Rostership)
Kenneth Gainwell RB Philadelphia (8 percent, Yahoo!)
Gainwell is an athletic back that might have the best pass-catching prowess of all the rookie RBs, even the highly touted but injured Etienne included. He is well off the radar to most redraft managers because of his college opt-out during the 2020-21 season, but he provides the dynamite potential of a young CJ Spiller or Giovani Bernard, with a glimmer of Alvin Kamara at the farthest reaches of outcomes. He is slightly underweight for the likeness of a traditional back, but has at minimum the receiving skill set that can make him viable regardless of the pecking order with Miles Sanders, Boston Scott and Jordan Howard. Bench RB stashes are the priority and Gainwell is at the top of this list with his combination of standalone utility and the possibility for him to league-win if given a significant workload.
Gabriel Davis WR Buffalo (8 percent, Yahoo!)
A rookie WR with useful production, Davis is now obscured with the addition of Emmanuel Sanders and target vacuum Stefon Diggs. The Bills elected to flip the script on their pass-to-run ratio last year and if this holds, there should be plenty of room for Davis to emerge as a starter with high weekly variance. I am genuinely surprised to find his rostership this low.
Deep Stash (5 to 1 percent Rostership)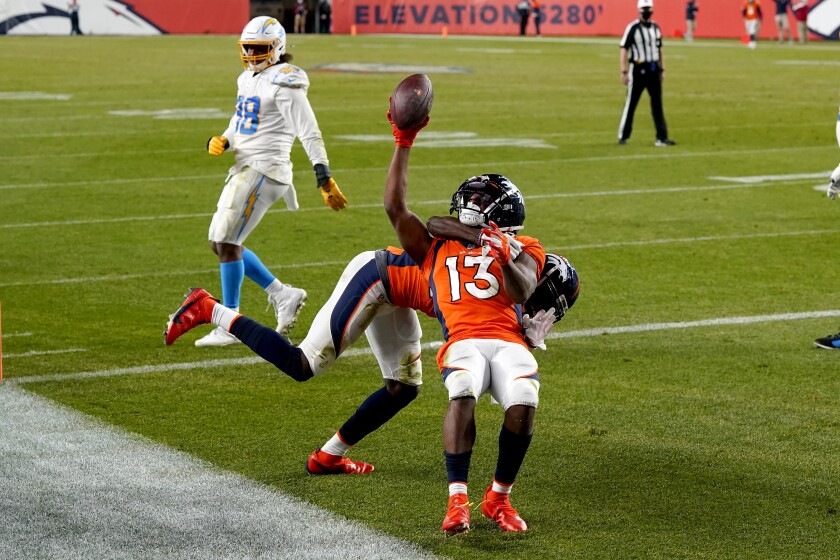 KJ Hamler WR Denver (2 percent, Yahoo!)
I think the relevant aspect of Hamler being hidden behind Jerry Jeudy and Courtland Sutton is the fact that Denver still had the chutzpah to pick another early round WR after selecting Jeudy in Round 1 last year. He provided some electric production with his few opportunities in 2020, and despite the marginal upgrade at QB this season, could easily fit a deep threat role. His athleticism is also too good to ignore and may be able to slide into a larger piece of the target pie if Jeudy or Sutton are forced to miss time. He may also be more multi-dimensional with his route tree and skillset than the popular perception.
Damien Williams RB Chicago (5 percent, Yahoo!)
Williams is the only RB behind David Montgomery at the moment with Tarik Cohen unavailable. As exciting as it is to roster a 29 year-old RB, remember that the buzz from camp was that Williams was handling receiving duties well from the backfield. Combined with his history of rushing capability, he will be a handcuff to workhorse volume and may sneak some third Down opportunities or consistently spell Montgomery.
Nico Collins WR Houston (3 percent, Yahoo!)
There are two things going for the Third Round rookie out of Michigan; a) He is the next available pass-catcher after Brandin Cooks in Houston and b) he has never played an NFL game before. This means he has reasonable expectation of targets with a low-key presence among the redraft community. While tempering expectations for any receivers with Tyrod Taylor under center, Collins has a combination of opportunity and mystique that could be a surprise in fantasy this season. He was also one of the few WRs drafted beyond Round 1 that possess the size and speed to fit a primary target mold. Think of Chase Claypool as an extreme upper bound of Collins' outcomes.
*IR-Only* Stash (Added directly to empty IR spot)
Darrynton Evans RB Tennessee (4 percent, Yahoo!)
In the event you have IR spots and can add directly to them via free agency, Evans is as good a choice as any. A sophomore RB, Evans has had little opportunity with Tennessee. His skill-set hints at pass-catching and agility that could complement Derrick Henry. However, he will be sidelined for a minimum of three weeks to start the season and there is no certainty that a significant role will exist. Evans is nonetheless the leading candidate for work behind Henry in an efficient offense with room for a versatile back to thrive.
Jason Astarita (@AstaritaJason) is a professional in the sports gambling industry. He has an MS in Psychology (Industrial and Organizational) from Southern New Hampshire University and completed his undergraduate degree in Psychology at the University of San Diego. His passion for fantasy sports is over a decade old, but has recently been theorizing on the novel format of Superflex Best Ball in the Dynasty Fantasy Football arena. #superbestball