Merry Christmas! We've made it to Christmas Eve, and likely the pinnacle of Christmas movie watching. We began this journey together with a look at animated classics, then Christmas romances, then Christmas action films. On Christmas Eve, I want to end this journey with five movies that are seasonal classics.
Now these are five Christmas comedies that come to everyone's mind when thinking about the holiday, so I'm not using stars this week. These are all Four-Star options to celebrate the most magical day of the year. So, let's get to the list!
The Santa Clause (1994)
About: This one stars Tim Allen as a single father who has a tough Christmas Eve. First he burns the turkey, forcing a trip to Dennys, then he accidentally sees Santa fall off a roof and inherits the job. This throws his life into hilarious turmoil over the next year, including putting him on thin ice with his ex-wife (Wendy Crewson) and her new husband (Judge Reinhold). Not to mention he has to learn how to be Santa. This one has a lot of iconic moments and some funny scenes. Allen's a great star and this one spawned a three-film franchise!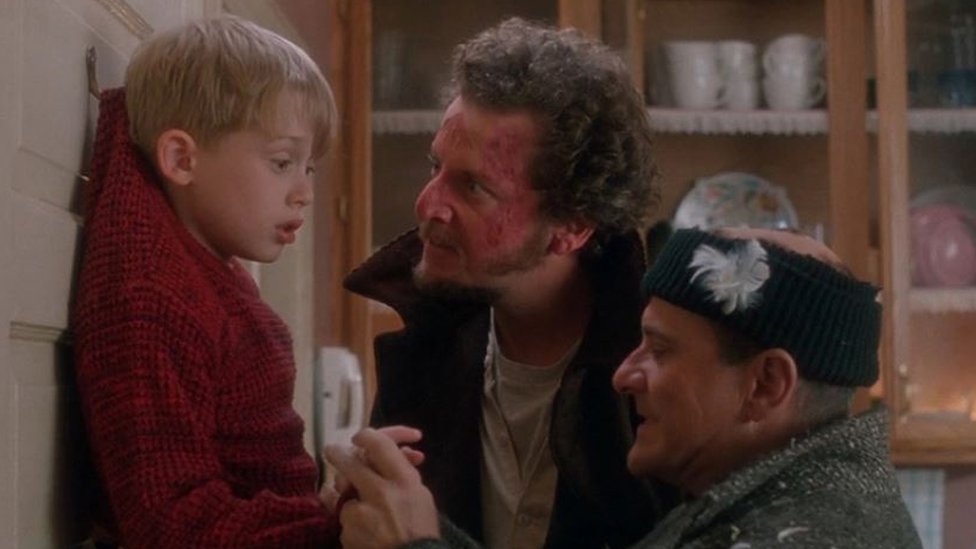 Home Alone (1990)
About: This classic tale is about a young child (Macaulay Culkin) is left home alone on accident as his family heads to Europe. He is forced to fend for himself as two thieves (Joe Pesci and Daniel Stern) come to rob his house. Mayhem and laughs ensue. This one is a concept that stretches credulity a little, but it's also a lot of fun to watch. This is a classic that also spawned a franchise (though said franchise is really just a re-hash followed by three sad copies). This one is great and is one of the reasons Culkin became a star. It's a must watch for me each Christmas season.
A Christmas Story (1983)
About: This one was written by Jean Shepherd, who narrates, and is based on his novel. It stars Peter Billingsley as Ralphie, a kid with a singular Christmas vision. This one has so many fun and classic scenes, this is the quintessential Christmas movie in a lot of ways. And, the best news is if you don't have the film on disc or a streaming service, it plays on a 24-hour loop each year on TNT. Ralphie, his brother and his family are great in this and no Christmas feels complete without a viewing.
Elf (2003)
About: Will Ferrell takes the lead in this one as Buddy the Elf. He's not a real elf, you see, but rather was an orphan accidentally taken to the North Pole by Santa (Ed Asner). He's adopted by the head elf (Bob Newhart) until one day he heads to New York to find his real father (James Caan). Along the way he makes new friends, including Jovie (Zooey Deschanel), and completes a mission to spread Christmas Cheer for all to hear. This movie is incredible and hilarious, practically a perfect Christmas film. It comes from Jon Favreau, who also gave us Iron Man and The Mandalorian, making him a national hero. If you haven't seen Elf, do yourself a favor and find it right away.
Christmas Vacation (1989)
About: This is actually a sequel—the third film in National Lampoon's Vacation franchise. It might be one of the most iconic sequels in history, and also one of the greatest Christmas films ever made. This one focuses on Clark W. Griswold (Chevy Chase) as he tries to throw an old fashioned Christmas for his extended family. Things don't go a planned, which puts additional stress on his wife (Beverly D'Angelo) and kids (Juliette Lewis and Johnny Galecki). This is an incredible film and it's incredible to watch. If you pop it in, you'll be the hap-hap-happiest movie watcher this side of the nut house!
Merry Christmas to all, and happy viewing!
Matthew Fox is a graduate of the Radio, Television and Film program at Biola University, and a giant nerd. He spends his free time watching movies, TV, and obsessing about football. He is a member of the FSWA. You can find him @knighthawk7734 on Twitter and as co-host of the Fantasy Football Roundtable Podcast.