It's the most wonderful time of the year! Last week I kicked off four weeks of preparing for Christmas with a look at animated holiday specials. This week I'm looking at romantic comedies.
Christmas and romance seem to go together in the minds of a lot of people. In fact, Hallmark has made an entire cottage industry out of it, starting original films on weekends in late October before Halloween. There's no Hallmark films on this list, but let me address the Hallmark phenomenon for a minute. I watch a lot of these films with my wife. Mostly they are light and entertaining. But sometimes….
The queen of these films is Candace Cameron Bure. She does a big release every year and in 2017, she made one called Switched For Christmas. In it, she played twins who didn't see each other often because one lived and worked in Denver and the other was four hours away in a small mountain town of Littleton, Colorado. It was a fine movie from a story standpoint, but it was the locations in the plot that bothered me. You see, I live in Colorado, so I know that Littleton isn't a small mountain town four hours north… it's a suburb of Denver to the south west. In fact, I'm pretty sure I could walk there from downtown Denver in four hours…
What I'm saying is, crack open Google Maps and fact check some of this. They didn't, and it sent me into a flurry of posts on Social Media (much to the dismay of my wife). Four years later, and I still haven't forgotten that film… So, no, there are no Hallmark films on this list. But maybe some of these will be memorable for you. Thanks for listening and, on to this week's list!
Mixed Nuts (1994)
About: This one comes from Nora Ephron, who directed the film and co-wrote it with her sister Delia. It stars Steve Martin and a pretty loaded cast of characters who work at a suicide hotline on Christmas Eve. Ephron previously gave the world Sleepless in Seattle, so she knows romance. This one ties well into Christmas, and it's got the romance going with various couples. It features some fun supporting performances from Rita Wilson, Madeline Khan, Juliet Lewis, Adam Sandler and Liev Schreiber. It's strange but fun in its own way. It probably isn't for everyone, but I kind of like it as a wacky piece of romantic comedy fare.
Serendipity (2001)
About: This one features John Cusack and Kate Beckinsale as a pair of Christmas shoppers who meet cute in a department store in New York and forge an immediate connection. But Sara (Beckinsale) is a big believer in fate, and leaves their romantic future to fate. She puts her name and number in a book, promising to sell it to a used book store the next day. Jonathan (Cusack) puts his information on a $5 bill that goes into circulation and they part. Years later, both are on the cusp of getting married, but both still have a wonder lust for the one they let get away with the most contrived plot device in history. Here's the thing, I want to like this film. I like the leads and there are some fun and romantic moments, plus a great cameo from Eugene Levy. But the plot feels like something that only happens in a movie. And, the fact they are about to get married (Jonathan is literally on the hunt between rehearsal dinner and wedding rehearsal activities) is a little creepy. They don't spend much time on Lars (John Corbett), but you can't help but feel bad for Halley (Bridget Moynahan) who was pretty much just a place holder set adrift the morning of her wedding… Plus, the connection to Christmas is tenuous. So, I guess you could say I have mixed feelings here.
Last Christmas (2019)
About: This is a more recent entry to the list, featuring Emilia Clark as an aspiring singer who is recovering from major health issues and working at a Christmas store. It comes from Emma Thompson and was inspired by the music of George Michael. It has a great supporting cast that includes Thompson, Michelle Yeoh and Henry Golding. This one has a twist that some didn't like (I saw it coming), so that will likely color your feelings here. But I liked Clark, and I liked the execution of the film. I thought it worked, so I put it on the list.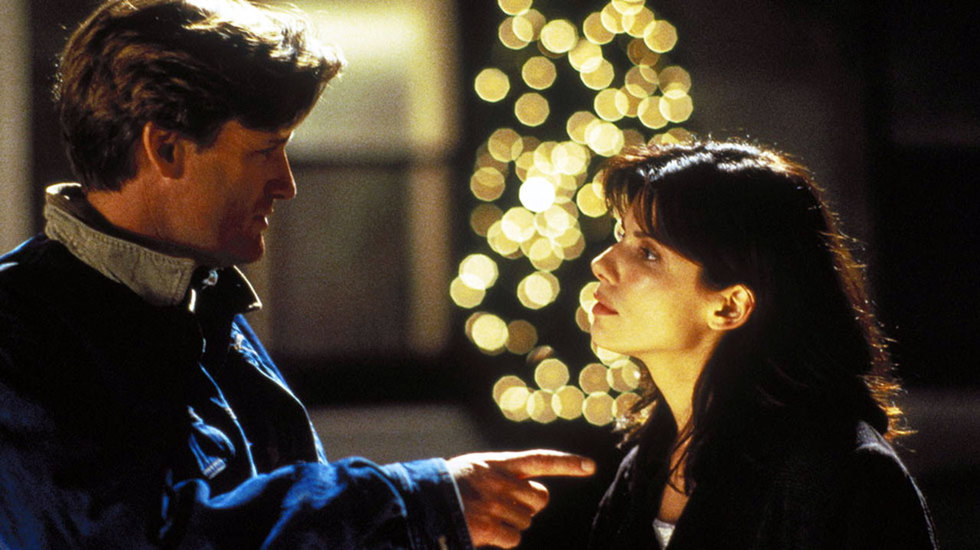 While You Were Sleeping (1995)
About: I think there is a law on the books that any list of romantic comedies has to include one featuring Sandra Bullock, so I feel legally sound now that this has made the list. In this one Bullock plays a toll booth worker in Chicago who has a hopeless crush on one of her frequent passengers (Peter Gallagher). When he's mugged and falls on the tracks, she springs into action and saves his life. Then she's mistaken for his fiancé by an overzealous and overly romantic nurse at the hospital. While her crush is in a comma, Lucy (Bullock) plays the part of the devoted fiancé with his family at Christmas. In the process, she falls for his brother Jack (Bill Pullman). Sure, this feels like a lot with the plot, but it's also a delight. Bullock is great, and the supporting cast here is fun. It's a fun romance with some expected twists on the way to the happy ending we all want. When has Bullock ever steered us wrong?
Love Actually (2003)
About: This one comes from Richard Curtis, who gave us Four Weddings and a Funeral. It features an incredible ensemble cast that includes Thompson, Alan Rickman, Colin Firth, Kiera Knightly in one of her first roles and Hugh Grant. I know, seeing Grant right now might be tough if you've been watching him play a calculating murderer on The Undoing. However, he was first known for his skill at romantic comedies, and he's in the best arc in this film which happens to be one of my favorite Christmas movies. Love Actually is an under-rated and enduring Christmas classic and if you've never seen it, you owe it to yourself to check it out.
Matthew Fox is a graduate of the Radio, Television and Film program at Biola University, and a giant nerd. He spends his free time watching movies, TV, and obsessing about football. You can find him @knighthawk7734 on Twitter and as co-host of the Fantasy Football Roundtable Podcast, a proud member of the Drive-In Podcast Network.