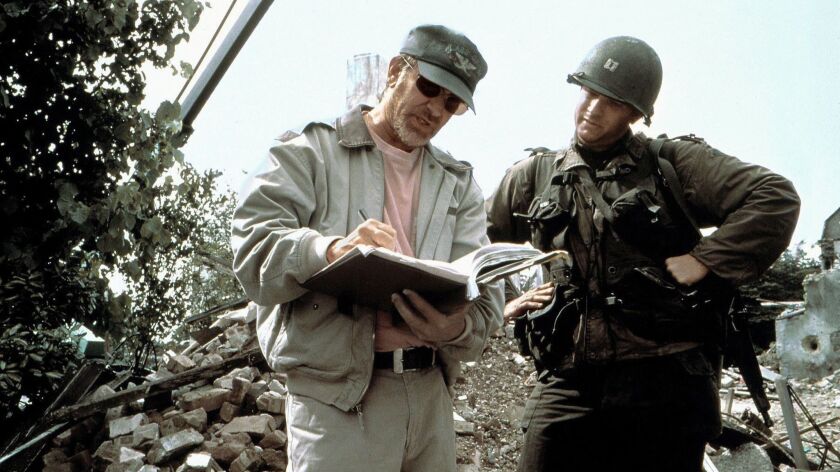 Yesterday was Veteran's Day, a time when we stop, remember and honor those who've fought to defend our freedoms. As is the case with Memorial Day in May, it's also often a time when we turn to war movies and specials for entertainment. You'll see marathons on cable and, in a time when we had theatrical releases, movies that focus on telling the stories of those who served.
For this week's Binge Watch I decided to look at Steven Spielberg's World War II collection. As a director, he's given us a number of different films, many that are classics. That's the case when it comes to WWII stories as well. But a small note before the reviews begin below. First, I'm not including War Horse because it's a World War I story. Second, though some consider Always a part of this, it really isn't. The original film told the story of a WWII pilot but when Spielberg made his re-make in 1989, one of the changes he made was to move the story's plot from WWII to the contemporary era.
So, without further ado, here's a look at Spielberg's WWII collection.
1941 (1979)
About: This was actually Spielberg's first foray into WWII, and it stands out from the rest of the works on this list. It was one of his first feature films, just four years after Jaws and before E.T. This one works off a script from Robert Zemeckis and is a broad comedy about hysterical Californians bracing for an invasion after the bombing at Pearl Harbor. John Belushi and Dan Aykroyd are among the leads, and this is one of the few Spielberg films that wasn't well regarded. It's interesting, and it covers WWII, but it doesn't feel like most of the director's contributions to these kind of stories.
Empire of the Sun (1987)
About: This is an oft overlooked Spielberg film, based on the novel from J.G. Ballard. It stars a young Christian Bale as an English boy living under Japanese occupation in China during WWII. The story is semi-autobiographical and was originally to be directed by David Lean, who gave us The Bridge on the River Kwai. It was that connection, and his fondness for Lean, that drew Spielberg to the project. It boasts a solid cast that includes John Malkovich and Miranda Richardson. It's not one of the first films you think about when you think of Spielberg, but it's well worth seeking out.
Schindler's List (1993)
About: You don't really need me to tell you what this is about or sell it to you, and doubtless it isn't a film you just put on at the spur of the moment on a Friday afternoon. But it is something of a masterpiece, which rightly won Best Picture and features beautiful performances from Liam Neeson and Ben Kingsley, and a solid performance from Ralph Fiennes as a less than admirable character. It's heart-breaking and tough to watch, as it should be. This is the first the big WWII projects that you think of when you think of Spielberg's contributions to the topic.
Saving Private Ryan (1998)
About: Again, probably not a project you need me to sell you on, and another tough watch. Tom Hanks is wonderful as the lead here in what, for me, remains the greatest war film ever made. This is emotional, gutting, and powerful. It should have won Best Picture, but at least Spielberg was recognized for his directing efforts. This one also is, at times, a tough watch because of the subject, but I'll never forget the first time I saw that opening D-Day sequence in theaters. If you haven't seen this one, what are you waiting for?
Band of Brothers (2001)
About: This isn't a movie, and Spielberg didn't direct it, but he was the driving creative force that brought the adaptation of this biographical tale to audiences. The HBO Mini-Series is incredible. It's 10 hours and follows the exploits of Easy Company, part of the 101st Airborne Division, as they battled in WWII. Knowing it's real and seeing the interviews with the people who actually lived through it only adds to the experience. There are some incredible and incredibly powerful episodes, with a great ensemble cast of actors led by Damien Lewis and Ron Livingston. It's intense, but it's also a great piece of history.
The Pacific (2010)
About: This was the second of what will eventually be three WWII mini-series that Spielberg helped bring to TV. This one was nearly a decade after Band of Brothers, another 10-episode exploration of the events of WWII, this one focused on the Pacific Theater. It had a great cast and production. While it doesn't rise to the heights of Band of Brothers, it's still worth checking out.
Matthew Fox is a graduate of the Radio, Television and Film program at Biola University, and a giant nerd. He spends his free time watching movies, TV, and obsessing about football. You can find him @knighthawk7734 on Twitter and as co-host of the Fantasy Football Roundtable Podcast, a proud member of the Drive-In Podcast Network.