The NFL is back! While we had our first game on Thursday night, it really isn't until the first full Sunday slate that I feel like the season has started. We got that yesterday and, as with most years, it was full of surprises. There was excitement, disappointment, thrills and heartbreak. In short, it was glorious.
But for our fantasy teams, it might also have been difficult. That's the nature of life in the NFL. Each Monday morning I'll be touching on three takeaways from Sundays games, as well as previewing the Monday night battle for those that might be in need of a Monday Night Miracle.
Without further ado, on to our lessons learned from Week 1.
1. Don't panic
It happens every year, we get unexpected finishes and wild performances in Week 1. Remember 2019 when Sammy Watkins scored three touchdowns as Tyreek Hill was injured? Watkins finished the season with just three touchdowns, and those that bought into his exploding were left out in the cold. This year we'll be even more prone to read into Week 1 more than we should, especially with no pre-season to reference. Everyone began the week with preconceived notions based on off-season charter, player profiles and potential roles in an offense. Week 1 seemed to confirm some thoughts and blow others out of the water, but does that mean we were wrong? Maybe. But don't abandon months of research and deep dives because of one game. In a normal season it takes a few weeks for things to settle and for us to see the trends, and this isn't a normal season. It's great to have games back, but don't panic.
2. Rumors of Aaron Rodgers demise have been greatly exaggerated.
So, Rodgers has no weapons and will be a low-end QB2 at best in 2020. Maybe not. The Packers didn't add a receiver, so it seemed like the weapons around Rodgers went down. And the team drafted Jordan Love in the first round, seemingly indicating they were ready to move on. Flash forward to Week 1 where Rodgers is destroying the Vikings' defense, Love is third string and the combination of Marquez Valdes-Scantling and Allen Lazard look like winners for the Packers. Rodgers threw for 364 yards and four TDs, and the Packers produced 43 points. It's Week 1, and as mentioned above there is danger in reacting too much to what we've seen. But in the case of Rodgers, it certainly feels like we might have written him and his supporting cast off too quickly.
3. There's some pluck in Washington and Jacksonville.
It would be easy to talk about the teams that looked off in Week 1. The Eagles don't appear to be able to block, the 49ers' injuries are catching up with them, Philip Rivers not being the answer for the Colts or the Lions finding a way to blow a fourth-quarter lead again. But it's Week 1. Instead, I want to look at a couple teams I thought would struggle mightily this season in Washington and Jacksonville, both of whom got wins Sunday. Washington was down 17, but their defense stood tall and the offense did enough. Dwayne Haskins didn't look incredible on the stat sheet, but he had enough poise to help his team score 27 unanswered points to give Ron Rivera a game one win. That's encouraging as he tries to change the culture and build a better team. Same for the Jaguars, who took a lot of flack for appearing to release all their best talent. Yet Doug Marone said they were still going to try and win every game, and on Sunday that seemed to be the case. Gardner Minshew was calm and efficient, James Robinson provided enough at running back and the defense made plays when it needed to in order to secure the win.
Now, on to Monday night's double-header.
Pittsburgh Steelers at New York Giants
In the first game of the Monday Night Football double dip, Ben Roethlisberger returns to the field after missing most of last season with an elbow injury. The Steelers struggled mightily on offense without him, and thanks to injuries to James Conner and Juju Smith-Schuster. Still, the team finished 8-8. With the trio back healthy, the Steelers are hoping for a return to the playoffs. That road begins tonight in New York, where Daniel Jones begins his second year with a new coach in Joe Judge and new offensive coordinator in Jason Garrett. The Eagles and Cowboys lost on Sunday, so if the Giants can win at home they'd move into a first-place tie with Washington after one week.
Fantasy Impact
The Giants' defense wasn't great and wasn't helped a lot this off-season. The secondary might actually have gotten worse. That bodes well for Big Ben and the Steelers. I had Ben as a QB1 this week, and I like Smith-Schuster as a WR1 and Conner as an RB1. For those looking for a Monday Night Miracle, that trio might be your best shot. Diontae Johnson and Eric Ebron also feel like good starts.
For the Giants, the team has some great offensive pieces but faces a tough defensive challenge. Jones is a low-end QB2 to me but might be worth a go in Superflex. The Giants' receivers as a bit of a mystery, too. Golden Tate is hobbled, so he's an avoid even if he plays. I like Sterling Shepherd the best, but he and Darius Slayton are WR3s at best for me. Evan Engram might be the best passing game option as he seems like a good goal line threat and Garrett has traditionally used the tight end well. You're starting Saquon Barkley and hoping for the best in a tough matchup. Running backs weren't great in Week 1, so Barkley still has a good shot to be an RB1.
Prediction: Steelers Over the Giants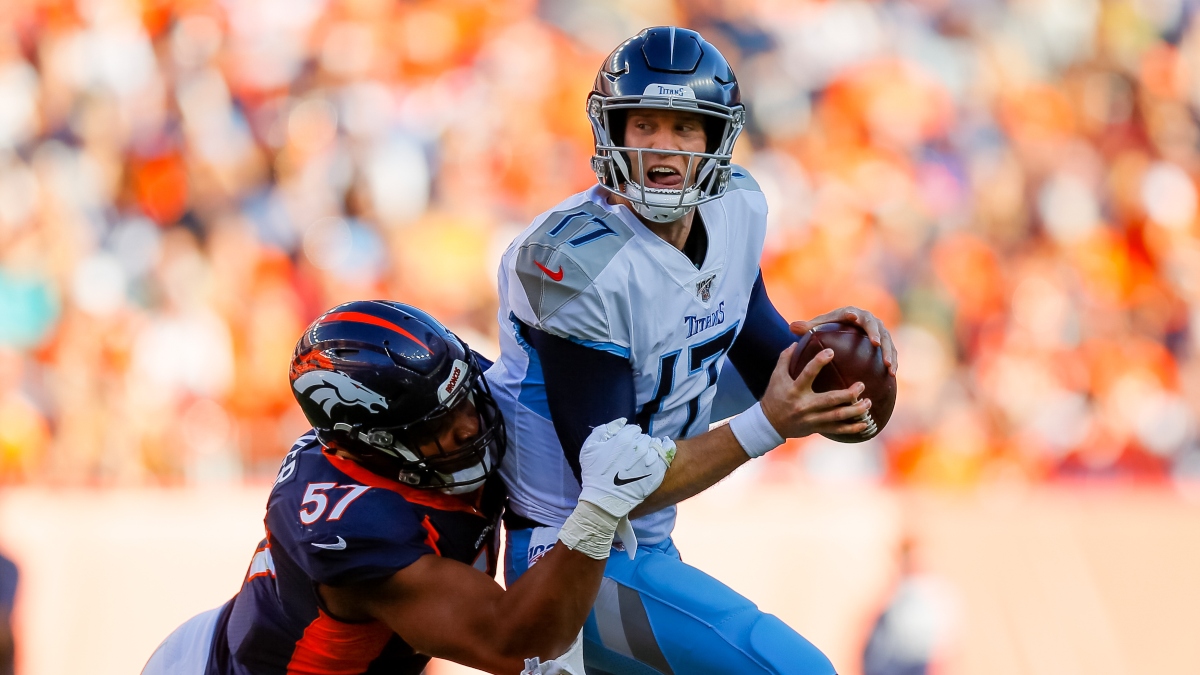 Tennessee Titans at Denver Broncos
The Broncos open at home with no fans, but the lack of game reps combined with the thin air in Mile High should give the team a small advantage. They'll need it after losing defensive star Von Miller for the season and seeing star wide receiver Courtland Sutton injure his shoulder. It's going to be an interesting challenge in Week 1 for a Broncos team that lost arguably their best offensive and defensive player in the week leading up to the season opener. The Titans, meanwhile, return the core of a team that made it all the way to the AFC Championship. Ryan Tannehill's magical run began as he replaced Marcus Mariota in a loss to the Broncos in 2019. Can he and Derrick Henry keep the magic going in 2020?
Fantasy Impact
Both defenses are good here, so I don't think this is a high-scoring affair. For the Titans, I have Tannehill as a low-end QB2, Henry as a low-end RB1 and A.J. Brown as a low-end WR2. Jonnu Smith is the only other pass catcher I'd consider, but he's a TE2 for me for the time being. I need to see it this season first.
For the Broncos, Sutton is a true game-time decision. That being said, I wouldn't start him even if he goes. Drew Lock is a low-end QB2 for me as well. The best bets for fantasy points are likely tight end Noah Fant and running backs Phillip Lindsay and Melvin Gordon. I see Fant as a Top 10 option at TE and Lindsay and Gordon finishing as RB2s, with both rushing and catching the ball. Among receivers, Jerry Jeudy and Tim Patrick figure to see an uptick in targets, but hopefully you have better options in your lineup in Week 1.
Prediction: Broncos pull out a tight one at home.
Enjoy the games!
Matthew Fox is a graduate of the Radio, Television and Film program at Biola University, and a giant nerd. He spends his free time watching movies, TV, and obsessing about football. You can find him @knighthawk7734 on Twitter and as co-host of the Fantasy Football Roundtable Podcast, a proud member of the Drive-In Podcast Network.