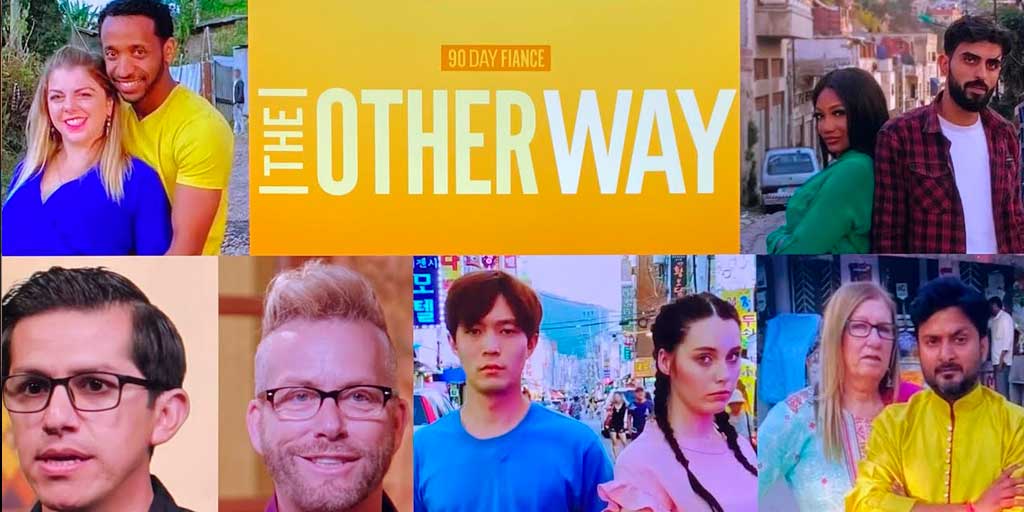 Summer is a time where a lot of our regular things take a break. That can be schedule things like school, clubs and kids' activities take a break. So, too, do our regular shows. Now the COVID outbreak changed that and made it more pronounced, but this has long been the pattern. And if you're like me, you want some light entertainment for those long, hot summer nights.
That was how I first got introduced to 90 Day Fiancé the Other Way last summer. My wife has long enjoyed TLC original reality series and had watched a different version of the 90 Day universe. At first, I was merely present as the episodes aired. But by the end of last summer, I was borderline invested.
As the series returned this summer, I didn't even try to fight it. This is the one show in my life I watch live, but I'm trying not to think too hard about what that means. Anyway, I decided it was time to come clean and write about it.
This is first an admission that I both watch the show and am invested in the couples depicted. Second, this will be a primer for those who are looking to jump in. Below I'll outline the Season Two couples, a bit about their journey, some personal thoughts and a relationship prediction.
You might be asking yourself, why would I want to watch this? And I'll tell you it's pretty simple—watching the folks on this show will make you feel better about all your life decisions. The official description of the show is, "Americans move to a foreign country all in the name of love. Will uprooting their lives in the United States pay off, or will they be packing up and moving back to America brokenhearted?" Still not sold? Read on.
Returning Couples
These are folks who appeared last season and are back for more.
Jenny (61) and Sumit (32), India
This relationship has been fraught with a lot of hurdles. It began with Sumit catfishing Jenny on Facebook. And yet, after that, she still decided she was in love with an Indian man about half her age. Despite the concerns of her family, she quit her job, sold stuff, packed the rest of her belongings and moved to India to be with Sumit. It was after that point that he admitted he was still married, in an arranged marriage, and his relationship with Jenny was illegal. That point was really driven home when Sumit was arrested. Jenny headed back to America, correctly upset that Sumit had deceived her, and not for the first time.
To start this season, Jenny announced she was moving back to India because she loves Sumit and he'd arranged to get a divorce. He must pay his ex-wife and family about $20,000, and the divorce process, as Jenny learned after moving back, could take a few years. There's also the stigma for his family as Sumit not only gets divorced but does it to be with a 61-year-old American woman. This has led Sumit's family to disapprove of the relationship, which is unsurprising because of the cast system in India. This, of course, brings me to one of my favorite aspects of the show—despite the fact these Americans are giving up their lives to move to a foreign country to get married and live the rest of their lives, they mostly know nothing about the culture, language and customs of the countries where they're moving.
Jenny doesn't understand why Sumit's parents are so hung up on what society will think about their relationship. This has been a constant source of tension for Sumit, who has struggled with the disappointment of his family and friends. Jenny's family, too, has been concerned about this relationship. That makes sense to me given that it began with a case of catfishing….
Anyway, despite all the obstacles, it's hard not to kind of root for these crazy kids. They seem to love each other, having both been willing to overcome obstacles including jail to be together.
Prediction: I think these two will stay together. It might just take a while.
Deavan (23) and Jihoon (29) in South Korea
There were times last season when I wondered how these two got together in the first place. But when we met them, Deavan was looking at giving up her life in Salt Lake City to move to Korea before the birth of their child. While Jihoon's parents came to Las Vegas of all places to meet Deavan, she ended up heading out there during last year's season. Things didn't go great. Jihoon didn't get an apartment, so they were living with his parents. He then admitted he was broke and owed a lot of money because of some fraud he'd committed regarding cell phones. That seems like a big red flag, and soon Deavan (who has another child from a previous relationship) headed back to America.
As this season picked up, Deavan was again looking to go to Korea because Jihoon seemed to have his plan together. Deavan rented an apartment, which Jihoon never checked out, and gathered both kids and her mom to head to Korea to get settled. Things didn't go well. Both Deavan's mother and Jihoon's parents seem to have an active role in the relationship, which isn't good. And it turns out, Jihoon lied a bit about his jobs and financial situation, which was a great source of frustration to Deavan. In addition, they use a translating device that, if the subtitles are accurate, provides a sketchy translation at best. Deavan is on her last straw, giving Jihoon a month in Korea to get it together or she's going back to America for good.
Prediction: I think Deavan will end up back in America, and that's probably for the best. I didn't think they were a good match last summer, now I'm sure that's the case.
New Couples
Brittany (26) and Yazan (24) in Jordan
This is the most amazing of the new stories to me. Somehow Yazan, a devout Muslim from Jordan, met Brittany, an outspoken young woman from Florida whose previous employment and relationships seemed sketchy, at best. And she decided to give up her life and move to Jordan. Watching her chug white wine as she prepared to move forever to Jordan, a very strict and religious country, seemed like a poor match. Turns out in watching the interactions that she didn't bother to learn much about Jordan or the Muslin faith, maintaining that she plans to live her life out loud as she did in Florida. That has been met with much consternation by Yezan and his uber religious parents. But in Monday's episode, they seemed to come to new understanding about a one-month courtship period.
Of course, Brittany is still married and hasn't figured out how to get a divorce yet, a subject she hasn't managed to bring up to Yezan since arriving.
Prediction: This seems like a terrible match. Their culture, religion, values, and ideas about life are radically different. Brittany would be well served to cut her losses and get back to Florida. Since her father is supposed to come visit soon, I'm hopeful that will get done.
Ariela (28) and Biniyam (29) in Ethiopia
This is an interesting match. Recent divorcée Ariela was traveling the world to forget her ex when she met Biniyam in Ethiopia. She decided to stay there for a few months, and after returning to the U.S., discovered that she was pregnant. Ariela and her mother arrived to start the season and scope out where she'd be living and, more importantly, where she'd be giving birth as she's pregnant. This couple hopes to marry soon, but the living conditions weren't quite to the level Ariela was hoping to see.
In addition, Biniyam's career is as some sort of a dancer where he performs some edgy routines with an ex-girlfriend. As if that wasn't enough of a challenge, they don't share a common faith. Biniyam belongs to an orthodox sect of Christianity, while Ariela considers herself Jewish. That clash of religion came to a head as Biniyam sought information about having his future child baptized, which was declared a no go by the priest unless Ariela converts…
Prediction: This one feels too close to call right now. Ariela's mother seemed satisfied with what she found, heading home to end the last episode. However, the previews of what's to come portend more issues for this couple, which has seemingly had little screen time compared to some others. If pushed, I'd say this won't last.
Tim (34) and Melyza (29) in Columbia
Tim met Melyza at a Dallas bar while she was working as an au pair. It was such an intense connection that they decided to try long distance before Melyza could hopefully move back to Texas. But before they could make it work in Texas, Tim had an affair with a co-worker, something Melyza discovered looking at his Social Media accounts, and she quickly returned home. But their relationship didn't end. In order to win her trust and build a life together, Tim decided to give up his job and home in Texas to move to Columbia.
While Melyza's mom knew the truth, her father didn't. And they didn't tell him right away… leading to an awkward dinner where he celebrated the couple and their love, welcoming Tim into his family. They told her father shortly after, and his tone toward the relationship changed. It seems like Tim loves Melyza, and she seems to care for him. At times their segments together seem solid, but it doesn't take long for friction to emerge. There are a lot of trust issues here.
Prediction: Melyza's father told the couple the best thing for them would be to break up. I certainly think they should have worked out some of these issues before Tim made a permanent move, but this isn't a show about caution and solid life planning. It would be easy to predict a break up here, and that would make sense, but I'm going the other way. I think they might actually make it.
Kenneth (57) and Armando (31) in Mexico
After meeting through a gay fathers' support group, Kenneth and Armando immediately had as connection despite their 26-year age difference. Kenneth decided to leave his life, home and children to move to Mexico to be with Armando and his young daughter. So, they set up together in a new town. While their relationship seems solid, it's the external forces that are a real concern.
Armando lived most of his life in the closet, only coming out in a definitive way to his parents as the season opened. Now he's planning to come and introduce Kenneth to them, but he's nervous they won't be accepted. He's also nervous they won't be accepted in Mexico in general, and those fears are seemingly bubbling more to the surface as he's trying to live life with Kenneth in their new home.
Prediction: At the outset, this seemed like the couple with the best chance. As we go further, it seems like the concerns and fears Armando has about his family and country are weighing on him. I don't know that it will work if they stay in Mexico.
New episodes air Monday nights at 9 p.m. EST on TLC.
Matthew Fox is a graduate of the Radio, Television and Film program at Biola University, and a giant nerd. He spends his free time watching movies, TV, and obsessing about football. He is a member of the FSWA. You can find him @knighthawk7734 on Twitter and as co-host of the Fantasy Football Roundtable Podcast.