As many of you know the 9th generation of gaming consoles is on the horizon. We are tentatively 3 months away from dusting off our media stands & computer desks to make room for what could be the best generation of gaming yet. Traditionally exclusive titles, among other things, are used to draw people into buying their shiny new pieces of plastic and hardware. Sony has announced Spider-Man: Miles Morales for the Playstation 5, and Microsoft has been hard at work on bringing Halo Infinite to launch the same day with the Xbox Series X… or so we thought.
On August 11, 2020 gamers were blindsided by the news that had just dropped. Halo Infinite has been delayed until 2021. Chris Lee, head of 343 Industries, the studio behind the creation of the game, had this to say.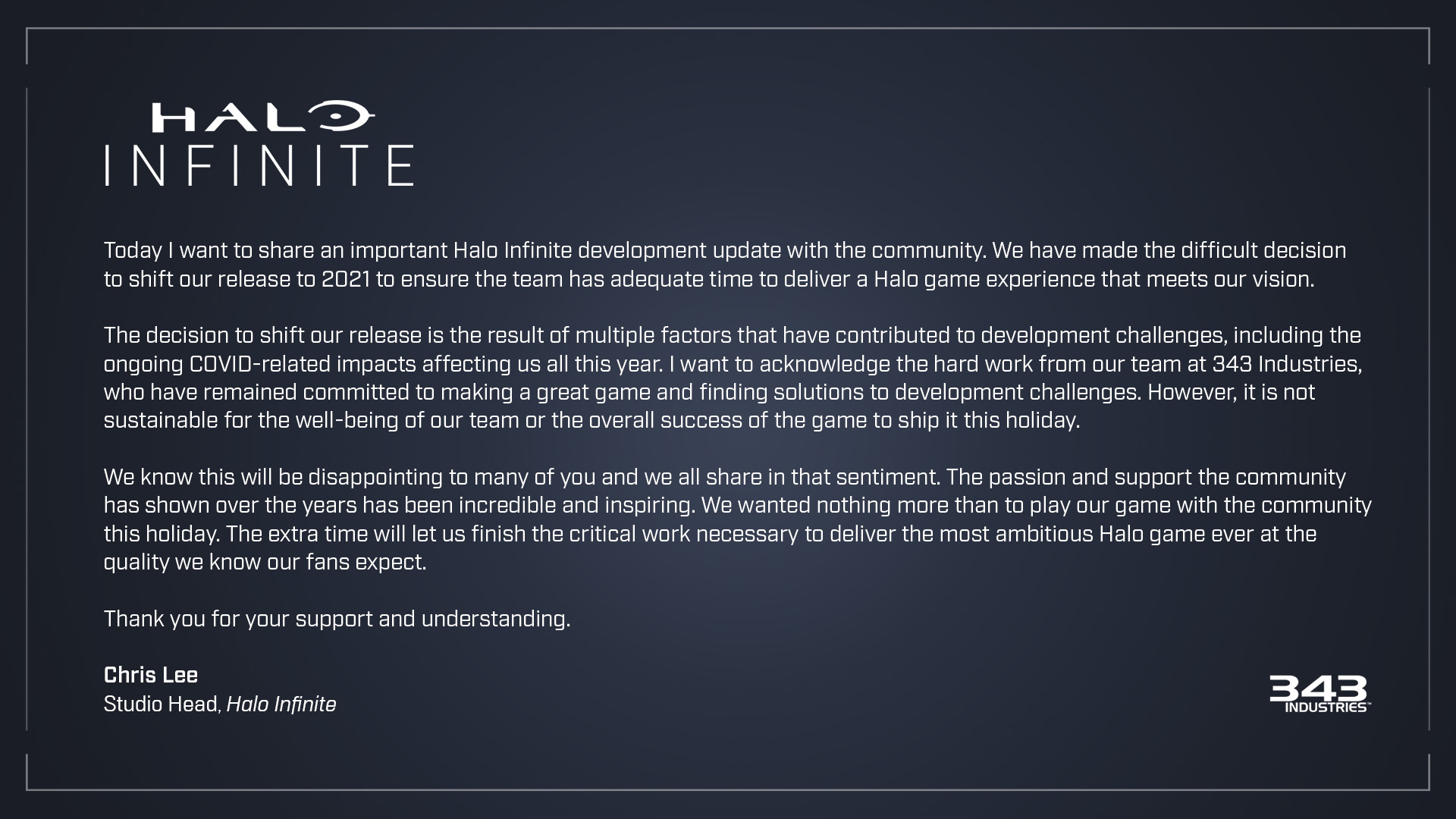 Halo Infinite was supposed to be the flagship title for the Xbox Series X, which is set to launch this November. Understandably, there have been many Halo fans and Xbox fans in general who were upset. There also came a lot of backlash of Halo Infinite shorty after Microsoft streamed their Xbox Games Showcase on July 23rd of this year. The majority of fans stated that the graphics of the game were not up to standard for the next- generation, and other fans were content with the appearance of the game.
The statement does mention that, "Multiple factors that have contributed to development challenges, including the ongoing COVID-related impacts affecting us all this year". This is true, COVID has affected numerous businesses since the beginning of the year 2020, but it seems the backlash of Halo Infinite's appearance seems to also be a factor in their decision making. Which is has fans asking, "What's the point in picking up an Xbox Series X?". Well, let me just give my thoughts on why the Series X is still a console to grab this holiday season.
We are so conditioned to think that if a console doesn't have exclusive content right out the gate then that's the end all be all for that piece of hardware before the generation has even started. I believe that the 9th generation of consoles true beginning isn't when they hit store shelves, it's when these companies stop supporting their previous generation and focus solely on their flagship hardware.
When a new generation of consoles hits the market there is little to no content for the first 6- 8 months. It's a slew of cross-generation 3rd party games with an exclusive or two thrown into the mix. Traditionally consoles do not hit their stride until the later in their life cycle to begin since that's when there are multiple exclusives. Plus, a lot of these developers have had a chance to really learn to take advantage of the hardware they are developing these games on.
With that being said, as new games are being made for the next generation of consoles, the current generation of consoles quickly becomes more obsolete as time goes on. That is the nature of technology. We are always looking for the next best thing. When it comes to why those who were planning on buying an Xbox Series X this holiday should still consider getting one, this is a prime example. Your Xbox One X or Xbox One S will not stand the test of time.
You have to think of buying a new console as long term investment. Don't focus on the now and what new exclusive can I play this holiday season think about the future-proofing yourself for the years ahead. The trade-in value is only going to get worse the longer you wait to get rid of your old Xbox. Even though you can play these titles on your current Xbox. Eventually, you're gonna have to upgrade so why not make the investment now?
Some people will wait and buy it later down the road and that's fine. Everyone's finances are different, but for those who are now on the fence of purchasing one remember that the trade-in value is only going to depreciate the longer you wait to get rid of your current Xbox that's been collecting dust in your living room all these years. I know Gamestop isn't everyone's favorite but it's a wise choice to take while the taking's good.
As we all know the hardware isn't the only main seller of the Xbox Series X. Backwards compatibility is making a huge comeback for the next generation of consoles. Gamers love the idea of migrating their current libraries of titles with them into a new generation.
A recent Xbox wire article explains the importance of this feature by saying, "Playing your favorite games and franchises across four generations of Xbox was a key tenet for us in the next generation of console gaming". They go on by saying, "We have plenty to keep you busy until Chief arrives: There will be thousands of games to play, spanning four generations, when Xbox Series X launches globally this November and over 100 optimized for Xbox Series X titles, built to take full advantage of our most powerful console, are planned for this year". So worry not. There will plenty of titles new and old to dig into.
There is also Xbox Gamepass Ultimate in which I believe is the best deal in the gaming industry. At $15 per month ($180 a year, $120 for Gamepass plus $60.00 for Xbox Live) you have access to over 100 fantastic games and the library keeps on growing. Not only that, but you get to play new Xbox exclusives on day one of that title going on sale plus online play. You honestly cannot pass this up. And they are catering to the PC gamers with Xbox Game Pass as well for only $5.00 per month ($60.00 a year).
As I've stated before this is not the end all be all of the Xbox Series X. Yes, it is a massive disappointment that we will not get our hands on Halo Infinite this holiday but it is coming next year and this will not be the first time a next-generation Xbox has launch without a halo title. The Xbox 360 and the Xbox One didn't as well so I honestly think we to start focusing on the positive features of the new generation. It's extremely premature to be making any assumptions when we don't even have our hands on these new consoles yet. Xbox is Down. But they are not out of this race.
For more on this subject, you can check out this wonderful article on Dualshockers.com "Halo Infinite Being Delayed Shouldn't Stop You From Getting An Xbox Series X"
Check out our podcast 'Film Optix' on podcast platforms around the world and give us a follow on Instagram @filmoptix & Twitter @filmoptix. Follow Christian @musiccitynerd & Devin @_Devdogg_ on twitter. Make sure to check out the rest of the Drive-In Network Podcasts as well. Subscribe to our podcast & leave a 5-star rating and review on apple podcast. I will see you all in the next one!